Evaluating the beauty & cosmetic eCommerce landscape
The UK beauty and cosmetic industry is currently worth over £10 billion, and over the years, it has adapted to keep up with each generation's shopping habits.
In recent years, consumers enjoy experiencing the end to end process from the comfort of their own home, but when buying the likes of new makeup, such as foundation, this can be tricky as a skin match is required, which is why there's still a demand for a store presence.
Another key reason why potential customers have moved online is that make up is expensive. An online presence enables customers to shop around for the best price or deal, making it difficult for businesses that rely solely on their brand or customer experience. Instead, a combination of competitive pricing and brand experience is key.
Like most industries, the COVID-19 pandemic has impacted nearly all businesses in one way or another and has accelerated online growth. This has forced the beauty and cosmetic marketplace to think differently and has invested in enabling potential customers to virtually try on different products.
L'oreal was recently in the press for its Virtual Try-On technology. With the lockdowns of 2020, many salons closed their doors and resulted in many turning to selling skincare products online, which further diluted the industry's competitive nature.
Throughout this article, we will conduct some top-level evaluation from an organic search perspective on the UK beauty and cosmetic eCommerce landscape.
The current UK beauty & cosmetic eCommerce landscape
Using third-party tools and data, we have conducted some high-level market analysis focusing on the past five years, for the UK's leading online beauty and cosmetic websites. We will identify those with continued organic success, sites that are gradually declining, and any newcomers.
The five beauty and cosmetic websites we evaluated are:
For the most part, the websites selected offer a wide range of makeup, skincare and hair care products/brands with some further diversifying by offering fragrances.
Organic search visibility

Using third-party organic visibility data for the past five years, we have been able to compare five leading beauty and cosmetic websites. Fragrance Direct, Look Fantastic, Feel Unique and Cult Beauty were all within search engine indexes prior to 2015, whereas Just My Look is a relatively new ecommerce website joining the online beauty industry in 2018.
At the start of 2015, Feel Unique dominated the beauty and cosmetic landscape. Out of the five competitors we've analysed, the company captured 49% of the market. However, around September 2015 was the point in which Feel Unique's market share peaked. Over the next one and a half years, its organic visibility gradually declined before reaching an all-time low in January 2017.
Based on our analysis, algorithm updates haven't impacted site performance throughout this period. This suggests that Feel Unique pivoted its organic search strategy so that it no longer ranks for irrelevant keywords.
As the gap between Feel Unique, Look Fantastic, and Fragrance Direct closed, August 2016 to March 2018 became highly competitive. All sites clambered to achieve top positions for the likes of eyeshadow palette, dewy foundations, and colour treated hair shampoo. Throughout those two years, all market shares grew, and Feel Unique were exceptionally lucky and for the most part, and managed to hold on the market leader title.
From 2015 to 2018, Cult Beauty was a part of the online beauty industry, but had far less market share compared to Fragrance Direct, Look Fantastic, and Feel Unique. Cult Beauty had approximately 3.7% of the market in January 2015.
As of late 2018, Cult Beauty's organic search strategy was proving very successful, as it allowed the company to achieve fast growth and catch up with Fragrance Direct, Look Fantastic, and Feel Unique. Towards the end of 2018, Cult Beauty had earnt a greater market share than Fragrance Direct, making them a fierce rival for Look Fantastic and Feel Unique.
From March 2019, Look Fantastic managed to leap ahead of its competitors to capture a significant share of the market, which the site has held until the time of writing. All the while, Fragrance Direct, Cult Beauty, and Feel Unique's organic market share remained relatively steady.
Just My Look is a relatively new competitor to the beauty and cosmetics marketspace, earning its first bit of market share in June 2018. Over the next couple of years, the site's organic strategy has enabled the company to gradually increase its market share. However, due to the company being within the infancy stages of growth, resources may be limited as it looks as though the business is a team of seven, so supercharging organic strategy potentially isn't an option.
Organic traffic
Using a third-party tool, we captured each of the five websites' organic traffic. It's interesting to see that despite Feel Unique's organic visibility dropping throughout 2015 to 2017, its organic sessions saw a small dip, with an approximate a loss of 140,000 sessions between November and January. This quickly recovered, and could be due to key pages accidentally being removed from search engine indexes, or a technical issue such as incorrect canonical tags being applied to critical pages.
Despite this, throughout this five-year period, Feel Unique saw steady growth in organic sessions. That said, there are three noticeable dips, which all happen to occur around November and December in 2015, 2016, and 2019, which suggests they could be related to seasonality.
It's also interesting to see that both Fragrance Direct and Look Fantastic saw a similar increase in organic sessions months apart in 2019. Later, both Fragrance Direct and Look Fantastic saw a sudden decline in sessions around March 2020, before slightly increasing each month. This could be caused by the first national lockdown in the UK and restrictions slowly being eased.
After this initial drop, Look Fantastic's sessions managed to recover and continued to increase, whereas Fragrance Direct's traffic increased for two months before seeing sessions drop. These remained down until August 2020.
Whereas over the past five years, Cult Beauty's site has continued to gain additional organic visitors month on month, with the end of 2017 to the start of 2018 seeing a significant spike in sessions. The company went from receiving 512,801 visitors in December 2017 to 1,271,536 in January 2018. This could have been achieved by significantly increasing the number of products sold on the website.
It's also worth noting that December isn't these websites' best month, which is in contrast to expectations with the likes of makeup, skin care products and perfume often being bought as Christmas presents.
Just My Look organic performance

Out of the five beauty and cosmetics websites, Just My Look is the newest competitor to enter the market, with organic visibility first being established in May 2018. That growth developed steadily until the September 2019 core update (Label P).
At this point, Just My looks organic visibility became volatile, resulting in the instability of keyword rankings, which is why there's numerous spikes and dips after the update was announced.
This trend continued until the next core update in January 2020 (Label Q). As Just My Look falls under Google's YMYL category, Google judges the website to a much higher standard, and therefore, it's important Just My Looks site follows Google's protocols and guidelines.
During our analysis we have noticed several area's Just My Look could improve:
After running some tests, we noticed that Just My Look's average pagespeed score for mobile is 16/100, whereas for desktop it's 53/100, ideally this score needs to be above 80.
There are relatively quick fixes that could improve Just My Look's pagespeed, such as deferring offscreen images, serving images in next-gen formats, eliminating render-blocking resources, and removing unused JavaScript.
When analysing Just My Look's pagespeed, we noticed that some of the core web vital metrics had the potential to improve. We investigated using Google's Chrome DevTools, which is where we discovered that the homepage has two content layout shifts when the page loads. One way to resolve this is by loading in white space for the following nodes:
#text div#js-home-slice-1.home-slice.home-slice-sliceline.home-slice–index-1.no-margin
Following on, we decided to conduct some quick analysis around Just My Look's mobile friendliness. We discovered that the website is mobile friendly, however, there's opportunity to improve this as there are currently 8 scripts only partially loading, some of which appear to be relating to the reviews widget which is being blocked by the robots.txt.
The final opportunity, based on our top-level analysis, is that Just My Look's individual product pages are utilising structured data which is great.
However, structured data should only be implemented once on each product, whereas we've found several products that are marked up twice. This issue makes it harder to provide information about specific products to search engines.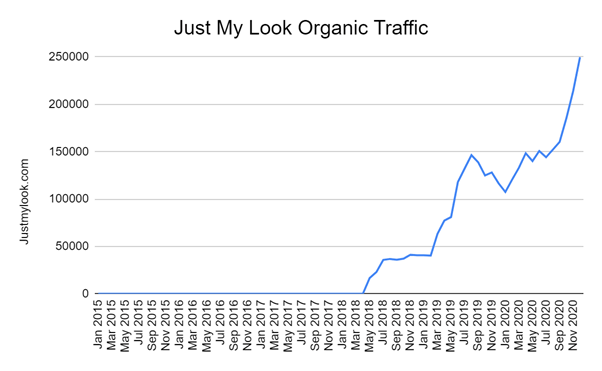 Just My Look's eCommerce beauty website started attracting organic users as of May 2018. That month, the site received approximately 16,500 sessions, and by May 2019, it more than quadrupled this to 80,900 organic sessions. In its third year of organic growth, the site gained an additional 60,000 visitors.
The organic growth Just My Luck achieved in May 2019 to June 2019 was an increase of 45% in organic traffic. This is great, as around a similar time, Google rolled out its March 2019 core algorithm update, which looks to have significantly boosted Just My Look's market share and organic traffic.
Despite Just My Look seeing steady organic growth each month, its market share, organic traffic, and number of keywords are a fraction of what they were compared to the likes of Look Fantastic and Cult Beauty, who are dominating the eCommerce beauty and cosmetic industry.
Based on the third-party tools, Just My Look currently only rank for 27,000 keywords.  Therefore, we recommend Just My Look implementing a content focused strategy of supporting content around make up, beauty, and the store's many different products.
By doing this, it gives the opportunity to rank for more high volume terms. This should result in Just My Look experiencing an increase in the amount of keywords indexed and ranking within search engines.
However, it's important to bear in mind that websites often perform best once technically sound. A content strategy must come later.
Look Fantastic organic performance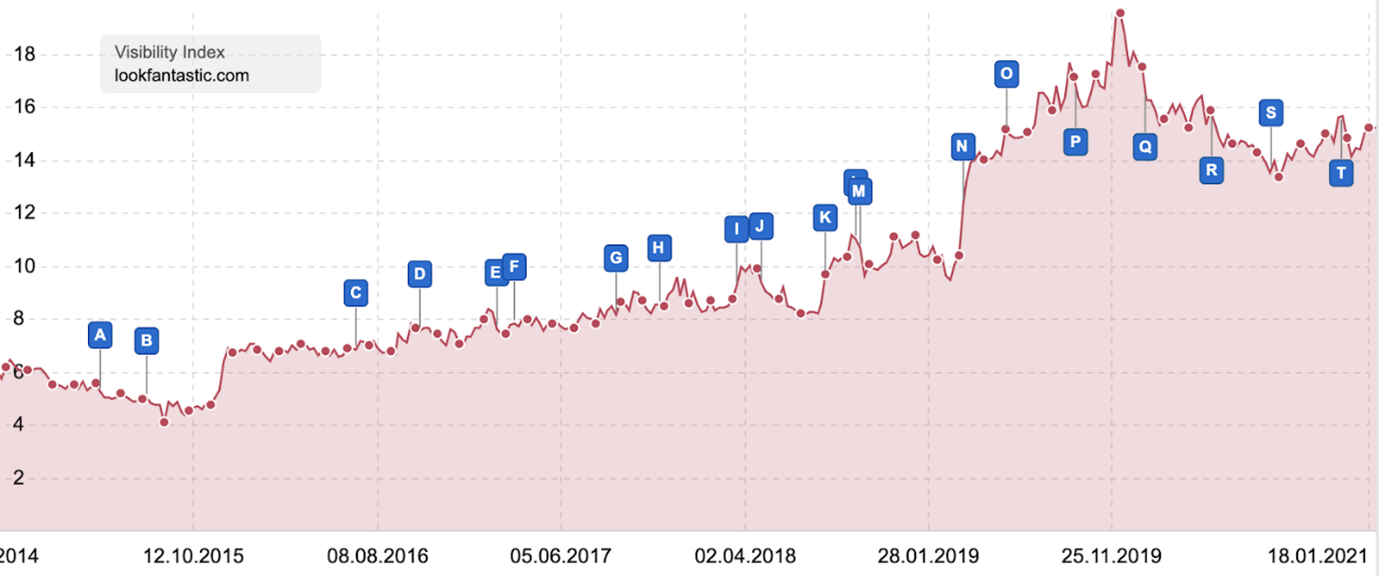 Until the end of 2019, Look Fantastic's organic visibility was growing at a steady rate, with very small peaks and troughs from where keywords have naturally fluctuated within the search results. The company's organic visibility graph shows little signs of positive or negative impact from Google's core algorithm updates.
We can see that around the time Google released the March 2019 core algorithm update (Label N), Look Fantastic's visibility was on a steep incline, continuing to grow for nine months — before suddenly peaking in December 2019.
It looks as though Look Fantastic's website was impacted by Google's January 2020 core update (Label Q). However, it is hard to fully attribute this to the update as the company's market share had suddenly dropped earlier that month, so it may have been a combination of the two factors.
Since then, the site's market share continued to gradually decline, which may have been due to Look Fantastic being negatively affected by the May 2020 core update (Label R). It's interesting to note that the website saw significant market growth by one of Google's core algorithm updates in early March 2019. Still, since then, the release of a core update has resulted in a drop in share, which would suggest Look Fantastic may have altered its organic search strategy.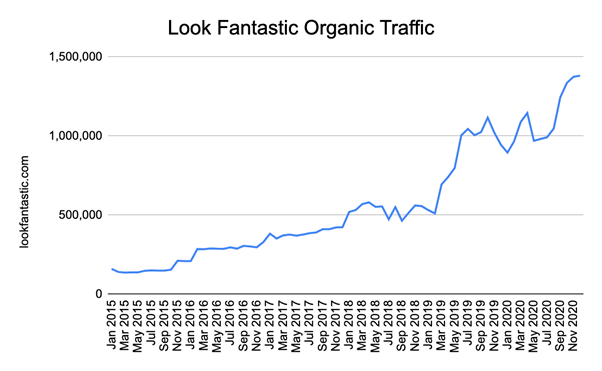 When comparing Look Fantastic's organic visibility to its organic traffic, we can see that there's a strong correlation between its visibility significantly increasing and an increase in the organic traffic, which occurred around the same time.
Typically speaking you'd expect November and December to be the beauty and cosmetic industry's best months due to the Christmas period. However, for Look Fantastic, its organic traffic was down by 76,000 organic sessions in December 2019.
It's interesting to see that market share dropped in 2019 and then plateaued in 2020. In contrast, when looking at organic traffic, we can see various spikes and drops in visitors between December 2019 to February 2020. This recovers in March and April before declining again in May and staying low for June and July.
This suggests that the UK's first lockdown, which was introduced on 23 March, had a delayed effect on Look Fantastic. We can also see from the graph that when the UK's lockdown restrictions were lifted, Look Fantastic saw a surge in organic visitors.
In March 2019, Look Fantastic's market share was significantly boosted by one of Google's core algorithm updates. This had a knock-on effect due to the site appearing in the search engine results page more frequently. It also meant there is a greater opportunity to attract more customers. In February 2019, Look Fantastic's organic traffic was 510,261, whereas four months later, in June 2019, the site achieved 1,00,4783 visitors; almost doubling organic visitors.
Fragrance Direct organic performance

Since 2015, Fragrance Direct's organic visibility has remained relatively steady with small regular peaks and troughs caused by keywords constantly moving up and down the search results pages. Throughout this period, the site's market share had gone from 22.9% in January 2015, to 20.1% in January 2020.
Based on how little Fragrance Direct's market share has increased, this would suggest that the website's performance is relatively steady. The graph also displays that Fragrance Direct has occasionally been negatively impacted by search engine algorithms, such as the February 2019 "unknown Google update" (Label E), the March 2019 core update (Label N). The most recent major drop in organic market share was caused by January 2020 core update (Label Q).
Typically speaking, each time Fragrance Direct has been negatively affected by one of Google's algorithm updates the site generally recovers. However, when Google released its January 2020 core update Fragrance Direct's organic visibility doesn't appear to have recovered.
This issue could be because the Fragrance Direct eCommerce team decided to change their organic approach, such as consolidating the website by merging and culling content for pages that weren't receiving much traffic. However, I doubt that is the case.
A potential strategy for Fragrance Direct to consider is adding a content hub to the website so that additional supporting content can be created, which would offer a broader range of relevant keywords to target.
This also gives the site the chance to show search engines that the company is an expert within the field. This is extremely important to demonstrate as the website falls under Google 'Your Money, Your Life' category.
This is when search engines grade websites that either impact a person's finances or personal wellbeing. As you can imagine, there is great importance that these websites show expertise and relevancy.
This also coincides with Fragrance Direct most recently being impacted by Google core algorithm updates, which are thought to be related to EAT. Therefore, supporting content could potentially boost these signals.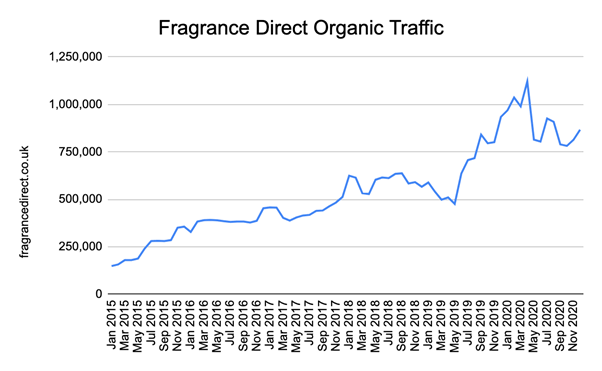 Fragrance Direct's organic sessions graph shows a greater amount of growth compared to its market share. In January 2015, the site received 148,239 sessions, whereas, at its peak, the site attracted over 1,121,109 visitors in April 2020.
This drop could be a delayed effect to the Prime Minister's lockdown announcement as at the start of lockdown, people were trying to carry on as normal.
The drop in users could also be attributed to the drop in market share, which is calculated by the number of keywords ranking. Therefore, if some key pages had dropped out of the top 10 positions, it would result in them being on page two of the search results.
There also appears to be some correlation between an increase in visitors and the UK's Eat Out to Help Out scheme being launched, as in July, Fragrance Directs website saw a 15% increase in sessions.
As mentioned previously, if Fragrance Direct decided to implement a content orientated strategy by producing and displaying relevant content, such as "top mothers day gifts", the site could use this as a great way to improve internal linking to specific product pages. Doing so can lead to sales increases for particular products, which is why it's often a great way to get rid of surplus stock.
Feel Unique's organic performance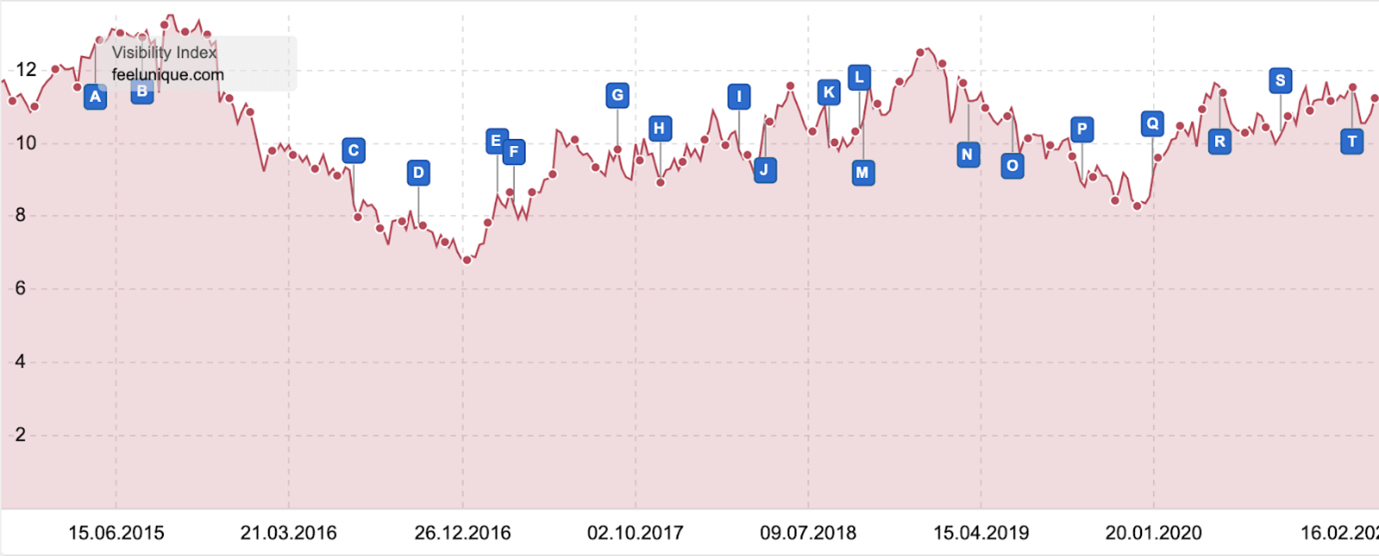 From 2015 to the beginning of 2019, Feel Unique held the greatest market share, despite Feel Unique's organic visibility significantly dropping by 37% in November 2015 to January 2017.
It's tricky to determine if Feel Unique's depleting market share is related to Google's Panda update released in July 2015 (Label B) – I believe that this isn't the case, as the website's organic visibility would have gradually declined much sooner.
However, the graph suggests that when the Panda update was rolled out, Feel Unique's website saw an initial dip in market share, which instantly recovered.
As the data suggests, the slow drop in organic market share wasn't related to search engine algorithm updates.
I, therefore, believe it could have been caused by Feel Unique choosing to remove a section of the website, such as a product range they no longer offered.
Or, it could have been a result of de-optimise a large proportion of the website for potentially high search volume keywords, which would result in a drop in market share in favour of a strategy that focuses on more relevant high intent keywords.
It looks that when Google released its March 2019 core algorithm update (Label N), it could have had a negative impact to the website's organic search visibility. Feel Unique was also hit by Google's June and September core updates.
Based on the fact that Feel Unique's website was hit by three consecutive core algorithm updates, it would suggest that the website wasn't complying with Google guidelines in 2019.
It's vital to remember that quality is everything when it comes to content and backlink profiles to give search engines confidence, which in turn, increases the likelihood of sites like Feel Unique being negatively affected by updates.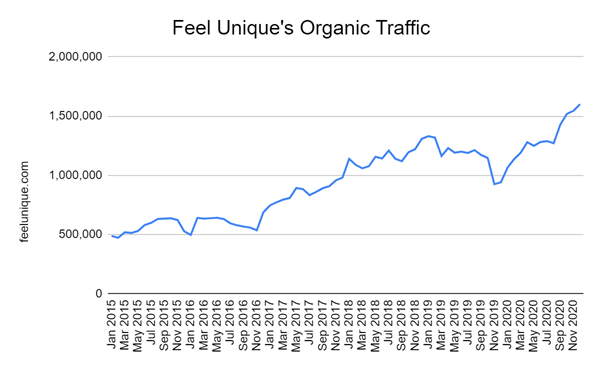 After reviewing Feel Uniques organic visibility, it's interesting to see that despite market share declining throughout late 2015 to 2017, there is little correlation between visibility and organic sessions.
Feel Unique's graph clearly shows that between January and September, the website saw an increase in visitors month-on-month, before traffic suddenly dropped in December and January.
Typically speaking, you wouldn't expect a beauty and cosmetic eCommerce site to see a drop in sessions in December as makeup, skincare products are often bought as Christmas gifts. This could suggest that a technical problem could have been the root of this two-month dip.
Feel Unique later experienced a decline in organic sessions from June 2016 to November 2016. This appears to align with the companies site being hit by an unknown Google update in the July, and then at the release of Google's penguin update.
The purpose of this update was to target websites using spammy and manipulative link building strategies.
As a result of a shift towards white hat SEO tactics, Feel Unique likely conducted a backlink audit to highlight spammy links. This would explain Feel Unique's sudden surge of traffic over the next two years if this is the case.
Similarly to December 2015, Feel Unique also saw a reduction in visitors for November and December 2019, which happens to match the site's drop in market share. This was likely to have been caused by new algorithm updates.
It's also worth pointing out that despite 2020 being a curveball, Feel Unique's organic sessions were not impacted by the world's state and the various UK lockdowns. Instead, Feel Unique managed to grow from 1,064,434 organic sessions in January 2020 to 1,600,477 sessions in December 2020, which evaluated to a 50% increase in organic visitors.
Cult Beauty organic performance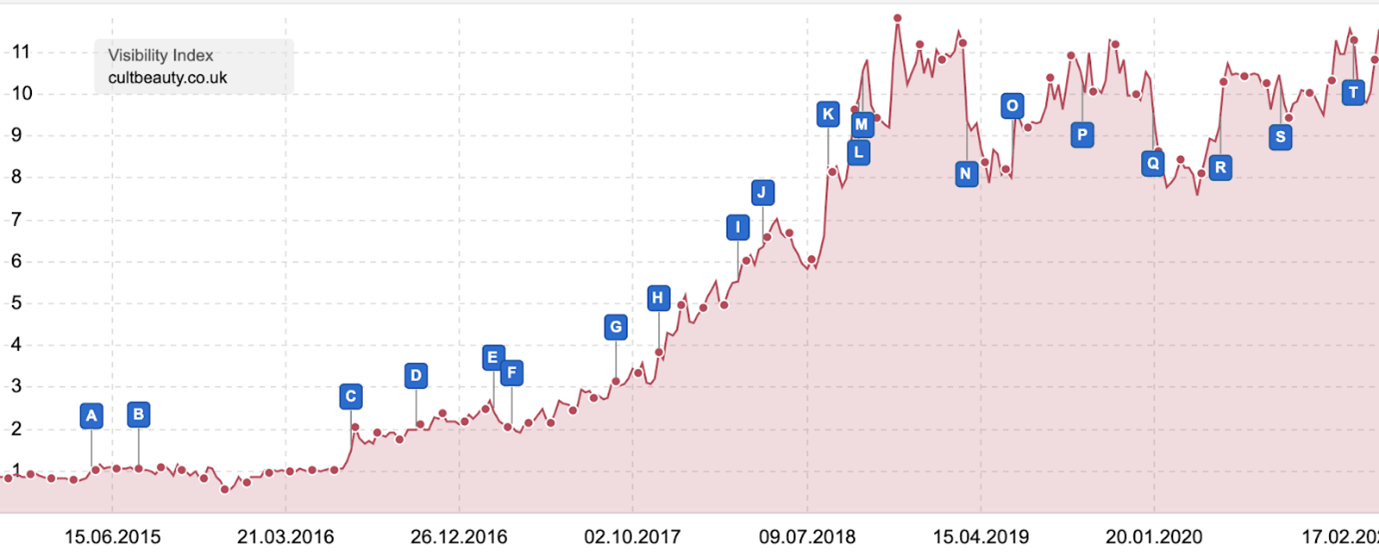 Over the past five years, Cult Beauty has managed to achieve great organic search growth, and in January 2015, the site had approximately 3.7% of the market share for the five competitors we've analysed. By January 2020, the site's market share was 22.2%, meaning the company managed to achieve 500% increase in organic visibility during this period.
It looks as though Cult Beauty's organic market share was initially boosted by Google's unknown algorithm update in July 2016, before a slight reduction in organic visibility when Google's next unknown update was released in February 2017.
As of April 2017, Cult Beauty's market grew exponentially quick. Within one year, the site had achieved an increase of 206% in market share. Cult Beauty managed to reach its highest organic market share as of December 2018. This occurred just after Google's medic algorithm update was released in October 2018 (Label M).
Google also released a core algorithm update at the end of April 2018 (Label J). It usually takes around two weeks for this update to be rolled out to all of Google data centres. The graph shows that at the start of May, Cult Beauty's website organic visibility started dropping, which continued before settling again in mid-July.
It appears that on various occasions, search engines have released a new algorithm update, and Cult Beauty's organic market share has been boosted days before the announcements. Therefore, the marketing team at Cult Beauty may regularly monitor the organic visibility to identify when search results are more volatile.
Despite Cult Beauty seeing a jump in market share when Google release one of its core updates in June 2019 (Label O), seven months later, the site saw the opposite effect when Google rolled out its January 2020 core update (Label Q).
This movement is bizarre, as several months after the May core update (Label R) was released, Cult Beauty's market share was boosted again.
With Cult Beauty's website being in a cycle of seeing a drop in market visibility and then an increase each time a core update is rolled out, this could suggest that search engines don't have full confidence of the site. Therefore, Cult Beauty may benefit from reviewing its content and backlinks to ensure it isn't deemed spammy or irrelevant.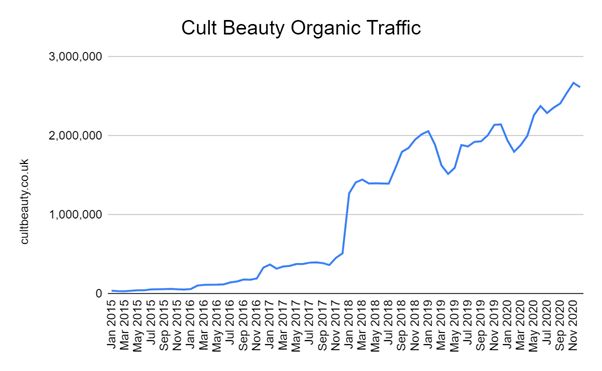 In January 2015 Cult Beauty received 37,999 visitors, whereas five years later, it attracted over 1.9 million organic visitors.
Due to Cult Beauty achieving such great organic growth within a short period, I am led to believe this could have been the result of a potential website(s) merge. To go from 512,801 organic sessions in December 2017, to 1,271,536 visitors a month later, is exceptionally impressive, which leads me to think something positive must have occurred.
Since January 2018, Cult Beauty's organic sessions have continued to grow. In that year alone, the company managed to achieve an additional 600,000 visitors. This matches up with the continued rapid growth of the market share throughout 2018.
However, as of February 2019, Cult Beauty's organic traffic dropped for around four months, and as a result, the site lost approximately half a million visitors. This appears to line up with Cult Beauty being negatively affected by Google's March 2019 core updates.
A potential reason why the market share and traffic dropped could be due to following tactics that heavily focus on quantity over quality. As a result, the SEO team built a large number of links, which Google decided to be poor or potentially spammy.
Cult Beauty saw a similar pattern occur around January 2020, when Google released its core algorithm update, which resulted in both of Cult Beauty's organic market share and traffic dropping for three months.
Conclusion
To conclude, the UK's ecommerce beauty and cosmetic industry has grown over the past five years, and 2021 will be a great year for Cult Beauty to continue improving its organic performance, reducing the market share between themselves and Look Fantastic.
In addition to this, Just My Look has the potential to make some great progress as long as its SEO team pays attention and improves its website performance, especially when it comes to different aspects of user experience. We advise the team to read about the forthcoming May 2021 page experience update.
And finally, based on the five beauty and cosmetics websites I've reviewed, it's interesting to see that the majority of the websites have been negatively impacted at one point or another by Google's core algorithm updates. This highlights the importance of quality content and technical prowess.