Market analysis of Flying Tiger
Flying Tiger is a popular variety retailer chain that originated in Denmark. The brand has more than 900 physical stores across Europe, with its largest markets in Denmark, Spain, Italy, and the UK. It boasts a wide selection of products, including homeware, arts and crafts, and stationary.
All Flying Tiger stores follow a specific layout of a maze style, creating the idea of being open and light. The layout makes the stores simple to navigate and enables customers to seek inspiration by discovering the full range of products as they walk through the store. But does this reflect in their online presence?
Flying Tiger was historically an in-store-only experience, relying heavily on footfall. However, the brand launched an online site in 2021, which currently reaches an average monthly search volume of 582,000. This is great, but could this do better?
Keywords
When it comes to keywords, we've noticed a potential for improvements to making the site more discoverable for organic searches.
Keyword optimization is an incredibly important factor, as it can be the missing piece to pushing organic traffic and sales to the right people. This includes identifying the right keywords and identifying consumer awareness around the business.
After looking into the Flying Tiger site, we've noticed that, out of the 104,456 keywords used on the site, the brand is only gaining organic traffic for around 1,156 of them. This analysis is based off keywords from the UK, US, Poland, Spain, and Italy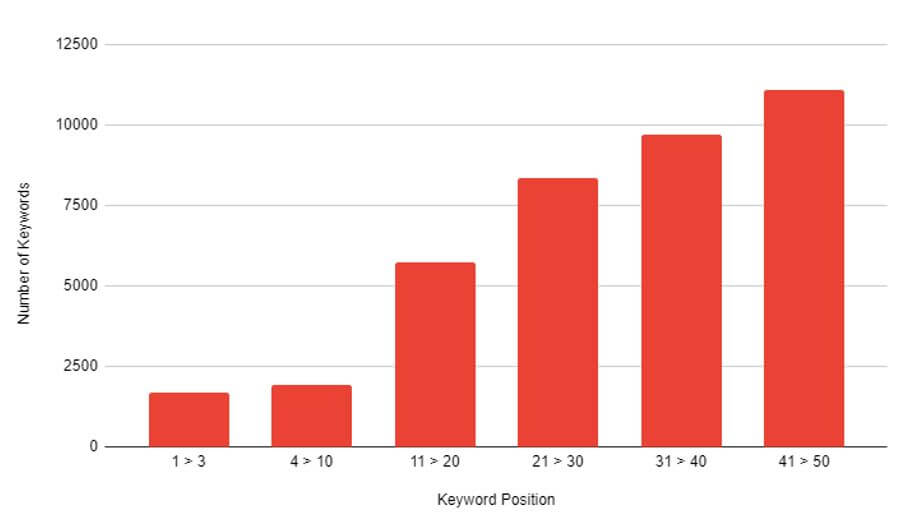 The graph above highlights the keyword ranking performance. As you can see, there is only a small number of keywords providing a good ranking position, which suggests there is plenty of room for optimization.
Keyword opportunities
Among the 104,456 keywords, there are plenty of optimisation opportunities.
If we look closer, under the 'home' and 'school-and-office' subdirectories, these appear to barely draw in any organic traffic. For example, 'colourful home décor' is part of into the homeware section. This drives 0 organic traffic, and the site ranks at position 33 for the term. The competitors against this search include Amazon and Etsy. To perform better for this category, Flying Category could be exchanged for 'room decoration colour'. This is a less competitive keyword, but maintains ample search volume.
Technical issues
There is some common technical SEO issues within the Flying Tiger site that could be fixed. Once these issues are resolved, they can assist with boosting search visibility and ensure of SEO success.
Let's look at some of the technical issues Flying Tiger is currently experiencing.
Head contains invalid JS element
Most crawl bots only accept specific JavaScript elements in the head. If an element that isn't accepted is in the head, it will break the head from that point onward. Other important elements in the head will also be ignored, such as a no index robots directive.

This issue is across 1,000 URLs from the 9,100 crawled URLs

International navigation issue
When crawling the site, it's been noted there is an issue with query parameters. When the currency/country is changed, the currency/country query parameter does not render.
The issue arises when the language is changed. The subdirectory changes to that language, as expected, but the currency query parameter starts to render.

This means there will be duplicate pages for each currency and language URL.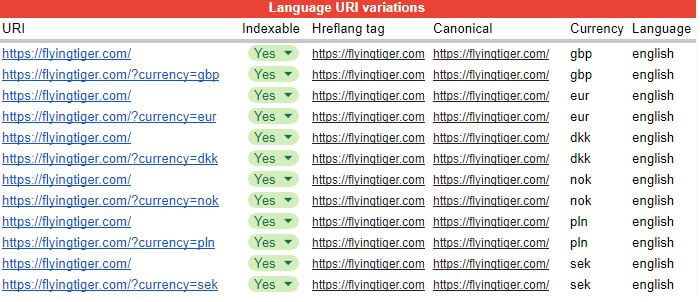 Hreflang
The Flying Tiger site also has issues with its Hreflang attributes. Hreflang tag attributes are HTML elements that tell Google which language a specific page is targeting, which in turn helps Google understand which language version to show users in different countries.
Some of the issues we've noticed on the Flying Tiger site include the following:
ccTLD differs from subdirectory usage.
ae ccTLD is redirected to https://www.flyingtiger.ae/en/
ae ccTLD canonical points to /en/homepage.html while href points to https://www.flyingtiger.ae/en/
No x-default href on ae ccTLD
en is the correct code, not UK. UK is the Ukrainian code, not the United Kingdom.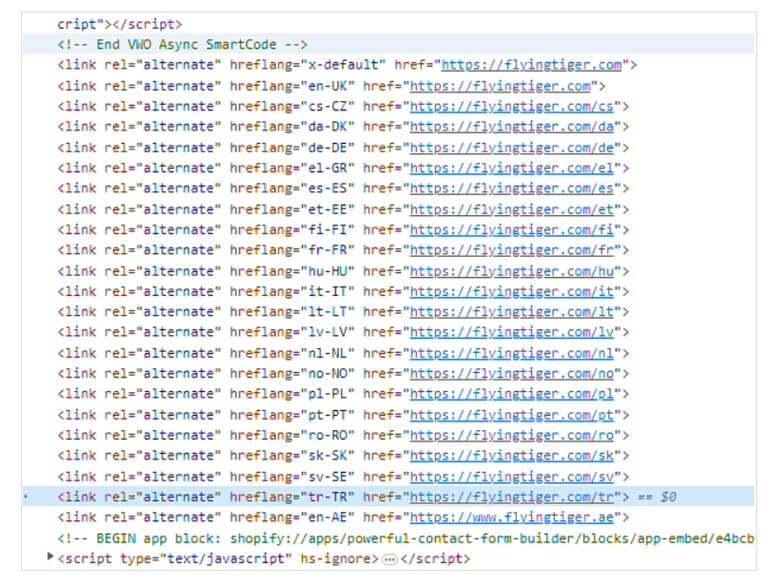 Incorrect implementation of Hreflang can have a negative impact on crawlability and indexing. There are various aspects to consider when implementing Hreflang, such as where to put the tag attribute. It can be placed in the on-page markup, the HTTP header, or the sitemap.
Hreflang should also be self-referencing. If there are any further suitable pages, these should be included. For example, if a product is available in the UK, France, and Canada, only use the 'en-gb', 'fr-fr', 'en-ca' tags rather than including all the various languages.
If the product on the French site becomes unavailable, the Hreflang on both the English and Canadian sites will need updating to remove the 'fr-fr' tag.
Sitewide redirects
Sitewide redirects impact how websites are crawled and indexed by Google. Redirects can be implemented on a group or domain-wide basis but often need to be set on an individual basis to avoid issues.
Website redirects tell browsers and search engines information about a URL and where to find the webpage. Redirects create a better user experience for visitors and help search engines understand your site better.
We have also noticed some 302 redirects instead of 301. The use of a 302 is fine for a temporary move. However, if these remain in place for a long time, search engines will index the new URL instead. How you structure URLs for SEO is just as important as optimising page titles, meta descriptions, and headers.
Product dupes issue
Flying Tiger is also experiencing issues with product duplicates. This is due to each product being indexable under the collections and product subdirectory — a common Shopify issue.
Using the navigation element, we can access the collections subdirectory, and the product pages listed under that subdirectory. Then under any page-based elements, such as 'Others also viewed' or 'Shop Easter decorations now!', users are directed to the product subdirectory. This confuses Google bot and wastes crawl budget.
Some steps have been taken to try and mitigate these issues, such as implementing canonical tags. These are pointing to the product subdirector pages for all product pages. However, more steps must be taken to ensure the website is directing Google bot correctly.
Considering this, Google bot should be able to reach all pages via home pages, product suggestions on those pages, and the sitemap. But crawl depth will be deep for a lot of products, and there will be a lot of duplicate content that can cause a bad user experience on the site.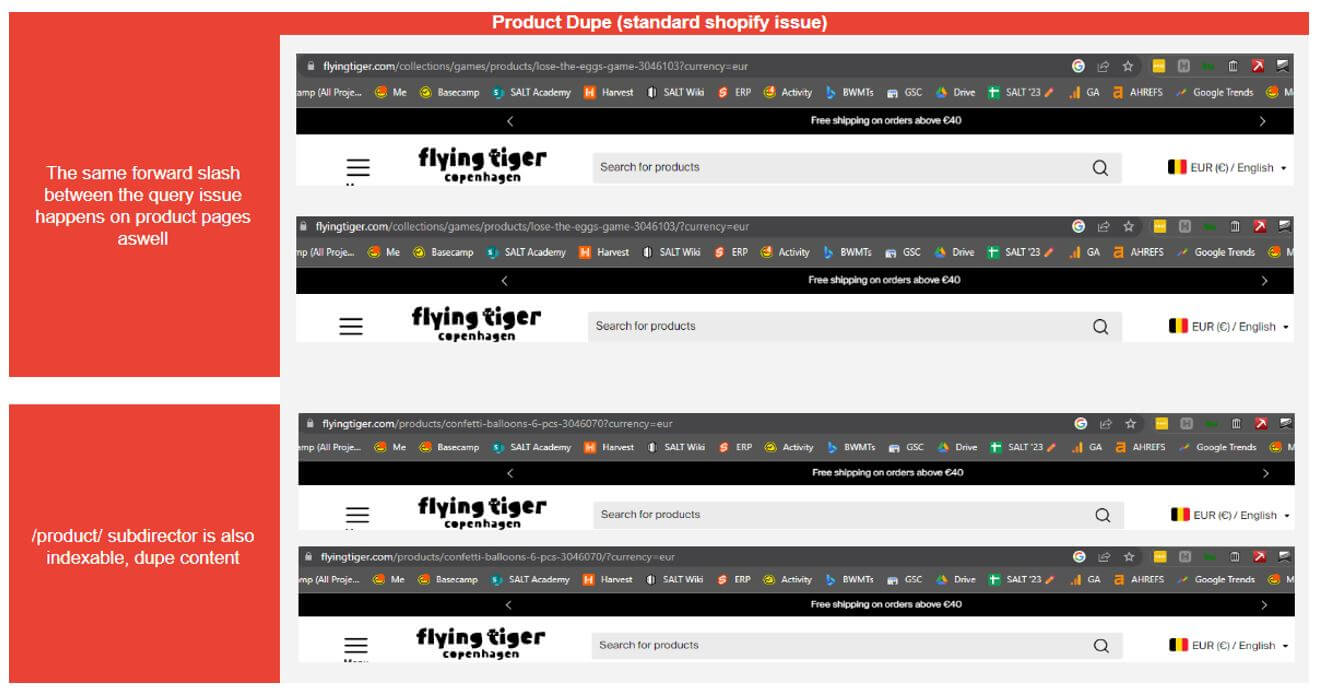 Final Thoughts
Flying Tiger have a range of technical issues that should be resolved to ensure better user experience. We've discovered that 94,324 keywords used on the site are non-traffic driving.
If users are experiencing redirect and duplicate product issues, they could leave the site earlier than expected and suggest to Google that the site is bad quality for user experience.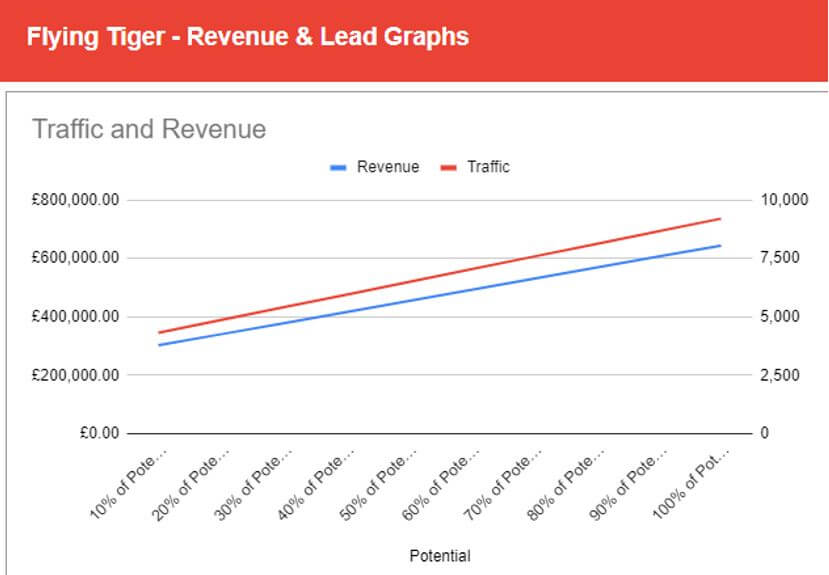 Finally, based on this information, we've calculated the estimated current traffic and the potential and noticed an opportunity gap of approximately 5,424 leads, which equals to a significant amount of missed conversions.
Looking at the graph above, this clearly highlights the potential revenue and conversions that could be achieved through optimizing the site and would be hugely beneficial to the business.
After resolving some of the sites technical issues and targeting different keywords, the Flying Tiger site could experience a significant increase in organic revenue.