Generative AI embedded in Google search – The future of organic
The much-rumored AI-powered Google Search engine, code-named Magi, has finally arrived with a new search generative experience (SGE).
However, access to this new feature is limited to a Google Labs waitlist, which means users may have to wait several weeks before they can try it out for themselves. But fear not — we've got a sneak peek into what the new Google Search generative AI experience looks like.
This approach is more cautious than that of Bing's AI features rollout, which says to me that they are wary of making wholescale changes to the core search product, and the expedited rollout of AI functionality comes off the back being caught on the backfoot by the arrival of ChatGPT 3/3.5/4, and how quickly Bing rolled out a more "polished" search AI integration.
The reason I say Google was caught on the back foot is because, since at least 2016, Sundar Pichai has described Google as an AI-first company. However, in terms of public release and accessibility to AI tools, it was not the first to market.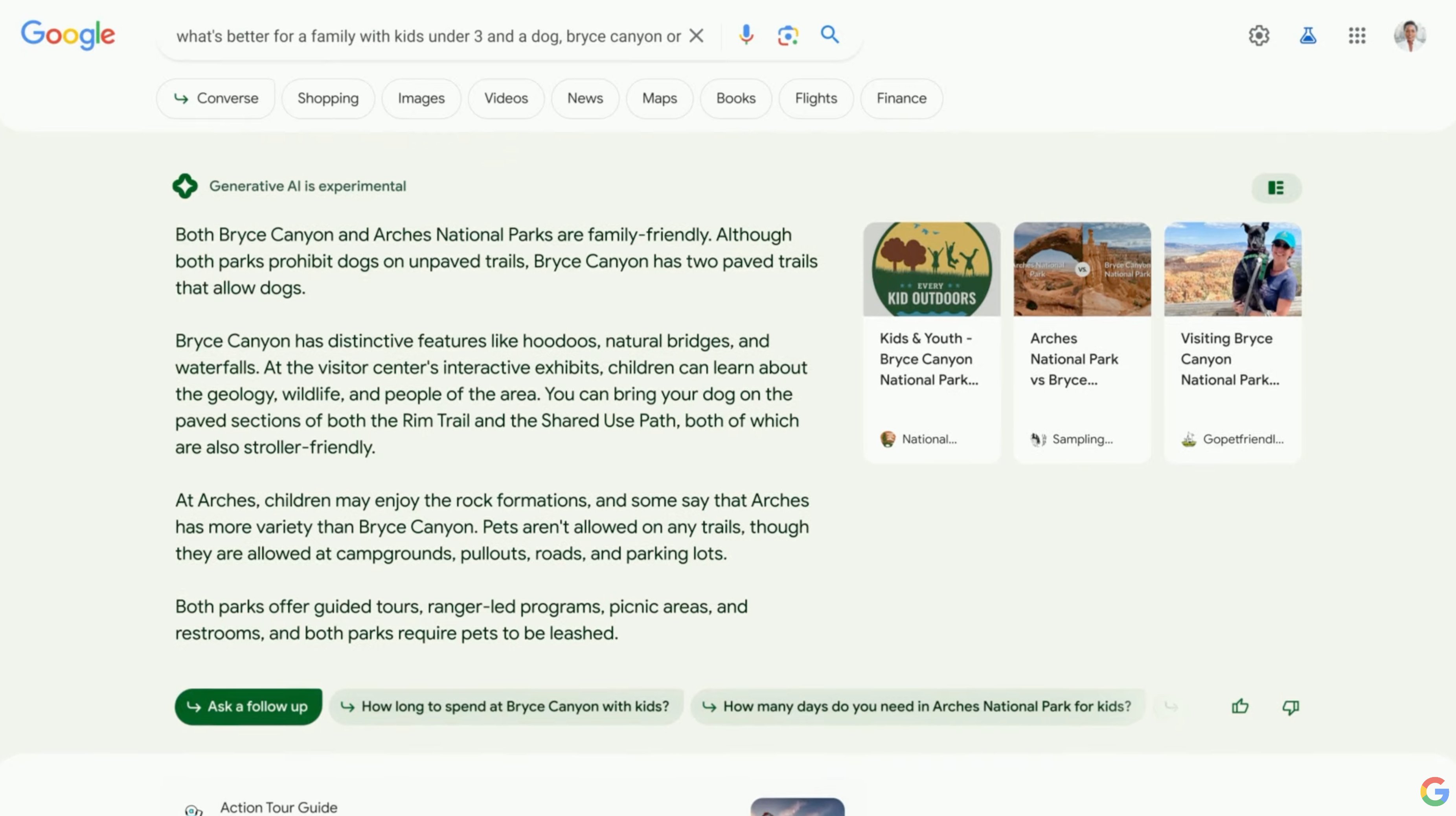 The AI-generated answer to the user's query appears in a boxed format above the search results, which Google clearly labels as experimental.
The answer is followed by the websites Google used to generate the response, which users can click on to learn more. Clicking the expand button will reveal additional responses from the generative AI. Throughout the answers generated by AI, Google provides clickable boxes with images that lead to the respective websites for further information.
Google's SGE can also be used for vertical search experiences, such as Google Shopping results.
This is important, as we're already seeing Google experimenting with interesting eCommerce SERP layouts for some high-profile product searches.
The generative AI can retrieve 35 billion product listings from the Google Shopping Graph, which receives 1.8 billion updates every hour.
The conversational mode feature enables users to follow up on their queries by adding more details or additional prompts. The AI understands the context and carries it over from previous questions to reformulate the query better.
For this, Google has outlined a five-step approach to its SGE program:
Simplifying user tasks: Google aims to minimize the steps required for searchers to achieve their goals, ensuring a seamless and efficient experience.
Ensuring high-quality information: Google strives to provide reliable and authoritative responses, particularly for health and financial queries.
Safety considerations: Google evaluates whether to offer first-person responses and aims for user trust, even when it cannot verify the accuracy of all answers.
Supporting the ecosystem: Google intends to promote content sources by driving traffic and offering credits, encouraging users to explore further.
Relevant and non-intrusive ads: Google aims to present ads that add value and additional information to users, considering the best ways to integrate them into the search experience.
The new search experience uses a variety of LLMs, including but not limited to MUM and PaLM2, and is designed to carry out tasks specific to Search, such as identifying high-quality web results that corroborate the information presented in the output.
Google is playing it safe with this new version of Google Search and will only show answers for safer queries. For YMYL (Your Money, Your Life) categories, Google is expanding YMYL to include civic information.
Given the trust people put in Search, we were intentional in constraining conversationality. What this means, for example, is that people might not find conversational mode in SGE to be a free-flowing creative brainstorm partner — and instead find it to be more factual with pointers to relevant resources.
Google is taking a responsible and deliberate approach to bringing new generative AI capabilities to search.
They are deploying search quality raters to do early testing before launching it to the first set of public users. These ratings do not directly impact SGE's output but are used to train the LLMs and improve the overall experience.
How does this impact SEO
The new Google search generative experience is a significant departure from what we've seen from Google before. Google is doing a much better job of linking to publishers with the goal of driving traffic to websites. It is not replacing the current Google search experience, and Google is likely to listen to feedback and adjust these features before launching it as the main search experience on Google.com. Users can sign up for the waitlist today, and the first wave of approvals to try out this new search experience is expected to arrive in the coming weeks.
As Google integrates text-generation technology into its search engine, it faces significant challenges and risks. The company's dominant position and reputation make this move a crucial test for the effectiveness and impact of ChatGPT-style technology.
Ensuring information accuracy is a priority due to the potential for language models to generate fabricated content.
Additionally, concerns arise among online publishers regarding the scraping and reutilization of their content by search companies, potentially resulting in reduced referrals. Google must also be cautious not to undermine its search advertising business, a substantial revenue source.
The removal of featured snippets marks a substantial and striking change. Without this feature, the highest-ranked article no longer enjoys its previous level of visibility.
Conversational prompts are now also incorporated prominently in the SERP, following the example of Bing. These prompts enable users to switch to conversational mode, initiating an experience comparable to that of ChatGPT. Users can then engage with a user interface reminiscent of Bard.
As we gain access to Project Tailwind, it will be interesting to see how this affects research and information-focused queries across eCommerce, Travel, and SaaS (the three verticals that came to mind first as likely to be impacted in terms of traditional SEO reporting and workstreams).