How Valtra uses digital marketing to stand out in AgTech
Valtra is an industry-leading AgTech manufacturer that delivers reliability, versatility, and durability. The company differentiates itself through technologies and customizability.
One of Valtra's most popular services, Valtra Unlimited Studio, offers customers the option to fit accessories or equipment that is unique to their needs.
The company's unique marketing has helped them stand out in an entrenched industry with clear market leaders. Let's take a look at some of Valtra's digital marketing strategies and how it has led them to success.
Market-channel-media fit
The marketing of agricultural equipment presents unique challenges. The various applications, farming, aviation, and municipal work means a variety of consumers must be targeted.
However, the economic buyer may not be the end user, so determining every potential consumer's requirements and the best way to communicate Valtra's solutions will vary.
From family farms to international airports, the scale of applications varies enormously, adding further complexity.
Valtra's solution to this uses a broad range of channels and media. These include a newsletter, blog, YouTube channel, published magazine, virtual showroom, video game, and e-sports team.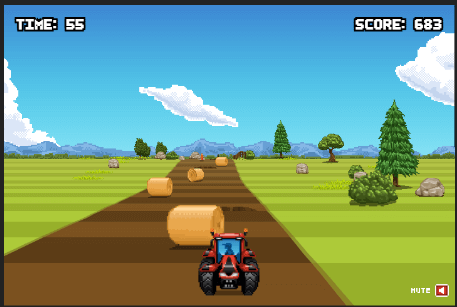 This omnichannel approach allows Valtra to take advantage of the changing media landscape where competitors may not have.
It also increases touch points with the consumer giving the company more opportunities for positive interactions. This ultimately increases brand awareness and drives customers down the marketing funnel.
Now let's take a closer look at how Valtra uses social media and content marketing at each stage of the marketing funnel to stand out from its competitors.
How is Valtra using effective content?
In an industry full of reserved marketing, Valtra offers a fresh alternative. With the focus on engagement, Valtra has invested a lot in crafting a unique customer experience.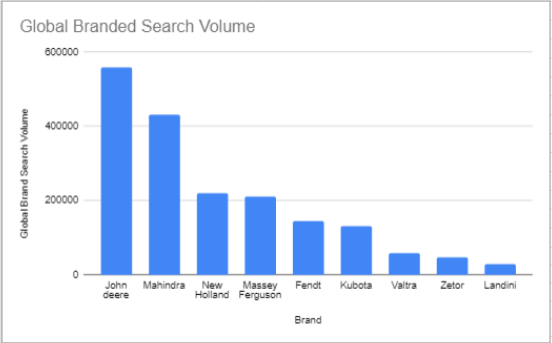 Top-funnel (TOFU) users
Below are two screenshots demonstrating the interactivity of Valtra's virtual showroom. The showroom allows users to explore each tractor's details, accessories, and functionality.
Instead of a customer visiting an in-person showroom with limited stock, they can get a feel of the product from home.
Each moving part of the tractor can be interacted with in the showroom, allowing consumers to understand its capabilities better.
For an expensive product with high friction to purchase, this lower-friction method of interacting with a 3D product model is valuable to customer engagement.

Significant investment has clearly been made into making this a high-quality experience, and many companies could learn from Valtra's tactics.
The Valtra showroom has generated over 7,000 backlinks, proving a valuable source of link equity.
While some competitors also offer VR and interactive showrooms, none are to this level of detail. It's incredibly useful for TOFU customers as it impresses straight away by offering more than what they may have expected.
Middle-funnel (MOFU) users
Moving down to the middle of the funnel, we are greeted by Valtra's YouTube channel. This provides a more detailed and realistic view of the functionality of Valtra's tractors.
Videos accompanied by subject matter experts' sharing opinions help further educate consumers about the pioneering features of Valtras tractors.
The channel now boasts over 31,000 subscribers, and the highest-performing video has more than 214,000 views.

The channel takes a similar approach to other competitor's content channels, with the overarching theme of videos being the championing of the customer and technology.
This, along with the production quality of the virtual showroom, sets the precedence of Valtra as an innovative brand.
Quality interactions through videos leads consumers to believe in the quality of a product before ever using it, pushing consumers further down the marketing funnel.
Bottom-funnel (BOFU) users
Even further down the funnel, Valtra has some more unique content as part of a virtual simulator.
For context, there is a popular online game called Farming Simulator, and Valtra's Farming Simulator e-sports team gets a lot of attention, ranking 2nd in the league as of September 2023.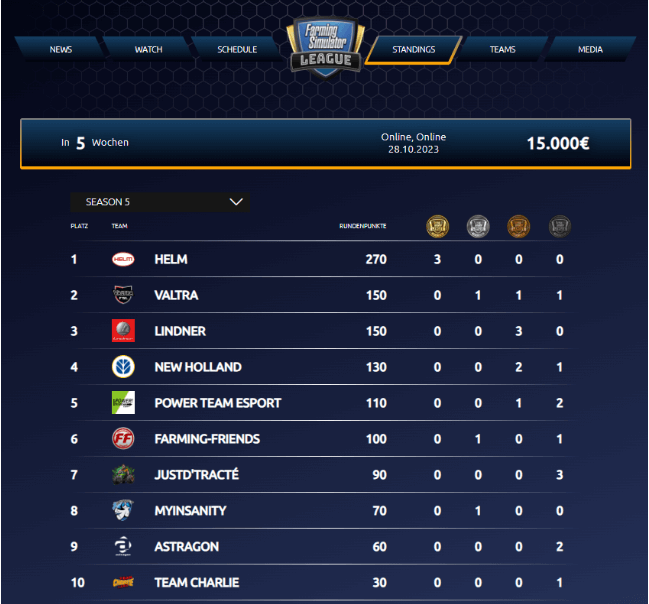 Farming Simulator has over 90-million downloads, with many of those players likely to be actual farmers. By getting its name directly in front of players who are also likely to purchase tractors in real life, Valtra is directly competing with its competitors in an interactive and engaging way.
This is especially appealing to BOFU customers who are already aware of Valtra and what they do, as it reminds them of who the company is again.
Valtra has well-thought-out content that appeases every step of the customer journey. While the decision-making unit may be diverse for a complex product, the needs of the customer are appropriately addressed at the stage they are at.
Valtra understands how to generate brand awareness and engagement to convert customers, building loyalty throughout.
Championing customers in their magazine and on their YouTube channel continues to provide value to consumers in the loyalty stage of the marketing funnel.
Opportunities
While Valtra has a well-developed marketing strategy, there are still channels that are not utilised to their full potential. Looking at Valtra's SEO performance using a third-party tool — Ahrefs — we can calculate the year-on-year performance of organic search.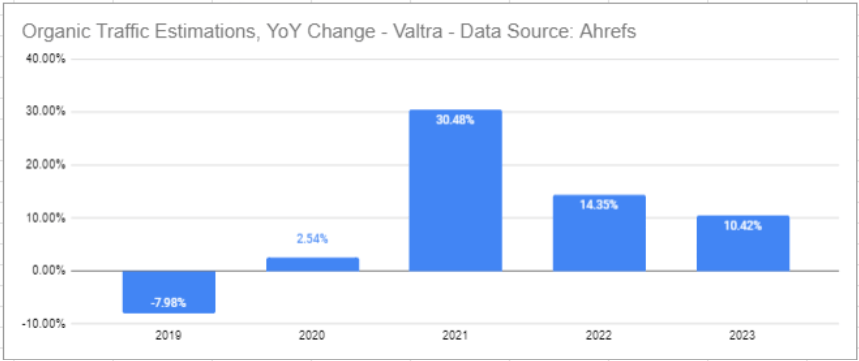 Based on the above data, we can see growth peaked in 2021 and has slowly declined since. It looks like COVID-19 accelerated the growth of Valtra's organic traffic, but the website has continued to grow in the following years. Digging deeper, we can see most of the traffic comes from branded queries.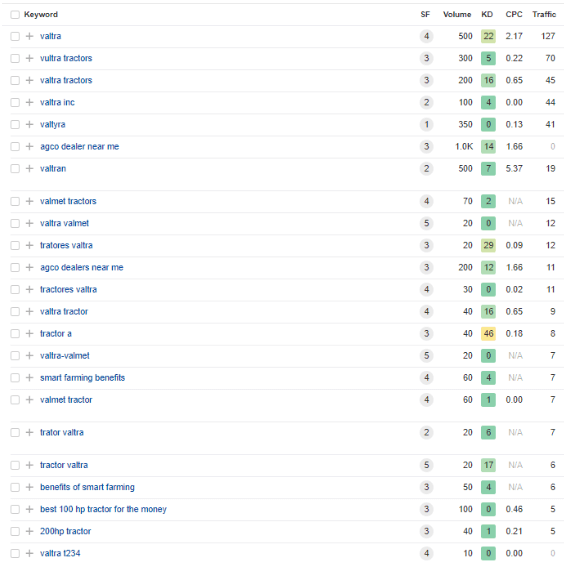 As we can see, there is a lot of room for growth in non-branded products and agricultural queries.
Using an internally developed tool — TebCat — we can do a thorough analysis of the potential growth. Data from Ahrefs shows a 10% increase in ranking performance, yielding a potential additional 5,800 organic sessions per month.
| Potential | Traffic |
| --- | --- |
| 10% of Potential | 5,862 |
| 20% of Potential | 10,774 |
| 30% of Potential | 15,686 |
| 40% of Potential | 20,597 |
| 50% of Potential | 25,509 |
| 60% of Potential | 30,421 |
| 70% of Potential | 35,333 |
| 80% of Potential | 40,245 |
| 90% of Potential | 45,157 |
| 100% of Potential | 50,068 |
Valtra's unique content has successfully generated a significant amount of organic backlinks.
This, accompanied by a focused SEO strategy, can successfully activate a new channel of customers.
How SALT.agency would grow Valtra's site
Improving technical proficiencies
At first glance, there are technical issues that need to be addressed, such as hreflang implementation to avoid potential duplication issues. Should duplication occur, the site's performance could be significantly impacted by de-ranking both pages. 
Additionally, there are a number of URLs returning the incorrect status code. This means that backlinks pointing to those URLs are not passing on the value of those backlinks to another page.
Improving website architecture
A strong website architecture will improve the crawlability and discoverability of important pages, helping search engines understand the context of each section of the Valtra website. This sets the stage for better topical authority. A clear architecture not only improves organic rankings but also user experience, having a positive impact on conversion rates.
Targeting and creating non-brand queries
This involves completing comprehensive keyword research, in which we can explore opportunities to target non-brand queries. We must then map keywords to current pages we want to rank for or look to create new pages that will rank well for those new opportunities. 
The new pages should be optimised through changes to text, internal links, structured data, metadata, image optimization, H tags, and more. 
New content for other opportunities can then be created with these optimizations already in place. Alongside a cannibalisation review, keyword tracking for those specific keywords and URL-specific tracking and reporting would also be beneficial. 
Topical agri-hubs to establish authority
Building out topical hubs has become an increasingly important part of SEO strategy. As Google continues to favour authoritative sites for a specific topic, covering a range of contexts signals expertise, which can help increase rankings.
It can also provide valuable content to consumers and help nurture potential customers through the conversion funnel, positioning Valtra as a respected expert.
Final thoughts
Valtra's skill in creating valuable customer experiences at different stages in the funnel helps its content stand out in the AgTech industry.
Putting more effort into the tail end of the marketing funnel (BOFU, the loyalty stage) and other marketing channels will prove valuable in years to come, as AgTech is synonymous with brand loyalty and tribalism.