How Allbirds promotes sustainability & drives 350K organic sessions a month
In the highly competitive world of eCommerce, it's crucial to excel in all aspects of marketing to distinguish your brand. Certain companies do just that while maintaining a strong focus on sustainability.
In this article, we'll explore how Allbirds drives an impressive 350K organic monthly sessions while championing sustainability.
Who are Allbirds?
Allbirds is a sustainable footwear company founded by Tim Brown and Joey Zwillinger. The two of them created a revolutionary wool fabric made specifically for footwear. Allbirds lists its proudest moments so far as:
Being a certified B corp
Working with Soles4Souls
Using 90% post-consumer recycled cardboard for packaging
Exploring Allbirds SEO metrics
Since Allbird's beginnings, the brand has seen huge growth and popularity. Let's explore how things have changed.

Allbird's performance is impressive, with 166K backlinks from 8.8K referring domains and actively targets 77.4K keywords. All these efforts resulted in 350,000 monthly visitors.
As shown below, Allbirds has had steady growth in traffic. In the past five years, it has grown organic traffic by 77%, and looks to be continuing in an upward trajectory.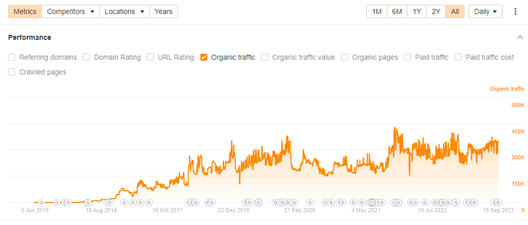 When it comes to competitors, it's clear that Allbirds soars above the rest, which is a tough thing to do in a saturated market.

How Allbirds are promoting sustainability
With sustainability at the heart of its business, Allbirds is committed to reducing its carbon footprint significantly.
To achieve this, the brand devised a Flight Plan, aiming for a 50% reduction by 2025 and reaching near-zero emissions by 2030. Impressively, the company has made substantial progress and is halfway to these goals.
Here's how Allbirds promotes sustainability:
Sustainable materials:

It uses eco-friendly materials, including wool, tree, sugar, trino, and trinoXO.

Carbon neutral:

Allbirds offsets its carbon emissions, making operations carbon neutral. 

Reduced waste:

Allbirds minimizes waste in its manufacturing process. For example, 90% of post-consumer recycled cardboard as a shoebox, shopping bag, and mailer. 

Transparency:

Allbirds openly shares information about its sustainability efforts and goals. You can download the sustainability report from the Allbirds website.

Green innovation:

Allbirds was built after one of the founders questioned why sustainable resources were absent in the footwear industry. This started a quest for green innovation.
How Allbirds successfully drives 349k organic sessions a month
Let's explore how Allbirds achieves success with SEO and its sustainability commitment.
Optimized product pages
Allbirds has carefully crafted product pages that benefit both SEO and user experience. These pages feature:
High-quality images and videos

Various color options

Product highlights

Detailed specifications

Sustainability information specific to the product

Care guides

Recommendations for related products

Comprehensive product descriptions

Customer reviews
This wealth of information not only aids users in understanding all necessary product information but also assists search engines in understanding the page's content and purpose.
Collections
Allbirds created "collections" that allow users to browse a range of products, such as all women's shoes. These collection pages offer filtering options based on range, size, suitability, material, and color.
This feature proves especially helpful for users who may need clarification about their desired Allbirds product, as it allows them to explore the selection and make an informed choice.
Creative content
Allbirds has added a touch of creativity to its website by introducing a "style quiz." In this interactive feature, users answer five questions, and in return, they receive a selection of products tailored to their preferences.
This engages users and streamlines their shopping experience, effectively showcasing Allbirds' product offerings.
Social media
Social media has played a significant role in Allbirds' growth. The brand has lots of followers on different platforms:
Instagram: 495K

TikTok: 13.1K

Facebook: 266K

Twitter (X): 31.8K

Pinterest: 16.1K

YouTube: 5.63K
Allbirds is smart about how it uses each platform. On TikTok, the brand makes videos like "get ready with me (GRWM)," travel, fashion, behind-the-scenes, sustainability, and day-in-the-life.
On X (Twitter), it mostly shares pictures of products and short descriptions with product links.
No matter the platform, the brand joins in on trends, talks to different kinds of people, and shows off its products. Allbirds always guides people to its website and products in their posts, contributing to traffic growth.
Brand awareness
Building brand awareness is crucial for Allbirds, and it has achieved this through various online efforts, social media engagement, and effective PR strategies. This brand-centric approach is reflected in the significant volume of organic keyword searches, as demonstrated below: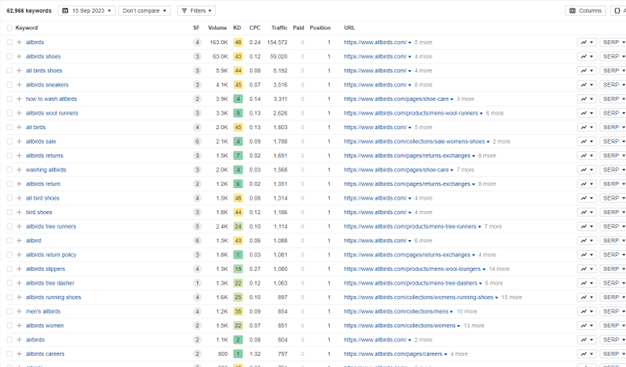 The term "allbirds" alone has a remarkable monthly search volume of 163,000, while related phrases like "allbirds shoes" accrue 63,000 searches.
Improving brand awareness can positively impact SEO in several ways:
Improved click-through rates (CTR): 

When users are familiar with and trust a brand due to previous exposure, they're more inclined to click on the website when it appears in search results.

Branded keywords:

As previously discussed, well-recognized brands often attract searches for specific brand and product terms, such as "allbirds running shoes."

Enhanced visibility:

The more individuals encounter a brand through news, social media, or advertising, the greater the brand's exposure and visibility. Consequently, more people will search for it and visit the brand's website.
Partnerships
Allbirds has partnered with renowned brands and artists like Adidas, Tiffany Bouelle, and Zipeng Zhu. These collaborations infuse Allbirds products with distinctive design elements, creating a sense of exclusivity, often as limited editions.
These partnerships enhance the Allbirds brand and offer opportunities for expanding reach and marketing. They can lead to valuable backlinks from news outlets and collaborating partners, boosting visibility and appeal.
Affiliates
Allbirds has established an affiliate program that caters to two distinct categories: "social ambassadors" and "media publications."
Social ambassadors encompass individuals with a pre-existing follower base on platforms like Instagram, TikTok, or YouTube. They receive commissions on net sales and benefit from complimentary Allbirds products.
The media publications category is designed for those who promote Allbirds through various means, such as articles, newsletters, podcasts, and personal blogs. This incentive extends commissions on all net sales.
The affiliate program is a highly effective avenue for collaboration with influencers and other partners capable of expanding the product's reach. This expansion leads to increased sales and enhances brand awareness—a pivotal aspect of Allbirds' strategy.
Sustainble initiatives
One of the sustainable initiatives of Allbirds' transformation of the footwear industry is its "ReRun" program. This program serves as an example of how the company is making a positive impact.
Before we dive deeper into this initiative, it's worth noting its popularity, as evidenced by the impressive monthly search volume of 1,200 for "Allbirds ReRun."
The "ReRun" program operates as a separate marketplace where customers can purchase imperfect and lightly used Allbirds products.
Although it exists in a different domain, it plays a crucial role in reinforcing Allbirds' brand identity and spreading the message of sustainability.
The program provides an alternative shopping experience for customers interested in supporting Allbirds' eco-friendly mission.
How Allbirds could improve its SEO strategy
Although Allbirds is driving traffic successfully, there are still some ways it could improve. Let's explore this in a bit more detail.
The addition of supporting content
While navigating the Allbirds website, it becomes evident that some valuable content is available. However, accessibility to certain content can be challenging.
For instance, take the page titled "How To Wash Your Running Shoes (And How Often)."
This page drives approximately 938 monthly sessions, yet it is not easily discoverable within the site's structure. This content could be seamlessly integrated into a dedicated blog or insights section.
The potential to expand and create supporting content for Allbirds is enormous, focusing on topics like sustainability, exercise, and fashion.
Establishing a blog can serve as a powerful tool to reach a broader audience, improve SEO, and encourage users to explore and purchase Allbirds products. It underscores expertise, fosters trust, and aligns with other facets of the marketing strategy.
Increase keyword scope
As previously discussed regarding supporting content, there is an untapped opportunity for Allbirds to broaden their keyword targeting on their website. Allbirds effectively target branded keywords, but there is room for improvement in addressing other supporting keywords that could boost sales.
For instance, Allbirds does not currently rank in positions 1-10 for generic keywords like "sustainable shoes." While they hold the top position for "Allbirds sustainable shoes and clothing," this is still a branded search.
Given that "sustainable shoes" boasts a monthly search volume of 1,500, Allbirds stands to gain significantly by developing more tailored content aimed at this keyword.
By enhancing their rankings for keywords related to "sustainable shoes" by 40%, Allbirds could potentially gain an additional 672 monthly sessions. An even more ambitious 90% improvement could result in 1,474 additional monthly sessions.
In the sustainable fashion world, a popular keyword in this industry is "sustainable fashion," with a monthly search volume of 29,000 (globally). Surprisingly, Allbirds does not currently rank for this keyword among their organic keywords. This represents a missed opportunity that they could readily seize.
These keywords can be effectively targeted through content on "collections" pages, individual product pages, and supporting content such as blogs.
Data-led creative content
Leveraging data for creative content is a powerful strategy for many companies. It goes beyond external data and includes the wealth of information a company has internally.
Allbirds, with its strong commitment to sustainability, has a unique opportunity to harness the potential of data-driven creative campaigns. These campaigns not only enhance brand recognition but also attract organic traffic and significantly impact the industry.
For instance, consider Allbirds' transparent approach to sustainability. The brand openly shares eco-friendly practices. By creating a creative campaign around its sustainability efforts, Allbirds can strengthen its brand, draw in environmentally-conscious consumers, and sustainably expand its market presence.
Closing thoughts
Allbirds has achieved remarkable organic growth, firmly establishing itself as a key player in sustainable fashion due to its dedication to eco-friendly practices and innovative materials that have resonated with consumers, driving its success. Nevertheless, there are opportunities to further enhance this organic growth through effective SEO and content strategies.
To expand its digital footprint, reach a broader audience, and fortify its market position, Allbirds can optimize its online presence by employing various creative techniques. This involves improving website content, refining keyword targeting, and implementing sound SEO practices to enhance visibility in search engine results.
Allbirds has undeniably made significant strides, and its journey toward sustainable fashion leadership and digital expansion is ongoing. Embracing SEO as a strategic tool can propel the brand to new levels of success, ensuring continued growth and a sustained positive impact on the industry and the environment. For support in boosting your SEO strategy, contact us today.