How Marshmallow can maximise its SEO potential
The highly competitive SaaS and e-commerce insurance market has been rapidly growing. The need for insurance protection tailored to SaaS providers has increased as organisations depend more on SaaS solutions for their operations, so too does their need for SaaS-tailored insurance protection.
Many insurance providers now provide specialised plans to address the peculiar risks SaaS businesses encounter, such as data breaches, software faults, and service outages. Both established insurers extending their product lines and insurtech startups offering cutting-edge solutions must meet the changing demands of SaaS providers define the industry.
What is Marshmallow?
Marshmallow was founded in 2017 and is an insurtech company based in the UK. Its goal is to transform car insurance and make it accessible and affordable.
The brand employs modern technology like machine learning and artificial intelligence to offer affordable vehicle insurance quotations. To provide more accurate and fair pricing, they utilise data-driven underwriting algorithms that include various characteristics, such as education and employment history. Additionally, Marshmallow strongly emphasises a client-centric strategy to offer first-rate customer support and a frictionless online experience.
What are Marshmallow's SEO metrics?

According to Ahrefs, Marshmallow has an average domain rating of 53 and a low UR rating of 24, suggesting an opportunity for improvement.
However, the site currently attracts 19,300 monthly visitors and ranks for 13,200 keywords.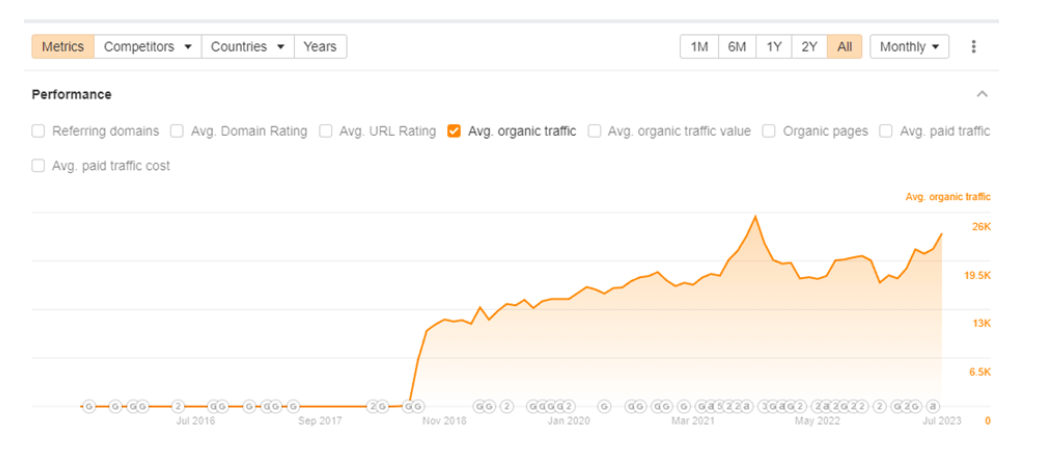 To analyse Marshmallow's SEO performance, we will review one of its competitors — InsureDaily.
What is InsureDaily?
InsureDaily is an insurance company specialising in short-term and temporary car insurance solutions. They offer coverage for a range of vehicles, including cars, vans, and motorcycles, allowing customers to insure their vehicles for a specific period typically from 1 to 28 days.
The company's primary audience is those who could be borrowing a friend's car, hiring a vehicle, or when traditional annual policies are unsuitable.
InsureDaily's SEO Metrics
According to Ahrefs, the brand's Domain rating is 52, and UR 20. However, these metrics are lower than Marshmallow's — the site attracts 51,100 visitors monthly and ranks for 17,600  keywords.

Comparing the Marshmallow and InsuranceDaily metrics data, the competitor ranks for 4,400  more keywords and attracts 31,800 more site users than Marshmallow.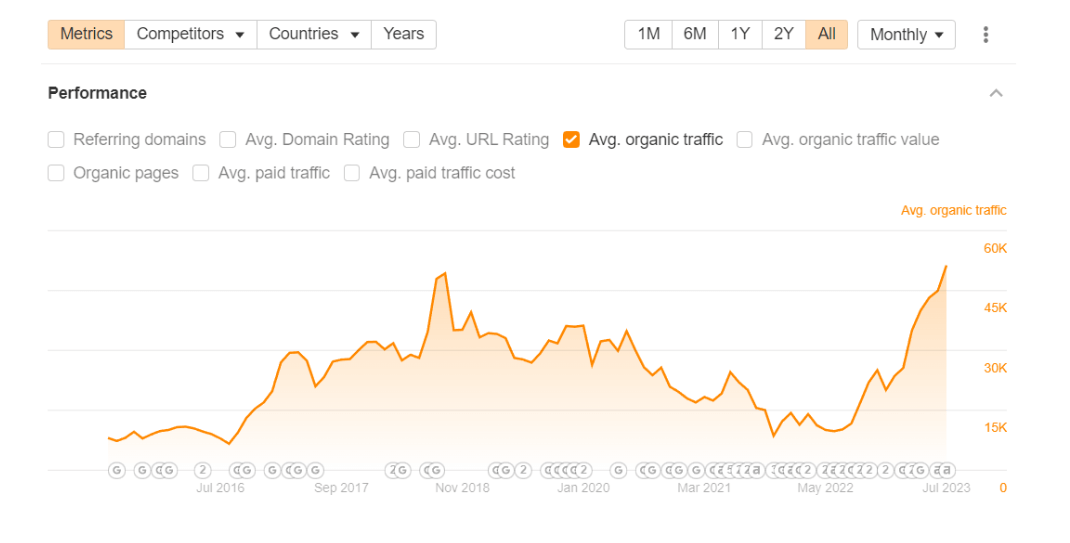 Currently, the InsureDaily site is experiencing its best performance in traffic, and it's steadily growing.
To understand the keyword gap disparity between Marshmallow and InsureDaily, we looked at page 2 keywords related to insurance.
Marshmallow page 2 opportunities
We reviewed page 2 non-branded keywords for InsureDaily based on the search terms and checked Marshmallow ranking positions for these keywords. The outcome is shown in the graph below.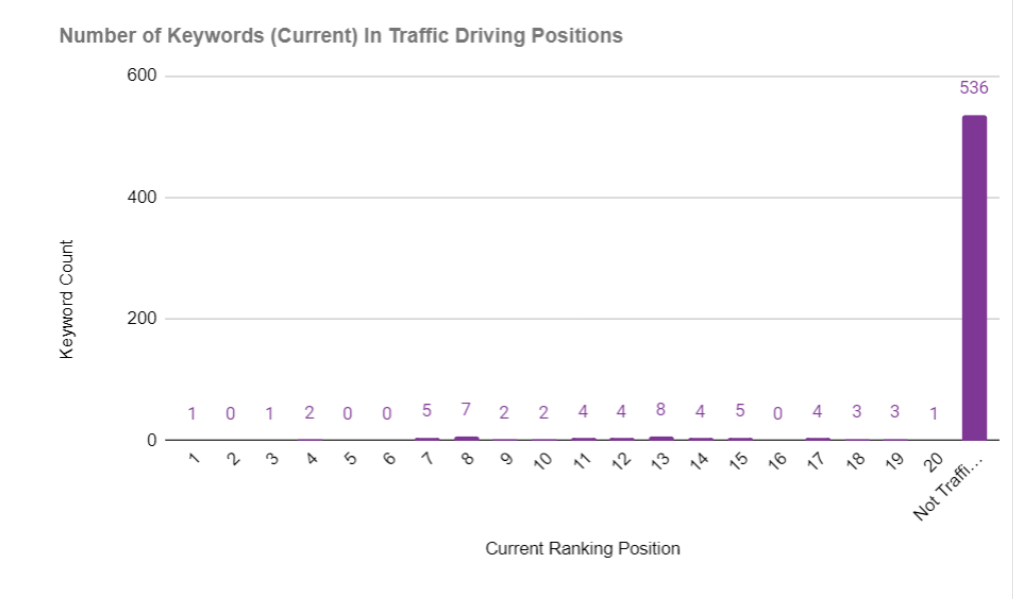 Marshmallow currently ranks only for a few keywords on page 2 for the same insurance-related keywords like InsureDaily. The brand ranks on page 3 and further for another 536 keywords, which represents an opportunity for Marshmallow to decrease the competitor keyword gap with a good SEO strategy.
Looking at incremental gains — if Marshmallow were to acquire 50% of the potential clicks from the reviewed keywords, this could potentially bring over 1,226  sessions per month.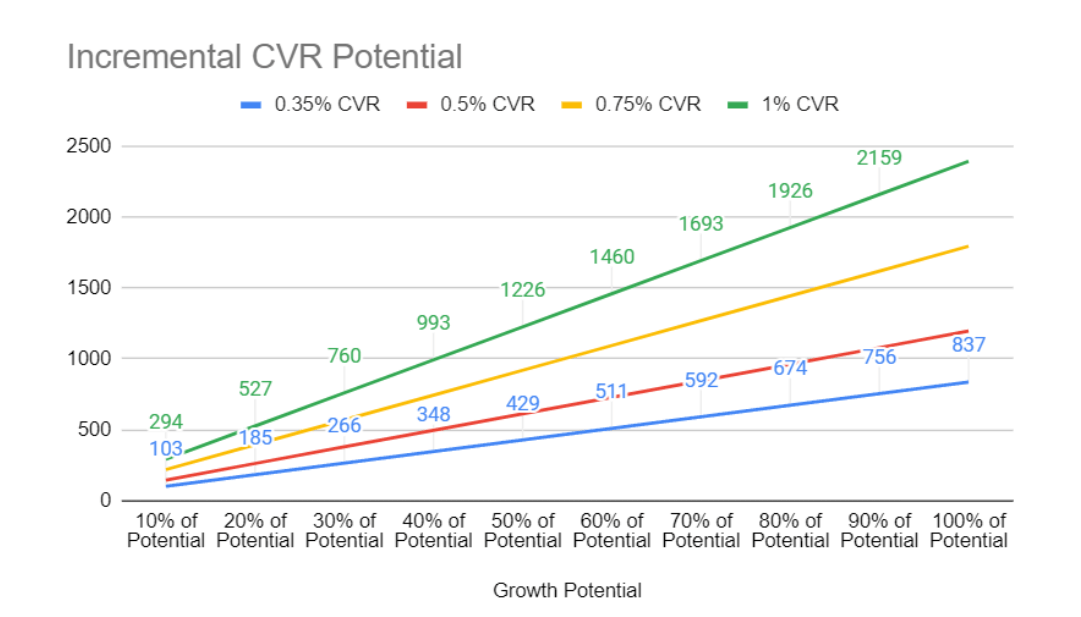 Marshmallow Month on-month traffic acquisition from October 2022 to June 2023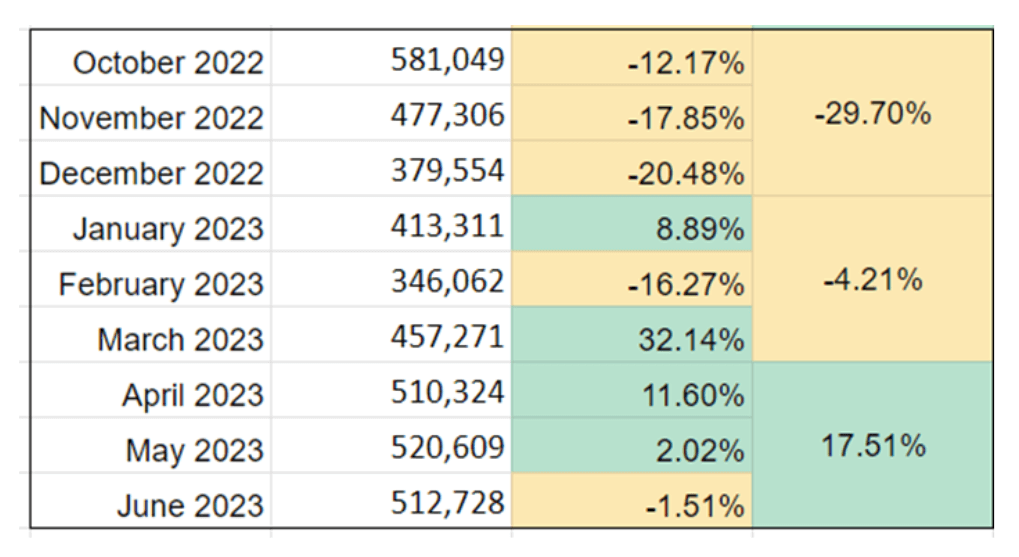 Search engines prefer informative and engaging high-quality content, so Marshmallow's success signals the business stays up-to-date with industry changes. Frequently produced blog posts providing value and answers to users' queries are more likely to rank well.
Marshmallow currently has 49 blog posts on Top landing pages, while InsureDaily has 54 blog posts on Top landing pages, which is not a significantly outperforming number. However, it suggests that Marshmallow could increase the number of its blog posts.
FAQ utilisation
Marshmallow uses /article/ not a /faq/, in their URL structure. Using FAQ in the URL structure and including the related keyword on the page could be a better signal to search engines about the nature of the page and would improve user experience.
A FAQ page aims to provide the best answers to the questions commonly asked by the audience. An essential aspect of it is to incorporate keywords into on-page copy and add-structured data. These simple practices could positively contribute to the SEO value of the FAQ pages.
The brand could also add FAQ Structured Data in JSON-LD format, as InsureDaily optimised their FAQ pages accordingly.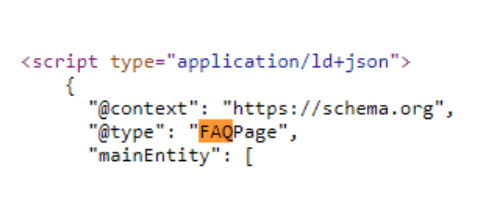 Author pages 
According to Google, author pages are not a direct site ranking factor. Still, it's important from an SEO perspective as it showcases the content value of experience, expertise, authority, and trust (E-E-A-T) that potentially contributes to improving search engine visibility of content.
Having author names displayed on a blog page and adding a page with their short byline is an important property. That would inform readers and search engines about who wrote a piece of content and their expertise in the industry. 'sameAs' could be used to add the other articles or social media profiles of the author to establish their expertise.
These implementations could be so-called low-hanging fruits that would potentially have a positive impact in terms of traffic and rankings.
Final thoughts
Google's August Core Updates once again emphasised the importance of good quality, helpful content for users. It plays a higher role in industries such as Healthcare and Finance. Given that Marshmallow relates to the second one, the site must own E-E-A-T and YMYL content-heavy pieces. The site should showcase that the content is written by individuals experienced in the industry and include relevant Schema and Structured Data where possible.
Multiple websites still do not fully use structured data, so implementing it could give Marshmallow a competitive advantage — potentially leading to increased visibility and improved rankings.