An Introduction to Content Hubs
What is a Content Hub?
A content hub is a collection of articles about a specific topic that has internal links to cluster content, which provides more information to various sections of the overall topic.
A content hub and a blog are not the same. Blog posts are often about various topics, whereas a content hub has an overall topic that all of the content relates to. The types of content can also vary within a content hub. For example, it could include webinars, e-books, videos, podcasts, infographics, guides, and more. 
Why Are Content Hubs Important?
Content hubs are important because they can help websites in terms of SEO. For example, by regularly publishing high-quality content, your brand demonstrates authority and relevancy in your industry. This can lead to users returning to your site or new users visiting the site, helping to increase your rankings. 
Content hubs can also help with the EAT of your website. By publishing fresh and high-quality content that targets specific keywords and links internally to other relevant pages, it will help Google understand what the content is about. 
This will also help Google determine whether the content is high-quality and relevant to the search queries, demonstrating your website has authority over a certain topic. 
Google has continuously been developing its Semantic Search and Machine Learning over recent years, starting with when it bought Freebase in 2010. Freebase was similar to Wikipedia in that it was a large database of information collected from many different sources, which included user-submitted Wiki contributions.  
The Google Updates focusing on these aspects are as follows:
Knowledge Graph in 2012
The Knowledge Graph is a collection of information gathered from various sources that Google uses to enhance its search engine results. These appear either to the right side of the page on desktop or at the top of the page on mobile.
Hummingbird Update in 2013
The Hummingbird update developed Google's understanding of the intent behind a user's search query and provided the user with more relevant results through semantic search. 
Semantic search looks to understand the intent behind a search query, rather than the language of the query. 
For example, if a user searches for 'best Italian restaurant', the SERP will display a map pack of pizza restaurants in the user's local area. This is done by understanding the context of the search query, that the user is looking for a restaurant in their location and Google understands that 'Italian' is the type of restaurant the user is searching for.   
RankBrain in 2015
Following on from the Hummingbird Update, RankBrain developed the way Google understands the intent behind a search query through Machine Learning (how machines teach themselves through data inputs). 
After RankBrain was rolled out, queries go through an interpretation model, which looks at different factors of a search query. For example, the location of the user and the words of the search query. This meant Google was able to understand the intent in more depth and tailor the search results to fulfill the user's needs.  
Neutral Matching in 2018
Neutral Matching is another AI, machine learning-based system, similar to Rankbrain. However, RankBrain helped Google to understand how words are related to concepts, while Neutral Matching helps Google to relate words to searches. 
With Neutral Matching, Google can understand the search query and display any synonymous results that are relevant to the query. In September 2018 Danny Sullivan explained in a tweet:
"This is a look back at a big change in search but which continues to be important: understanding synonyms. How people search is often different from information that people write solutions about." 
BERT in 2019 
Google's BERT (Bidirectional Encoder Representations from Transformers) update in 2019 developed the ways in which Google understands the meaning behind a search query from precious updates, rather than each keyword in the query with machine learning. This means that Google shows more topic-related results, rather than exact matches.
"This breakthrough was the result of Google research on transformers: models that process words in relation to all the other words in a sentence, rather than one-by-one in order. BERT models can therefore consider the full context of a word by looking at the words that come before and after it—particularly useful for understanding the intent behind search queries."
MUM in 2021
MUM, Multitask Unified Model, is a new technology that is similar to BERT. However, MUM is much more powerful than BERT, understanding and generating language and interpreting text, images, and video at the same time. 
In terms of content hubs, the above updates have created an opportunity to rank for more search queries. By frequently publishing various in-depth, quality pieces of content, your website will naturally rank for more queries that users are searching for. 
By optimising your content further with keyword research, mapping keywords to each page and analysing the metrics in Google Analytics, you can see which keywords users are searching for, if the UX journey on a page has been disrupted, and why a user is not going further down the funnel. By further optimising pieces of content, it can improve visibility, boost user engagement, and generate leads.
Are There Different Types of Marketing Content Hubs?
Hub and Spoke
This is the most common structure for a content hub. The diagram below shows the 'hub' as the topic we want to rank higher for and create more authority for, then the green and blue circles surrounding it are the 'spokes'. 
The 'hub' is where we can target high-volume keywords through evergreen content, which is optimized content that stays relevant and fresh over a long period of time. This would allow various internal linking opportunities to commercial pages or key products. The content featured in this section would be quite broad as it is at the top of the funnel. 
'Spokes' are often referred to as cluster content, which is supporting content surrounding the main topic that should help increase how authoritative Google sees your site. Here, we can target more longtail, informational keywords relating to the main topic.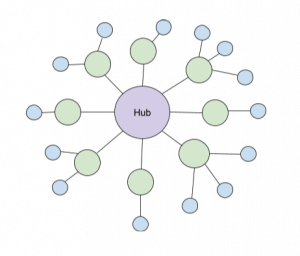 Content Library
The Content Library has an index page that houses all the topics and links to any relevant subtopic pages. These pages then link to all relevant subpages, such as videos, articles, webinars, and presentations.  
A content library is a great way to layout your content hub as it is an effective way to house different topics, while also being clear and user-friendly. By building this internal linking structure, it will help Google crawl your site and find more content. 
Topic Gateway
A Topic Gateway is a great structure for websites with lots of content. They are similar to blog category pages. However, a Topic Gateway has a main page of static content, which gives an overview of the specific topic, with internal links to evergreen content and dynamic links to any recently published fresh content on that specific topic.
In contrast, a blog category page simply lists the other posts relevant to that specific topic. The main page of a Topic Gateway is to provide the user with key sections of the topic and then guide the user to more in-depth resources. A great example of the Topic Gateway layout is Wikipedia.
Content Database
Content databases are often used on SaaS websites as it houses multiple topics and different types of content, such as ebooks, white papers, and webinars and include either a mini-IA or filters for the user to navigate through. 
A mini-IA stands for Mini Information Architecture. It is the section on the side of an article that links to all other resources within the content hub. Users can find the content they'd like to see by using the filters or mini-IA, rather than being guided through to specific pages like other types of content hubs. 
How to Create a Content Hub
Keyword Research
Performing keyword research for each topic can help you see where there are opportunities and what kind of content you should be producing. 
The main page of the content hub should target more commercial keywords with a large search volume, as this content is a general overview of the topic. Whereas, any articles and content on a category page should target more informational keywords with a smaller search volume so they can rank for those search terms. 
Competitor Research
By performing a Competitor Analysis against your key direct competitors, it will allow you to spot any opportunities that your website isn't currently targeting and any gaps in the competitor's content hub. This will allow you to target any keywords your competitors don't currently target on your own website. 
If there are already articles or blog posts on your website that you want to move into a content hub, you should use Google Analytics and Google Search Console to see which of those pages are performing and what keywords they're ranking for.
Proposed Architecture 
Another step to creating a content hub is to plan the architecture and where the hub will sit on the site. There may be an existing resources page that houses blog posts. If this is the case, you will need to decide if the content hub sits under the resources page or if there is a separate section where the hub can be placed. 
There will also need to be consistent links throughout the website to the content hub, such as in the navigation and footer. This makes it easier for Google to find the hub and crawl it.
The architecture of the content hub should show clear categories with relevant articles or other pieces of content with a correct URL structure. If a content hub for an online butcher had a category for beef, the URL structure would look similar to this:
www.domain.co.uk/content-hub-name/beef/how-to-cook-the-perfect-steak/ 
Rather than:
www.domain.co.uk/content-hub-name/how-to-cook-the-perfect-steak/ 
Internal Linking Structure
By creating an internal linking structure from pages to key commercial and informational pages, Google can see that this page is relevant to that specific commercial page. 
Any commercial page should also link back to any relevant informational pages to allow Google to find the new content and understand that the new page is relevant to that specific topic.
Content Calendar
Producing a content calendar will help you to keep up to date with producing new, quality content. 
If you have products that sell more at different times of the year, such as student houses, BBQ meat boxes, landscaping materials etc, you can plan for content about the product or the topic that surrounds it to be published leading up to peak periods. 
If you are an online butcher that sells BBQ meat boxes, you should start publishing content about how to cook certain meats on a BBQ, videos of how to clean your BBQ, how to use a meat thermometer, and product guides leading up to the peak summer season.  
Once the content calendar has been produced and approved, content briefs and article production can begin. By producing content briefs, there is a clear guide to which keywords the article should target and how the article should be laid out on the page, for example, H1s, H2s, H3s. 
The internal linking structure should also be mentioned in the content brief, with a recommendation to link to a commercial page and an informational page. 
XML Sitemap
To ensure the new content hub is crawled and indexed by Google, create an XML Sitemap including every URL in the content hub and submit it to Google Search Console. 
By submitting a sitemap, you are telling Google that there is new content on your site and showing Google where to find it. This will help the new content to be crawled and indexed faster as Google doesn't have to search through the site to find the new content.
On Page Optimisations
By optimizing the titles, H1s and meta descriptions of your content, you can ensure you are targeting the most relevant keywords. This will also help Google to understand what the content is about and help the content rank for more search queries. 
It could also help to improve organic traffic, as users will be able to determine if the content matches their search terms and fulfills their needs if the meta descriptions and titles of your content are concise and summarise what the content is about.