How to monitor coverage on an offsite campaign
Next up in my series of offsite focused blog posts I will explain how to monitor coverage for any offsite campaign using a number of different tools.
The list of tools covers both free and paid, which will help a range of businesses, from multinational, to locally based brands.
What services can you use?
As a starting point you can use the following free services to monitor your campaigns:
Google search console
Bing webmaster tools
Google web search
Google news
Google Alerts
Google Analytics
Twitter
From this there are other paid tools that you can use, such as:
Majestic seo
Ahrefs
SEM Rush
Open Site Explorer
Mentions.com
BuzzStream
How to use each tool
As an example, I will use the recent news story that SALT.agency released on "how we have teamed up with Leeds Becket University in a cyber security research piece."
Google web search
In the simplest form, using the Google search engine, we will search for the headline which will return pages that have been indexed by Google.
The below screenshot shows all indexed pages, within all time.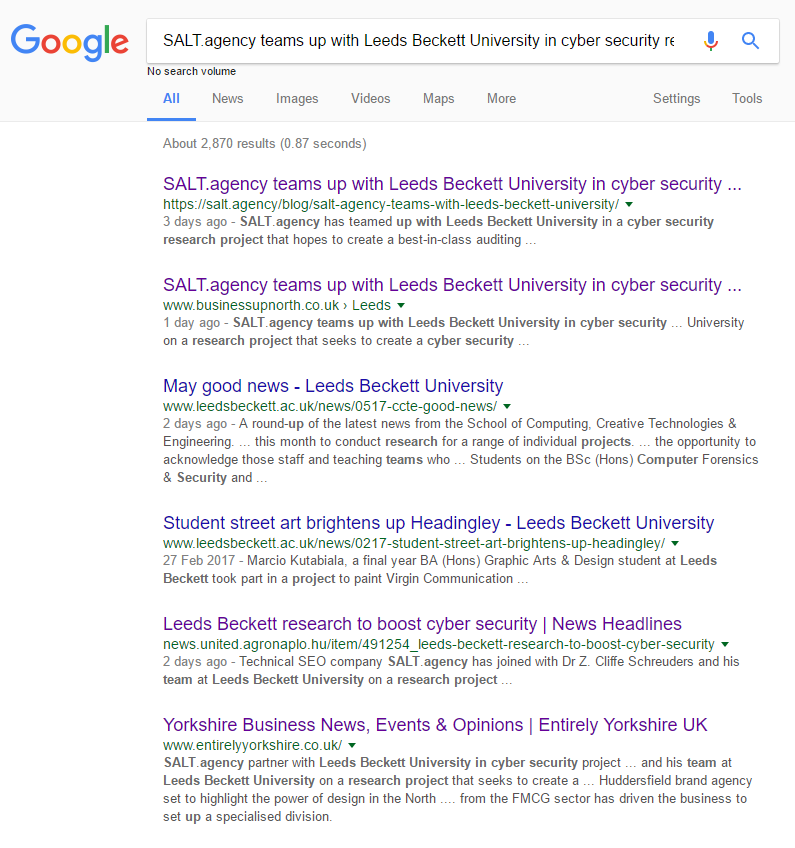 If your campaign has been running for a number of days, you can alter the time you want to see results from. To do this, select 'tools' and change the time for what you see fit.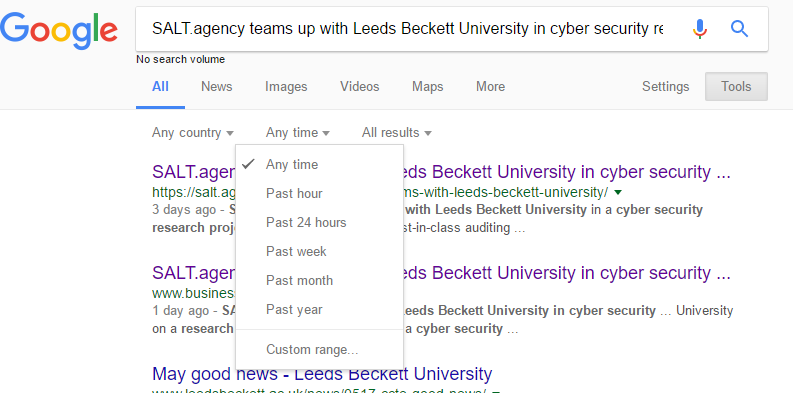 Selecting "past hour" will more than likely find articles you've not found.
Google news
Moving on from Google web search, you can hit Google news, this will take a look at major publications that have published the piece.
You may find that this result brings back a different set of results.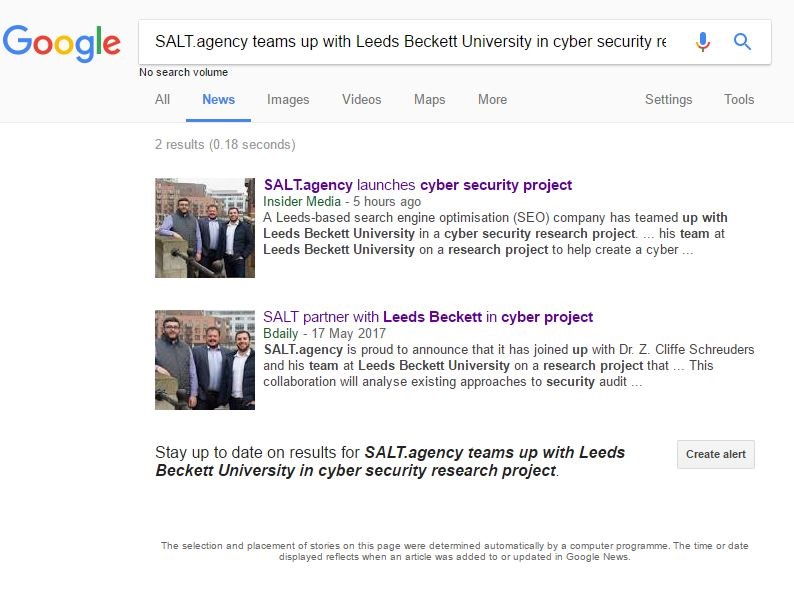 Again, like Google web search, you can filter the results by time.
Google Alerts
Another tip and another Google product is signing up to Google alerts, in which I would recommend doing so for the brand and then potentially for each type of campaign you run.
As an example, I would have "SALT.agency" and another for "SALT.agency partners with Leeds Beckett University"
The screenshot below shows the coverage that has been identified by Google alerts.
You can receive the emails:
As it happens
Daily
Once a week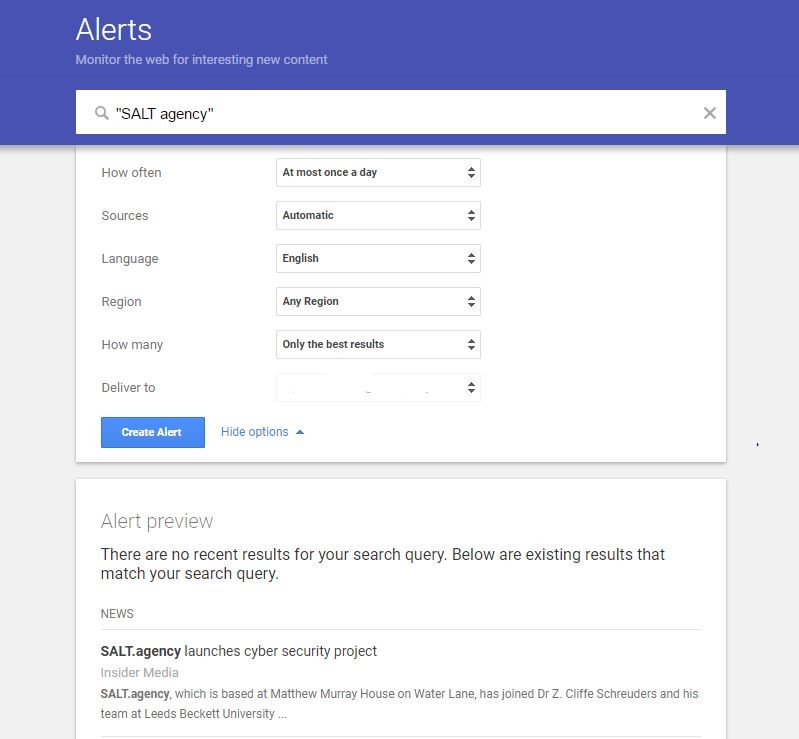 As can be seen, you can filter the results to what you think is the best approach for you or the brand.
If you're a multinational brand, do you really want to receive an email each time an article is published?
Google Analytics
From the publications that have linked back to the source of the data/news and a user has clicked that link, you will be able to see a list of sources by filtering:
All pages
Specific content page
Secondary dimension: Source / Medium
If you're a beginner in offsite SEO, Google Analytics will only show 10 listed results. There could be more than 10 pages, so check below the table to see the number of results.
Twitter
Simply by using the search function, you can find the latest tweets on the brand, campaign or hashtag (if the campaign has one).
As an example, I've searched the latest tweets of "SALT agency".
Taking this to the next level, I would recommend using Hootsuite or Tweetdeck to see multiple searches at once.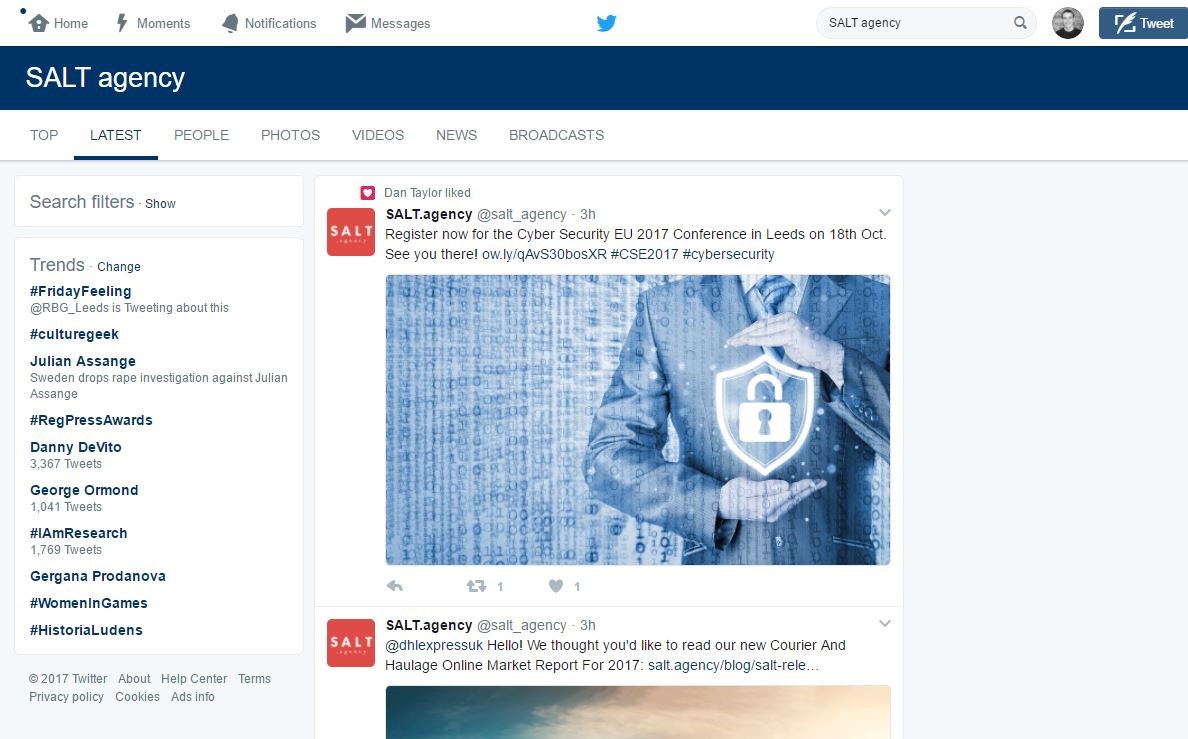 Majestic SEO
Moving onto the paid tools, Majestic is a good source of data to find who has recently linked to your root domain or path URL.
Simply enter the root domain or path URL in the site back and the links found will appear: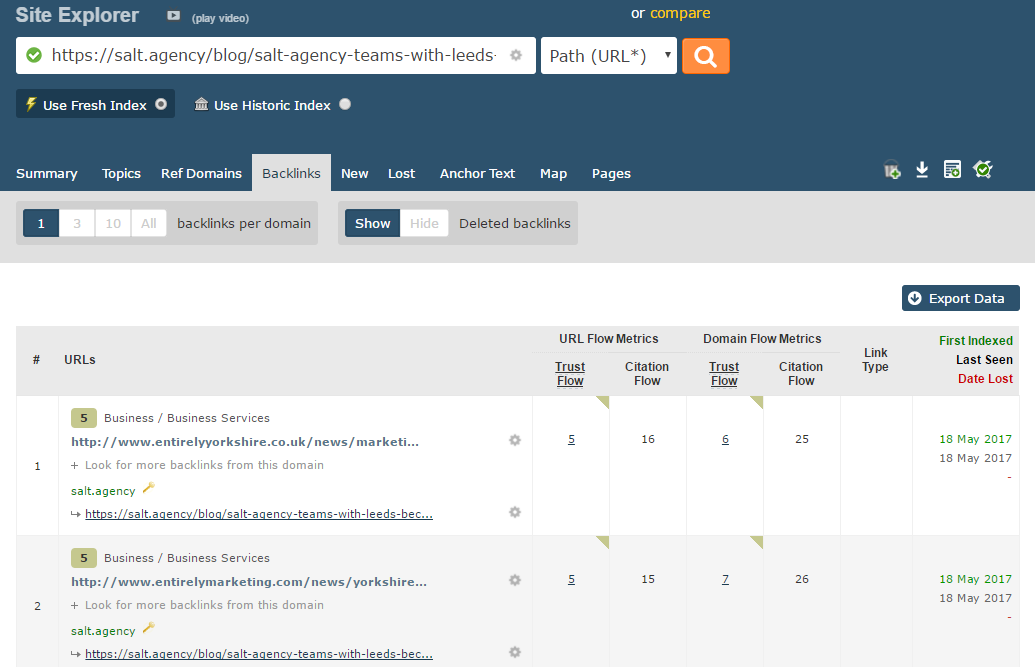 Another tip for a beginner is to chase the "new" tab and that will show the latest links that Majestic have found.
Ahrefs
Similar to Majestic, Ahrefs allows you to find the latest links for a specific root domain and bring the URLs.
TIP: You can sort by recently found, so you may find fresh coverage you've not seen.
Other tools
There are more tools available to track coverage, such as SEM Rush, Open Site Explorer, Link Research Tools and mentions.com, that I would recommend.
Which other tools have you used in the past or currently that you would recommend?
Project Management
As part of my offsite series, I wrote a piece on project management, in which I would recommend reading how to keep campaigns well organised and structured.
I would go down the checklist and all items of coverage (link, citation, television, radio or other coverage) so you have a fully comprehensive list to report on.
Brand monitoring checklist