Google ramps up HTTPS efforts with Chrome warnings
For a long time now companies have been warned to switch their websites to HTTPS, with Google going as far as offering small ranking rewards for sites that have already done so.
In an effort to ramp up site security, the tech company has now stated that from October 2017, Chrome (version 62, used by one billion people) will show a "not secure" warning to users attempting to access a HTTP page.
This warning will also appear on all HTTP pages being viewed in incognito mode.
In emails sent out this week Google said that: "Chrome will show the 'Not secure' warning in two additional situations: when users enter data on an HTTP page, and on all HTTP pages visited in Incognito mode."
See below: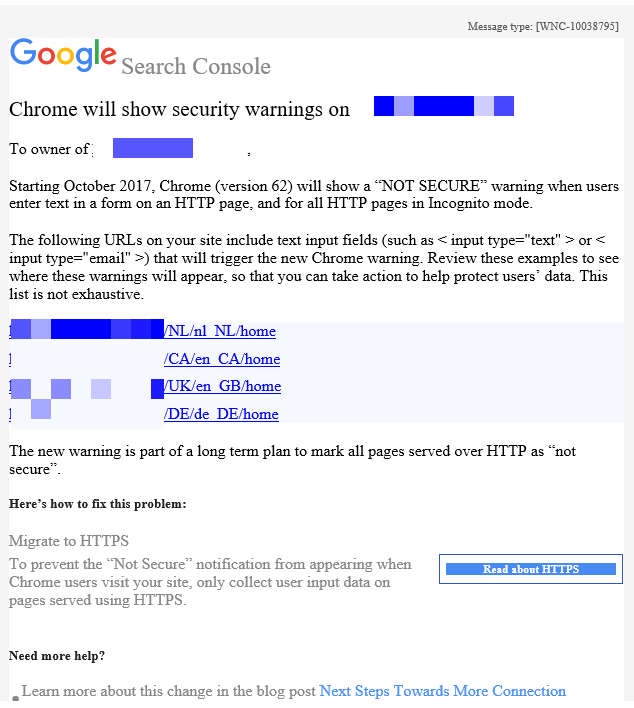 A misconception is that HTTPS was only intended for sites that bought and sold products, or collected user information, but now Google intends to dispel that and push all sites onto HTTPS.
This means that even sites only providing pictures of dogs will need to migrate to avoid the warning.
And this is big, as many small or independent sites have resisted a move to HTTPS to avoid dealing with certificates and the hassles of indexing.
Even some ecommerce sites have been put off going on full-blown HTTPS due to rumours that those on Saleforce Cloud and other cloud platforms can't do it.
But that just isn't true.
By taking a look at boconcept.com, we can see an excellent example of Saleforce Cloud being implemented on HTTPS without fault.
So, what do sites on HTTP need to do now?
For one, avoiding the new warning is key. There's nothing that will turn away a user quicker than an official security warning from Google.
But there are good reasons why HTTPS is critical for a site, and that's security.
As well as protecting users, the protocol guards and builds a wall against intruders viewing or tampering with messages between browsers and a site.
These intruders can exploit everything that is unprotected and lay bare anything from cookies, images, to HTML itself.
It's no secret that Google wants HTTPS to be the future of the web, it even says so in this article, so it's important that businesses understand that migrations are key to the longevity of sites.
Not only because of the aforementioned Chrome warning — due at the start of the online Christmas season — but by not migrating as soon as possible, sites are leaving themselves, and every person who lands on them, vulnerable to intrusion and attack.
And when that happens a site can lose traffic, rankings, inquiries, sales, and revenue.
No other form of negligence could give your competitors a greater edge.
Here at SALT.agency we have years of experience in migrating some of the most complex sites in the world.
For more information check out our specialist migration page to see if we can help you.