HMRC drops Microsoft for Google services
Her Majesty's Revenue and Customs (HMRC) will be the first major governmental department to drop traditional Microsoft software and services and replace them with Google Apps.
HMRC, the governmental department that deals with corporation tax, will have more than 70,000 employees making the switch, joining 2,500 Cabinet Office users already using Gmail.
A government blog, published in March, indicates that offices have been experimenting with a range of service packages and that, "other solutions (e.g. Microsoft 365) also scored highly, but the advanced collaboration and flexible working features of Google Apps were the best fit for our needs."
The government also said that due to Google Apps' ability to deliver regular updates and bug fixes, that the IT department need have no involvement with its day-to-day running.
It is understood that a range of legal and security assessments were also carried out during the experimentation of all services. It does however, raise the question of where in the world sensitive information shall be stored once uploaded to the cloud.
According to Google, the corporation has a range of data centres all over the world, although the nearest to the UK seems to be in Dublin. It did have one in London around 2009, though it is unclear whether this remains open.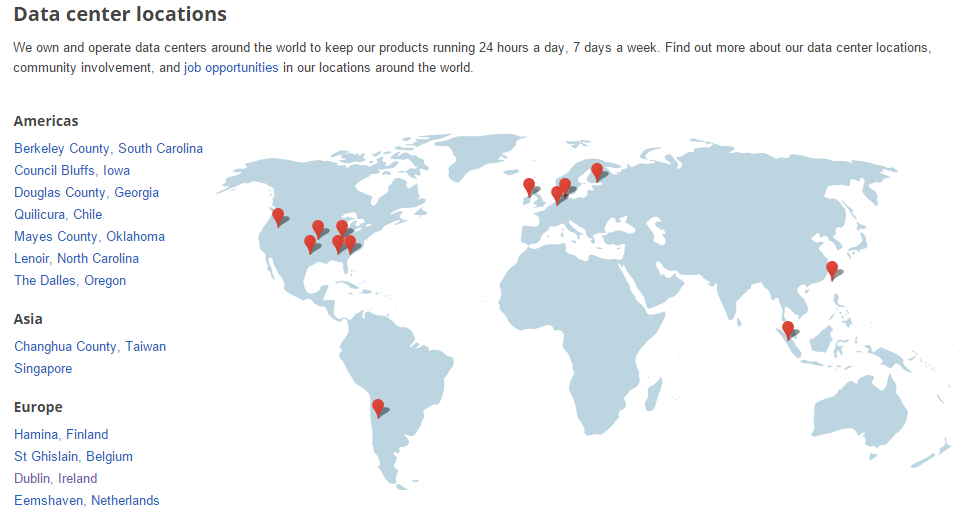 Understandably however, Google should to be quite pleased with the transition, with Mark Fitton, its head of public sector sales, writing on LinkedIn:
"The acceptance by HMRC that they can store OFFICIAL information offshore in Google data-centres represents a major change and endorsement of Google's approach to managing sensitive information."
The news arrives as UK.gov confirmed last month that it had cut extended Windows XP support, with a post on the Government Technology Blog stating that leaders undertook a "collective decision" not to extend its support into 2015 – something it paid £5.5 million to do the year before.
For those who might not remember, in March of this year George Osborne, while announcing his final budget before the election, announced the so-called 'Google Tax', meaning that companies who move profit abroad will be subjected to an alternative tax for doing so.
This suggests that not only will tax information be stored by Google itself, but in doing so, HMRC will be endorsing one of the corporations it has set out special measures to oversee.
Ultimately however, should sensitive government data, if not already, be stored in overseas locations?