How to create bottom-of-the-funnel content for conversion
The creation of bottom-of-the-funnel (BOFU) content is vital to any funnel content marketing strategy for closing sales and boosting conversion rates.
As prospects navigate the bottom of your marketing funnel, they are likely exploring the final stages of your competitors' funnels, too. Your BOFU content must address lingering concerns and instil confidence in your brand and product or service to seal the deal.
Let's dig deeper into the concept of bottom-of-the-funnel content, explore its significance, and examine how it operates within the broader marketing funnel.
From there, we'll outline the best content types and deliver actionable tips for creating top-quality BOFU content that converts.
What is bottom-of-the-funnel content?
If you're new to marketing, you might wonder what 'bottom-of-the-funnel' means.
To better understand BOFU content, let's first define its significance within a sales funnel.
BOFU represents a sales funnel's final stage — the decision stage. By this point, your prospects have acknowledged the existence of a problem, actively sought information about it, and explored potential solutions.
Your prospects now clearly understand what they need to resolve their problem and wish to evaluate and compare the final products or services before parting with their cash.
Bottom-of-the-funnel content primarily centres around a product or service, providing comprehensive details that potential buyers may seek — like cost, features, dimensions, materials, and reviews.
Prospects can arrive at BOFU content from various stages of the marketing funnel. In some cases, they may arrive there directly, as earlier stages of the funnel aren't relevant to all customers. Some site users already possess an awareness of their specific problem and knowledge of available solutions but are actively seeking the perfect solution.
The primary objectives of BOFU content are to maximise conversions, support sales teams, and effectively communicate why a particular product or service is the ideal choice for prospects.
Why is BOFU content important?
The significance of BOFU content within the marketing funnel can't be overstated.
Bottom-of-the-funnel content acts as a catalyst for successful transactions, playing a pivotal role in boosting sales and revenue for businesses on a website.
Without this essential content, users may never find your brand and conversion rates might suffer, which can directly impact the overall performance of a website and its financial outcomes.
The marketing funnel
A broad understanding of the content marketing funnel is invaluable when crafting fruitful lower-funnel marketing content for a business. However, not all businesses are the same, so it's crucial to truly understand a business before planning funnel content for optimisation.
A marketing funnel is a well-defined pathway that maps out a customer's journey within your business. While the specifics may vary from business to business, the fundamental principles within the funnel remain consistent.
A content marketing funnel isn't solely limited to websites — however, this is typically the most important platform for most businesses wanting to attract inbound customers.
Here's a basic overview of the marketing funnel: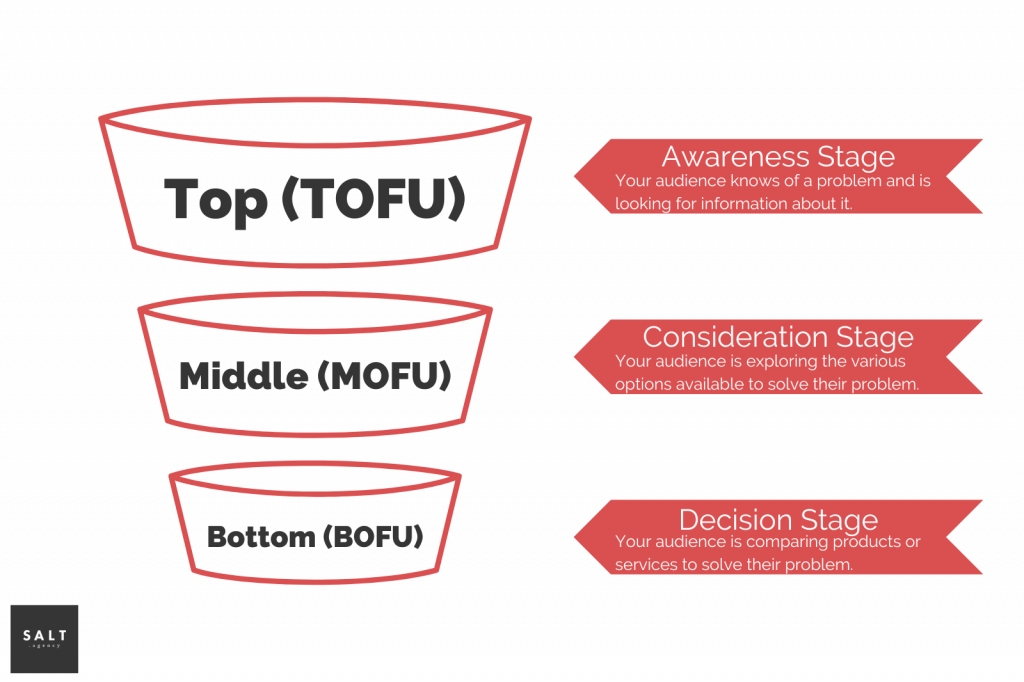 To dive deeper into the funnel concept, let's explore an example highlighting the importance of understanding the keywords potential customers may search for at each stage.
Imagine you own a business specialising in the sale of noise-cancelling headphones. Now, consider a scenario where a person is dealing with noise sensitivity issues and actively conducting searches on Google to find a solution.
TOFU keywords might include:
"sensitivity to noise"
"what causes over sensitivity to noise"
"what is misophonia"
"how to deal with misophonia"
"how to deal with noise sensitivity"
"how to help noise sensitivity".
MOFU keywords could include:
"what are noise cancelling headphones"
"how do noise cancelling headphones work"
"noise cancelling vs noise isolating which is better"
"active vs passive noise cancelling"
"what are the best noise cancelling headphones"
"bose vs sony noise cancelling headphones"
" bose quietcomfort 45 vs 700″.
BOFU keywords might be:
" bose noise cancelling headphones 700 review"
" buy bose headphones"
" cheap bose headphones uk"
" bose quietcomfort alternatives".
Analysing the keywords used by potential customers or clients lets you gain invaluable insight into their search intent at each funnel stage. This understanding allows you to strategically deliver relevant content at the appropriate moment.
Organically incorporating these keywords into your content enhances its search performance, ensuring it reaches the intended audience. By aligning your content with the right keywords, you can optimise its visibility and connect with the individuals actively seeking the solutions you offer.
You'll find plenty of information on our blog if you'd like to learn more about creating a marketing funnel.
Top-of-the-funnel (TOFU) content examples
The initial phase of the funnel, often referred to as the awareness stage, marks the beginning of the customer journey.
During this stage, people have become aware of a problem they must address and actively seek additional information regarding the issue and potential solutions.
The top of the sales funnel represents the broadest and most diverse audience interested in your offerings. However, they are generally less prepared to convert than in the subsequent stages.
TOFU content includes:
blog posts and articles
videos
guides
how-to content
ebooks
newsletters
infographics.
Middle-of-the-funnel (MOFU) content examples
The middle stage of the funnel, commonly referred to as the consideration stage, signifies a crucial phase in the customer journey.
At this point, the audience has gained awareness of the various available solutions and is actively exploring each option in greater depth.
The consideration stage enables you to engage with a more focused and targeted audience that has expressed interest in your solutions.
Some visitors may already be leads, indicating higher engagement and potential conversion.
MOFU content includes:
whitepapers
videos (demonstrations, tutorials, etc.)
case studies
ebooks
templates
buyer's guides
competitor comparison pages.
It's important to recognise content types often overlap across the various stages of the funnel because they're just the medium, not the content itself.
Consult a strategic technical SEO agency such as SALT.agency to discuss the right content strategy for your business.
How to generate bottom-of-the-funnel content ideas
So, how do you determine the most suitable content for your business's website to engage BOFU visitors effectively?
When it comes to creating bottom-of-the-funnel marketing content, there are numerous formats to choose from, including:
customer reviews and testimonials
case studies
pricing pages
competitor comparison pages
use cases
whitepapers
webinars
videos
discounts.
Conducting customer research with your target audience can yield invaluable insights.
Take the initiative to visit the online platforms where your potential customers gather, like Facebook, Slack, Quora, or Reddit, and engage in community mining. Participate in discussions and conversations to better understand customer needs and preferences.
In addition, make a point to consult your sales representatives, as they possess beneficial first-hand knowledge about the content prospects require based on their interactions.
The insights of your sales reps can provide helpful guidance on addressing customer pain points and providing relevant information.
Conducting keyword research around topics of interest is essential, too. This enables you to identify relevant keywords and phrases that align with your audience's search queries and interests — optimising your content's visibility and relevance.
Post-purchase content
While this article focuses on pre-sales content, it's important to note that bottom-of-the-funnel content extends beyond that.
BOFU content also encompasses post-purchase content, often called the brand evangelist stage.
Examples of post-purchase BOFU content are:
newsletters
re-engagement emails
competitions and giveaways
podcasts
blog posts about business news, products, and services.
Tips for creating high-quality BOFU content
Follow these tips to craft high-quality bottom-of-the-funnel content.
Be more assertive
In contrast to content created for earlier stages of the funnel, bottom-of-the-funnel landing pages can and should be more assertive in driving sales.
It's crucial to strategically incorporate relevant calls-to-action (CTAs) throughout each page.
Consider including CTAs such as:
buy now
add to basket
call now
get a quote
request a free demo
sign up for a free trial.
These CTAs wouldn't be suitable for TOFU or MOFU content, as they could potentially deter prospects. However, they play a crucial role in securing conversions during the final stage of the funnel.
You might, however, want to add softer CTAs to landing pages further up the funnel, like FAQs and the option to download technical PDFs.
A/B test your CTAs to evaluate the wording, placement, size, and specific offers to determine what resonates best with your audience.
Additionally, ensure you test each CTA's user experience (UX). Can the process be streamlined or simplified to make it more seamless and user-friendly?
By continuously refining and optimising your CTAs and their UX, you can enhance the effectiveness of your BOFU landing pages.
Grab their attention
Alongside attention-grabbing CTAs, the content on your bottom-of-the-funnel landing pages should be highly engaging.
Craft compelling, clear, scannable copy and incorporate various visual elements to enrich the content.
Visual assets to consider include:
photography
videos
charts
infographics
other visual representations that convey information.
Be trustworthy
It's beneficial to leverage user-generated content during this stage, allowing your customers to speak for your brand.
However, remember to maintain accuracy and transparency when creating your own bottom-of-the-funnel content.
If a competitor's headphones outperform yours regarding battery life, you don't need to hide away from it.
Conceding the strengths and weaknesses of competing products positions your brand as credible and fosters a sense of trust with your audience. On the other hand, making false claims that yours is the best product on the market in a certain area when it isn't, could make your content unreliable.
Successful BOFU content types and examples
Now, let's examine each type of bottom-of-the-funnel content in greater detail.
Pricing pages
A pricing page is essential if your business offers services or subscriptions.
Customers value pricing transparency, so a pricing landing page offers another method to establish trust with prospects while delivering the content they want to read.
A pricing page is an excellent starting point for bottom-of-the-funnel content. It can be created relatively quickly yet significantly impacts your conversion rate.
When designing your pricing page, it's essential to cater to the needs of all customers.
Offer a range of packages and clearly outline the key features included in each. You can avoid potential confusion or disappointment and streamline the purchase process by stating what's included and omitted.
Make sure to address all the potential questions site visitors might have about the cost of your service. Users typically like to know about hidden costs, what's included at each price level, the duration of the commitment, and the cancellation process.
To provide an example, here's a pricing landing page from Mirador: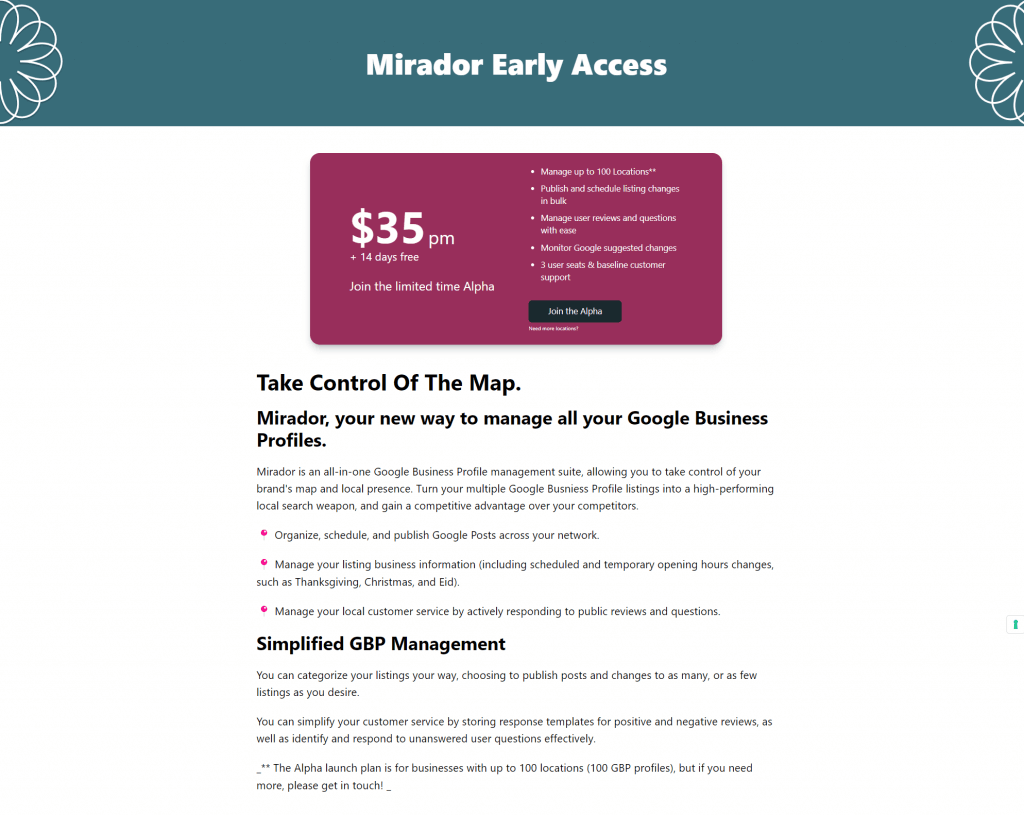 As you can see, all the essential information prospects need is readily available — they don't need to uncover a hidden pricing structure or subscribe to a newsletter to access further details.
Customer reviews and testimonials
When purchasing, everyone seeks reassurance and proof before parting with their hard-earned money. So, if you haven't started collecting reviews or testimonials yet — why not?
Reviews hold significant power as compelling content because your customers write them for you.
You can automate the review collection process using a tool like Reviews.io. This will send automated emails to customers after purchase, requesting a review of your product or service.
If your initial email requests for reviews don't yield the desired results, try refining the wording of your email template. Alternatively, you can incentivise reviews or reach out to your audience through social media to encourage participation.
As reviews start pouring in, it's essential to prioritise sharing them on your product pages and other relevant landing pages. After all, an unread review holds no benefit.
By actively showcasing positive reviews, you provide social proof and instil confidence in potential customers, increasing the likelihood of conversions.
Case studies
Case studies are in-depth, real-world examples that prospects can relate to. Once you have reviews, creating case studies is easy.
A case study has the power to outline and illustrate in simple terms how a product or service is likely to impact the reader's life. It will explain how a customer's purchase solved the problem your prospect is looking to solve.
You can explore all of SALT.agency's case studies on the website. Here's an example from our work with Bikmo, which features an attention-grabbing headline, the client's brief, the expertise we applied to the work, and the results: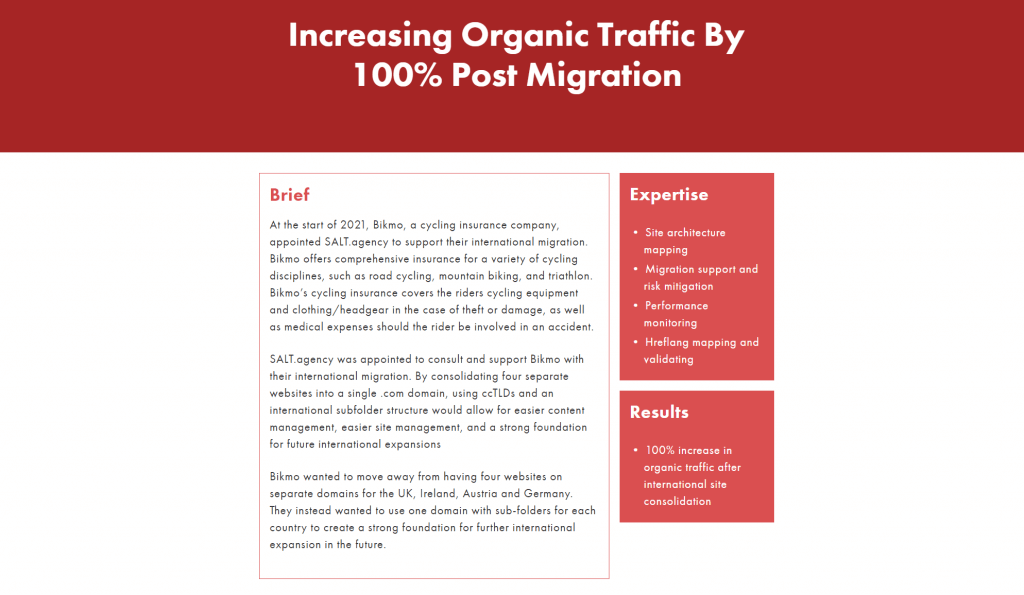 We needed international SEO experts, and we found them at SALT. Consolidating multiple domains into a single international website seemed a daunting and delicate process; one we were nervous to tackle without help from an agency who'd done it successfully time and time again.

The team at SALT managed us through the process, providing above-and-beyond service to make sure we came out the other end of the migration stronger than before. The results speak for themselves — stronger international search presence and a setup we can take forward in launching into new overseas markets.

An organised and incredibly knowledgeable group of SEO professionals that I wouldn't hesitate to recommend.
– Angus King, Global Head of Marketing at Bikmo
Where possible, include data and metrics in your case studies to support what's being said and increase trust in your brand.
Competitor comparisons
If someone is comparing your product against another, they might struggle to decide between them.
If you firmly believe your product or service surpasses your competitors, it's time to make some noise by creating a series of competitor comparison pages.
This type of content takes the burden off your prospects by providing them with valuable insights without needing further research.
Don't hesitate to present the hard facts, even in areas where a competitor may outperform you. The ultimate goal is to demonstrate your product is superior overall.
When crafting these comparison pages, you'll discover a wealth of keywords related to brand comparisons.
Look for keywords featuring "vs" and "or" to include in your copy, enhancing the visibility and relevance of your BOFU content.
Consider crafting bottom-of-the-funnel content that looks at the following:
Brand vs competitor.
Competitor alternatives.
Product roundups.
Select your bestselling products or services and create comparison content by:
choosing points of comparison. For noise-cancelling headphones, comparison points might include price, charging method, battery life, sound performance, storage method, weight, and whether they feature a transparency mode and a built-in mic.
reviewing a competitor's product.
creating a table of comparison to show the differences clearly.
Use cases
A use case is a powerful tool that captures and models how individuals or businesses can achieve desired outcomes using your system. It effectively demonstrates to prospects how your system can solve their problems and fulfil their needs.
Use cases provide valuable insights and help site visitors visualise the benefits they can obtain by showcasing the practical application of your product.
If you are marketing a software platform or similar, producing use cases is essential to your marketing plan.
Whitepapers
Whitepapers allow you to create long-form content that can be strategically optimised for conversions using relevant CTAs for the next step in your sales process.
By producing whitepapers, you can showcase your expertise and establish authority in your industry.
These documents delve into identifying specific problems, conducting in-depth research on the surrounding issues, and ultimately demonstrating how your product or service provides a solution.
With a well-crafted whitepaper, you can successfully educate your audience, build trust, and guide them toward taking the desired action in the sales process.
Webinars
Organising a webinar focused on a topic that provides value and aligns with your buyer personas effectively generates high-quality BOFU content that maximises your return on investment (ROI).
At the bottom of the funnel, it's crucial not to shy away from being assertive. Proactively promote your event in advance, highlighting the benefits and encouraging attendance.
Once the webinar concludes, follow up with your attendees. Express gratitude for their participation, and deliver any promises of additional resources or materials that you mentioned during the event.
This dynamic approach to webinars allows you to engage with your audience on a deeper level, demonstrate your expertise, and solidify your position as a trusted resource.
Videos
Video demonstrations and tutorials offer a powerful way to showcase products and provide prospects with a visual experience rather than simply relying on descriptions.
When it comes to significant purchases, people want plenty of information before committing, and videos are an excellent medium to deliver in-depth details.
However, only invest in videos if you can ensure they are high-quality, featuring beautiful shots and seamless editing, as poor-quality videos could negatively impact brand perception.
Concisely cover all the key benefits of your offering, avoiding unnecessary rambling.
Discounts
Prospects are typically prepared to purchase when they reach the bottom of the funnel. This makes it an opportune moment to offer a discount that can positively influence their decision in your favour.
To capitalise on this, consider presenting an on-site discount for first-time buyers. This immediate incentive can entice them to proceed with their purchase.
You can strategically encourage existing customers to complete their checkout by surprising them with a discount code delivered to their email inbox.
How to measure the success of bottom-of-funnel content
A bottom-of-the-funnel conversion refers to the desired action you want a site visitor to take.
Examples of actions include:
making a product purchase
engaging in a one-off service purchase
signing up for a free account
subscribing to a paid subscription
registering for a newsletter
downloading a resource
donating.
Integrate your chosen conversion actions into your site analytics platform so you can easily track them.
Conversion rate
A simple measure of conversion success is the conversion rate, which you can find by dividing conversions by the total number of site visitors and then multiplying by 100 for a percentage.
Remember, not all users have the same intent, especially if they have navigated from other pages.
According to Shopify, the average conversion rate for its stores is 1.4%. Achieving a conversion rate of 3.3% would place you in the top 20% of Shopify stores.
Keep in mind that various on-site factors can heavily influence your conversion rate. If your rate consistently remains low, consulting with a technical SEO team like SALT.agency would be beneficial.
At SALT.agency, we can analyse your site, provide valuable insights, and assist in optimising your site from start to finish, increasing your chances of achieving optimal conversions.