Sitemap examples: XML best practices to optimize for SEO & Google
Understanding an XML sitemap and how it should be created is essential for technical SEO. Often, it could be an excellent remedy for common headaches such as crawl depth issues and maximisation of crawl budget. 
Let's explore some of the examples of XML sitemaps along with best practices for optimising them for SEO and Google.
What is an XML sitemap?
Firstly, let's remind ourselves what an XML sitemap is. 
According to SEO Google Documentation, a good example of a sitemap can be compared to a human body skeleton. The XML (eXtensible Mark-up Language) file explains how your page is built, pointing to the most critical pages, videos, and images. Google bots review that file to crawl the page — that's why making it efficient for bots the read is essential. 
It's worth mentioning the HTML sitemap, which differs from the XML sitemap. It is usually compared to a table of content that contains each page on the site. The HTML sitemap aims to make navigating the site and finding a relevant page easier. 
How to create a sitemap?
There are three options. You can do it manually, create it automatically using dedicated tools to generate it, or us CMS plugins that can dynamically keep updating your sitemap. 
We strongly recommend the third option. It will help reduce mistakes, let you forget about constant updates and maintenance of XML sitemap files, and ensure search engines properly index your page. 
XML sitemap example
The screenshot below shows a real example of our sitemap, which was generated by the Rank Math WordPress SEO plugin. The tool created nine separate sitemaps.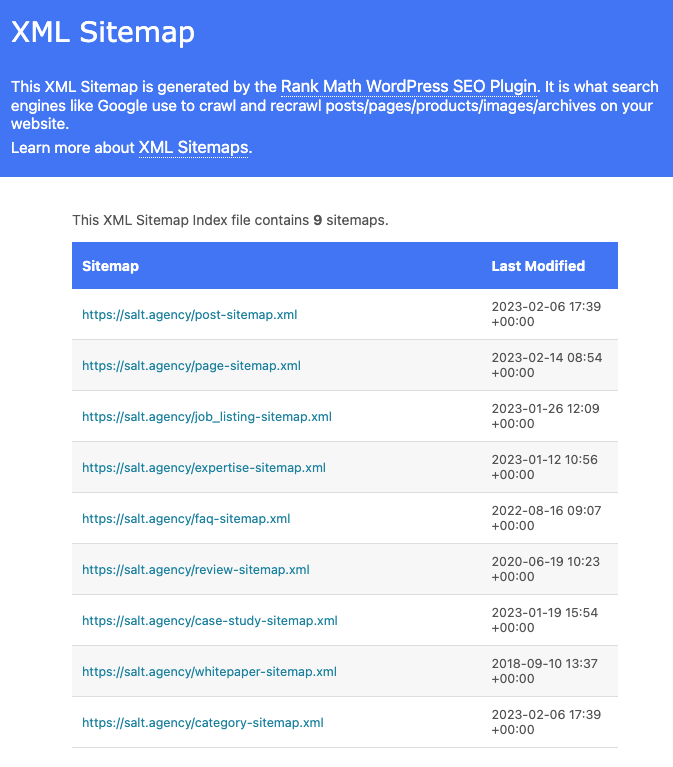 The second example of an XML sitemap is created with a Yoast plug-in by Search Engine Journal. This sitemap index file is divided into 51 sitemaps.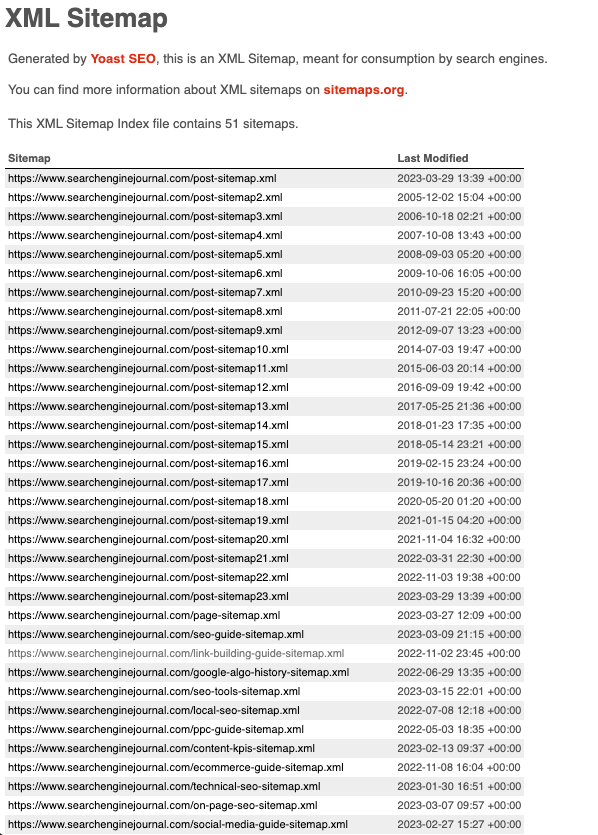 As you can see from the above examples, the number of sitemaps will differ depending on the size of the page and the logical structure of the categories.
HTML sitemap example
As a general ruler, the simpler the HTML sitemap, the better, which is what we have tried to achieve with our own HTML sitemap. You can treat it as a table of content that helps to understand the content on the page and make it easier to navigate.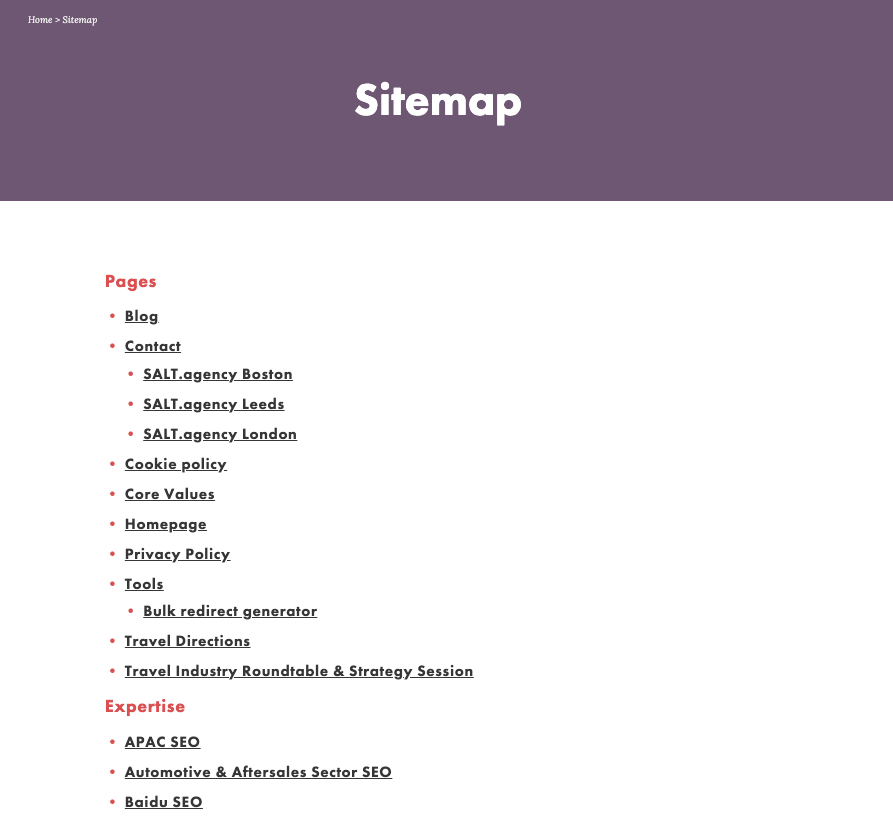 Additionally, it's located in the footer of our page so each user can access it easily.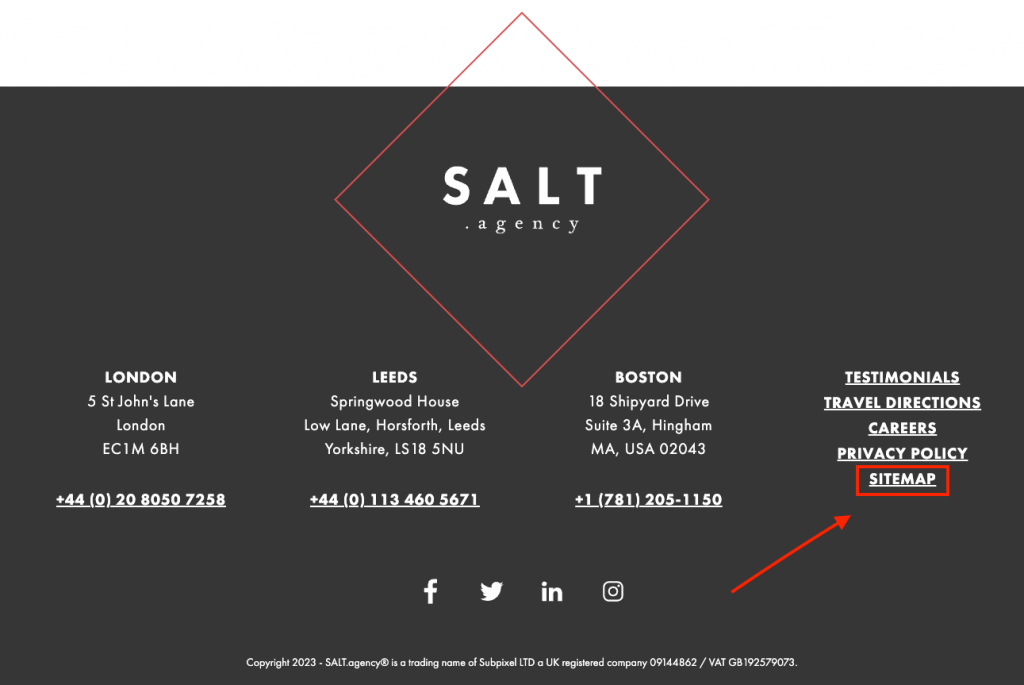 Best XML sitemap practices to follow 
There are several best practices to follow to implement the website sitemap successfully.
1. Focus on the most important pages 
Show the best side of your pages. Ensure the ones with well-optimized, unique, and quality content are included. Pages that are important from the business side sometimes do not necessarily need to be seen by Google bots, such as login pages or privacy policies. 
2. Submit your sitemap to Google Search Console
Once you create a good XML sitemap for your website, the next step is to inform Google about it. You can do this by submitting your sitemaps through Google Search Console. In the "Indexing" section, you will also find the "Sitemaps" section. 
If something goes wrong and your sitemap can't be accessed, Google Search Console will show the error. Thanks to that, you will have a chance to identify the problem and make changes. 
3. Remove noindex URLs
There is no need to add noindex URLs in the sitemap, as we don't want them to be found. We also need to think about the crawl budget. When you archive any page, make sure to update the sitemap. Those no relevant URLs can eat the budget and stay in the shadow. 
4. Exclude redirects 
When you use permanent redirect 301 on a page, take care to remove that URL from the sitemap. If it happens often, it's essential to automatize this process. 
5. Chose dynamic sitemap
It's essential to keep your sitemap updated, which is why automatization is the key to success — especially for large websites such as eCommerce or large platforms. A dynamic sitemap solution will update any change for you at the exact moment when a page is removed or redirected. That will decrease the probability of human mistakes.
6. Keep your sitemap small 
As mentioned in Google Documentation, a single sitemap can have up to 50MB (uncompressed) or 50,000 URLs. When your page is massive, and you can reach this limit, the solution is to provide several sitemaps files. 
7. Add XML sitemap to your robots.txt 
Robots.txt lets bots know which pages they should follow and crawl and which ones should be omitted. That's why adding your sitemap to the robots.txt file is crucial — it'd be another way to inform Google that we want those pages to be crawled and indexed. 
Key Takeaways
The sitemap is as important for your website as a skeleton if for the human body. Use a dynamic sitemap to automate it as much as possible, submit it in the Google Search Console, and regularly check for errors to ensure you get the most of your sitemap.
Creating a sitemap can be overwhelming, but once you keep an eye on the XML best practices to optimise for SEO and Google, it will bring significant wins in your page performance and make it easier to crawl. 
If you want to learn more, contact our technical SEO specialists and get professional help with auditing and creating sitemaps for your website.