What can we learn from SEO competitor analysis?
Competitor analysis involves investigating the strongest players in your industry and finding valuable information that can be used to improve your SEO strategy. It's all about finding out what your rivals are doing and how you can do it better.
In this post, we consider the importance of keeping an eye on your competitors and how significant the competitor analysis is to your SEO efforts.  
How to identify my SEO competitors? 
To start monitoring your competitors, you must first identify who they are. You may already have an idea, but you should also know your SERP rivals.
SEO competitors are websites that rank for the same keywords you're targeting. This may include your direct and indirect competitors. By assessing what your indirect competitors are ranking for, you can see what topics are on trends and what content is in Google's and the users' favour, despite not selling the same products or services as you.  
After conducting keyword research and identifying queries that are most important to you, you should perform SERP analysis to see what pages are ranking well.
To perform an effective SERP analysis, you're looking to answer the following questions: 
What is the search intent

(informational, commercial, navigational, and transactional)?

What type of web pages are they (home page, landing page, product page, category page, search page, etc.)?

Are the pages commercial or informational? 

Is it possible to compete with the current search results (is SERP dominated by well-established pages with strong backlink profiles, such as government pages or highly popular brands, do competitors offer more products on category and subcategory level)?
How to build out a competitor analysis audit? 
To understand the SERP landscape better and keep track of your competitors, you can create a competitor audit that includes the following:
URL, page title, H1 (does the page content contain targeted keywords?)

Targeted keywords

Any additional factors such as schema markup or CTAs

User experience (clear layout, sidebar that makes it easier to navigate, interactive design)
Why is competitor keyword analysis important?
Once you have identified your SEO competitors and decided that it is feasible to compete with them, you can start with competitor keywords analysis. 
This can help you with describing your products or services but also identify content gaps in your SEO strategy and even find ideas for your new products. For competitor keyword analysis, you can use tools such as AHREFS or Mangools. The data there is only a rough estimation but it can give you a general idea of where you are against other major players in the industry.
Check how to describe your product 
Competitor keywords analysis is extremely important for bottom-funnel strategies. In some industries or businesses, you can often spot trends and tendencies in a way how users search for specific items. 
For example, through investigating the SERP for the fragrance industry, you can notice pages that are highest in rankings usually specify gender and size of the bottle in the page title, H1, and product description. That being the case, to increase your chances to rank for a specific bottle of perfumes, you can apply those techniques on page level to increase chances of ranking in search results.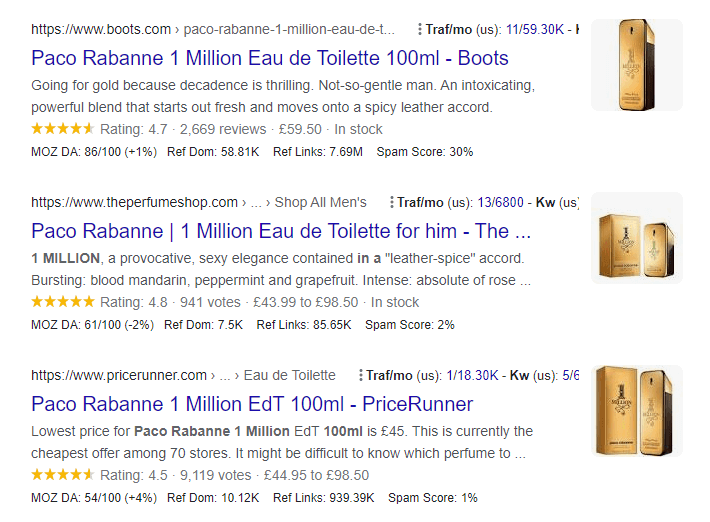 Looking for inspiration and ideas for new products
Identifying keywords that competitors are ranking for can help you describe your existing products and services, but it can also discover ideas for your new offering. Through competitor keyword research you can come across interesting product ideas that you haven't thought of before. In other words, you can discover the needs and wants of your target market.
Let's say you have an FMCG brand that sells dairy goods and are looking for ideas for new products. From your initial research, you have identified that your two main competitors are Müller and Yeo Valley. 
By simply conducting competitor keyword analysis, you can discover that people are searching for small or mini cartons of milk.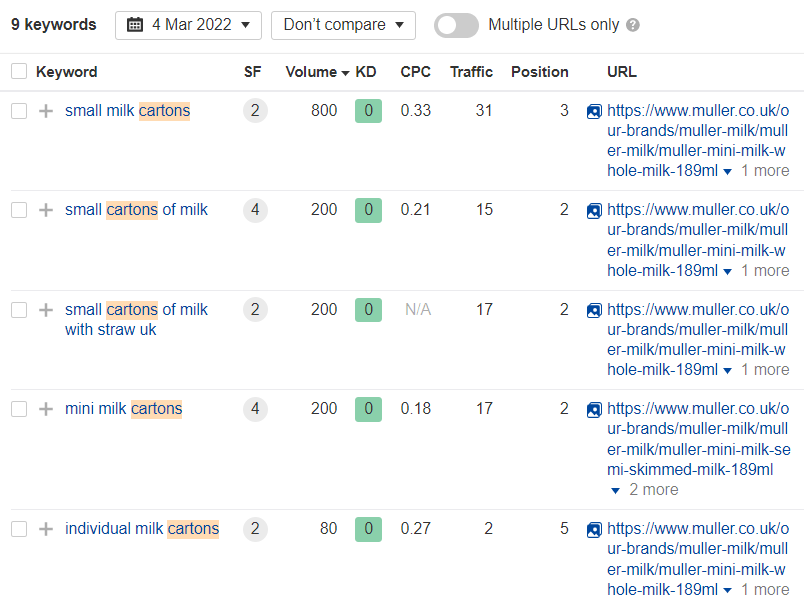 By exploring those keywords further you can check related and matching keywords and decide based on search volume and SERP if these can align with your potential product offering.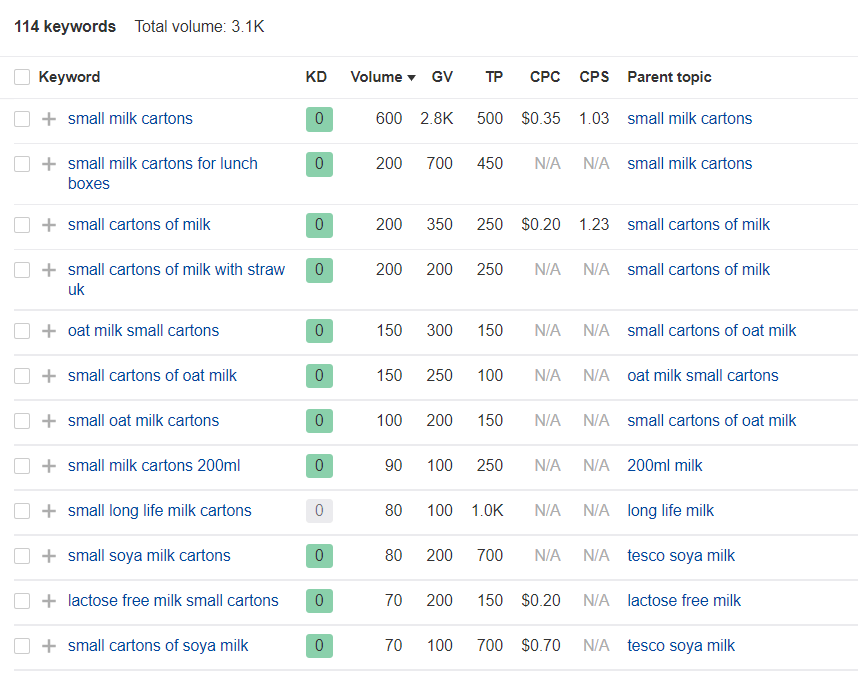 Identifying gaps in your content strategy
Analysing keywords of your competitors can help you determine whether there are any gaps in your content strategy, particularly at the top and middle funnel. Writing blog posts and supporting content can be an invaluable way to help with brand recognition, customer acquisition, and retention. It is also a place where you can answer any questions that your customers may have about your product or services.
Through looking at Yeo Valley keywords, you can discover that there is a lot of interest in yoghurt for babies. This raises the opportunity for creating informative content with a high level of expertise where parents will find information about feeding their babies. Perhaps a blog post that has been written based on an interview with an expert on the topic could be a good idea.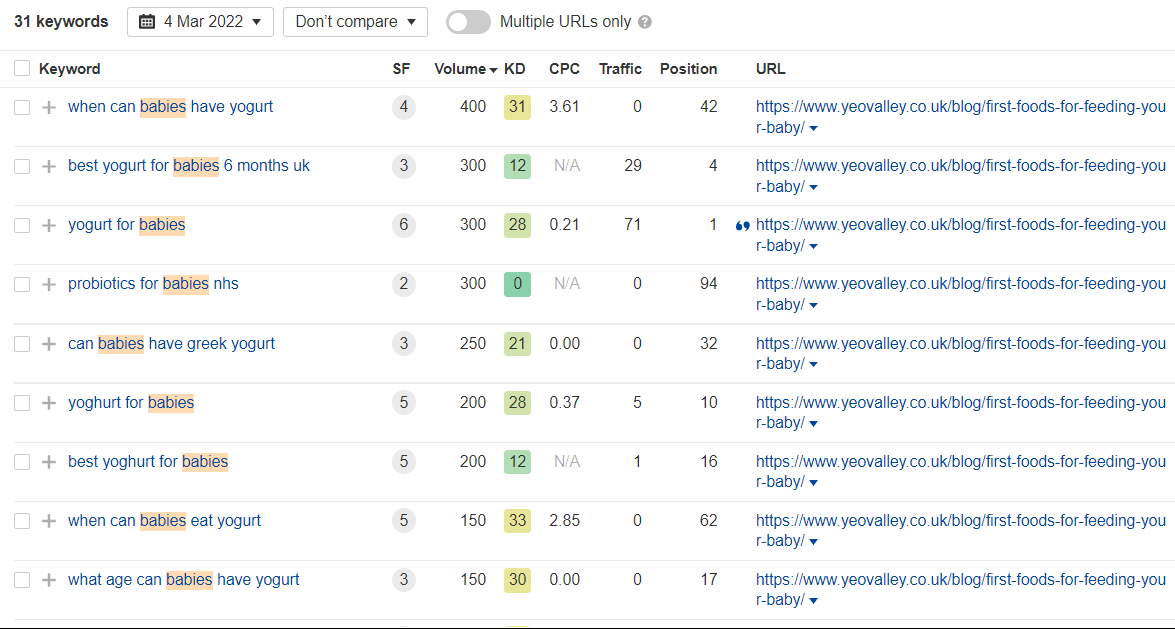 The online competition has never been greater, so keeping an eye on your competitors should be one of the crucial parts of your SEO strategy. By monitoring your rivals you can not only improve your SEO but also take care of your leads and customers by providing them with the best possible results that answer their needs and wants.