Why businesses need bespoke competitor analysis reports
TL; DR [Full read: ~8 minutes]
There is no one size fits all when it comes to SEO competitor analysis, and there is no magic 'checklist' or 'export-a-bunch-of-data-and-put-it-in-this-template' setting. There are however many different areas to think about that each warrant their own full investigation.
Here are a few examples:
Ensure competitors are organic search competitors and that specific countries are chosen.
Research the technology being used (stack types, plugins, programming language,structured data etc.).
Investigate traffic and performance behaviour (keyword analysis for certain areas).
Google SERP feature analysis (GMB, knowledge graph, featured snippets).
Test site speeds (run each competitor through a serious of sped tests and work out which one is fastest and why).
Investigate meta content (compare meta titles, meta descriptions, H1s, etc. to look for patterns).
Compare content (how is a competitor's content structured? Has it invested in a content strategy?).
Ask what journey competitors have been on (Wayback Machine check specific pages, and check specific rankings, where have they made improvements etc.).
Take a look at backlinks (this is an obvious one, but all the above points can warrant as much forensic time being spent on them when it comes to comparisons).
Of course, we can provide even more dynamic and tailored approaches, so if you have the question, we will get you the answer.
I've always thought that it's important to not be so 'rigid' and not to stick to frameworks and checklists when it comes to reports or audits. It's important to realise that each client has different needs, and understanding them is crucial, so you should tailor reports so that they offer maximum benefit to clients.
Most competitor analysis audits try to cover everything in just one document, which can be done, but if it were done correctly, it would take months of time, for one outrageously huge and impractical encyclopedia.
You get much better results when you break out the competitor analysis into different chunks and really focus on specific areas, rather than trying to focus on 'everything', which will send you down rabbit holes and end up being very costly (or very useless).
If someone asks you to do a competitor analysis, you should first ask what area to specifically focus in (give them a few examples from above) and what they want to achieve from this investigation.
What sort of competitor analysis should I do?
Each type of competitor analysis can be useful to a business. However, some can be more important depending on a few things. Here are a few examples:
Firstly, ask the client for a list of competitors and the top ~10 most important keywords to them. Hearing what the client has to say about competitors is invaluable for any task like this.
What stage is the business at? (Is the client the process of building a website, or has it been going years and does it operate in ~20 countries?)

If you are in the very early stages of building a new website or migrating to a new platform then a bespoke technology focused competitor analysis may be very beneficial to see the scope of tech being used.
If the business has been around for some time, then it may be a case of looking for aspects to fine tune with a custom Mobile/Speed analysis, which often discovers a lot of future avenues for exploration.

[Similar to above] How 'big' is the business? Is it a very well known brand? Does it employ thousands of people? Or is it just a local start up?

If it is a large business with a well-known brand, then it may be more useful to find out what your competitors' organic journey has been over the past month by recreating its year on a month-on-month basis (more on this later).
Sticking with medium to large businesses, if you have websites in multiple languages then perhaps a discovery audit to find new competitors in these countries will help. Are the country versions ranking well, and does the company use the country's language?
SMEs may benefit from nearly all of these considerations, but especially so with content optimisation, as the aim here can be for more exposure within Google SERP features. This can include ensuring a fully optimised Google My Business listing.
These are just a few examples of how bespoke competitor analysis reports are much more useful than just a generic one that covers 'everything.'
These custom reports are tailored to your businesses goals and objectives and will give you the most return on investment.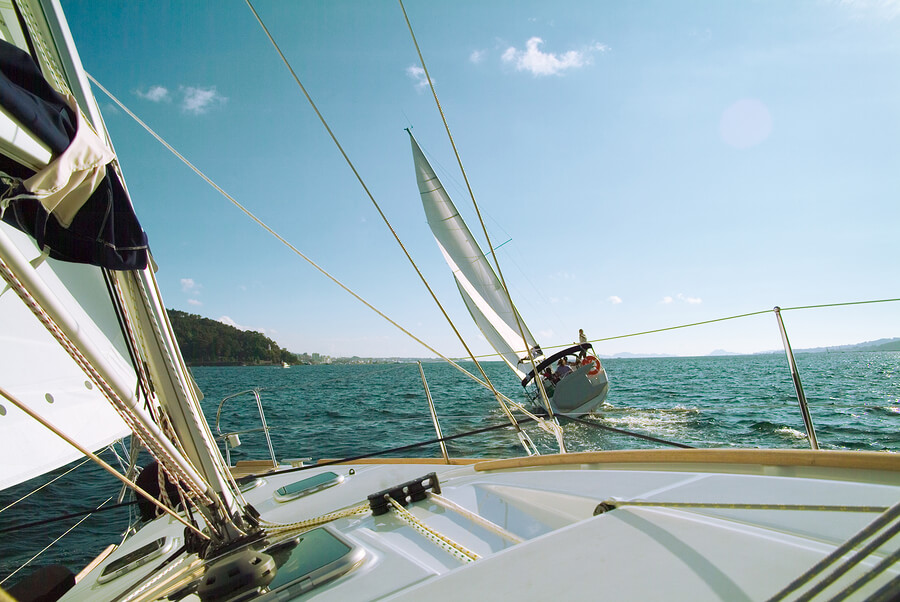 Examples of some bespoke competitor analysis reports we've done
The reports we produce are not only extremely thorough and cost effective, but we also present them to you in a very easy to understand way, with clear actionable tasks off the back of the report.
If you want more detail in a certain area? Sure.
If you want something displayed differently? Sure.
If you want us to go through the report with you and explain everything (this is usually the case), then sure!
We want to make the information as useful as possible.
We try to structure out reports cost vs effectiveness, so there are some 'quick wins', 'medium resource' tasks, and then the costlier tasks.
Below are just a few examples of our bespoke competitor analysis reports.
Competitor journey recreation
This is arguably one of the most Important techniques to apply to all bespoke competitor analysis reports. As you can probably tell from the header, this is a process of reverse engineering activities that your competitors have been doing over the past year or so (one year is a good time period to go back when doing competitor analysis reports) and reconstructing them.
What you ideally want to do, is go back one year and look at the organic search landscape then (depending on what sort of report you're doing) analyse aspects such as:
Rankings/visibility
What pages are ranking for certain keywords.
What competitors' websites looked like.
Did competitors have missing important pages that now rank?
How much content did competitors have on their main pages?
What technologies were they running? (Or not using).
How are websites performing in other countries?
Obviously, to find out all the above, a whole plethora of tools will have to be used, and you should go through them (where possible), on a month-by-month basis from around a year ago until now, while comparing all instances in the past and searching for differences, depending on what metrics you're focusing on.
Wayback Machine (Physical evidence, usable website, view source code).
AHREFs (great for backlinks & also offering a lot more useful organic SEO tools now).
Google (search operators are incredible, testing the real thing is amazing).
A VPN (great for testing SERPs in other countries with great accuracy).
Screaming Frog (an SEO staple, especially useful for meta content review).
Manually navigating websites (hugely undervalued — get stuck in and route around the website yourself — don't just rely on tools).
GSC (great insight on areas of interest for your client and other great ranking data).
Rank Tracking software (if it has been set up).
BuiltWith (a Chrome extension that breaks down the tech stack of the website).
Lighthouse (great Google speed testing tool).
Chrome Dev Tools (almost all the above can be done in dev tools if you know how — an invaluable tool).
With these tools you should be able to cover 90% of all areas for bespoke competitor reports.
Market share for specific keyword(s)
If you do not have software for rank tracking a website and its competitors, then other third party tools can be a very good replacement for this.
You can set up a rank tracking reports that back populate it with data from keywords and competitors.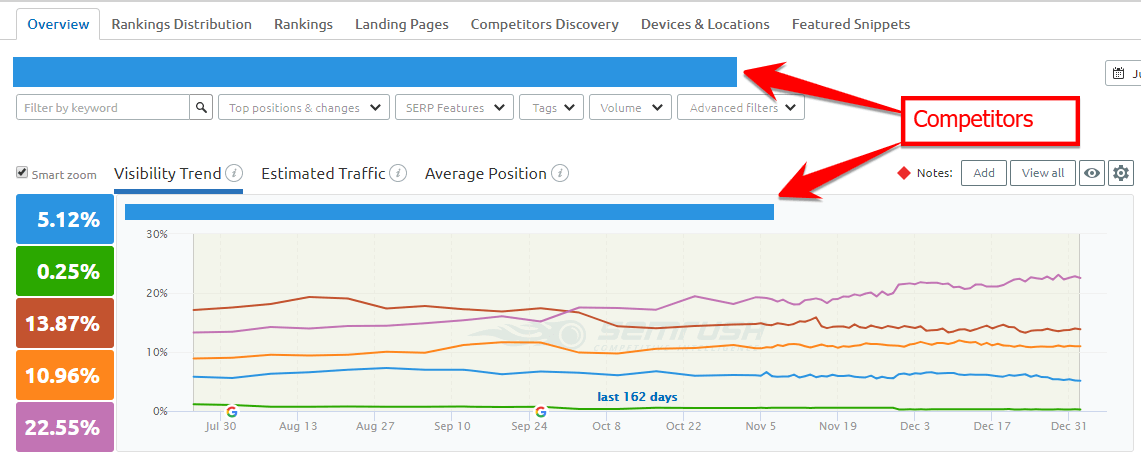 Third party rank tracking tools aren't great, but they are at least an indication for showing rankings/visibility for beyond the past year. For example, they usually have useful features such as listing exact pages and keywords.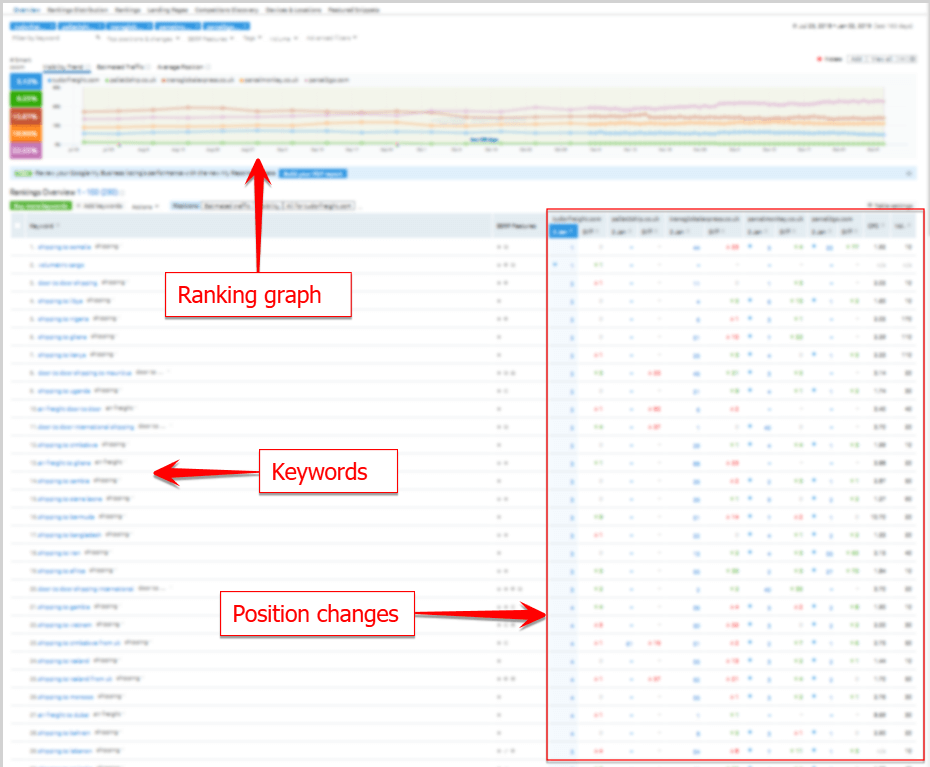 One example would be a competitor that ranked for a certain keyword that jumped from position 50 to position one in a month. After investigation we found out it was due to this website adding 10 times more content to the ranking page.
From here you will have ranking access to tonnes of data so that you are able to make informed decisions and run through other tools.
International discovery
Third party tools, again, are probably the best place to start for this task, as you can enter a domain and see the rough split of traffic via country and select different countries to see what pages are ranking for which terms. Some even tell you what your organic competitors are, even on a monthly basis: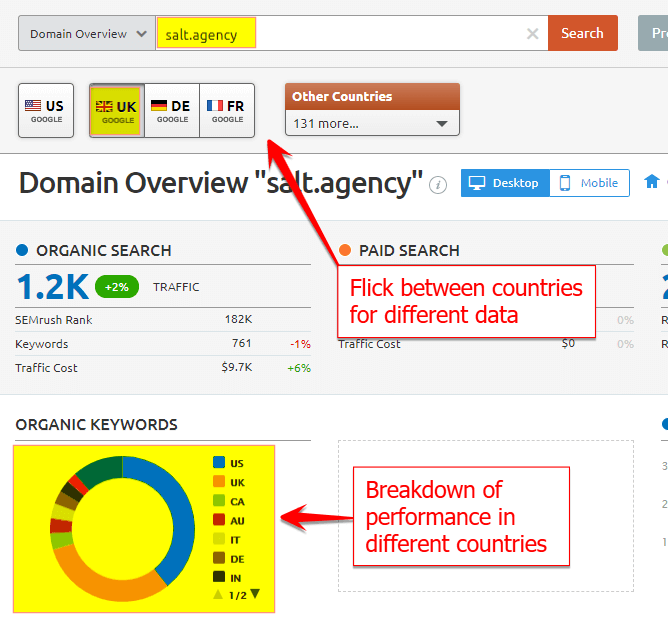 So, in theory, by using an array of these tools you can go back in time one month at a time; making a note of certain metrics of your competitors and how large their influence was, all the way back to a year.
You will be able to see when certain competitors launched a new country version (if they did), or just their rankings at the time for that time period.
In addition to all of this, you can take advantage of VPNs so that you can jump around the globe and test things in real time to see how things are today. A lot of emphasis has been placed on the 'past time presence' so far, but the current day is just as important, so investing in a VPN will really pay off so that you will be able to see a complete accurate representation of the SERPs that are up to date.
Action findings from reports
Most importantly, there should be actions at the end of this process, or at the very least, lots of historic information if everything is in tip top shape. Sometimes you may only find one or two things that jump out at you — but these couple of finds will make the whole report worth it.
You will gain a looking glass into competitor activities to see what they are doing, whether its working for them and worth replicating, or if they are lagging far behind.
Conclusion
I have given but a few examples in this report of bespoke competitor analyses, which are mainly ones which seem to revolve around rankings and content. I could write another covering the 'other side of the coin' in the future if anyone would be interested such as speed, meta content, and enhanced SERP features.
The bottom line of this article is that there should be no 'one size fits all' competitor analysis — each one should be customised and tailored to each niche/vertical/objective.
If you approach competitor analysis' like this, I'd love to hear your thoughts — perhaps you have a tip of your own that you can share?