Why and how you should track your local search performance
In this post I will explain why it is important that both site owners and SEOs have an understanding of a website's local search performance.
I shall also offer an insight into why you should be tracking both Google My Business and Bing Places for Business.
Understanding Google My Business and Bing Places for Business
I'm sure many reading this will have some understanding of Google My Business and Bing Places for Business, but for those who don't, both services allow site owners to create an online presence for their companies and so that they manage how customers find them through local searches.
Important performance data can also be extracted, which can then be used to make changes and improve your local search appearance.
For more details and information on the tools, see the documentation made to explain both services:
If you already have an understanding of these services, you should have a good understanding of how important these tools can be to a business.
However, as important as they are to some, both are often undervalued by SEOs and business owners who don't understand the full impact that they can have on local search performances.
Many believe these tools are only useful for updating name, address, and phone number (NAP) details, when in actual fact, these features are just the tip of the iceberg and it is important that site owners and SEOs understand their less obvious benefits.
Understanding the importance of Google My Business and Bing Places for Business
Both services help you understand how different areas of your local search campaign are performing, as well as information so you can identify where your efforts should be focused so that you can develop a more efficient strategy.
The best way to understand the importance of these tools is to collect as much data as possible about the performance of your local search.
There are two key methods to gather this data.
The first is to UTM track your Google My Business and Bing Places for Business listings, while the second is to use data already provided to you.
Both Google My Business and Bing Places for Business contain a section called 'insights' that provide owners with data involving local search performance.
Google My Business and Bing Places for Business 'Insights'
The data collected by these tools includes how customers search for the business, how they interact with the business listing, and where users view your business.
Alongside this, the services also provide other details such as popular search queries, customer actions, and how your business compares to 'businesses like you'.
Bing Places for Business, however, goes a step further as it suggests actions to improve your local search based on the data it has collected and what information is missing from your listing.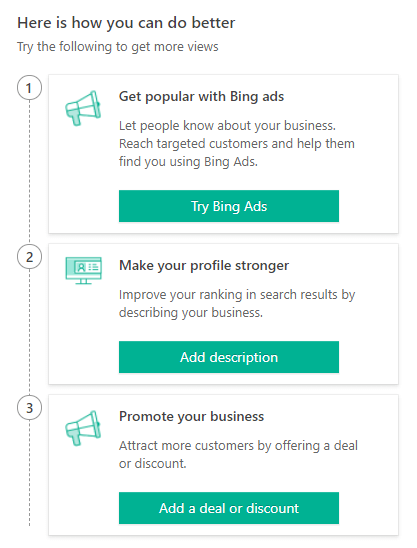 All the data provided by the 'insights' section in these tools is very easy to digest and is useful for basic users with little intention of further developing or optimising their local search.
But for site owners and SEOs whose aim is to significantly improve a business's local search, the second option of data collection using UTM tracking is likely to be more beneficial.
Tracking your Google My Business and Bing Places for Business listings
Tracking your listings will present you with a wealth of data, including click through rates (CTRs), conversion rates, bounce rates, and details of specific queries being used to find the business.
One of the key benefits to monitoring and understanding the performance of your local search is that it becomes significantly easier to identify what to work on next.
For example, if you start tracking, and find that your local listings have a low CTR, you then know you need to take action to improve it.
UTM Tracking
UTM tracking involves adding an Urchin Tracking Module (UTM) code to the end of a URL, and it allows you to track the source, medium, campaign name, campaign term and campaign content of the URL.
The main use of a UTM code is that it enables you to view various types of data about the URL in both Google Analytics and Google Search Console.
Benefits of UTM tracking
As previously mentioned, the data provided by the insight's sections can sometimes be useful. However, many people aren't convinced that it is entirely reliable, and the data collected only lasts for 90 days.
This is insufficient in comparison to UTM tracking as the technique provides considerately more data and allows for comparisons against historical data; it allows you to see information about the URL through Google Analytics and Google Search Console.
Business owners, therefore, have additional data to view, including page views, average time on page and bounce rate from Google Analytics, as well as data that Google Search Console provides, such as impressions, CTRs, ranking positions, and details on specific search queries.
Having access to this information gives business owners a better understanding of how they are performing and allows SEOs to develop a more considered strategy to improve local search performance.
A final (but important) benefit is that this method of tracking makes data collecting for multiple branch locations much easier.
As each URL is being individually tracked, you are able to set up filters on Google Analytics to visually interpret the data from all the branches you select.
It is important to note, however, that all these benefits can only be capitalised upon if you are proactive to harvesting and measuring accurate data.
How to track using UTM (include for multiple accounts)
Setting up UTM tracking is simple and easy to do as it requires no technical knowledge or coding.
The first thing you need to do is to create a UTM code for each of your listings. There are a variety of websites that allow you to do this quick and easily.
You first will need to fill in the form details:
Website URL: Enter the URL of the page you are linking to in Google My Business and Bing Places for Business. (Required)
Campaign Source: Enter the source the users click the URL from, for example search engines such as Google and Bing.
Campaign Medium: The campaign medium is the dimension the traffic is classified under.
Campaign Name: This is for tracking specific products or promotions, although it is also used when a business owns multiple locations and listings. If this is the case, you can enter the ID for each location.
Campaign Term: Not required.
Campaign Content: Enter 'GMB' for the Google My Business URL and 'BP' for the Bing Places for Business URL.
Once that all the details have been filled in you should be able to generate the URL.
The next step is to upload the URL(s) you just generated to the appropriate listing.
In order to do this on Google My Business, go to the listing dashboard and click the 'info' option on the left side of the page, then click 'website' and update with or add the new UTM URL.

To upload the URL on Bing Places for Business, again go to the dashboard, but this time you only need to click on 'website' and update the URL.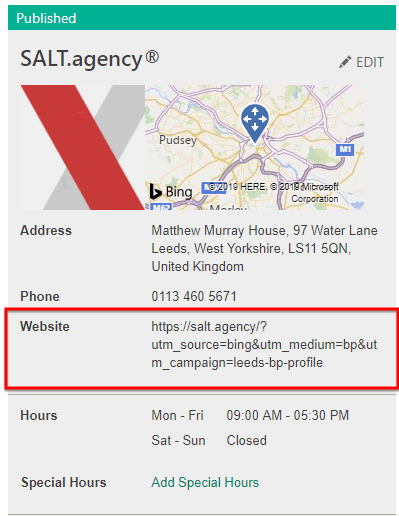 Once added, the URL will then be associated with that listing.
Tracking within Google Analytics and Google Search Console
When you have generated a UTM URL and have added it to your business listing, you will then be able to use Google Search Console and Google Analytics.
Google Search Console
Viewing the performance of your listing(s) in Google Search Console is also easy and straight forward.
You only need to go to the performance report in Google Search Console, click the filter drop down option and filter on pages containing 'UTM'.
This will show the performance for all your listings and you can select to view individual listings to focus on their performance.
Google Analytics
There are two keys methods to viewing the performance of your listing in Google Analytics, the first is by searching specifically for the listing you want to view and the other is by creating a segment to filter on all listing(s).
To search for a specific listing in Google Analytics do the following:
Go to All pages. This can be found under 'Site Content' in Behaviour.
Click the search bar on the top right of the table and enter the URL after the root, for example for https://salt.agency /?utm_location=leeds only search for /?utm_location=leeds.
In order to create a segment to filter on local search listings, click 'Add a segment', then the red box that says '+NEW SEGMENT' and select the 'Traffic Sources' option on the left side.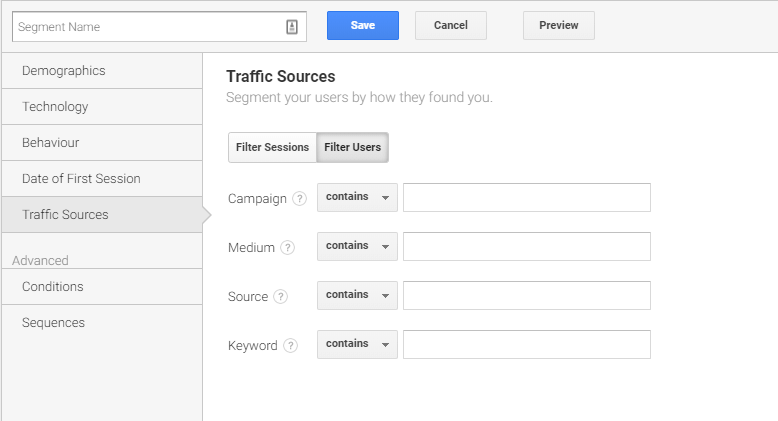 To fill in the fields you only need to input the values you used when generating the UTM tracking code.
Then click save (the keyword field can be ignored).
There are various ways you can now look at this data, my primary suggestion being to use source/medium located at Acquisition > All traffic > source/medium and then to select local/organic.
From here you will be able to see the performance for all the URLs under a single campaign.
Summary
By using the data collected by tracking your Google My Business and Bing Places for Business listings, you should now have a clear understating of the impacts they can have for a business, as well as insight into what areas of your local search need improving.