An organic overview of the US big box hardware & DIY sector
Home fashion changes constantly, and new designs become outdated in a short space of time. Landlords and homeowners worldwide and, more specifically, in the United States frequently renovate their properties to keep up with the latest home renovation and improvement trends. 
2020 is the year associated with being at home, which led to an elevated interest in home remodelling and crafting among homeowners.
The US Big Box Hardware industry has greatly benefited since the COVID-19 pandemic, with sales of building materials and do-it-yourself (DIY) seeing a dramatic increase. 
The global hardware market saw $100.21 billion growth in 2021 to $108.69 billion in 2022, and it is expected to see further growth in 2026 by reaching an estimated $144.23 billion.
We will look at the biggest home improvement key players in the US to assess how they are currently performing from an SEO perspective and clarify whether the start of the pandemic has shaped the market differently.
Hardware Improvements Industry
We can see from the graph below that demand for 'diy tools' started increasing in March 2020 when the first Covid lockdown was announced and continued at a steady growth until April 2020. The DIY tools trend dips slightly after this point before picking back up again in May 2020 when it reached its peak.

We will look at average search volumes for five related home improvement keywords from April 2020 until June 2022 to find out how the volume has changed from the start of the pandemic.
Analyzing the table below, we can see that variations of the 'diy' demand either stayed the same or drastically increased depending on the specific key term. This could indicate consumers developed a hobby for home DIY during lockdowns and continue with their DIY and home improvement projects now.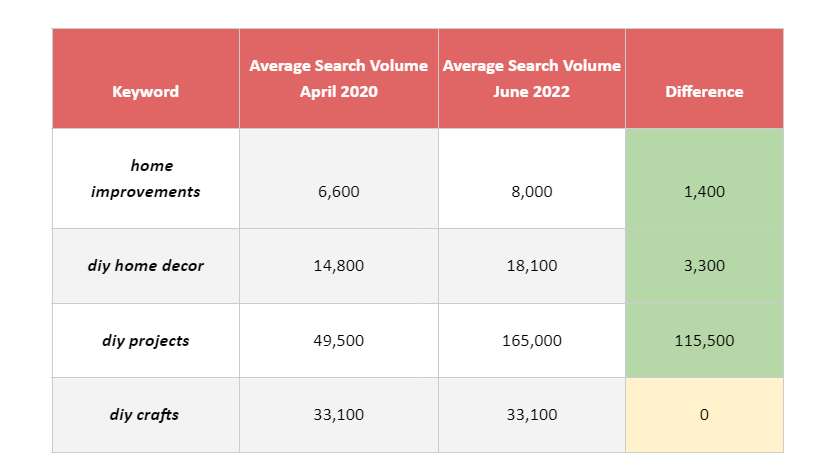 Looking at Ahrefs Trends data will help develop a broader picture of the keywords' search volume.
Home Improvements Trend Data

Using Ahrefs to asses the trend 'home improvements' shows its increase in searches in July 2020 before decreasing again until October 2021 when the search reaches its peak. It then slowly declines again until April 2022.                             
DIY Home Decors Trend Data
Ahrefs shows that the keyword 'diy home decors' increased in searches in April 2020 with a decrease to follow until January 2021 before another search growth in March 2022.

DIY Projects Trend Data
Using Ahrefs, we can see that the term 'diy projects' reached its highest number of searches in April 2020. It then decreases before picking up again in April 2022.

DIY Crafts Trend Data
Ahrefs shows that 'diy crafts' sees an increase in searches in April 2020 with a following drastic decrease before slowly increasing again in March 2022.

The Home Depot
The Home Depot is one of the biggest home improvement stores in the US, with more than 2,000 stores countrywide. The company strives to offer customers the best price and quality for a variety of products, including power tools, DIY accessories, outdoor equipment, garden and patio accessories, and tiles. 
It is important to see how a company performs over a five-year period, as it can indicate how it positioned itself among competitors and applied its business strategy. 
The graph below shows that The Home Depot's organic traffic peaked in May 2016, then dropped and remained mostly in decline for over a year. There was a short organic traffic increase between 2018-2020. However, interestingly, it did not escalate during the pandemic as it did for most home improvement brands, which could mean the website did not effectively apply SEO at the beginning of the pandemic.

Among the company's organic ranking keywords, apart from the branded ones ranking in position 1, The Home Depot also ranks 1st for 'portable air conditioner' gaining two positions between July and August 2022.  

By using Google Trends, we can see the peak for the term 'portable air conditioner' is in June and July 2022. Season trend data suggests that a brand should optimize its landing pages in advance of peak periods, such as June and July when this key term is expected to rise in search volume. From the assessment, it is clear that Home Depot has successfully done this for this particular key term, demonstrating that they optimized their keywords in time.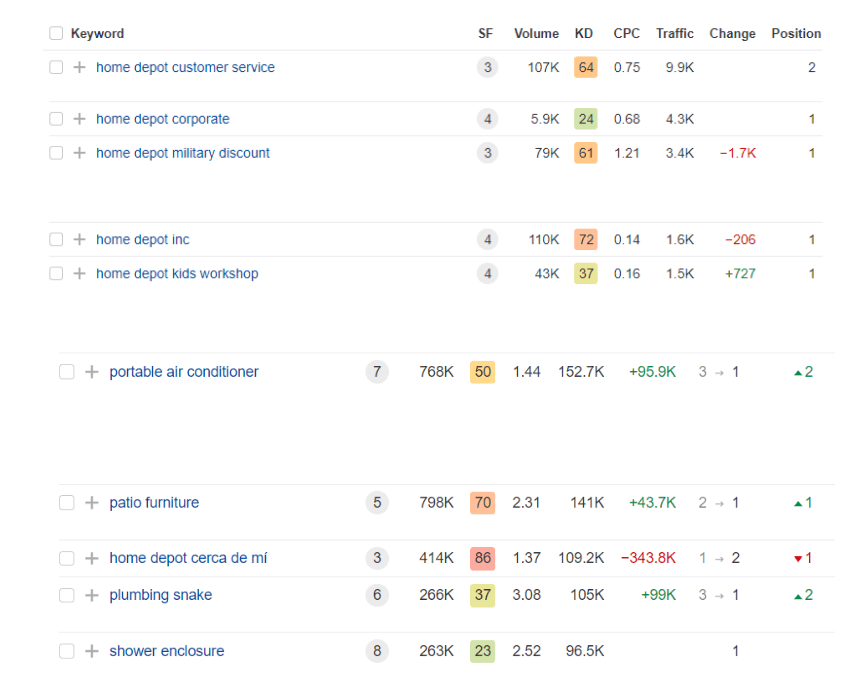 Data pulled from Ahrefs indicates that The Home Depot has successfully secured position 1 for the 'patio furniture, 'shower enclosure', and 'plumbing snake' terms.
The keywords ranking suggests that The Home Depot's website is well adapted for search engine optimization. 
Lowe's
Lowe's is known to be one of the oldest US big box hardware stores in the US, founded in 1921. 
It offers a broad variety of products from DIY tools and building supplies to sports and fitness equipment.
Looking at Lowe's performance metrics for average organic traffic and its value, we can notice that its volume was quite low and started increasing in April 2020, then reducing again in May 2020. The decline lasted March-May 2022 when it reached its peak before declining again. 

We will look at Lowe's organic keyword ranking position during a month's period, trying to capture if the trend has changed and how it was ranking previously.

All of the company's organic keywords ranking in positions 1 and 2 are branded. The number of consumers searching for 'lowes' has not changed, but searches for 'lowes home improvement' increased to +914,2k.

The keyword data above is showing that searches for 'lowes home' increased in volume to +11.7k. 'hardware store' has seen a +46,8k increase, which brought it from ranking in position 3 to position 1 in SERPs. Ranking in position 1 for non-branded keywords could mean that the website is SEO optimized and the brand is trusted among customers. 
Floor & Decor
Floor & Decor is a chain of home improvement stores established in 2000 and is relevantly new compared to many of its main competitors. The company specializes in products such as tiles, wood, laminate, and stone flooring. It also offers accessories for home decoration. 
We will view Floor & Decor Performance metrics for average organic traffic and its value positions. It started seeing growth in April 2018 and slowed after that. It did have an increase in organic traffic in June 2020 during the pandemic before declining again thereafter. It demonstrated excellent performance in May 2022 before dramatically decreasing again.

Floor & Decor ranking position below clearly states its domination for the branded 'floor and decor' keyword, ranking in position 1. It increased its ranking for the 'bathroom vanities' keyword, jumping up from 11th position to 7th.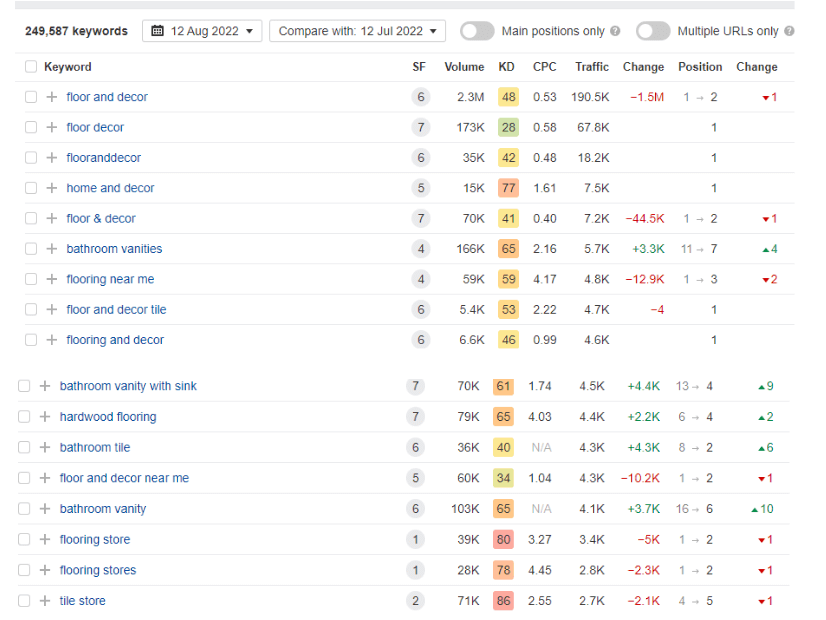 Summing up from the above keyword ranking position tables, we can see that the website is optimized for the branded keyword. For other keywords, even though it jumps from 13 to position 9 or from 16 to 10, it is not competing well enough to rank in positions 1-3.
Harbor Freight Tools
Harbor Freight Tools is a family-owned company founded in 1977 with around 1300 stores across the US. It provides a broad selection of quality tools and DIY equipment at prices up to less than 80% compared to its competitors.
Analyzing the graph below, we can see that its performance growth comes in May 2020, which is similar to the brands we analyzed previously. It declines after May 2022 and escalates again at the same time two years later, before gradually declining thereafter.

We will look at the keyword ranking position for Harbor Freight Tools to assess the brand's SEO strategy inclination.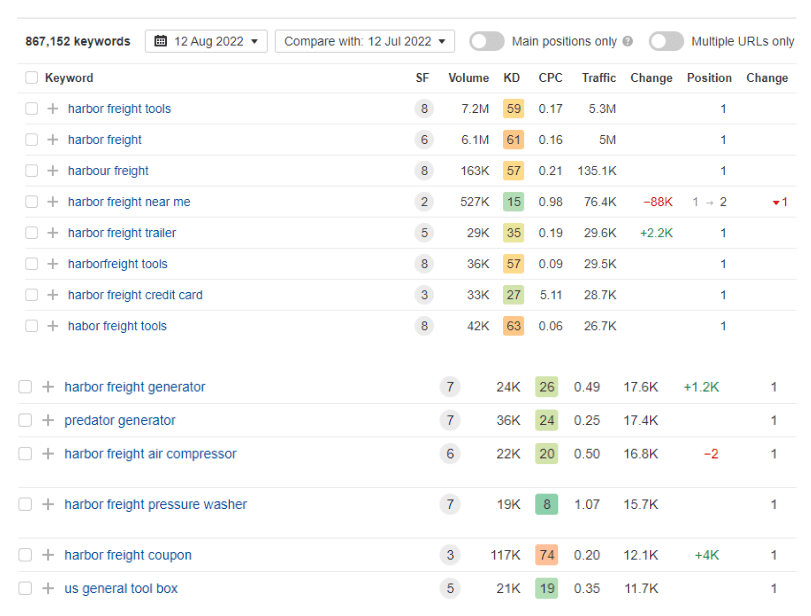 Analyzing the company's keywords ranking performance, we can see that it is ranking in position 1 for branded keywords and also for some non-branded ones, including 'predator generator' and 'us general tool box'. Being a well-known brand explains why consumers are specifically looking for its products, but its SEO strategy is also clearly well-implemented.
Best Buy (known as Pacific Sales till 2006)
Pacific Sales Kitchen and Bath Centers was established in 1960, and Best Buy acquired it in 2006. The business offers its customers home electronics, a range of appliances, outdoor living, and many other products for home improvement. 
Looking at Best Buy's performance metrics, we can see that it had a surge in organic traffic between 2015-2019, unlike the brands we viewed previously. Interestingly, it did not see as much increase in March-May 2020 as the other companies. Its traffic grew only in November 2020, followed by a quick decline and increase again in December 2021.

Studying the organic keywords ranking position of Best Buy, we can see that it ranks in position 1 for branded terms. The keywords 'gaming pc' and 'dolby atmosphere speakers' are ranking now in position 1, gaining 4 positions, and 'google home max charcoal' went from ranking in position 11 up to position 1.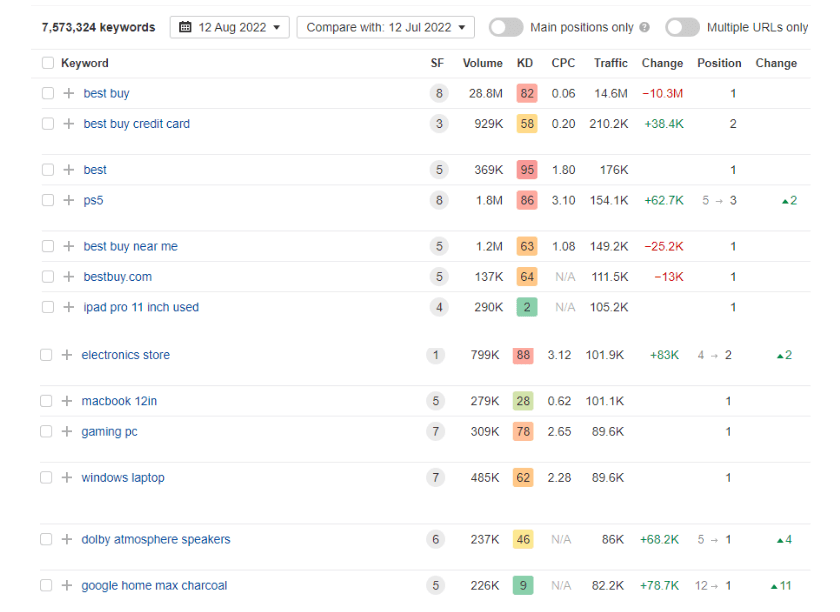 As per the data shown above, the brand does not rank on the first page for any home improvement products but is top ranking for electronic items, which proves that the website is well optimized for search engines and that the company may have changed its business focus targeting different keywords.
Tractor Supply Company 
Tractor Supply Company was founded in 1938 and is a rural lifestyle retailer in the US. The company specializes in products for land, home, outdoor living, tools & hardware, work boots & shoes as well as clothing. 
Evaluating the website's performance metrics as per below, we can see it had a big increase in April 2020 and a decline after that. Another traffic escalation falls to March 2021 and May 2022 with followed decrease.

The following organic keywords data states that the company performs well for branded keywords but also for 'stock tank', 'work pants', and 'chicken coop', moving to position 1 from the 8th and 7th positions. It could mean that the company focuses less on home improvement products and targets different keywords where it can rank in position 1, optimizing the website accordingly.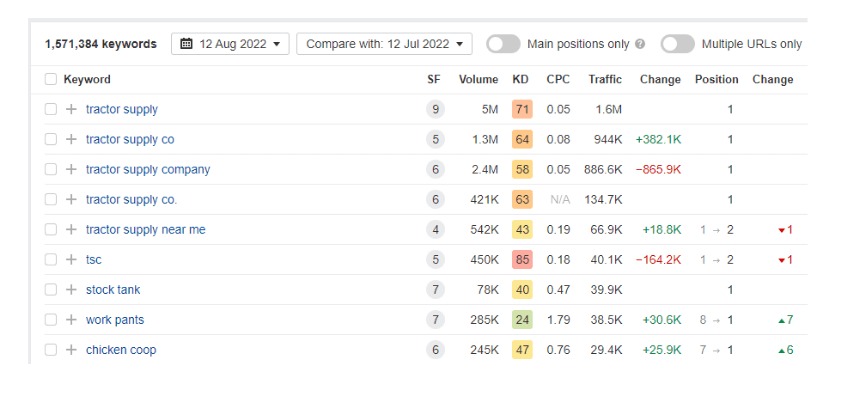 As per the keywords ranking positions above, we can see that 'tractor supply near me' could be pushed to position one.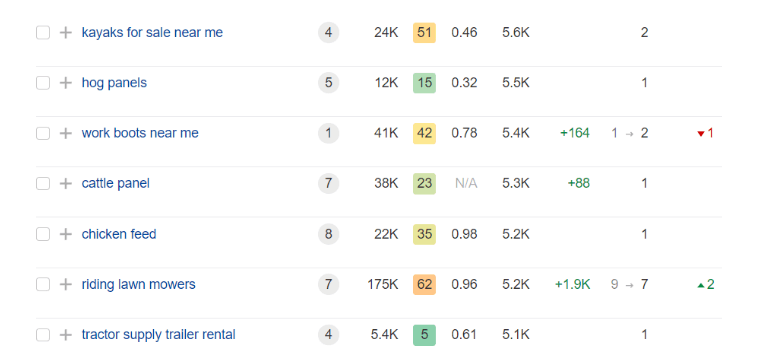 'Kayak for sale near me' could be optimized to rank in position 1 instead of position 2 and 'work boots near me' should be checked, as it has lost its 1st position.
Outdoor Supply Hardware
(previously known as Orchard Supply Hardware)
Outdoor Supply Hardware (OSH) is a retailer for home improvement and gardening. It was bought by Lowe's in 2013 and closed its physical stores in 2018. The OSH brand was then bought by Central Network Retail Group in 2019.
OSH offers customers building materials, hardware, DIY tools, kitchen and bath products, lawn and garden products, and electrical products.
The non-existent performance metrics from 2015-2019 could be explained by the domain name change of the business from Orchard Supply Hardware to Outdoor Supply Hardware. We can see that the organic traffic started picking up in 2020 after it was acquired by Central Network Retail Group. The traffic escalated in May 2022, which is a similar trend we observed with its competitors.  

The organic keyword ranking shows that position 1 is for the branded keywords for the company's former name. The other keywords in position 1 ranking are 'outdoor supply hardware san jose', 'outdoor supply hardware berkeley', and 'outdoor supply hardware san leandro', which indicates the website is optimized for Google my Business.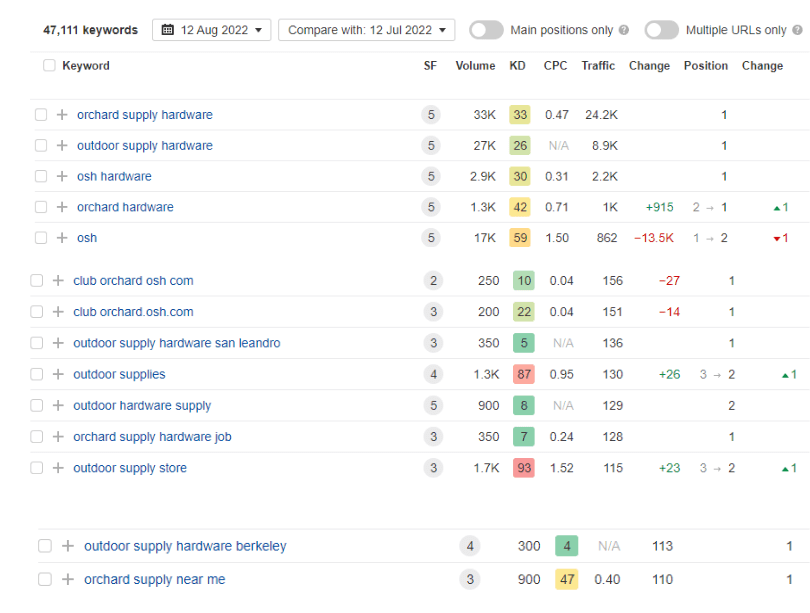 Regarding non-branded keywords – 'outdoor supplies', 'outdoor hardware supply', and 'outdoor supply store' could be pushed from position 2 to position 1 with the right SEO strategy.
Summary
To summarize, the organic performance analysis of the US Big Box Hardware industry key players show The Home Depot, Lowes, Harbor Freight Tools, and Outdoor Supply Hardware have SEO-optimized websites. 
On the other hand, Floor & Decor would benefit from optimization, as it is not competitive enough for non-branded keywords. Bringing further brand awareness and trustworthiness could be a strong point to consider for the business.
It looks like Pacific Sales changed its focus to different industries when it was bought by Best Buy, and its current top performance is for electronic products.
Tractor Supply Company has also altered its business inclination from hardware tools to work clothing and animal feed. This might be a different approach to strategy, or perhaps the company does not believe its range of offered products can compete against the biggest home improvement companies.