An SEO analysis of UK challenger banks industry
Financial Services in the United Kingdom play a key role in contributing to the country's economy, which accounted for £164.8 billion in 2020. 
The market size revenue of the banking industry alone reached £96.1bn, making it an attractive industry to enter the market.
However, during the financial crisis in 2008, the UK banking industry faced multiple challenges. Low-interest rates hit when banks could hardly earn on sales and lending rates, so FinTech firms and challenger banks saw an opportunity and entered the market. 
Digital-only banks are considered to be disruptors in the industry that massively challenged well-established players in the market, including Barclays, HSBC, Lloyds, and NatWest.
As the banking industry is experiencing a silent revolution, CREALOGIX Group (a Fintech company and one of the 100 global leaders in digital banking) has undertaken a survey involving 2,000 UK customers. The survey findings are that one in four people under the age of 37 has accounts with challenger banks only. The survey also found that 14% of UK bank users confirmed they use two or more digital-only banks.
The research suggests that 61% of UK bank account customers are considering opening a new account with another banking provider within the next three years. The pattern develops more with Gen Zs and Millennials, of which 75% plan to apply for a new bank account within three years. The challenger banks' popularity among these age groups is three times higher, indicating that the younger generation's digital preferences play a significant part in the market disruption.
Banks achieve brand associations through their newest innovations, contributing to an excellent user experience. This ultimately benefits the provider through a number of newly opened accounts that generate revenue.
CREALOGIX also conducted with customers of the challenger bank users in the UK to see what types of service they preferred and expected to receive from their banks. The customers questioned underlined a quick and easy procedure to open an account, a sound customer experience, and an easy-to-navigate app with purchase notifications. They also highlighted the importance of visual spending summaries and an option to set a nomination date for interest payments.
Certain banks that market themselves as challenger banks are e-money payment institutions like Monese and Pockit. The difference is for the customers of the institution.
The main benefit for customers of challenger banks is that their money is subject to Financial Services Compensation Scheme (FSCS) up to £85k protection.
In contrast, the funds of e-money license banks' customers are held by partner banks, which excludes their options of loans and investment. The clients' money is not subject to FSCS as it is with most challenger banks.
This article will assess the key players in the industry and analyse their performance from an SEO perspective.
First, we will see the 'challenger bank' search popularity in Google trends and how it evolved in the UK within the last 5 years.

'challenger banks' started gaining popularity in 2018, and reached their peak in 2019, before the search volume dramatically decreased again in the following years.
UK Challenger Banks Industry Key players 
Revolut
Revolut operates as an e-money provider in the UK and was the first challenger bank to see a gap in the industry and aspired to change how customers transfer money and spend it abroad. It also started offering free-of-charge currency exchange and ATM withdrawals up to £200.
Since launching in 2015, the challenger bank has expanded globally. Revolut offers multiple features such as cashback for completing purchases via the app with a number of brands, insurance options, budgeting tools, airport lounge discounts, and trading (including cryptocurrency).
The website claims that the company achieved:
20 million+ users

500k Business users

200+ Countries and regions supported 

30+ in-app currencies
Using third-party data gives us an idea of where the website's performance stands for since its launch in 2015.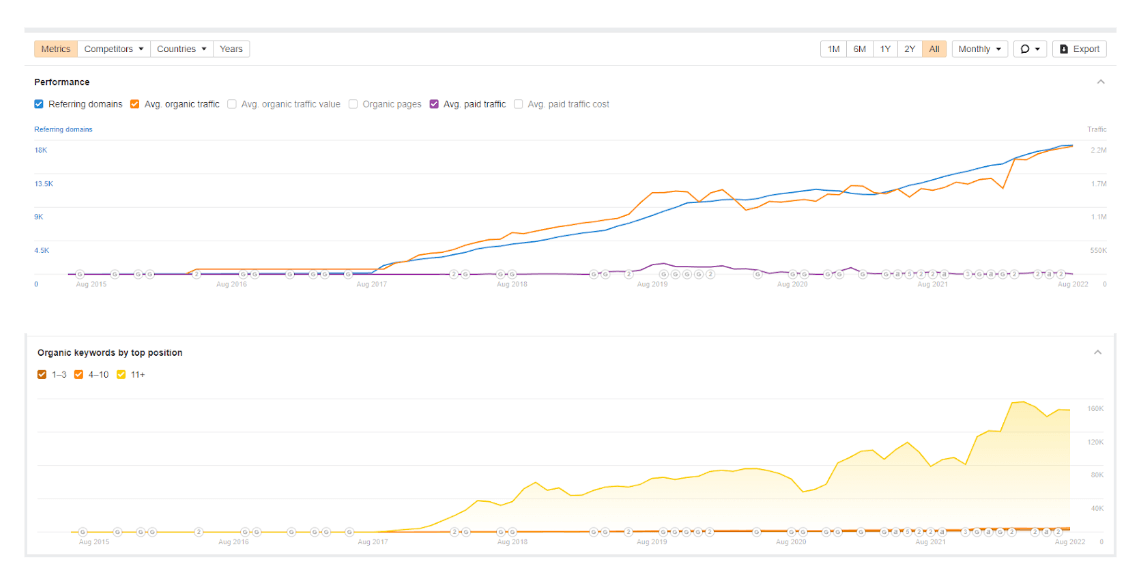 From 2015 to September 2017, Revolut's website didn't generate any organic traffic, which is interesting given that it is an online-only bank. The average organic traffic started increasing in October 2017, decreased briefly in 2019, and saw a further increase from February 2022. Now, it is seeing through its growth, reaching 2.2 million.
As of 18 August 2022, Revolut is accounting for 126,631 all ranking keywords, which breaks down to the numbers below:
Position 1-3: 2,768

Position 4-10: 1,843 

Position 11+: 122,945  
Monzo
Monzo entered the challenger banks industry in early 2016 after Revolut and received its banking licence in 2017. The online bank offers its current 6 million clients savings and borrowing and is FSCS protected.
Monzo is the winner of the British Bank Awards 2022, securing 'Best British Bank' and 'Best Banking App' trophies.  
Like Revolut, it also supports free ATM withdrawals up to £200 and payments in a few European countries.
However, Monzo is currently only available to UK users and does not offer an international payment option, which limits its target audience. 
It appears that the bank's strong focus is to provide excellent customer service, which is displayed on the Monzo landing page:

Having reviews and ratings like the above displayed on a company's landing page encourages trust, which is particularly important among banking industry players.
By assessing the performance metrics of the Monzo website, it is evident that visibility began to grow slowly in 2016, which is earlier than what Revolut experienced.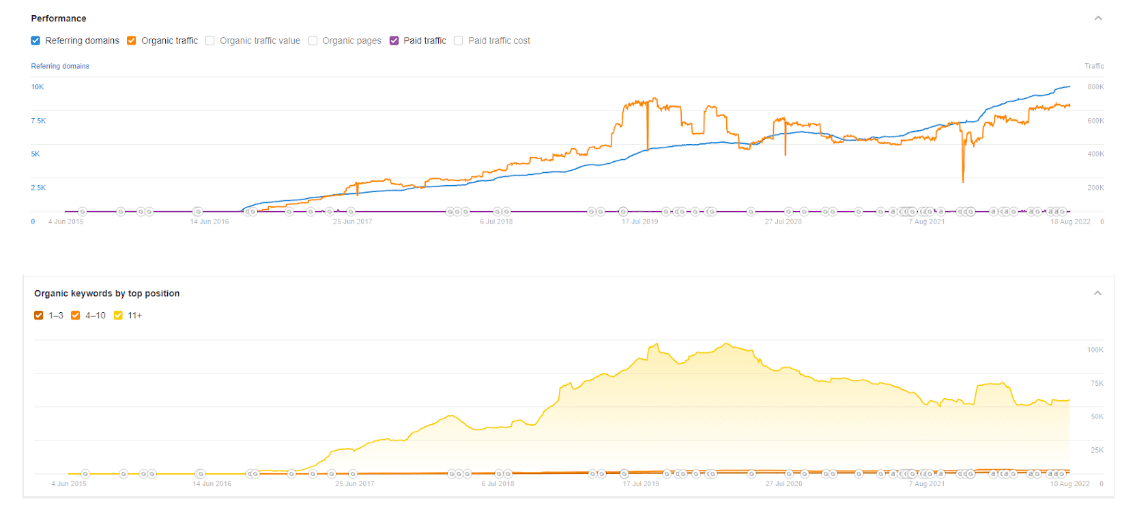 The above graph shows that organic traffic gradually evolves, reaching its peak in 2019. In 2020 a decrease and increase pattern is followed in 2021 and then sees steady organic traffic growth within 2022.
Ahrefs data from 18th August 2022 states that Monzo ranks for 55,421 all keywords across different ranking positions, as per below:
Position 1-3: 1,050

Position 4-10: 1,741

Position 11+: 52,630
Starling Bank 
Starling Bank launched in 2017 after receiving its banking licence from regulators, unlike its competitors Revolut and Monzo, who initially launched without regulators' full approval.
The bank currently offers personal, business and sole traders accounts, a joint bank account, banking for kids, and multi-currency accounts (GPB, EUR, USD). It supports sending and receiving international payments for an additional charge and is FSCS protected. Unlike most of the challenger banks, Starling has a cash deposit option at post offices.
Starling Bank is the best in providing service quality, and Monzo is rated second.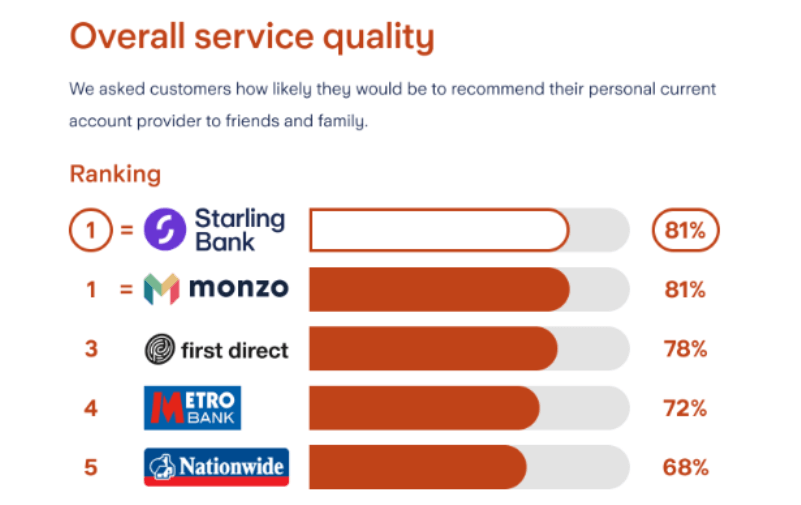 However, we will check how the bank's excellent performance in customer service reflects its organic traffic.
As we can see, Starling Bank's organic traffic was increasing slowly and saw its first peak in 2020, then decreased again with a followed spike in 2022. Its current organic traffic of 380k is much less than the 2.2 million and 800k of Revolut and Monzo, respectively.
Starling Bank's website is ranking for 49,193 all keywords as of 18 August 2022, with the rest of the keywords ranking as per below:
Position 1-3: 1,396

Position 4-10: 2,979

Position 11+: 44,818
Monese 
Monese started serving its customers by launching in 2015 in the UK. After a year, Monese won 'Best Challenger Bank' at the 2016 European Fintech Awards. However, it is classed as an electronic money institution and is not FSCS protected. Currently, the company offers personal, business, and joint accounts as well as a variety of currencies such as GPB, EUR and RON.
Monese accounts for around 2 million sign-ups from around 31 countries. 70% of customers chose it for salary payments, demonstrating the trust the company has built among its customers.
We will analyse how the company's website performs in regard to average organic traffic volume.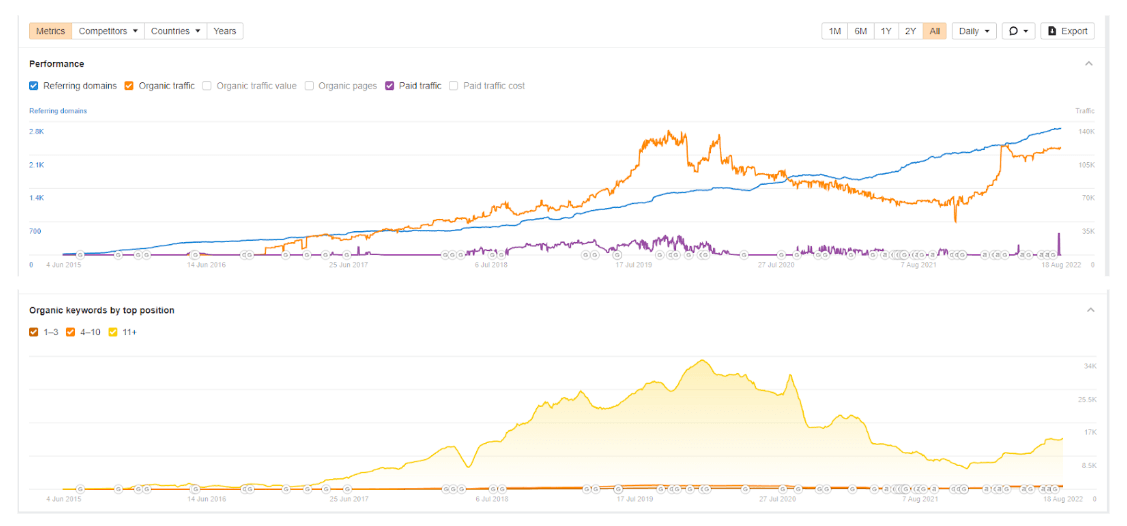 As the graph above shows, Monese's organic performance increased in 2016 and sees steady growth reaching its peak in 2019 and then again in 2020. After 2020, the traffic volume decreases and elevates again in March 2022.
Organic keywords traffic for the Monese website for 18 August 2022 shows that:
12, 949 are all ranking keywords:
Position 1-3: 671

Position 4-10: 224 

Position 11+: 12,054
Cashplus Bank
Cashplus Bank is another FSCS-protected challenger bank. From assessing its website, it looks like its targetted audience is business owners as 'Apply for Business' is the first clickable option before 'Apply for Personal' accounts selection:

Compared to all of the digital banks reviewed in this article, Cashplus Bank offers Business Credit Card, Personal Credit Cards, and Travel Cards in GBP, USD and EUR currencies. It differentiates Cashplus Bank from its rivals and targets a different audience. It serves around 1.6-million customers and is the first UK bank that opted for degradable bank cards, which makes it stand out as a sustainable business and strengthens its brand image.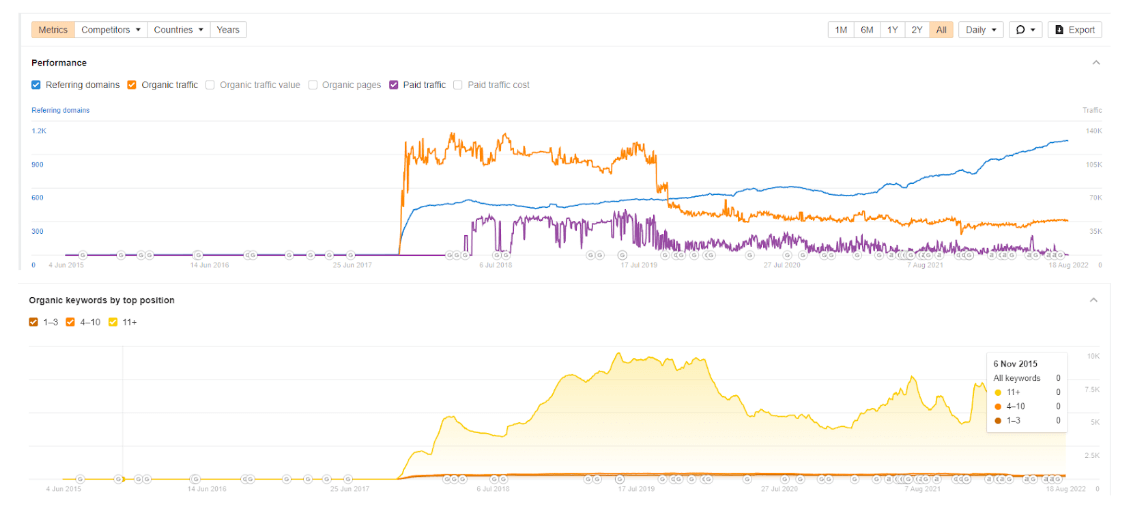 As we can see from the organic performance metrics above, the traffic flow started from mid-2017 with a massive spike, slowly decreasing until its second traffic growth in 2019 before another dramatic fall, which could be due to the technical issues the bank experienced after it's security updates locked their customers out of their accounts. The drastic decrease in traffic can be compared with the volume of traffic seen in March 2019, with over 124k to the currently generated volume of 36k.
As of 18 August 2022, the website ranked for 5,174 keywords with ranking positions spread as per below:
Position 1-3: 223 

Position 4-10: 83

Position 11+: 4,867
Curve
Curve is not a bank but rather offers different features of connecting debit and credit cards into one Curve card, which saves memorising multiple pin numbers. It has chosen a different business strategy which targets different customer groups and separates it from its indirect competitors. The company offers 20% cashback with multiple brands.
Curve's bespoke offer is its 'Back in time' feature, giving its customers an option to convert transactions made up to a year prior into free or low-interest instalment loans.
Curve's organic performance began to grow in 2020. The significant traffic increase comes in May 2021, with a decrease to follow and another growth in May 2022. Currently, it generates keyword traffic of around 80k.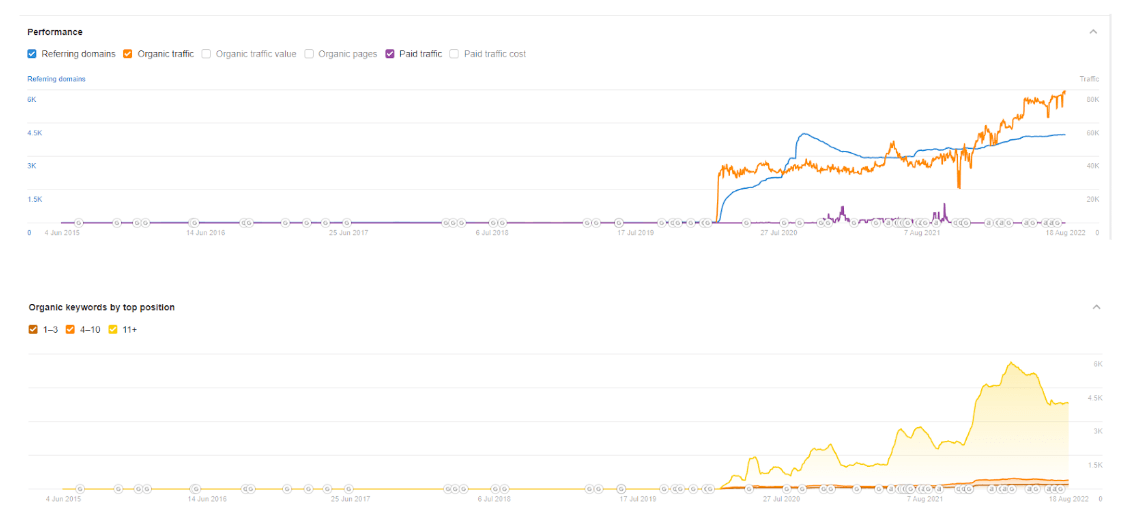 As of 18 August 2022, it ranks for 3,817 organic keywords, which are in the following positions: 
Position 1-3: 210

Position 4-10: 181

Position 11+: 3,426
Pockit
Pockit operates on a base of a prepaid account and not a bank, therefore it is not covered by FSCS. Pockit was launched in 2014 and provides cashback on shopping at multiple brands. It reached 500k customers in 2020.
The company displays its Trustpilot reviews on the landing page, which is important to create trust among potential customers, especially for banks or financial institutions.

The business charges its customers a membership fee, which involves sending money from another UK bank account. This fee covers the cost of direct debit payments, free with other challenger banks and e-money institutions. Charging a membership fee could potentially limit their number of customers, who could benefit from these services free of charge with other banks or e-money providers.
What is interesting about Pockit's organic traffic performance is that it started growing in 2015 and reached its peak in 2019, decreasing after that before seeing another increase in 2020. Their traffic volume declined until 2022 and is currently around just over 31k.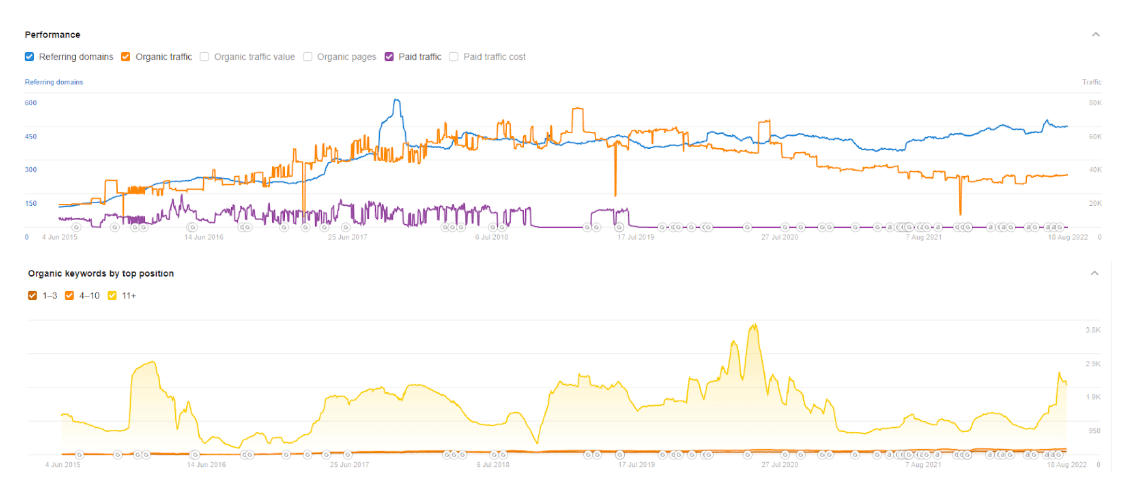 As of 18 August 2022, it ranks for over 2,000 keywords with a ranking position spread as follows:
Position 1-3: 91 

Position 4-10: 75

Position 11+: 1,764
Conclusion
To truly assess how challenger banks and e-money institutions perform from an SEO perspective, we must look at the average keywords performance table to see which companies have best adapted their website with SEO in mind.

Starling Bank is an obvious leader, as the brand has more keywords ranking in all positions. Monzo follows as second, then Revolut takes third place. Monese, Cashplus, Curve, and Pockit are ranking for significantly fewer keywords than their rivals Starling Bank, Revolut and Monzo.
High-performing challenger banks: SEO standpoints
High-performing challenger banks such as Starling Bank, Revolut and Monzo are doing well from an SEO standpoint by optimising their websites for ranking keywords, which increases their rankings and online visibility.
The high-performing brands display positive reviews on their landing pages, which make their brands trustworthy and authoritative and appeal to Google's E-A-T and Your Money Your Life (YMYL) requirements for websites related to finance. 
The brands also have well-optimised 'About Us' pages, providing users with appropriate details about the company. By optimising these pages, the banks also demonstrate their authority and expertise to search engines, again indicating their compliance with YMYL and E-A-T.
The high performers implement easy-to-use, innovative websites with call-to-action on landing pages such as 'Get started' (Starling Bank), 'Get free account' (Revolut), and 'Get Monzo account' (Monzo).
Starling, Revolut and Monzo are also leading in the number of unique links and links to the home page as per the below:

Low-performing challenger banks: SEO standpoints
The low-performing online-only digital banks are not ranking well as their websites are not optimised for internal linking. This means they cannot communicate their website's hierarchy or structure, effectively lessening their chances of ranking.

Pockit and Cashplus have significantly fewer unique links and links to the home page than high-performing challenger banks. Monese and Curve have 0 links to the home page, which leads to poor performance.
Low-performing challenger banks such as Monese, Cashplus, Curve and Pockit are low-performing from an SEO standpoint by not optimising their websites for keywords to rank in positions 1-3 and 4-10 which makes it difficult for them to shrink the gap between themselves with their competitors.