An SEO analysis of the US healthcare EHR/EMR software market
Within the US healthcare industry, doctors, hospitals, and other healthcare professionals use software to keep track of patient medical records. This software, called Electronic Health Record (EHR) or Electronic Medical Record (EMR) software, plays a vital role in the communication of patient data within one location and across multiple healthcare sites. In this analysis, we've compared seven of the top EHR/EMR software companies.
Sites Evaluated
In this analysis, we've assessed the following US healthcare software companies offering EHR/EMR systems:
Epic Systems
Cerner (Oracle)
Athena Health
Meditech
Allscripts
Nextgen Healthcare
eClinicalWorks
Organic Search Visibility Overview
By using 3rd party tools, we compared the seven competitors mentioned above and their organic performance since 2015.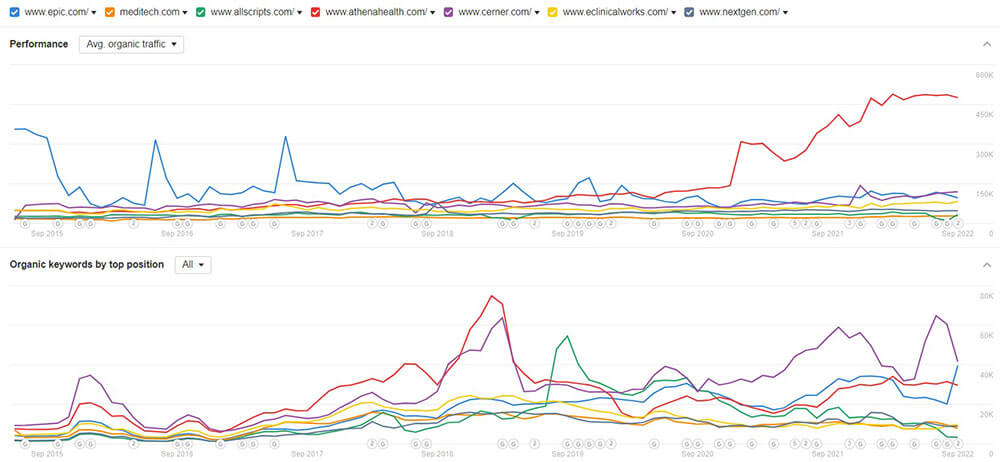 All these companies were established before 2015, but two have recently experienced acquisitions. The first is Athena Health, which announced it would be acquired by Hellman & Friedman in November 2021. The second is Cerner, which was acquired by Oracle and completed in June 2022.
Athena Health is the leader in organic traffic and has seen a large boost since November 2021. This is likely due to Hellman & Friedman's acquisition and the November 2021 Core Update. This update negatively affected many health websites, but Athena Health benefited greatly.
Other leaders in organic traffic are Cerner (Oracle) and Epic Systems, with Epic Systems having the most organic keywords.
Organic Winner
Athena Health
Athena Health has been around since 1997 and offers a range of software solutions, including EHRs, patient engagement, analytics & intervention, and more.
Athena Health has seen success in the past seven years, improving its organic traffic on the site by 850% and organic keywords by 272%. The number of organic keywords ranking in positions 1-3 also increased by 160%.
Athena has seen relatively steady growth since 2015 compared to the other sites, which have had more volatility or remained fairly constant.

In early 2020, Athena Health had a large decrease in organic pages, going from around 2,500 to around 1,650 pages. Currently, the site is sitting around 1450 pages and has gained a few organic pages following the Helpful Content Update in August 2022.

Following the Helpful Content Update, the site saw a decrease in the number of organic keywords. As there wasn't a significant impact on the traffic, these keywords were likely not high-ranking or relevant.

Within Athena Health's knowledge hub, they've seen a boost in traffic after the Helpful Content Update, which indicates that Google is seeing Athena Health's content as relevant and following their recommendations.
Another update that greatly affected the knowledge hub was the BERT update in October 2019. The knowledge hub lost significant traffic but gained many organic pages. Around this time, they also changed how they displayed their content, moving from mostly image infographics to text-based articles. These two things together likely explain the large change in organic metrics.
Honorable Mentions
Cerner (Oracle)
Cerner was founded in 1979 in Missouri and offers many healthcare software systems, including an EHR, patient portal, and more. In November 2021, it was announced that Oracle would acquire Cerner. This helps to explain the large increase in traffic during the time of the announcement. The spike in traffic went back down shortly after but has been steadily increasing.


As of September 2022, Cerner has increased its organic traffic by 61% since 2015 and grown its number of organic keywords by 296%. Their number of organic keywords ranking in the top 3 positions has also increased by 92% since 2015.
Cerner's informational content, called Perspectives, has dramatically increased across the board in recent years. Their oldest blog post goes back to late 2016, but the blog started to take off in terms of organic traffic, pages, and keywords around March 2020.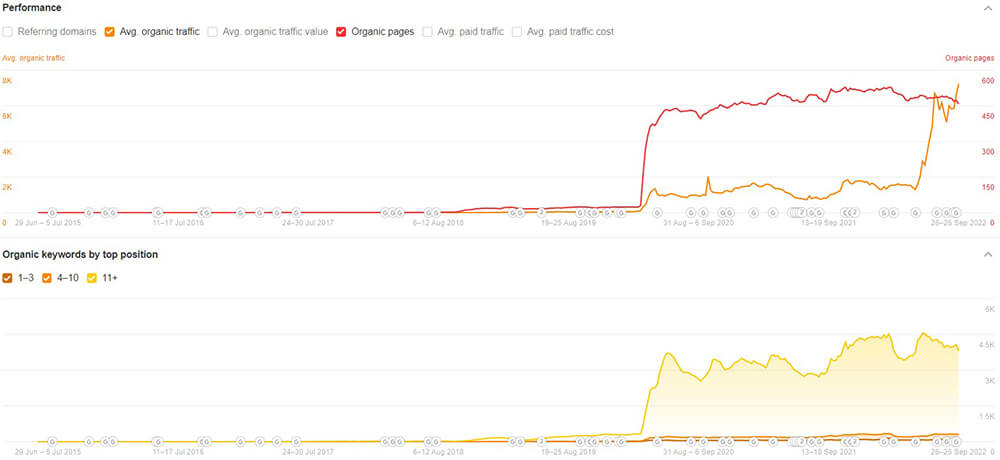 The March 2020 spike likely aligns with the Covid-19 pandemic taking off in the US and Cerner pivoting its content to cover the topic. As Google started flagging covid-related content a few months before this, Google saw the Cerner content as trustworthy and following their best practices.
The more recent spike in organic traffic on the knowledge base around June 2022 aligns with the completion of Oracle acquiring Cerner, but also likely aligns with effects from the May 2022 Core Update, likely in part of their efforts to create quality content.
Epic Systems
Epic Systems was founded in 1979 in Wisconsin and, like Cerner and Athena Health, offers a variety of healthcare systems. These include technologies like EHR, telehealth, AI& analytics, and more. Since September 2015, Epic Systems has seen a decrease in organic traffic by 70% while seeing a 1400% increase in the number of organic pages, 663% increase in the total number of organic keywords, and 100% increase in the number of organic keywords in positions 1-3.
Unlike other competitors, Epic has seen a large decrease in organic traffic since 2015. This is likely due to both SEO and external factors. Epic likely saw this decrease with the Panda 4.2 update in July 2015 because its content wasn't considered high quality. Outside factors like losing a US Department of Defense bid to Leidos, Cerner, and Accenture also likely contributed to this reduction in traffic to some extent.

Since early 2016, Epic has had a few surges in organic traffic but has generally remained around 150,000 visits per month. On the other hand, their organic pages have grown fairly steadily during this period. The number of organic pages and organic keywords generally follow the same increases and decreases.


The supporting content on Epic's main site has had a similar trajectory as the rest of the site since they started displaying their article content in 2016. The traffic grew fairly steadily until mid-2019 when it reached about 3,000 views per month. There have been short-lived spikes in organic traffic since then, but not many lasting effects. The number of organic pages and keywords had grown fairly steadily until March 2022, when the site was likely affected by the Desktop Page Experience Update and negatively affected again in May 2022 by the Core Update.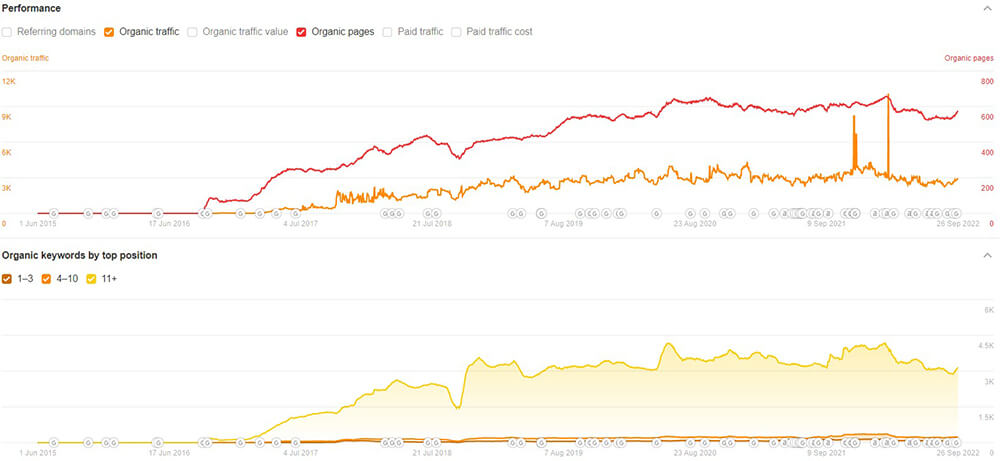 Organic Underdogs
Meditech
Meditech, founded in 1969, is one of the competitors with lower organic search traffic compared to the "big 3" we analyzed above. Since September 2015, Meditech has seen a 66% increase in organic traffic, a 133% increase in organic keywords, and a 124% increase in the number of organic keywords ranking in positions 1-3.
Aside from some slight dips in traffic, Meditech has seen its organic traffic grow over time. Their keywords, however, had had more volatility.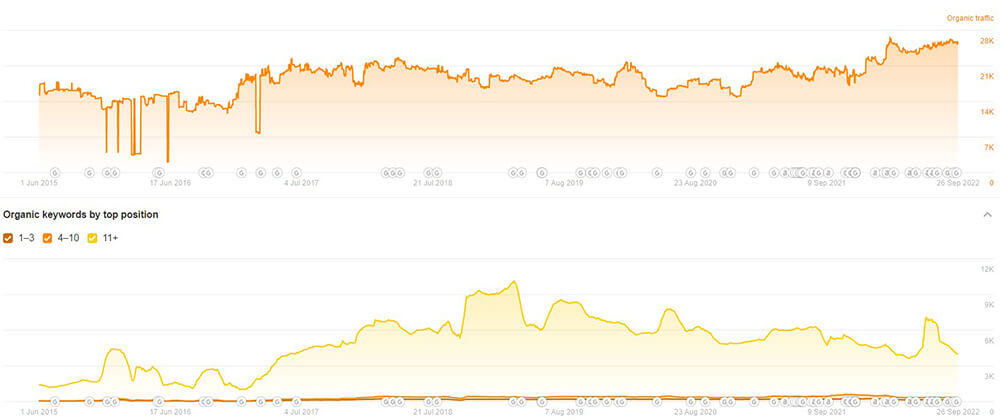 Organic keywords have ebbed and flowed throughout the past seven years. However, the most significant increase was in early 2017, which aligns with the Intrusive Interstitial Penalty and when the company launched its Web EHR. The Intrusive Interstitial Penalty didn't negatively affect but may have negatively impacted other competitors. The number of organic pages also generally follows the same trend as the keywords.

Unlike the other competitors, Meditech keeps its supporting content on a separate subdomain from its main site. Their blog launched in 2017, with the number of organic pages growing fairly steadily since. The most recent dip in organic pages happened in March 2022, when the Desktop Page Experience Update happened.

The keywords have also grown but have had other significant dips along with the March 2022 dip. In early 2020, this dip aligned with the Core Update of January 2020, which went back up after the May 2020 Core Update and slowly decreased shortly after. Throughout June 2021, there were various updates that could have contributed to the increase in keywords, although there was only a small impact on the number of organic pages.

The traffic on the blog subdomain has been quite a bit more volatile than other subdomains. There is some correlation between the spikes in traffic and the spikes in keywords, especially before September 2021.

Allscripts
Allscripts is a Chicago-based company founded in 1986. Over the past seven years, Allscripts has seen a 57% increase in organic traffic, only a 9% increase in the number of organic keywords, and a 19% increase in the number of organic keywords ranking in positions 1-3.
Their organic traffic growth has remained fairly steady throughout the years but has had some spikes in the number of organic keywords. As these don't correspond to any large traffic drops or surges, it is most likely that these keywords were not relevant.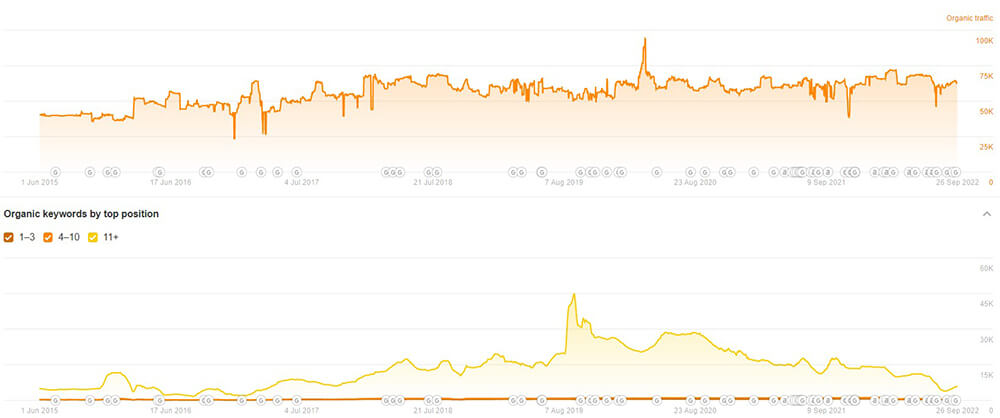 The organic page increases and decreases correlate with the increases and decreases in organic keywords.

Regarding the blog, Allscripts has very little organic traffic, besides a few short-lived spikes. This, along with the very few organic pages, comes across as pages that are not providing unique information that Google wants to index. Despite having around 100 articles since 2019, only one is indexed in the top 100 positions.


The spikes in organic pages do align with the spikes in keywords over the past several years, especially before July 2020. As the articles before May 2019 are no longer available, many of these spikes could have been condensed, updated, or gotten rid of, especially if they weren't providing any traffic.

Nextgen Healthcare
Headquartered in Georgia, Nextgen Healthcare has been around since 1973. Since September 2015, Nextgen Healthcare has seen a 135% increase in organic traffic, a 256% increase in the number of organic keywords, and a 245% increase in the number of organic keywords ranking in positions 1-3.
Since 2015, the site has been steadily increasing in organic traffic, except for  a spike in September 2018. This coincides with when the company, then known as Quality Systems, Inc., changed its name to Nextgen Healthcare. As there aren't any large correlations between the increases and decreases in organic keywords, any changes were likely for keywords that weren't relevant.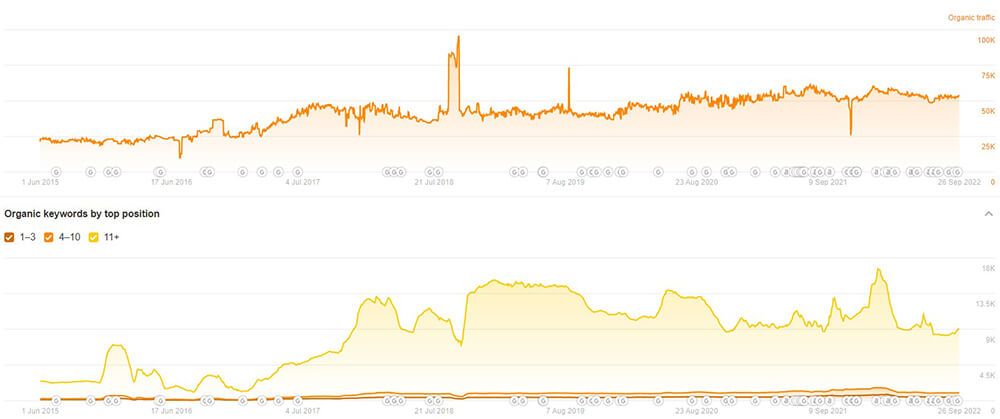 An interesting find in the number of organic pages can be seen around March 2018. There was a dramatic decrease in the number of pages, which coincides with when Google moved to Mobile-First Indexing. Nextgen likely corrected any issues with their mobile site quickly and was increasing in organic pages again by September 2018.

Nextgen's blog goes back to early 2017, but the blog didn't start to get traffic until September 2018. Until September 2021, the traffic was growing fairly steadily. At this point, there was an unconfirmed Google Update, which may have caused a shuffle in ranking position and a decrease in traffic. This started to recover in November 2021 before beginning to descend in January 2022, which coincides with another unconfirmed Google Update. The decrease in organic traffic does correspond with a decrease in the number of organic keywords and organic pages in the SERPs, likely meaning that several pages were no longer being indexed.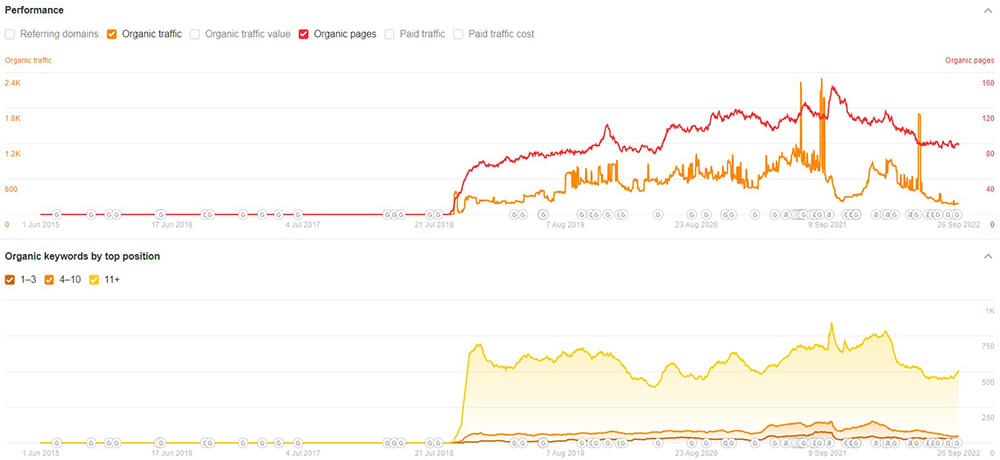 eClinicalWorks
eClinicalWorks was founded in 1999 in Massachusetts. Since 2015, eClinicalWorks has seen a 60% increase in organic traffic, a 94% increase in organic keywords, and a whopping 265% increase in the number of organic keywords ranking in positions 1-3.
Like many others, eClinicalWorks has had reasonably consistent traffic and growth since 2015. This increase has grown steadily since May 2020 after the Core Update.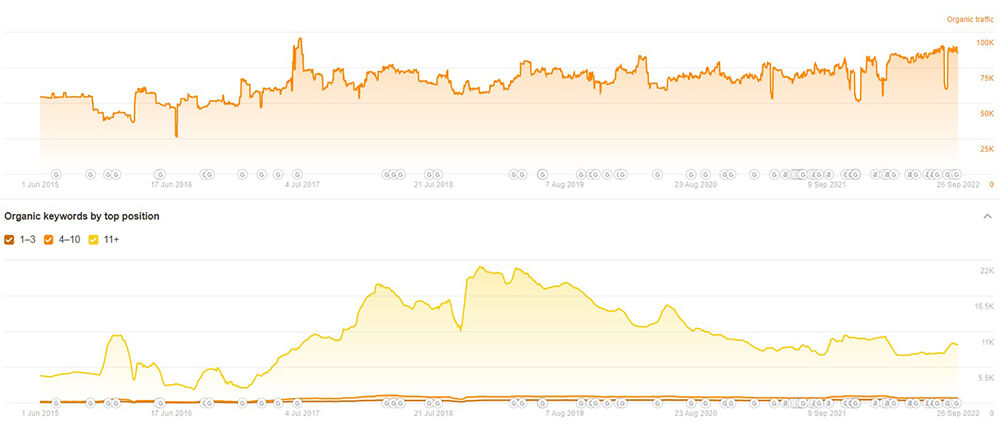 This steady climb in organic traffic isn't consistent with the increases and decreases in the number of organic keywords or pages ranking for the site. This indicates that, despite an increase in ranking pages, those pages had a low click-through rate (CTR).

The eClinicalWorks blog goes back to August 2012 but has received very little organic traffic since 2015. Up until early August 2022, there had not been any traffic since early 2018. Upon further investigation, all blog content is not indexed, aside from the page that serves as the hub for the blog. Blog content is incredibly helpful to have indexed, and this lack of indexing was likely done without knowing the impact it would have.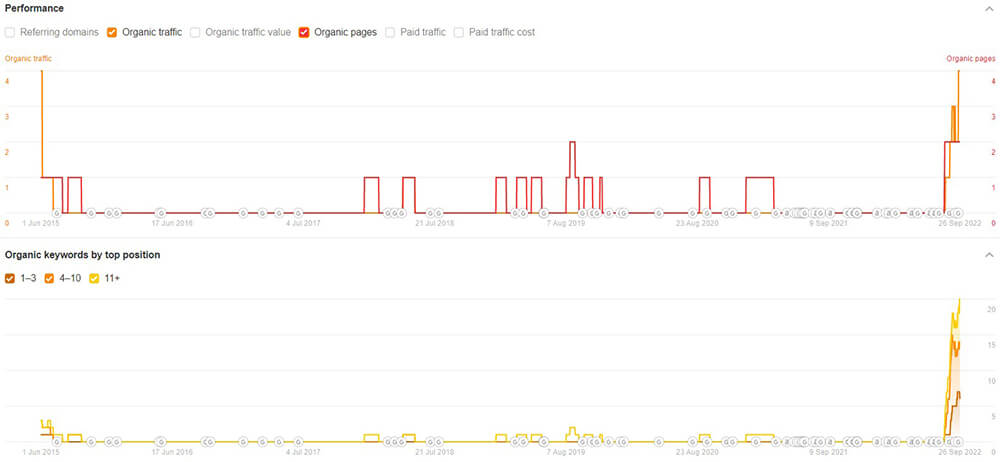 US EMR/EHR Trends
The Usage of Structured Data
Interestingly, we found that the only sites that used structured data were the ones with lower organic search traffic. This is likely because these lower organic traffic sites compete to be seen in the SERPs. Using structured data is a way for them to be found through Google's Rich Results, such as featured snippets, People Also Asked, and more. eClinicalWorks, Nextgen Healthcare, Meditech, and Allscripts all have at least a few structured data types that can help them be chosen for rich results.
Epic Systems, Athena Healthcare, and Cerner may not be using structured data at this point, partially because they are some of the most well-known companies for healthcare EHR systems. Even taking that into account, adding in a few different types of structured data could also help them do better in the SERPs.
Providing Helpful Content
As Google has suggested for years, content should be written for people first and relevant to their expertise. This is even more important now with the recent Helpful Content Update and ongoing Core Update.
Most companies in the "underdog" section of the analysis do not have a high number of organically ranking blog pages and very little traffic, leading to the pages that do rank. Following the lead of Athena, Cerner, and Epic, by creating unique, relevant content, these "underdog" companies could potentially help give them a leg up in the SERPs.
Conclusion
Each of these ERM/EHR companies has its strengths. For Athena Health, it's the quality of their content and responsiveness to Google Updates, as shown through changing their knowledge hub strategy from image infographics to article format. Cerner and Epic create large amounts of potentially highly valuable content, even though the way the content is implemented on the sites leaves room for opportunity.
As for the underdogs, they all make great use of structured data to help increase the chance of being included in an enhanced result on Google. By learning what each competitor is doing well or not, these US healthcare software companies can improve their sites and potentially increase their visibility in the SERPs.
With the ongoing September 2022 Core Update and Product Review Update, it will be interesting to see how these sites fare, especially on the back of the Helpful Content Update in August. With the industry not going anywhere soon, how these companies differentiate themselves from one another, both as a product and within their content, may dramatically impact their organic performance.