The UK car supermarket vertical: accelerating success in a competitive market
This market analysis piece has been co-authored by Callum Corrigan, a self-confessed petrol head and Strategy Account Director at SALT, and Dan Taylor, Head of Research and Development.
How people buy cars in the UK has changed a lot over the years, with customers taking parts of their journey online.
Like any considered purchase, a customer goes through a research phase, which can vary greatly depending on the customers level of existing knowledge, an undefined period of consideration, and then the final phase of shortlisting, and conversion.
When we structure an SEO campaign around any retail sector where the products are a considered purchase and have a high value coupled with low purchase frequency, we look at how this user journey manifests and how car supermarkets can add value at various stages.
The COVID-19 pandemic has, for many, thrust digital transformation upon a number of car dealerships and expedited change much sooner than anticipated. For many, this was an unforeseen expenditure during a period of relatively lower customer spend.
This means that over the coming quarters, emerging brick-and-click businesses have a new frontier of opportunities to capitalise on, and for the existing online car supermarkets, a new wave of competition on both a local and national level.
We're also now seeing an important shift, with the introduction of "humanless" end-to-end car buying experiences. Players such as Cazoo have entered the market with national advertising campaigns, including key sponsorship deals with sports teams, estimated to be worth in the region of £10m per year.
Throughout the course of this article, we are going to explore how businesses can develop an organic search strategy by taking learnings from other verticals, including travel and SaaS, as well as looking at the current UK market and how existing car supermarkets are faring.
The current UK car supermarket landscape
Using third-party tools and data, we've taken a look at 12 of the UK's leading online car supermarkets over the past ten-years to identify those that have built an empire, those that are on the decline, and those that happen to be rising in the field (from an organic search perspective).
The twelve car supermarkets we have looked at are:
Carshop.co.uk
Motorpoint.co.uk
ImperialCarSupermarket.co.uk
CarCraft.co.uk
AvailableCar.com
CarSupermarket.com
Lookers.co.uk
MotorDeport.co.uk
DirectCars.co.uk
CarGiant.co.uk
CarBase.co.uk
CarGurus.co.uk
While it could be argued that Lookers is more of a franchised dealership, the company is still competitive across a large (and relevant) enough keyword set to make it relevant and for this analysis.
Organic search visibility
Using third-party search visibility data over the past decade, it tells us an interesting story, as well as a number of even more interesting individual stories across the car supermarket landscape.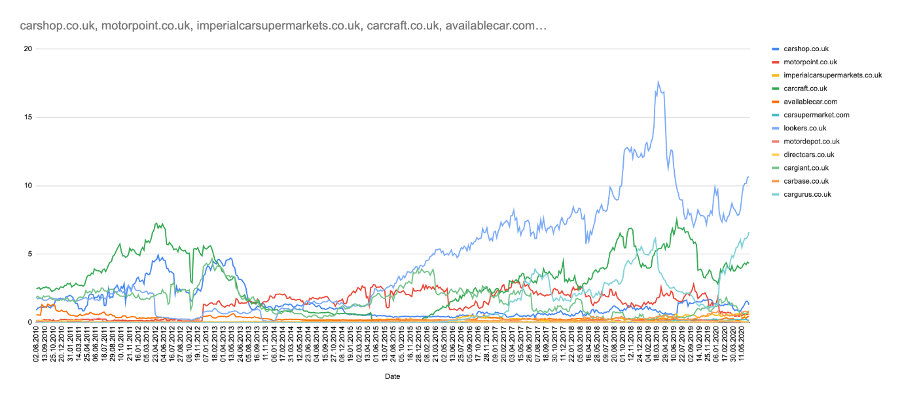 Lookers.co.uk
Our data shows that Lookers.co.uk started to see a decline in April 2019, which could have come off the back of the March 2019 core algorithm update. This follows an apparent benefit from the September 2019 core update.
As with all core-algorithm updates, this will have taken a few weeks to roll-out, so our theory correlates.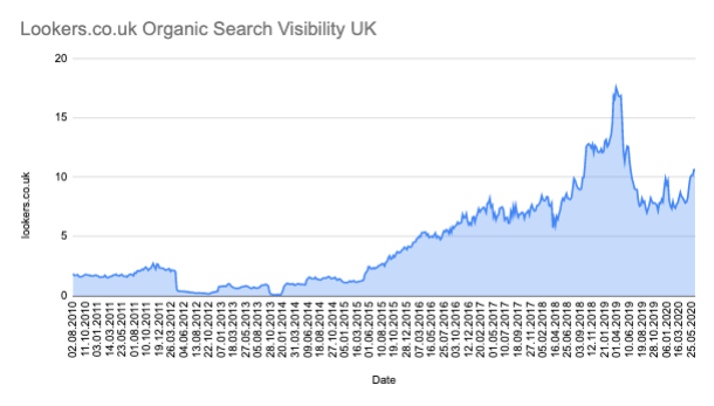 Our third-party tools produced a lot of content speculation over how some websites were affected (positively and negatively), and some of the key takeaways were that:
User signals grew in importance (CRUX data, not Google Analytics data – although this can be used to troubleshoot when used correctly).
Data correlates with, and suggests, that brand and user acknowledgement of the brand had an impact.
EAT was touted once again.
Given Lookers is an institutional name in UK motoring, I would be more persuaded to think that consumers use Lookers for price look-up and comparisons, as most garages and showrooms do, but then looked elsewhere for deals.
Similarly, CarCraft's fortunes have followed a similar path to Lookers, but they bounced back in correlation with the January 2020 core update. In doing so, the company became the second-largest (in terms of organic search visibility).
Motorpoint.co.uk
Motorpoint is a well-known brand in the UK car supermarket vertical and over recent years and has seen some considerable "ups and downs" in terms of organic search. Motorpoint previously correlated with the May 2016 "Mobilegeddon" update, and most recently, the January 2020 core update, with third-party organic search visibility now being at a seven-year low.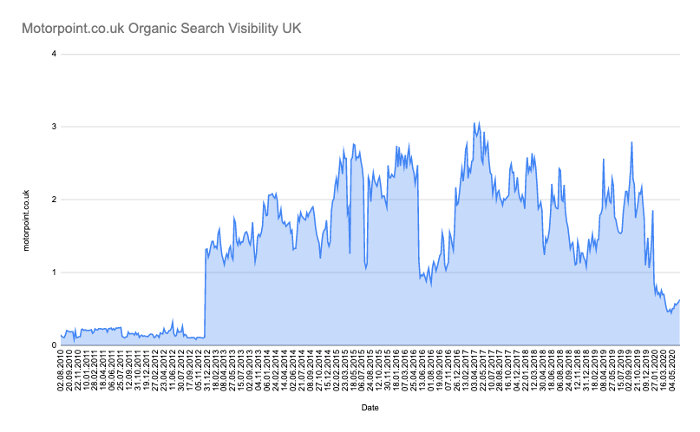 In January 2020, Motorpoint saw ranking declines across 18,346 keywords and lost rankings for 12,833 pages – which is sizeable.
Imperial Car Supermarket
In comparison to the previous examples of Lookers and Motorpoint, Imperial Car Supermarket has seen a relative year of growth and is performing well.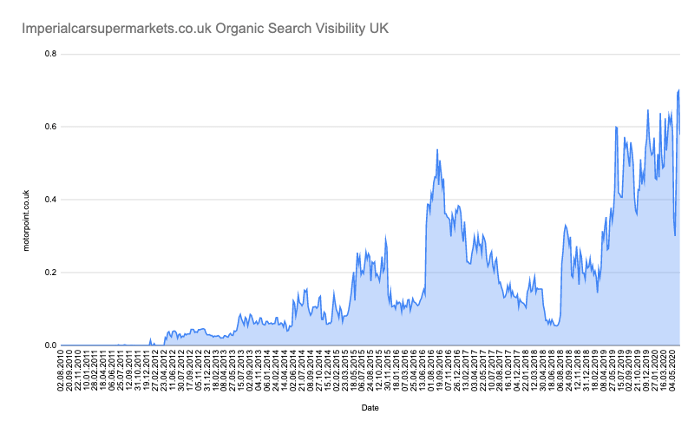 When carrying out a top-level analysis, it appears that Imperial Cars focused heavily on a keyword optimisation strategy, with various content and meta changes made over time.
It is also evident that various new pages have been injected into the site, with multiple body-type URLs created as a way of building additional relevancy signals. From analysing historic data through multiple third-party tools, it appears that there is a decline for the headline term 'car supermarket', which correlated with a shift in the preferred ranking URL by Google.
The company appears to have addressed this issue, with a refocused optimisation approach and an internal linking strategy to drive the required relevancy signals into the '/find-a-car' URL with page one presence being re-established.
The brand has also seen vast expansion within the dealer network, resulting in the operation of multiple new premises. This finally ties into the evident local SEO strategy being rolled out across all locations as a way to drive organic presence across modified keywords.
The impact of traditional marketing on SEO
It's no secret that traditional marketing and PR activities have an impact on both brand and non-branded search performance. Over the years, car supermarkets have dabbled in mass advertising and sponsorship deals.
While the data is speculative, we can correlate organic performance to marketing activities. Below are a couple of examples of this in action.
CarGiant.co.uk & Queens Park Rangers
Although the recent history between Car Giant and QPR has been negative, for two years in the late 2000s, CarGiant.co.uk was the principal shirt sponsor of QPR.
Taking a look at Google Trends data, the period in which the company was the primary shirt sponsor of QPR has also been the company's highest branded search interest period for the past 16 years: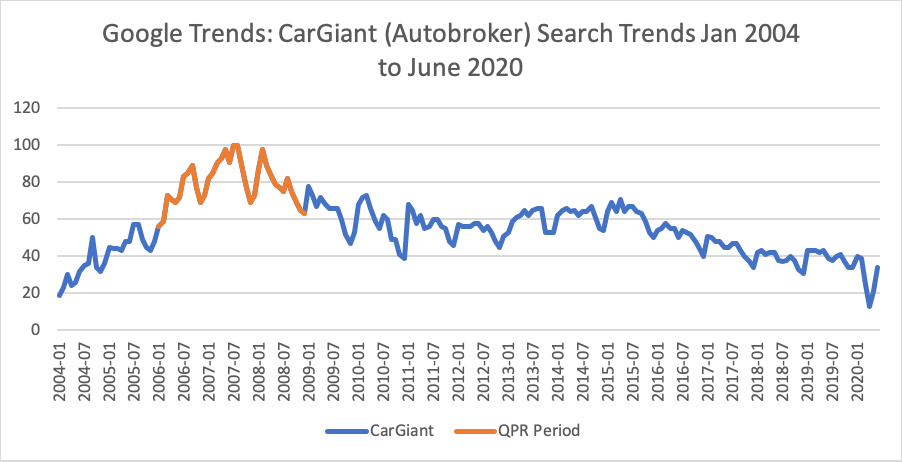 Developing a strategy
Keyword research & mapping user intent to the various user journeys
Another consideration that goes hand-in-hand is that of keyword intent, as, given the subject matter, those searching for makes and models of cars can have varying intents.
Those searching for new models, such as the Volkswagen e-Golf could be doing so from multiple perspectives, some of those being:
The intent to research new electric cars.
The intent to research new Volkswagen vehicles.
The intent to research or identify new cars for hire purchase or lease.
The intent to research or identify new cars for purchase.
Just looking at these four possible intents, it is also important to remember that user intent can change through both time and other variables.
For example, someone with a general interest in cars could be just looking for content around new electric cars on the market, and through their own journey, identify Volkswagen as a manufacturer. They could then go down a "soft" conversion route, looking into the direct and associated costs of buying a car.
They might not have an immediate intent to make a purchase, but speculatively can be acquiring information to use as a reference point further down the line.
This means that when producing content, or a website architecture, like in most verticals, it's not possible to align to a single "sales funnel". Nor is it practical to try and coordinate multiple sales funnels across multiple content pieces, competing for similar search phrases with multiple common interpretations and intents with the hope that the right user lands on the "right funnel".
Content and site architecture needs to accommodate multiple journeys that look less like a funnel, and more like this: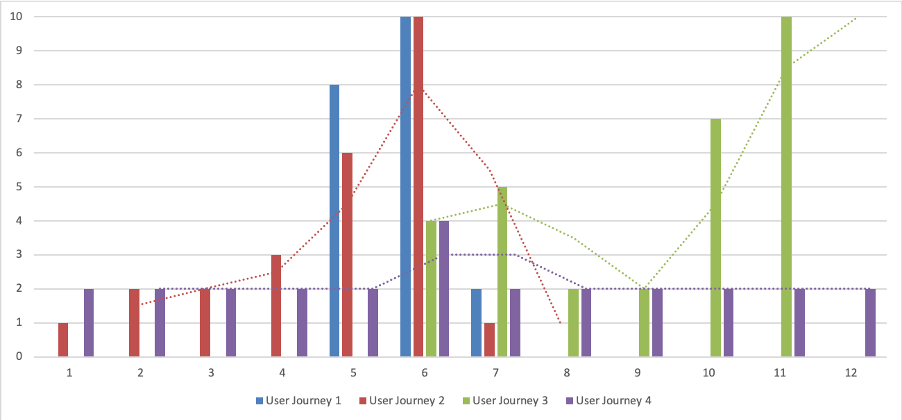 The above graph plots the level of consumer interest in buying or leasing a new car across four different consumer types. These are typically categorised into the categories of:
Innovators
Early adopters
Early majority
Late majority
Laggards
But with this sector, it's also important to take into account the petrol-head.
The graph shows four user journeys based around a hypothetical new model launch in month six. These user journeys being:
User Journey One: Gains interest in month five, high interest, and purchase in month six, then decreased interest in month seven. This is likely typical of a user who needs a new vehicle, and the new model launch has ticked a lot of boxes they've already established. They can also be aware of the launch of other marketing channels.
User Journey Two: This consumer knows they need a new vehicle, and starts looking in month one, learns about the new model and range launches, increases their efforts around months four and five, before purchasing in month six (potentially taking advantage of an offer).
User Journey Three: The launch is the first they hear of the new vehicle, and they don't necessarily need a new car, so they initially have high interest, then pick up interest again later in the year either due to an offer or waiting for an initial price drop.
User Journey Four: This is the petrol head, who all year round will consume content relating to cars.
In the car supermarket vertical, we need to understand how the multiple journeys look in terms of activity (from the customer), and how we can be ever-present and available at the various phases.
These variances, in both users and product availability/product refresh rates, also mean that it's not always viable to look at organic traffic as a metric and just look for the "hockey stick curve".
This is why it's important, in this sector, to build an organic base and then build content and messaging to cater for the multiple user types.
Traffic generation + demand generation/sales influence = conversion
As historically the car buying market has been either a completely offline process, or a combined process, the sales approach previously would be about both product education, relationship building, and then the final conversion phase.
Making use of Miller's A Death of a Salesman, the stereotyped identity of a car salesperson has been lost through changes within society.
No longer do the majority of customers want to go to a physical forecourt and be beset upon by Willy Loman. The majority of customers are now better researched in more areas and will be entering car forecourts armed with information, their own ideas, and vehicle shortlists.
The modern role of the salesperson is now to facilitate the journey and advocate the retailer and not the vehicle.
They may make suggestions or contributions to the decision making process, but for the most part, a user has researched a vehicle and is only interested in visiting your lot as they have identified you have one in stock. Some may be open to viewing and test-driving similar, especially if on a first test-drive they dislike the vehicle greatly, but not all.
All of these variables equate to a conversion funnel that will contain an initial location-based keyword search which in turn will trigger the Google map pack. This is where a dedicated strategy centred around driving ranking performance within the local map pack is key.
Our local SEO strategy guide explores some of the key ranking factors behind the map pack and more importantly, how you should be addressing these.
In summary, driving map pack ranking performance requires you to address the quality of information being provided, user trust in you as a brand, and consistency in the information conveyed as part of your overall digital presence.
Engaging an SEO growth strategy
As you will have read in the above, there are various amounts of strategy-based activities. We are able to engage with these as part of an organic growth strategy.
It is always recommended that before you start to drive forward with any strategic SEO activities, we understand the core purpose of these activities.
In this instance, it is not just about relaying the users on your website to footfall within your car showroom or a used car forecourt; it is about ensuring the individuals virtually walking around each car are also the right buyers.
User intent meta optimisation
As we have previously highlighted and discussed, capturing the correct buyer will come down to how we both identify their search behaviours, but more importantly, capture them as part of their purchasing funnel.
Once we have identified a segmented list of keywords that are separated based on user intent and the purchasing funnel, we can then look at progressing with our onsite optimisation strategy.
I am sure you have read about metadata optimisation as well as content optimisation. However, one common mistake we see is the blanket strategy approach.
This is effectively the digital equivalence of Henry Ford's famous Model T production quote of "Any customer can have a car painted any colour that he wants, so long as it is black."
When conveying this to on-page optimisation, this effectively identifies various rules such as title tag structure or content keyword placement which is then rolled out across all vehicle pages.
The idea that the car you drive says a lot about you can also be found in how individuals search for a desired car. We have seen vast discrepancies in keyword structure across each brand.
Our recommendation, and something we practise, is to always understand how each manufacturer is sought before optimising on an individual basis off the back of this analysis.
It's all about what you've got under the bonnet
When looking at your content strategy, it can be comparable to showing up to a car show in a fully polished, swirl-free, paint popping red Ferrari F40.
Immediately, you will start to attract a large crowd with a keen interest to know more about the car, and most of all, get a real glimpse of the notorious 2.9 TT V8. In the world of SEO, this is effectively what we strive for when executing a user-led keyword optimisation strategy. Our core focus is to drive the correct people with the correct intent to our virtual showroom.
Now, imagine if the F40 engine cover was fully removed, and certain parts of the engine were caked in dirt and grime. Immediately, it would put a dampener on the spirits of all the car enthusiasts gathered around.
Tying this back to users landing on our site, if the content we are serving them is not relevant, or does not contain the information they require, then they may virtually walk out of our showroom.
Our recommendation here is always to question whether the content you are mapping keywords to is as relevant as it can be to the user's intent. If a user is in the discovery stage, especially within the EV sector, then an exceptional long-form piece of content may be required for each core point that is raised on the main conversion-based landing page.
If the user intent is of the exact model, then that user knows the exact model they are after. Hence, we need to make sure all key specifications are addressed, such as if it has 'Quattro', '4Matic' or 'xDrive' added.
Adopting this approach will allow you to drive relevant users to a landing page based on content optimisation, but more importantly, the information you provide falls in line with expectations.
Looking after your local
Another key aspect to any car supermarket, or used car dealership, is the ability to capture location-based user queries. We have seen a significant change in user behaviour, and more importantly, the user conversion funnel over the last decade.
From multiple years of industry exposure, we do, however, believe that there will always be demand for location-based buyers.
This may be aligned to having a more radius orientated buyer, whose vehicle search is led by the price, but also the miles to travel to pick up the car.
They are not as focused on seeing the vehicle, but more interested in the inconvenience caused by travelling afar to collect it. Hence they will have a set distance they are willing to travel.
Another buyer may still be focused around the travel radius, but will not buy a car without seeing it in person. They may also wish to go on a full test drive before deciding.
That person may also be interested in test driving multiple types of the vehicle before making the final purchase commitment hence. This is where sales support comes in handy.
In Conclusion
To conclude, the UK car supermarket vertical has evolved a lot over the years, and it is potentially changing again with new business models like Cazoo. This will disrupt both the user journey and potentially stimulate general market demand through the medium of heavy advertising.
The fluctuations and changes that a number of brands have witnessed over the past 12-months show that, while competitive, there is still opportunity within the vertical to grow a brand and become competitive from an organic search standpoint.