Optimizing your site for the Google Answer Box
Google introduced the answer box as a results page feature to provide users with value, removing the need for them to click on search results.
At SMX West 2016 Paul Haahr talked about how Google is trying to think mobile first, and how users want information fast – especially when they have poor connectivity to the internet. This is where the Answer Box (powered by Knowledge Graph) comes into play. By removing the need for users to click on search results, they are able to satisfy the user's search intent.
Appearing in the Answer Box however, is a mixed blessing. While it's great that your site's content is appearing at the top of Google's search results, if a query is answered they have no requirement to click through to your site and consume your content further. On the other hand, a searcher could click through to your site due to the real estate and prominence that it's been given.
It's not guaranteed
Google doesn't always get this right. Knowledge Graph is still learning and is constantly learning associations between words and you don't always get the answer that you want, for example if I search for when 'Billions' is on TV I get: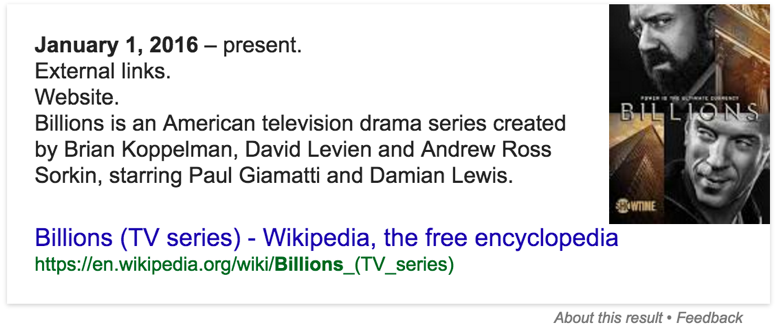 While none of this information is incorrect, it's not the answer that I wanted. Google's decision to show this answer box means that they don't yet fully understand what results will 'meet my needs'. Google measures relevancy by 'how search results meet a query's intent', and while this answer box is relevant, it doesn't meet my needs.
Alternatively, for a number of queries, the results are pretty decent, for example, if I search for the next Euro 2016 fixtures I get a very thorough answer with the current information, and the ability to see associative information such as future fixtures and previous results: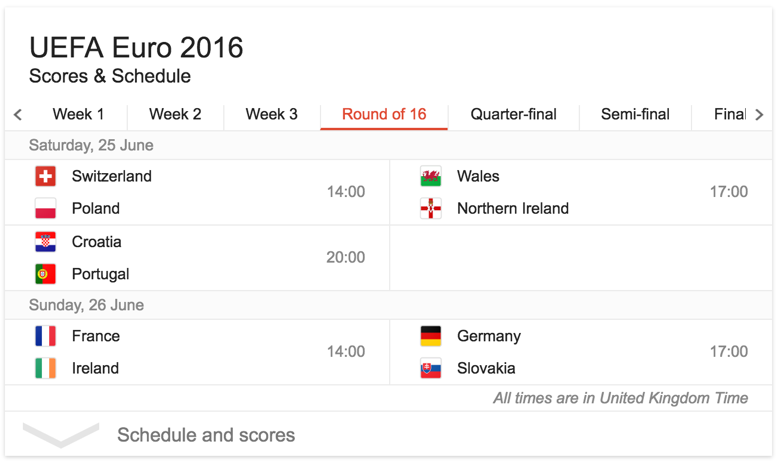 As well as looking for specific pieces of information, the Answer Box also appears for long tail queries with more research focus:

The Answer Box is a great opportunity for websites to demonstrate their expertise and authority to users. The 'animals to see on safari' result below is a good example of a commercial website that through it's great content, is now appearing at the top of page one and attracting searchers who have an interest in a subject that's relevant to your audience.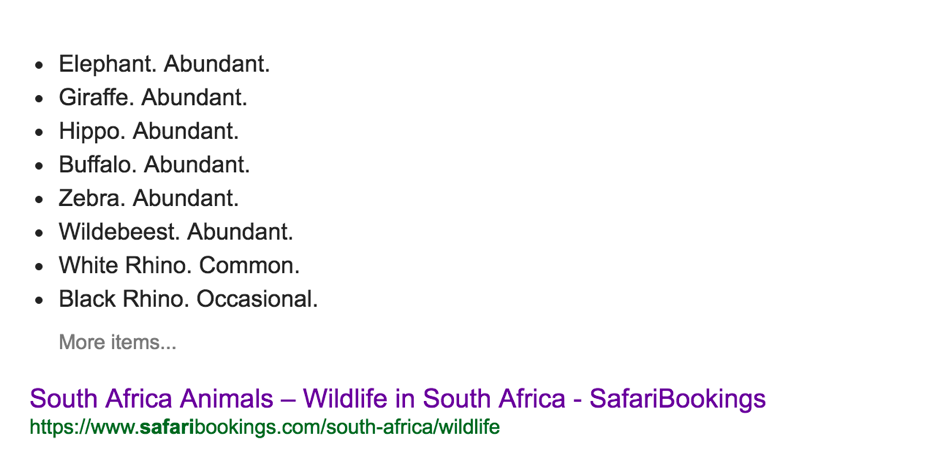 How to appear in the Answer Box
Firstly, you need to identify a topic that you want to appear for. You can research this beforehand by searching and seeing who is currently appearing there (if anyone).
The next steps are to include the correct structured data mark up on your content. You want your content to be as good as it can be, and aim to be as close and provide as much value (if not more value) than what's currently appearing at the top.
It's also important that you optimize your title tag and meta description, highlighting the page's content and value and ultimately, to write high quality content designed to provide value to users instead of search engines. If your content is relevant, it'll naturally possess the necessary keywords.