Eight mistakes to avoid in your brand's social media posts
Building your brand and establishing a robust online presence through your social channels is hard work. This fact makes it even more disheartening when I see businesses ruin all of their hard work with just a few poorly thought-out posts.
It might be an explosive rant or an unpopular opinion. It could be posts full of spelling errors or a series of tweets featuring 20 hashtags each. Whatever it is, if it's losing your account followers and likes, you shouldn't be doing it.
Stop this happening to your brand by avoiding the eight social media mistakes outlined below.
Going off-brand
Whether you are posting something serious or a bit silly, you must always use your brand's voice and tone. If you find this difficult, create a social media style guide for your business, which can be referred to if you feel like you're losing your way.
Within your style guide, you should include:
A blueprint for your brand's tone of voice
How your brand's posts should be formatted on each platform
How your brand should use emojis on each platform
How your brand should use hashtags on each platform
This document is a lifesaver if you have more than one person working on your social media accounts.
Discussion of controversial topics
I'd recommend that you don't get involved with the debate of inflammatory subjects such as religion or politics on your business social media accounts. There are exceptions to this rule, but not many.
When it comes to topics such as religion, expressing strong views can lead to offence and the loss of followers. It is best to remain neutral on your brand's accounts and let off any steam on your personal accounts instead.
Bad spelling, punctuation & grammar
Bad spelling, grammar and punctuation make your brand look unprofessional and like you don't care about the content you're delivering. Potential customers will transfer this perceived apathy to your products or services.
Easily avoid this problem by proofreading each post before it goes live — even better, ask a colleague to do it for you. Only click 'post' when you're sure it is perfect. That one minute could be the difference between a decent post and a damaging one.
Not thinking your post through
Posting something you will regret is another issue that can be avoided by proofreading and running the post through a colleague. Take the example below, posted on Instagram by fashion retailer, United Colors of Benetton.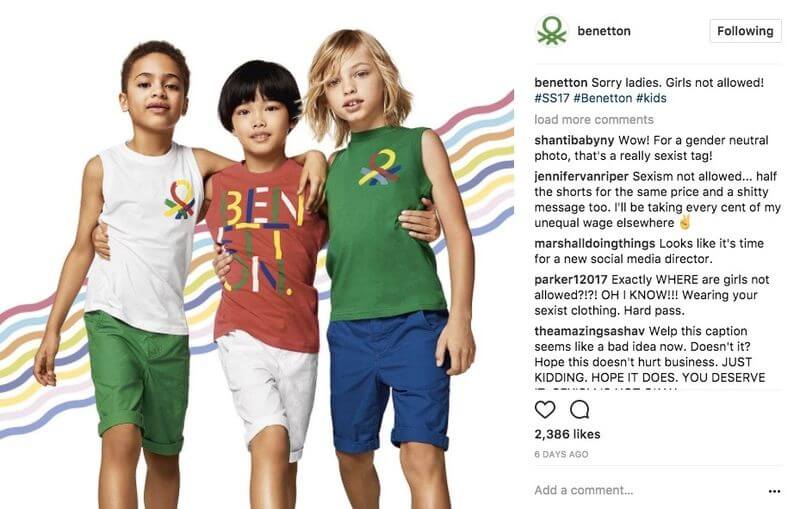 Image source: @benetton on Instagram/Revelist
Perhaps this caption was thought up in a rush, or maybe the social media team spent hours on it — either way, it shouldn't have slipped through the net. Benetton later apologised for the post but, interestingly, did not delete it.
The main lesson from the above is to consider how the audience will react to your words. If there's any chance that your words may be poorly received or misconstrued, change them before you post.
Another example of a social media post that wasn't well-considered and had dire consequences was a customer service reply on Twitter by EasyJet. The response caused the original tweet to go viral, which was certainly not what the company wanted to happen.
Hi Matthew, thanks for bringing this to our attention, before we can investigate this could I ask you to remove the photograph & then DM us more info regarding this, so we can best assist you. Ross https://t.co/Qq2zhBAizh

— easyJet (@easyJet) 6 August 2019
Publicly requesting that someone delete a photograph that makes you look bad as a company is not recommended!
Not doing your research
If you only schedule generic posts and don't do your research, your followers will lose interest because you won't appear 'real'. You won't be earning any new ones, either.
People want brands to show their human side, whether that's through a post about Yorkshire Day (or other relevant days), interaction with followers, or mention of a current news event. Show your followers that you are present.
Relatedly, you must remember to reassess your scheduled posts if your brand is under fire for something in the media — a misplaced post could aggravate the situation. An old but excellent example of this is when Tesco hit the headlines back in 2013 regarding its frozen beef burgers containing horse meat:

The result, as you can see, was an unfortunate tweet about hay during the peak of the horsemeat scandal.
Hashtag overuse
Hashtags are excellent for helping people to find your social content but using too many can be off-putting for the reader. This is especially true when they are used within the text of the post itself.
#Nobody #Wants #To #Read #A #Post #That #Looks #Like #This
Research which hashtags are most relevant to your brand and your post, then use a handful of those. Also, take the time to look into hashtag use on each social media channel, and use the findings to create a section on hashtag use in your social media style guide. Then, stick to it! Two or three hashtags per post on Facebook? Sure. One on LinkedIn? No problem.
Negativity
Sharing negative thoughts and feelings on your business's social media accounts is unprofessional and highly off-putting to customers and potential customers. Nobody wants to read a stream of misery!
If a dissatisfied customer has tweeted you or left you a less-than-flattering review on Facebook, take a few minutes to calm down before you respond.
If you know who the customer is, contact them away from social media first, if possible — this could resolve the issue, and they may remove or review their post.
When you do respond on social media (which you must), do it is a fair and considered way. Own up to any mistakes the business made, explain why it happened and why it won't be happening again.
Also, avoid negatively commenting on your competitors online. You may share customers with your competitors, and you may even lose current and potential customers because nobody warms to posts full of insults.
Too much self-promotion
A little self-promotion on social media is expected, but don't be tempted to overdo it. Social media is all about conversations — it's not a one-way street and is therefore not suitable for the hard sell. If you push too hard, people will unfollow.
If you're not sure if you've got the balance right or not, try the 5-3-2 method — for every ten posts, create:
Five posts featuring the relevant curated content of others
Three posts featuring your brand's relevant content
Two posts that show off your brand's (fun) personality
Summary
If you're reading this blog post, then you care about what you post, which is the first big step towards social media success.
Overall, you'll avoid a lot of pitfalls on social media if you stay on brand, do your research, and proofread every post. Keep it positive, don't go crazy with the hashtags, avoid inflammatory topics, and — most importantly — be human.
However, as important as all of that is, if you're not having fun posting on your company's social media accounts, it will show. Enjoy yourself!