An introduction to video SEO
SEO for video is often disregarded. With more focus on content SEO, such as keyword research and internal linking, video optimization can sometimes be put on the backburner.
With the amount of time and money spent on creating the video for it to not rank or drive the traffic you would hope for, it's evident how essential SEO for video is to meet your business goals.
In this guide, we'll take a deep dive at what video SEO is and how optimizing your videos can help the overall effort of your SEO.
What is video SEO?
Video SEO is optimising your videos to be indexed and to rank on Search Engine Results Pages (SERPs) for appropriate search terms by making technical adaptations.
Here are a few things to consider when optimising your videos for SEO:
How to make your video indexable
How to make your video accessible
How to lay out your webpage (Best Practices)
What video content files are
How to use structured data markup
How to optimize your video for YouTube SEO
Where are videos featured on Google?
Over the years, search engines have come a long way to making it easier for users to find the content they are looking for, including videos. Now, there are many places on Google you can find video content.
On Google, there are 4 main sections where videos can appear – main search, the specific video tab, image tab, and the Google Discover feed (mobile).
Each tab or section is interlinked. If a video is featured on the main search then it will most likely be on the other tabs. However, there are different features on the main search compared to the other tabs.
Videos that appear on the main search page are often grouped together on mobile and desktop.
Pages that mix text and a video as the main content on the page can appear as "Top Stories" or as a smaller preview than when grouped together, which allows the user to click through to your website to read and watch your video.
If your webpage has multiple videos, or pages that show a collection of videos or playlists, Google will show a featured playlist with video in its own block at the top of the page that you can scroll through.
How to make videos indexable?
Content on the internet now covers a variety of media types.
To differentiate your content that contains a video to Google, your webpage should contain structured data markup, and submitting a video sitemaps to Google Search Console (GSC) which can also include meta data tags.
Sitemaps are good features to use when it comes to making videos indexable because they help Google identify video URIs on your website, especially when internal linking to the video might not be the strongest.
You can then also monitor indexability with ease from the GSC UI.
How to make videos accessible?
Firstly, you should always make sure your videos are available publicly on your website to the internet. If your page is gated then this will make your video impossible to rank or be indexed.
On the webpage, the video should be easily visible to the user while also accessible. Your video should not be a struggle for the user to find or view the video or require complex user actions to load.
The problem above can be the same problem you might run into if your video is posted on an app. To combat this issue, you can create an identical webpage with a URL that Google can crawl so that it can then become indexable.
How to optimise your webpage for video? (Best Practices)
To be able to optimise your webpage to be the best it can be, you should conduct Keyword Research (KWR) on the topic you are aiming to rank for so you can collect all of the terms you should insert into your webpage to give it the best chance of ranking to answer the queries you are aiming for.
When laying out your webpage with your video content on, you should focus the entire page on your video to show your audience what and why they are coming on to your page.
If you have to use multiple videos then using a playlist could help you rank with the entire playlist in the Google SERPs.
Thumbnail
Ensure your video is engaging from an impression so you should make sure your thumbnail stands out to can engage users as soon as they see it. The thumbnail is a vital part of the video content, so it may not rank on the SERP without one.
Transcript
One of the best ways to help your video rank for the topic it is covering, is to create a transcript for the audio to help Google bot understand your video. On a webpage you can save your transcription as an .SRT file and upload the file with your video to benefit user experience for those who use subtitles.
Headers
A way to order your content and possibly rank for the "People Also Ask" section on Google SERPs are headers, as they can show Google what you are showing in a specific section. If a header is a question that people commonly search for around a relevant topic, then that has a chance to rank for the "People Also Ask" section.
Video content files
Video content files are a vital component of getting your video to rank on Google.
Always make sure Google can fetch your video content files that include visual content. Your content would have to be one of the supported formats which, for visual content, includes MPEG-2 and MPEG-4 files with a .MPG extension.
If you want a more in-depth understanding of these file types, here is a webpage that delves deeper into this topic, which specifically explain video formats for embedding.
When submitting your video content files, you can get benefits for ranking. For example, Google will create a preview from your video rather than a less-engaging still image. The preview can be controlled by using the "max-video-preview" robots meta tag so that you can choose how long the preview should last for.
How to use structured data markup and sitemaps for videos?
Structured Data Markup is a way to give Google an extra understanding of the topic of your page via metadata, it is the standard format for giving Google access information about the page and stating the page's content. Structured data is also used to classify special SERP features like the live video badge and video key moments.
Structured data markup is commonly in a JSON-LD format and for video SEO, use schema.org VideoObject markup which includes the video title, description, thumbnail, duration and video content URLs which was spoken about in the section before.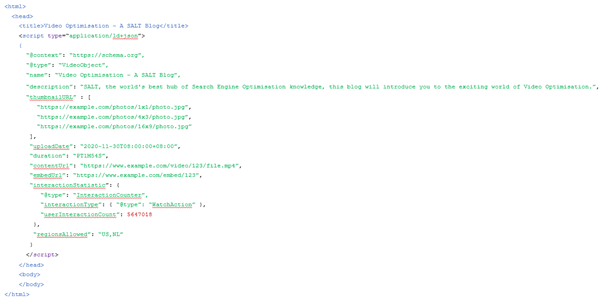 A benefit of structured data markup is that Google can track "key moments" in your video so users can navigate your video like it is a book which allows the user to find what they need from your video.
A Video Sitemap is a sitemap like the others on a website that provides Google with extra information about the videos on your website so Google can have a greater understanding or find elements that it may have missed with their crawling techniques.
With video sitemaps you should always include every video that is on your webpage and make sure they are all relevant to the topic you are informing the user about while also not including over 50,000 URL elements.
Google must be able to access these files, having a sitemap be blocked by robots.txt can be an easy mistake but a costly one as this would stop Google from indexing your video.