An SEO overview of the US Vitamin & Health Supplement Vertical
Due to busy schedules and evolving lifestyles, the working population worldwide struggles to get the daily nutrients they need. In the upcoming years, rising consumer awareness of health and wellbeing is expected to be a significant driving force behind the health supplement industry.

We will evaluate which websites are performing well from an organic point of view in the US Vitamin market space and which are not. As a generalisation, all of these websites offer the sale of vitamins and nutritional supplements.
The seven eCommerce health supplements websites we evaluated are:
Organic Traffic Overview
Using third-party organic visibility data from Ahrefs, we have been able to compare seven leading vitamin competitors and their performance over the last seven years.
All the vitamin companies we are looking at started before 2015, except for Nature's Bounty, which started in January 2018.
The Vitamin Shoppe has had the majority of the vitamins and supplements market share, and they have successfully recovered from Google's algorithm updates and continue to grow.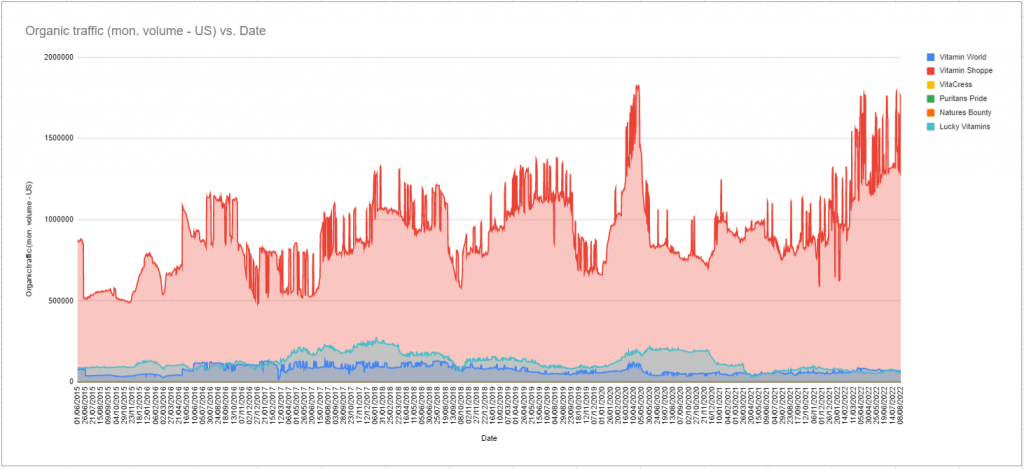 Organic Traffic Leader
The most prominent organic traffic winner is Vitamin Shoppe. Compared to their competitors, Vitamin Shoppe has had the most consistent traffic since 2015 and still obtains the most significant traffic out of all the websites we evaluated.
Due to various factors, including helpful content (the What's Good blog) with internal links that lead back to the commercial product pages, comprehensive usage instructions and descriptions, and a consistently strong backlink profile, Vitamin Shoppe has experienced tremendous organic success. The strategies employed allowed Vitamin Shoppe to boost its organic traffic by roughly 203% over seven years. We can observe that the decline in traffic during Vitamin Shoppe's reign corresponded with Google's algorithm updates. However, it appears their website rapidly changed to minimise any potential negative consequences of these modifications.
The Bidirectional Encoder Representations from Transformers (BERT) update, was revealed by Google in October 2019 and was described as the " largest update to Google search in the last five years." The BERT update will help Google better understand search queries. According to Google, BERT will be used on 10% of U.S. English queries, affecting both search ranks and featured snippets.
Vitamin Shoppe's organic market share saw an impresive increase in correlation with the October 2019 BERT update. Their rankings were negatively impacted, but keywords steadily returned over the next six months and dropped again in May 2020 when there was a broad Google algorithm update. In December 2020, there was a core Google algorithm update. According to one study, while it affected numerous industries, the health industry was said to take one of the most brutal hits, which correlates with a drop in traffic reported by the third-party tools for Vitamin Shoppe.
Overall, over the last seven years, Vitamin Shoppe has developed and implemented a well-thought-out and highly effective organic approach.

Underperformer: Nature's Bounty
Nature's Bounty's organic traffic is very unusual due to the sudden increase and decreases of their traffic.

In 2018, Nature's Bounty seemed to be positively affected by a Google core algorithm update. Before algorithm update, Danny Sullivan (A journalist who reports on Google) stated that it did not penalise websites but rather favoured high-quality pages. As a result, websites experiencing losses are probably not doing anything terrible. Instead, they are probably dropping one or two positions for a small number of keywords to sites that were deemed to be of higher quality.
Google's Core Updates aim to continuously improve the quality of search results displayed to users and provide a better experience. This is why EAT is increasingly essential for the seven sites we have analysed, especially for the health sector.
Unfortunately, Nature's Bounty was negatively impacted in December 2018/January 2019, which does not correspond to any Google update, but does correlate to the number of referring pages to their website.
US Vitamin Trends
The US vitamin market fluctuates throughout the year due to seasonal trends. Here we will look at the prominent trends that affect the market.
New Year

Google Trends shows that many users visit these sites to better themselves with vitamins and health products- as the vital time of year seems to be consistently the start of the year. As you examine the first graph above, every trend in peak correlates to the start of the year, concluding that vitamin companies should aim to run key marketing campaigns, offers, and deals in the lead-up to the New Year.
The Impact of Covid

In June 2020, there was an increased need for people to buy goods online, including vitamins, especially for vitamins for COVI-19. As evidenced the graph, the start of the rise correlates to the announcement of the lockdown in early 2020.
Healthy Diet Trend

Over the past five years, we have also seen a correlation between people searching 'Healthy Diet' and 'Vitamins'. They both have the same trending line as they go hand in hand, with the peak of the searches happening at the start of the year.
Conclusion
The US vitamin and health supplements market has developed significantly over the last 10 years, with Vitamin Shoppe leading the way and little indication that other significant sites will close the gap any time soon.
Unfortunately, Vitamin World, Vitacress, Puritan's Pride, Nature's Bounty (NBTY), Lucky Vitamin, and Swanson Vitamins were all negatively impacted in recent years.

These firms would do well if they expanded their organic presence by expanding their targeted keywords.
Expanding its organic presence could be done by promoting new product lines and leveraging non-commercial keywords to generate educational content for products that are then internally linked to the related products. The non-commercial keywords can be the ingredients used in the vitamins and a description that incorporates the product's benefits.
Educational content can also generate trust and expertise through author pages for blog content. Naming the author and showing the author's credentials can increase your website's E-A-T, which is becoming increasingly important to Google and especially for YMYL sites due to them promoting health products.
YMYL became an important signal for Google on August 1st, 2018. Due to the update's significant impact on medical websites, Google released a broad core algorithm update that has since been dubbed "The Medic update." It aimed to improve the E-A-T of pages that can influence someone's happiness and well-being. Google penalised pages it thought had no or little E-A-T and praised those having a lot of E-A-T.
Other educational content you can create is solutions, and case studies pages as a solutions page can help you target the ailments the vitamins are used for. With a case studies page, you can show the customers how the vitamins are proven to help.