How to structure a blog post to generate leads
There's much more to writing a blog post than putting words on a page. While your idea may be brilliant or unique, it's unlikely to fully engage your audience and generate leads if poorly structured.
Understanding and planning your blog post structure is integral to a compelling piece of writing. Using a considered approach and detailed research, you can ensure your reader remains interested, finds your content helpful, and responds positively to your call to action (CTA).
Analyse user intent
Determining user or search intent means understanding what someone is looking for when they query something in Google.
The user's intention is the key to structuring your blog, as it will help you decide how best to deliver the information. Searches usually fall into three categories — informational, transactional, and navigational.
Some keyword results can move between multiple intentions depending on the season and other external factors, which is good to keep in mind when deciding your blog post format.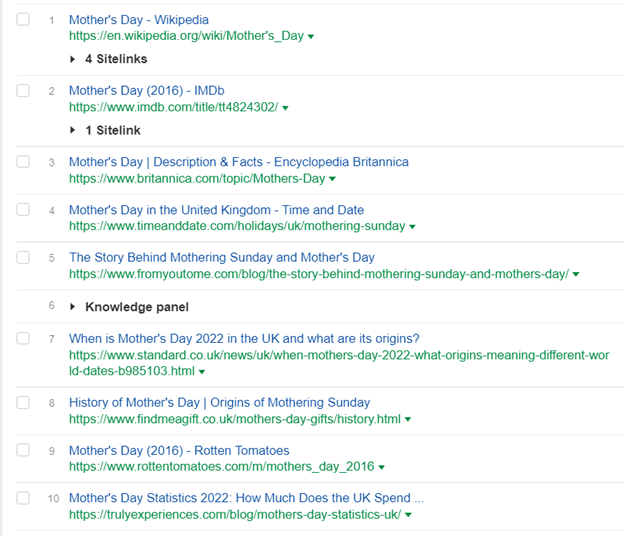 The above screenshot shows the 'Mother's Day' SERP results from October 6, 2022. The search intent is primarily informational.
Compare this with the below screenshot detailing the SERP results from March 23, 2022, where the intent shifts to primarily transactional and Mother's day gifts are the focus. In the UK in 2022, Mother's Day in the UK was on March 27.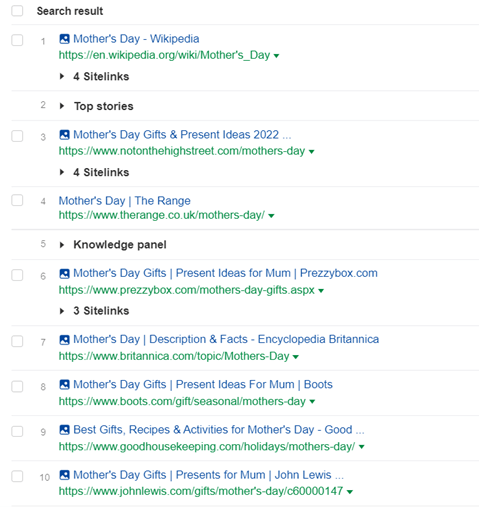 Through SERP analysis and competitor research, you will also get a good idea of the intention of your target audience beyond the three primary categories.
Are step-by-step guides more popular for your topic? Should it be a high-level technical blog where basic information is assumed, eliminating the need for specific headers? Is Google rewarding longer blog posts or those with more background content? Take note of the differences between results and decide how to add nuance to your take.
Decide on a format
A blog post can take various formats, and which one you choose depends on several factors.
Firstly, go back to your user intent and competitor research. Although these posts rank highly, it doesn't mean their format is perfect. Put yourself in the user's mind — is this the best way to convey information? Is there an easier and more intuitive way to achieve this?
Next, write down all the possible formats your blog could take. The list is endless: listicles, numbered guides, infographic posts, content curation, comparisons, and case studies. Considering how you present your post also paves the way for possible future reformats.
Lastly, come back to your topic angle. Of all the formats you've identified, which best works best for the goal of your blog? A FAQ post is effective if you want to address common questions. Alternatively, a thought leadership piece would land well if you wish to share your experiences personably. If you've got tons of information to share and want to keep your audience engaged, infographic posts provide easy-to-understand topic overviews and are also incredibly shareable.
Establish your CTA
It's no use spending considerable time and effort producing content if your CTA is ineffective. Whether you want users to interact with your offering, download your eBook, or sign up for your newsletter, your CTA needs to be clear, actionable, and make sense in your blog context.
Be creative and consider where your readers will find your product or service most useful in the post — it doesn't always have to be the page closer. Featuring a CTA after earlier action points or advice could be the best place, while the urgency to get started is fresh in your readers' minds.
You can weave your CTA into your storytelling and strike when the audiences' motivations are highest. Deciding where and how to place your CTA is key, as this element will garner the highest ROI.
Experiment with lead magnets
Breaking up your blog post with lead magnets is a good way to connect with potential clients and customers. Initiate a long-term relationship by offering something useful in exchange for their personal information, such as an email address or mobile number.
When planning your blog, consider the freebies and deals you could offer readers and insert lead magnets at the appropriate points. If your blog concerns e-Commerce platforms, you could offer a free online consultation when readers provide their email address and company information.
Monitor which lead magnets perform best and tailor accordingly, altering the structure of your blog post or the number of mentions if needed.
Consider time to result
When we discuss time to result (TTR), we are referring to the amount of time and effort it takes your reader to reach their initial intention.
Stuffing your blog post with 500 words of unnecessary background information before satisfying your title is unhelpful and frustrating for readers. They are less likely to share or remember the information and may not even reach the useful part.
Considering TTR when structuring your blog post is integral, with more apps and blogs competing for an audience's attention. Addressing the user's query early in the content doesn't mean all your posts must be thin in content. Instead, you can provide the user with answers while suggesting new angles or relevant information, deepening their topic knowledge.
Understanding what other subcategories your reader may be interested in sets you apart from the competition. The growing world of AI writing also shows you come from a place of industry expertise and consider their needs. The result is a helpful and valuable piece of content with a greater chance of ranking.
Encourage engagement
How you format your blog influences how users engage with it.
Make it easy for users to share your content by including buttons that post a link and a small text snippet to their social media channels.
You can put these buttons on infographics, videos, and other images throughout the post, giving the user several sharing options.
Pull quotes and bolded information is also incredibly shareable. Users can quote your blog post and link to your site on social channels, emails, and even within private messages.
While these micro-actions may not directly convert sales, shareable content boosts your business growth without you spending any extra money. This makes more people aware of your brand, leading to potential customers.
Nail your title
Your blog post title's central role is encouraging users to click on your piece, so it needs to be clear and concise.
Audiences are likely to spend only a second reading your title. If they can't quickly determine what your post will teach or provide them, how can they be reassured the content will provide anything useful?
Make sure your content delivers what your title promises. Users are less likely to share or return to a post with a poor reading experience, especially if it doesn't reflect their search intentions.
Of course, you also need to make your blog post title SEO friendly and doesn't go over the character limit. Not only is this good technical practice, but it also provides readers with a clearer picture of the post's goals. If half the title is missing in the SERP, the user can't be sure it's what they're looking for.
Choose your headings carefully
A user will rarely read a blog in its entirety upon opening it. Instead, we are often drawn in by the title and meta description and then scroll the page to determine what topics are covered or questions addressed. Headings capture their attention, helping them determine if your content satisfies their search query.
To improve the likelihood of them remaining on your page, ensure your headings are truthful, concise, and unambiguous. Headings help initiate interest and maintain attention throughout. They also break up large chunks of text and provide your post with structural movement.
Using keyword research as a source of inspiration is an excellent place to start when mapping your blog headings. If people come to your page from a specific 'how to' keyword, signposting where that information is on the page is incredibly helpful. Google's 'People Also Ask' (PAA) feature also works similarly and can provide some excellent heading suggestions.