An SEO analysis for the Health & Nutrition industry on Shopify
eCommerce pages from sectors such as Nutrition, Fitness, Medicine, Sexual Health, Groceries, and Food experience massive traffic drops. Most of them showed up in traffic losses from 2018 and 2019 onwards, never bouncing off the bottom again.
In most cases, drastic declines appeared shortly after the E-A-T Google update. Is it a coincidence? Let's take a closer look at various online shops within the Health and Nutrition Industry to analyse better what happened. 
Kinobody

Kinobody is an online store that provides supplements and online fitness programs. Their typical target audience includes those interested in workouts, muscle mass, physical condition, and general appearance. We identified a major drop in the page in August 2018, which correlated with the E-A-T update.
Tiger Fitness
Tiger Fitness is a store that offers supplements, fitness accessories, and clothing. The page had a great performance until April 2018, when its organic traffic decreased by 72.25%. In that case, the correlation is similar. The first drop was in April 2018, and the second one definitely significant in August 2018. Both dates are related to E-A-T updates. 

Bulletproof
Bulletproof is another supplement and online protein store that experienced a significant traffic drop in October 2019. This occurred right after the E-A-T update, so it can be assumed the drop is correlated with the update. 

Organifi
Another nutrition brand, Organifi experienced steep traffic declines in the first quarter of 2019. Like those previously mentioned, this appears to be a direct correlation with the same Google update.

Doterra
Doterra has a slightly different product assortment, specializing in supplements, essential oils, and sun protection care. These products have a proven and significant influence on the body, health, and general well-being. From April 2020 onwards, their traffic dropped by more than 50%.

Amymyersmd
Supplements and beauty products from Amymyersmd reached almost 230K organic traffic in February 2019. Three years later, the traffic declined by almost 70%. Because the decline happened later, it is unlikely to have been an effect of Google's E-A-T update.

K-y
K-y is a brand that offers products related to sexual health. Because the items they sell have a high influence over the body, users need t2 see clear evidence of the authoritativeness and trustworthiness of the provider. Their traffic declined 58% from February 2017. In this case, similar to the previous examples, we can correlate the traffic drop with Google's E-A-T update.

Mylola
Mylola experienced a massive drop in May 2019. In this case, the story is similar to K-y in that the provider sells sexual health and women's intimacy products. Low-quality content could have played a huge role in the 71.56% decline in traffic. 

All the above eCommerce enterprises sell products such as dietary supplements, medicines, essential oils, and products that might affect our health condition or have direct contact with the skin. 
From the customer's perspective, it is important that the resources and information provided around these products and within their appropriate descriptions is factual and secure. This is to avoid inappropriate usage that could harm or negatively affect a person's state of health. 
Google is constantly trying to improve the quality of the results in SERP. For that reason, Google bots and algorithms started to consider Expertise, Authoritativeness, and Trustworthiness and penalize pages that do not prove their quality and authenticity.
Do traffic drops correlate with E-A-T? 
E-A-T stands for Expertise, Authoritativeness, and Trustworthiness, which are qualities that should be upheld by shops offering products such as medicines, supplements, and cosmetics. 
The Google update brings a bigger focus on the quality of the content and uniqueness. It should be descriptive and helpful for the user.  
The question provided in Google Documentation: 
"Does the content present information in a way that makes you want to trust it, such as clear sourcing, evidence of the expertise involved, background about the author or the site that publishes it, such as through links to an author page or a site's About page?" 
It should be strongly considered by industries connected with health and nutrition to carefully check provided content on their websites to ensure quality and trust. 
That leads to pointing out the reason for the traffic drops in the above-listed shops. Many of them provide short and general information about the product, with the structure of the content leaving much to be desired. The lack of main headlines copied from the content meta description, poor internal linking, and missed external sources could confirm the content's authority as the most probable reason for such a massive decline.
Is the SEO effort worth it? 
The above examples of online stores have a revenue of more than $500k+. Large e-shops offer a lot of items. The question is — is the SEO effort worth it?? 
Let's dive deep into the market needs and trends. 
According to Grand View Research, global dietary supplements in 2021 were valued at USD 151.9 billion dollars. Their forecast shows it will increase by 8.9% from 2022 to 2030.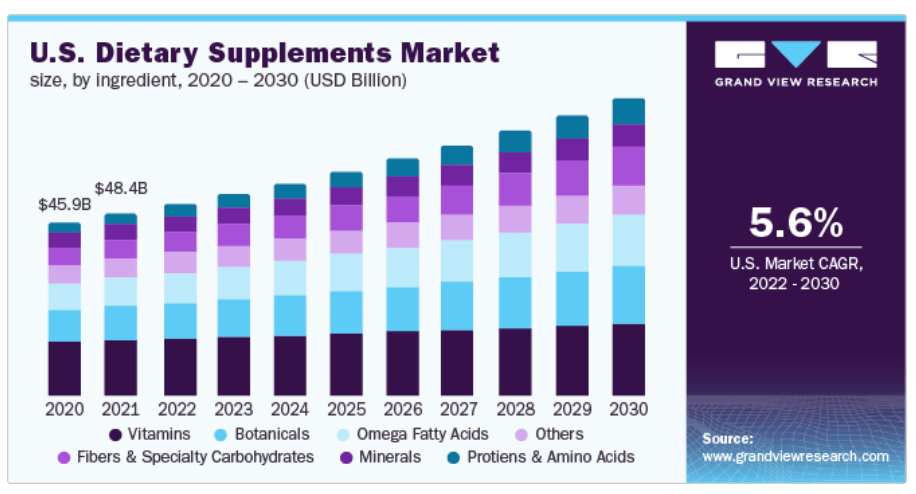 Additionally, Grand View Research predicts that, even though the offline channel distribution market share is bigger, for now, the online channel is expected to increase massively in the coming years. The arguments behind it are new habits after COVID-19 restrictions, a growing number of internet users, and the 24-hour availability of the products. 
We can see confirmation of that in keywords trends. The trend of the keyword 'supplements' from November 2021 to October 2022 increased by 26%, which you can see in the graph below. By October 2022, the search volume is 550 000.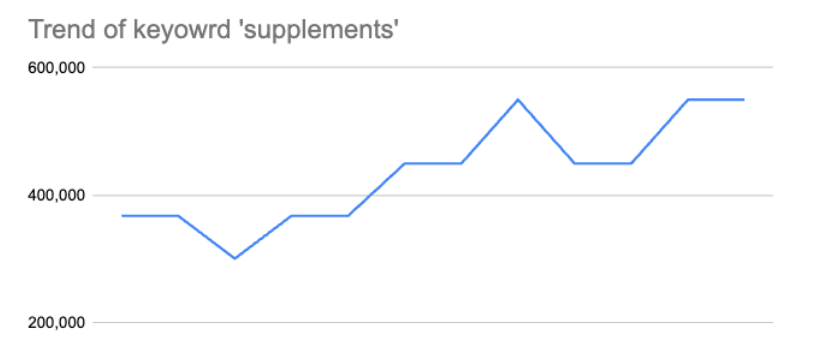 Similarly, the keyword 'green superfood' trend increased by 132%,'collagen supplement for skin' by 60%, with the search volume reaching 9900.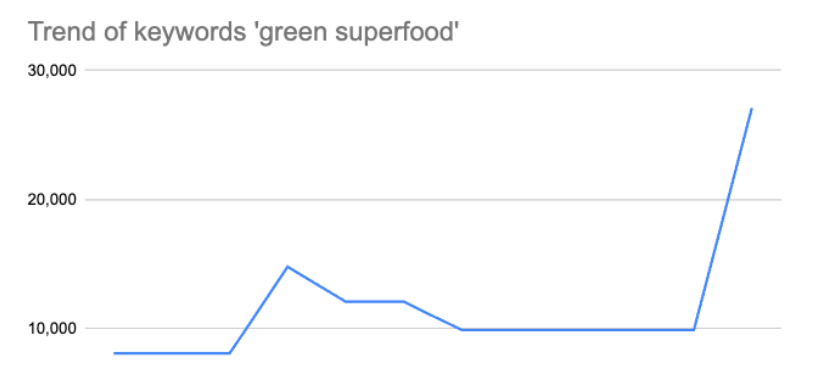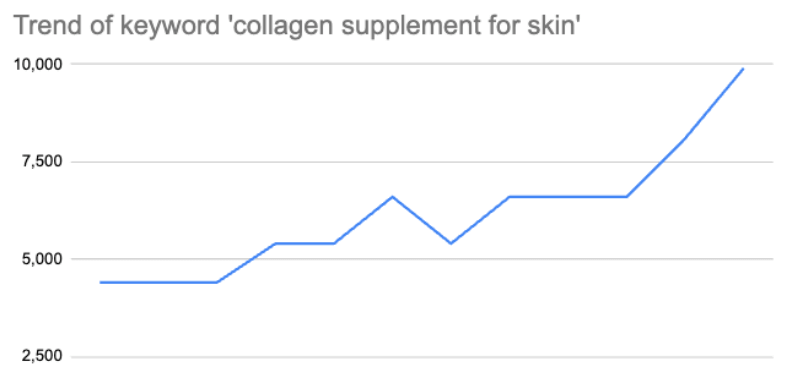 These numbers prove it is worth investing in organic search traffic to reach the consumer's needs within the industry, bringing huge value to the business. 
How can it be efficiently improved in Shopify? 
Regarding the declines and their correlation to the Expertise, Authoritativeness, and Trustworthiness updates, the main focus of improvements would be the quality of content.
Shopify has a useful feature, importing by SCV file product descriptions and specifications. However, it could definitely be improved from an SEO perspective. For now, the body content can be implemented through HTML. 
This could be simplified within Shopify by adding separate required columns in the SCV file, such as the main header as H1 and the minimum of two headers as H2. 
Additionally, the SCV file could have additional sections correlated with the product's blog posts to improve internal linking. This element on the product page could help users get more information about the product or its usage and be better understood by Google.  
It's also worth considering adding cross-selling or upselling offers that could be automated by implementing a new section in the SCV file. 
It would be worth changing the limit of the meta description from 320 characters to 160 characters, which is the advised maximum for descriptions to appear in the SERP. The current amount is too long, especially for the mobile version. 

In the example below, we can see that the description is slightly too long, and there is a lack of headings H1 and H2. 
This change could help update the content, improve its uniqueness and authoritativeness, and decrease internal duplication. Consequently, it should improve organic traffic to those optimized pages. 
Automation of structured data in Shopify 
It is widely known that structured data can greatly influence search engine results. Also, by implementing them, we enrich the SERP appearance and make it more attractive for the users. 
Shopify provides review scoring for the product pages, which can be populated straight into the SERP snippet.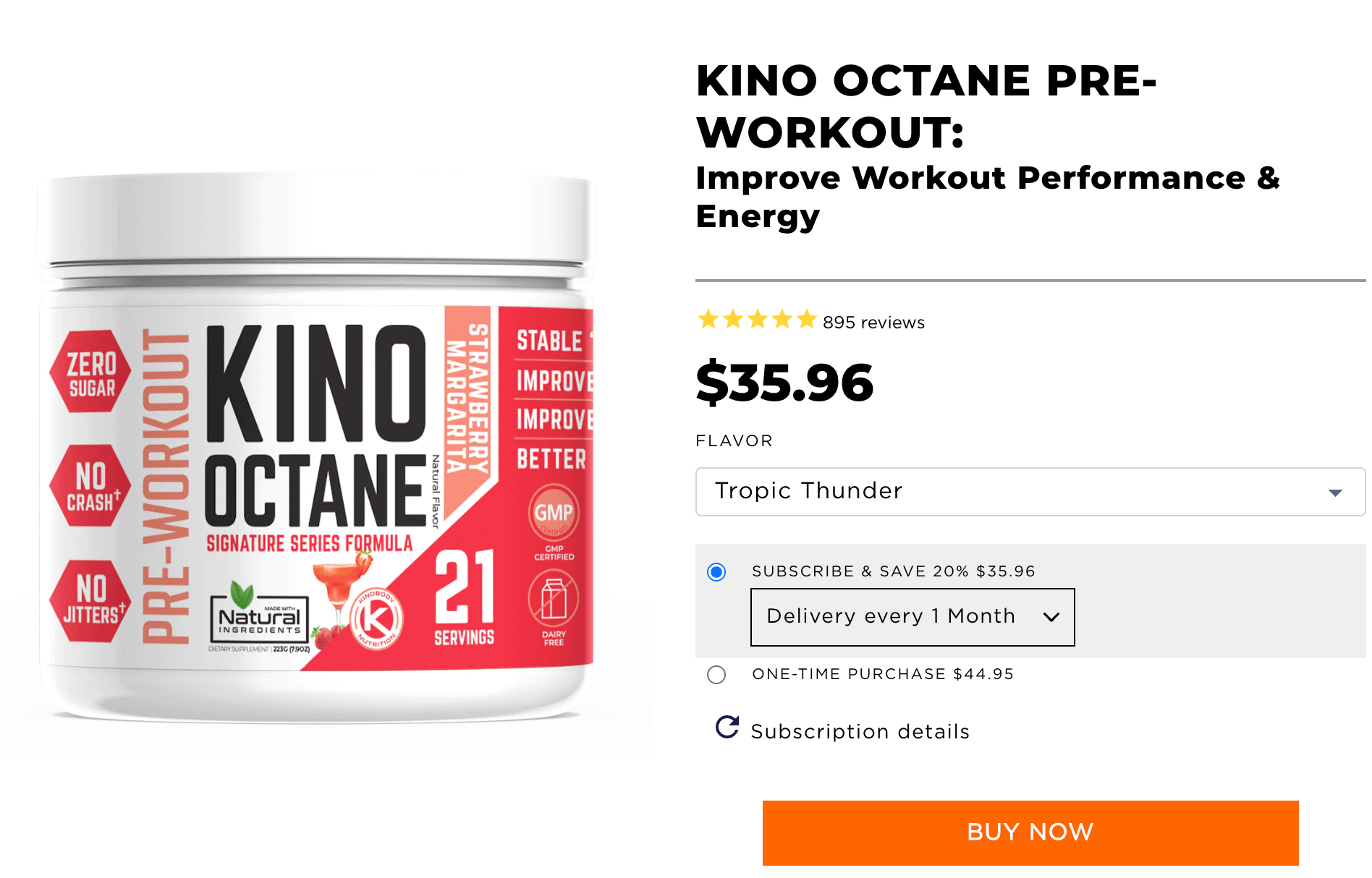 That feature could be automatically integrated with the schema markup, potentially improving organic rankings. 
It's also worth highlighting other types of elements that can be implemented, such as Product, Offer, BreadcrumbList, or another essential schema for eCommerce websites.
Automatisation through SCV files could make Shopify simpler, faster, and more easily used by owners of shops built into Shopify. That would bring potentially positive results for the user's experience of the site and increase organic traffic for the business.