How the Google Possum update will change local SEO
TL;DR:
Google has shaken up how local search works, meaning that businesses that aren't geographically in the city centres now have more of a chance of appearing in the Map Pack than they did previously.
The search engine has also placed greater importance on a user's physical location, and businesses that share the same address are now being filtered.
---
At the start of September (2016) Webmasters and search marketers everywhere noticed (and felt) two very large algorithmic updates.
Initially, some SEOs believed that it was the Penguin 4.0 update rolling out while others (myself included) passed it off as a Phantom update. It did however turn out to be a new beast entirely, Possum.
Google has not confirmed that an update occurred at the start of September, but in some Google Search Console accounts we noticed an annotation in the Search Analytics reports that has since been removed:

While the principles of achieving a successful local SEO campaign haven't changed, and it's still very important to have an optimised Google My Business listing. Possum has 'shaken up' how local search works and is undoubtedly the biggest change to the local search algorithm since the confirmed 2014 Pigeon update.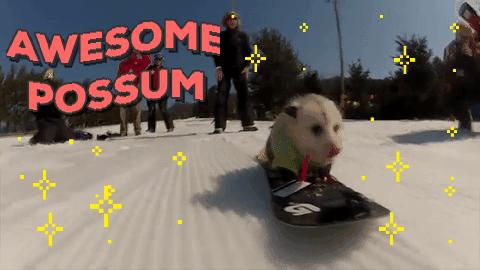 So how has Possum changed the local search landscape? 
Since the Possum updates rolled out we've seen a number of ranking fluctuations, some good and some bad, for a variety of short and long tail phrases, across a number of different verticals.
Geographical proximity is less of an issue
Previously, businesses that were physically based outside of a city centre (or city limits) were having a hard time in ranking for search phrases that contained location modifiers (as talked about by Google's Matt Cutts in this video from 2011). With the Possum update we've seen this become much more relaxed, the below image shows the current SERPs for seo agency leeds and dog grooming leeds: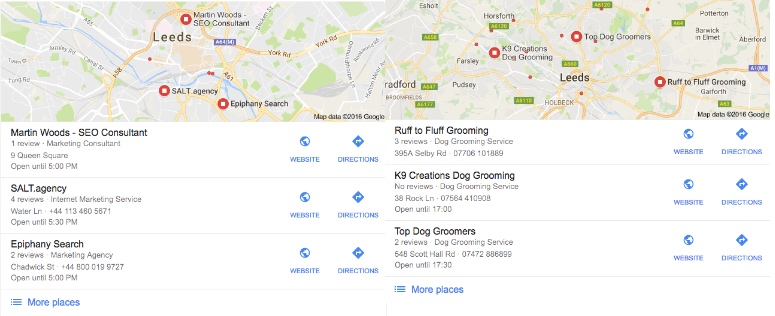 We've seen similar ranking improvements for a number of other clients who were previously stuck in a 'ranking purgatory'. Although they had been doing the right things and adhering to SEO best practice for a number of years, they were losing out to businesses who just had a more central location.
The geographical location of the searcher is more important than before
This has always been important, but now Google has placed a greater importance on a user's physical location. We have clients who have multiple branches in the UK and we've noticed fluctuations and different results when we set the search location to the cities where branches are located. This also occurs when we search generically as the UK.
Because of this, it's important that searcher location is set to the town/city/region that you want to target.
Google is now filtering results based on address & affiliation
Before Possum, it wasn't unusual to see a local filter, that filtered out Google My Business profiles that shared a similar phone number or domain.
This was often applied to shared business spaces, for example, you may have a legal office with four departments all practicing different aspects of law – each department head may have their own Google My Business and profiles, but because they share the same business name, domain and reception phone number – one or two of these may be filtered out.
The idea is to filter out similar businesses, in order to help the user find more diverse choices from their query.
This is a logical concept as Google regularly removes duplicate content from the SERPs as this isn't always best for the user, or matches their search intent.
Google is a lot more sophisticated than just looking at your NAP (Name, Address and Phone) that you've entered in your Google My Business listing.
Possum has thrown up the fact that Google also understands who owns businesses (even though their websites and NAPs may be completely separate), as well as how many businesses are registered at an address.
Does this mean the end of virtual office spaces?
We all know that not every business is 100 per cent honest when it comes to things like having an office in London as well in Leeds or Manchester.
But in order to attract search traffic from people looking for London agencies, some decide to pay for a 'virtual office' (somewhere a Google My Business verification postcard can be sent to and the code passed on to the real business based elsewhere).
An example of a virtual office is 223 Regent Street, London.

There are currently more than 1,000 companies registered to this address in central London, and if you're in any doubt as to this being a virtual office – if you search for 223 Regent Street, the first result is the company offering you a full service package (including local 0207 phone line and someone to answer the phone) for just £500 per year!
Because of this new filtering (and Google's knowledge), deceiving the search engine in this way to rank in areas that you're not is now harder than ever.
there's not really a way if you're out-of-town, that you can show up (in local search) within our guidelines – Matt Cutts, circa 2011
Search results vary more than before based on small variations
It appears as though the Map Pack is now a lot more sensitive to small keyword variations, as are the initial organic results.
We're also seeing a lot more ranking fluctuation between similar keywords, for example there are big differences between the SERPs for seo agency leeds and leeds seo agency.
Update September 27, 2016
After we published this article we tweeted Gary Illyes as to whether or not the unconfirmed update (we've all lovingly dubbed Possum) would continue to be tinkered with as we've seen rankings for local fluctuate a lot in the first three weeks of September;
@danny_taywitter we always tinker, so yes, in a way or other, you can expect more changes

— Gary Illyes (@methode) September 27, 2016
We expect to see local search continue to change as Google tinker with the algorithm over the coming weeks/months until they are happy that search queries are being 'fully met' by the results provided.
Have you been affected by Possum and have lost visibility within your local area? Speak to us about how we can help your organic search performance.