Why An Accurate Google My Business Listing Is Vital
Regardless of your industry or purpose of your website, whether you're targeting a local, national or international audience, having an accurate and verified Google My Business listing is important.
Your Google My Business profile can affect a number of things, such as how you appear on Google Maps (and Google Maps Directions feature), Google+, and local search results. In a previous blog post I talked about how you can achieve local search success, with the My Business profile playing a part in this, but an accurate My Business listing is important beyond this, as it also assists users researching details about your business and your reputation.
Why are users looking for your business?
Data from Think With Google suggests that approximately 70% of mobile users are performing local search queries on their smartphones at least once a month. It also suggests that 50% of smartphone users who are conducting branded searches are looking for business opening hours, address information and directions.
We've recently noticed on mobile devices that when we search for a business nearby, Google has started to use data from Google My Business listings to advise users on closing times when seeking directions: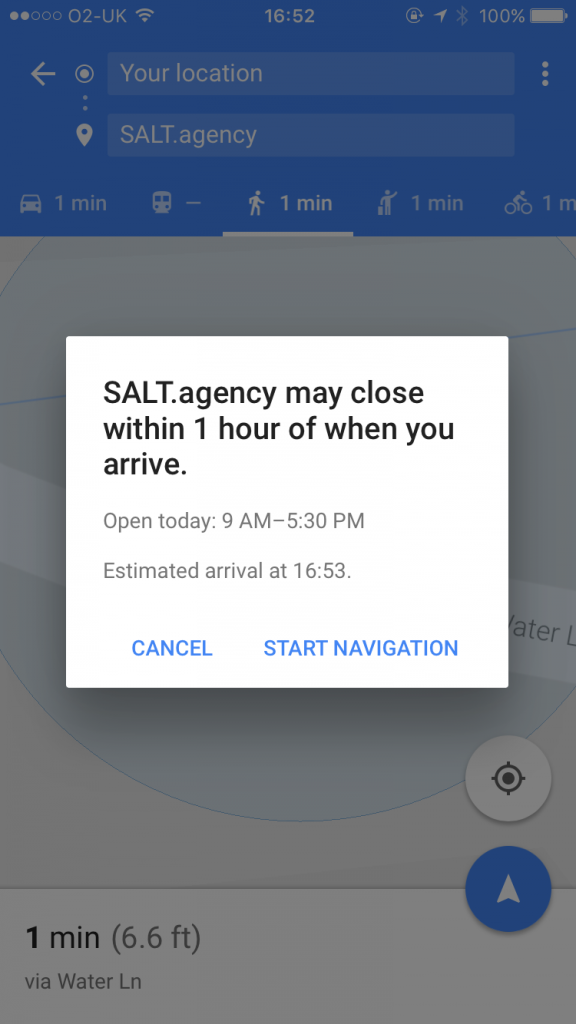 This is just one reason why it's important that all the information on your listing is accurate. If users are seeking directions to your place of business and your opening and closing times are incorrect, you run the risk of upsetting a potential customer and harming your reputation.
It's important that you make an effort to ensure that your pin marker, phone number, opening times and address are accurate. Especially if Google is starting to use this data to better inform users when they are searching. It's also important that you complete your profile with a profile picture (that's resized correctly) and a header photo.
Google My Business reviews are prominent
Peer reviews of products and services are playing an increasingly important role in peoples buying decisions and whether or not they trust what they are investing in, whether it be their time or their money.
Just like when you're buying a product online, or buying a takeaway through an app, what are you more likely to do – buy from the provider with a rating of 3.4 or 4.7? I know it's not as straight cut as that, but it still plays a part in your decision making process.
These reviews are very prominent in Google search listings and studies have shown that 61% of online customers read and are influenced by online reviews, not only the quality of reviews, but also the quantity.
Google are currently phasing out the SERP Review Stars from their results pages, making the Google My Business reviews a much more stable, long term option.
It's also extremely important that you adhere to Google's guidelines when it comes to honest reviews. There are guidelines for both businesses responding to reviews and users leaving them.
The Knowledge Panel
Linking your domain to your Google My Business profile is also crucial. This way you can encourage Google to show your profile in the Knowledge Panel (the right hand side of the search results).
Implementing structured data on your website will help Google recognise site information such as your NAP (name, address and phone number), business hours and location.
In order to do this you want to implement the Organization Schema. This signals to Google that you're website is a brand and links to your social profiles. If you're a local business, you want to implement the Local Business Schema as well for local search optimisation. We recommend using the LD+JSON implementation code in the header of your site and it should look something like this: