Achieving local search success in 2016
This post has been written for companies who want to improve their website's local performance, whether it be independent stores with an established brick and mortar store, or a national company with a number of branches. Caveat: There are many more factors that will contribute to your local SEO success, however these are some top level tips to get you started.
When most people think of SEO, they think about ranking for large marquee phrases within their sector on a national level, while overlooking their local environments. By optimising your site (or parts of your site) to cater for the local area, you can potentially tap into a much more local and targeted audience.
How does local SEO work?
When a user goes onto Google and searches for dog grooming, Google will define their search intent as wanting to find a dog grooming service near to them – and uses the users IP address to locate them. This enables Google to produce a map result at the top of the SERP and then provide users with more local results: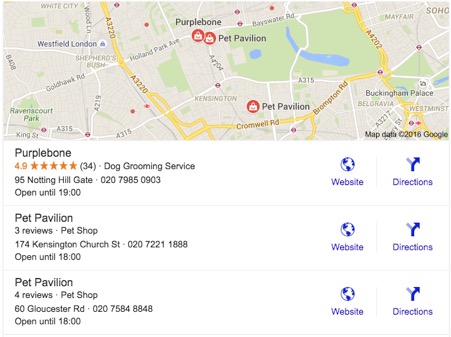 Google does this through a specific local search algorithm (dubbed Pigeon) and then updated it (the Venice update) to provide users with more relevant and high quality local search results.
How can I optimise my site for local search?
Firstly, any site that wants to rank successfully needs to have a good structure and good content that provides value to a user. From these good foundations you can build local landing pages relevant to your business.
Aside from onsite content, there are external and technical factors that can play a big part.
NAP Control
It's important that your multiple online presences are consistent, the main three details are your business name, address and phone number (NAP).
It can be tempting to use different trackable phone numbers and site specific email addresses across your directory and social media presences so that you can track offline leads to their source.
This however can cause issues for your brand, as some directories utilise the Google Map tool on their sites and this can lead to duplicate Google Map listings, all with different phone numbers, business names and/or email addresses.
Google My Business, Bing Places and Google+
Having an accurate and up-to-date listing on Google My Business and Bing Places is vital in establishing your site as an authority in local search results. While Google is often the default search engine that everyone turns to, this isn't the case for all users.
On most iOS and Android smartphones, the default search engine is Google, however, on the Windows phone, the default search engine is Bing — and DuckDuckGo is gaining more and more popularity.
In terms of tablet usage, while in Q1 of 2016, the tablet market was dominated by models that use Google as their default search engine (Apple 25% and Samsung 15% market share), brands that use Bing as their default are starting to gain a firmer foothold in the market (Amazon 5% and Lenovo 5% market share). Because of this Bing cannot be ignored.
Despite the fact that Google+ has taken a beating in recent months (being decoupled from other Google products the community focused relaunch not generating much fervour), having a good presence on the platform, and leveraging its reviews feature is critical to having a good, local search presence once more.
Schema & The Knowledge Graph
Google Knowledge Graph came into play in 2012 and has become part of the SERP furniture. For branded searches, and searches relating to distinguishable figures, Google produces a knowledge graph feature: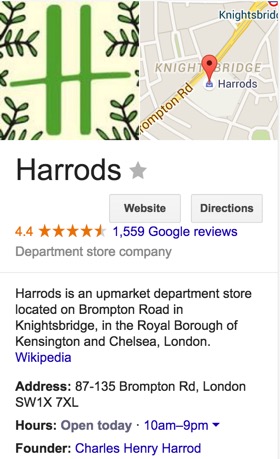 You can control what information appears here by ensuring that your Google My Business listing is complete and up-to-date, and utilising pieces of schema code to modify your logo, phone number and social profile links.
This code is relatively straight forward to implement on your site and can yield good local search and branded search benefits.