Google Maps November update explained
In the second week of November, Google significantly updated its search results containing accommodation results in Google Maps.
Although Google Maps had started to show places you could book by showing prices above the business listings previously, it has now gone one step further by adding new considerations and information into this section.
This means that users will start to see Google Maps displaying specific "hotels, cottages, and bed and breakfasts" in search results. Examples can be seen through the below businesses:
If you aren't seeing this Google Map update, we would expect it to be fully rolled out over the coming months.
What has been updated with Google Maps?
There have been a range of changes within the service, which will be of interest to those working within the tourism and hospitality industries.
Google Map price tag integration
Since the beginning of October, Google has implemented a price tag on listings that were connected to the term "accommodation".
This can be seen in the screenshot below when searching for Blackpool Bed and Breakfasts.
It's worth mentioning that the listings have a price tag enabled and the information is being pulled in from paid advertisements, and specifically from websites such as booking.com.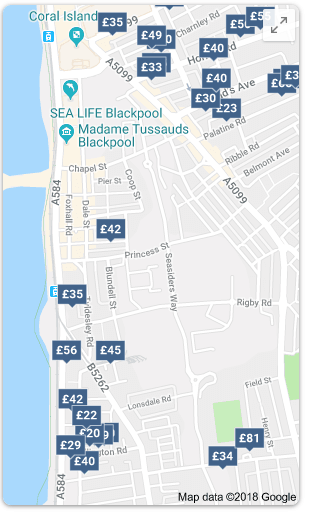 November changes
Earlier in the month, Google Maps expanded on this feature with the inclusion of dividing the map into five sections:
Top choices (Based on your search, prices and quality)
Guest favourites (Rated 4.0+)
Budget options (Lowest-priced hotels)
Luxury stays (4-star and 5-star hotels)
For tonight (Available now)
These five sections are found above the map listings and the specific accommodation listing.
An example of this can be found in the screenshot below, taken on 19 November 2018:

The full Google Maps listing will now show the following: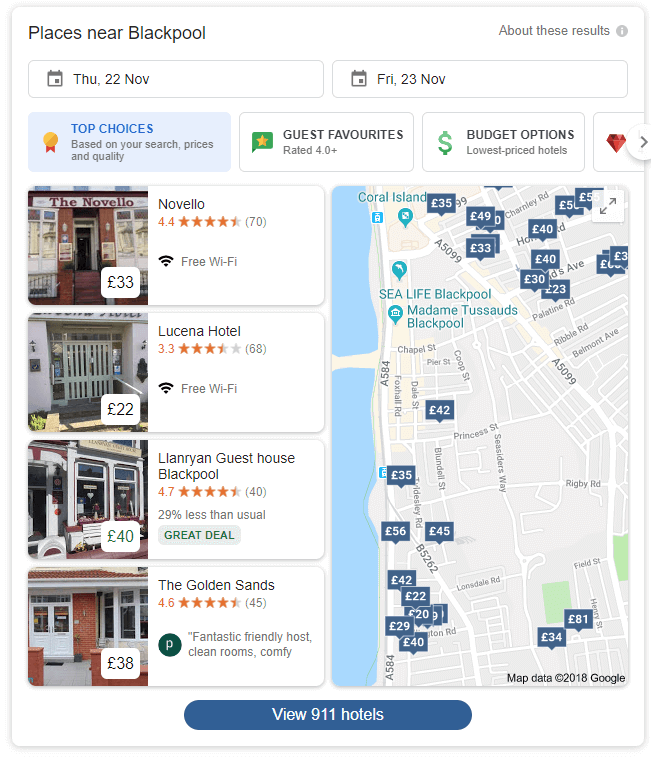 This functionality has been configured, so you can search for accommodation listings worldwide. If you are a UK user, searching for terms such as the ones listed below will show the new map listings.
Santiago Hostel Google Map listing example
The below is an example of what is returned from a search for Santiago Hostels. It showcases 69 hotels which can be found in the most popular part of the city: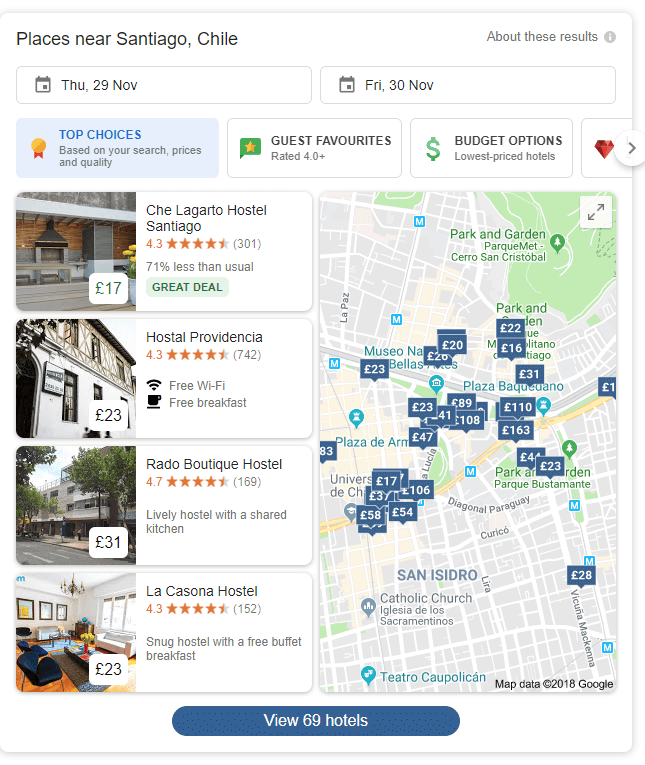 The hotels that are listed on the screenshot above on the left are done so via paid advertisements. The rest can be seen on the map.
When selecting the top hostel, it then lets you:
Select dates of when you will likely travel
Filter by number of people
Refine the cost of a hotel room per night (£0 > £300)
Guest Rating
Amenities
More Filters
Below is a screenshot of the different options that you can configure.

As we can see in the screenshot below, Google thinks Che Lagarto Hostel Santiago would be the most suitable hostel from the information we entered. It also informs you of the specific price per night, alongside other useful information.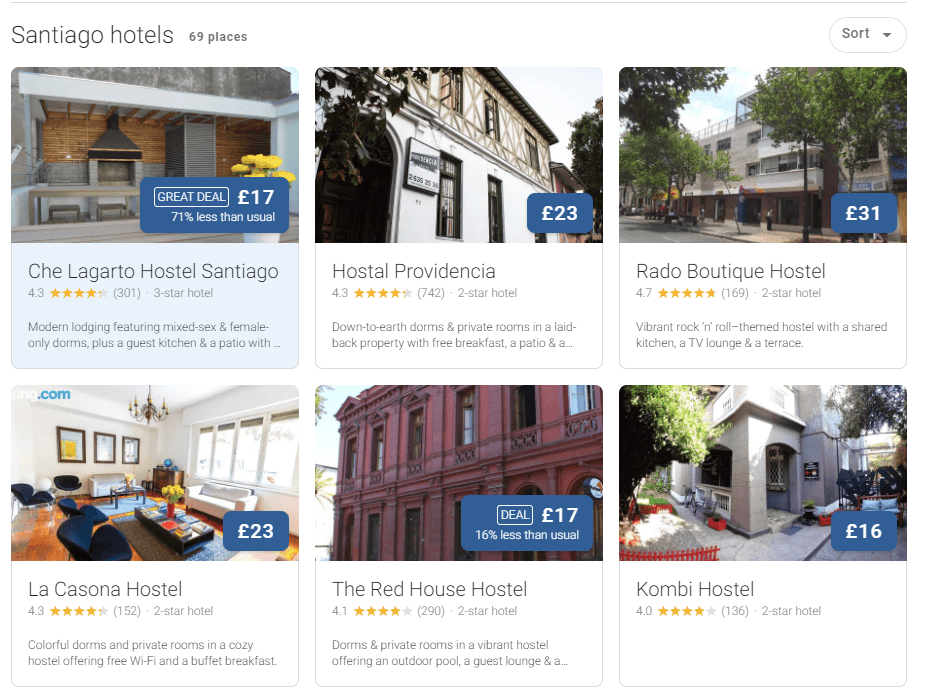 By selecting the hostel, it brings further information controlled by the listing owner. This can include:
Website
Description
Amenities
Address
Phone Number
Hotel Rating
Listing Images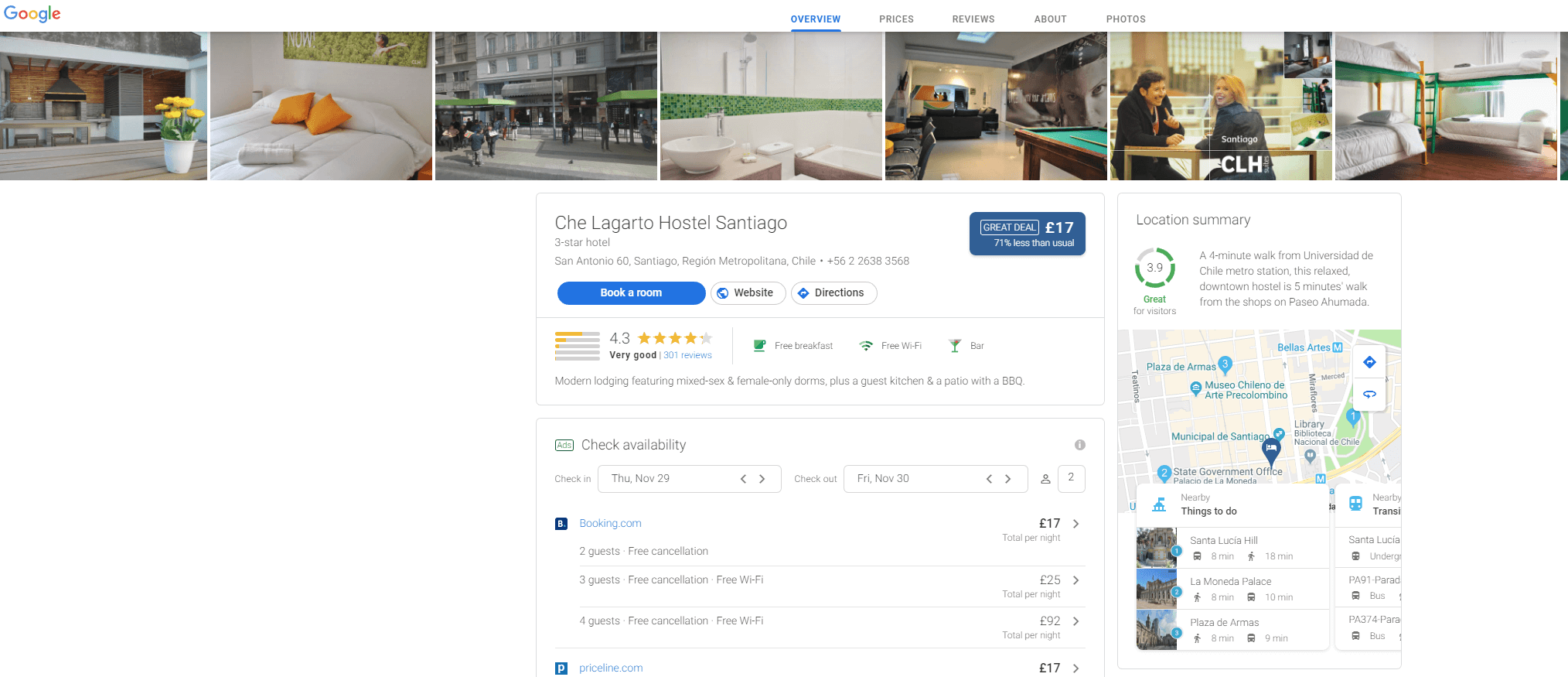 It's important to note that if you are the owner of a Google Business listing, you should put as much information as possible into it while ensuring total accuracy.
Below is the information that Google tells us about the hostel: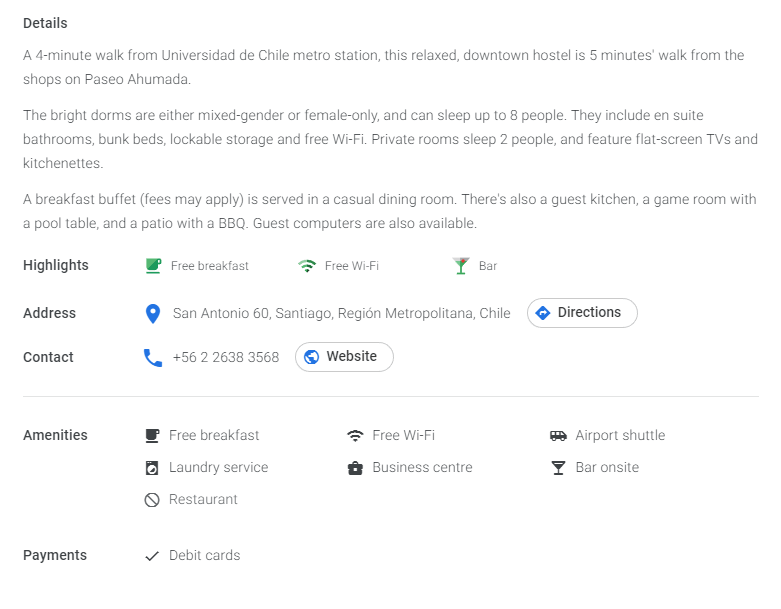 What does the search listing look like now?
With the above functionality rolled out, I thought it was fascinating how Google has moved its focus further towards paid advertisements:
Four paid advertisements
Google Maps listings (desktop page fold)
10 organic listings

Including one Twitter result

Three paid advertisements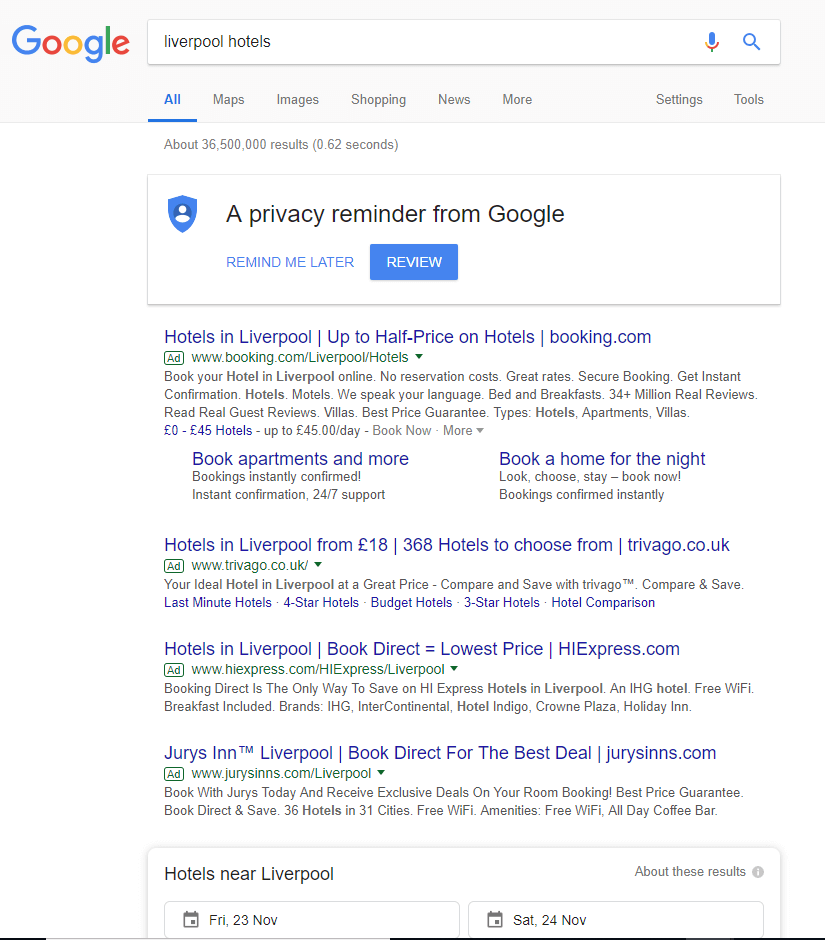 When checking availability of a hotel, it also pulls the data in from paid ads — see the screenshot below: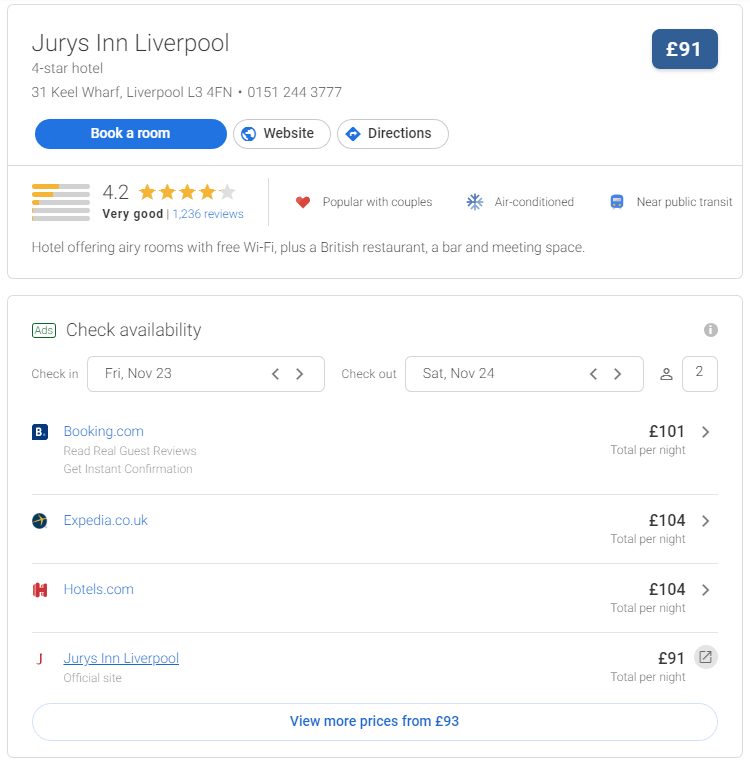 This also applies to select a room: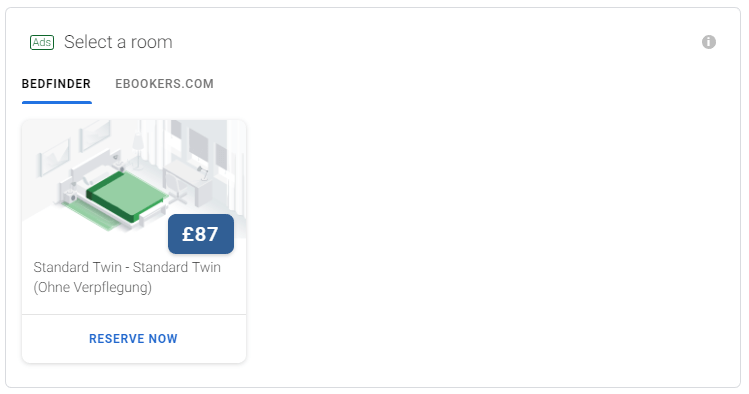 When looking at the prices of the hotel (by selecting prices in the navigation), this again pulls in prices from paid advertisements: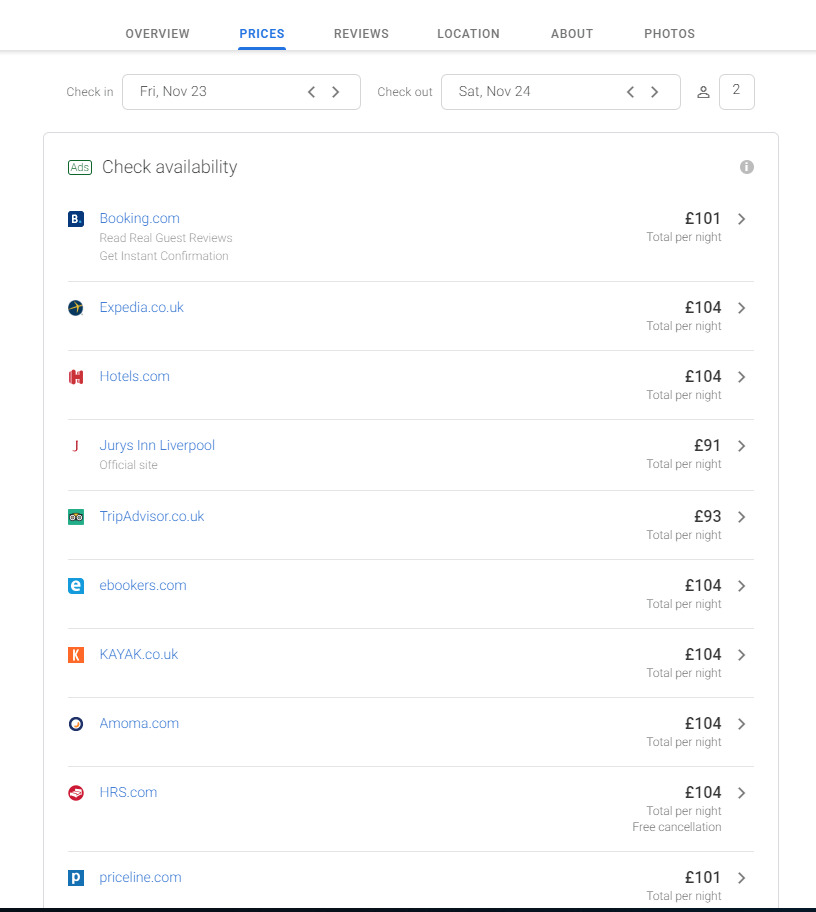 What to do now?
I would recommend logging into your Google My Business account and ensuring that as much information has been provided as possible:
Name
Service Type (is more than 1 applicable?)
Address
Service Area
Opening Times
Phone number
Website URL
Appointment URL
Services
Attributes
Description
Opening date
Photos
Labels
Once you have all that information, I would suggest writing posts for the listing so that you can generate as many reviews as possible.
If your attention to detail is accurate, all the information is listed, posts are going live, and reviews are being made  —  Google is likely to take more notice of the listing.
What Next?
Now that Google Maps has integrated the above for the travel section and in particular the price index, I would expect this to be rolled out across other verticals including the food (restaurants), entertainment industry, and visitor attractions or activities.