Expert tips for your ecommerce SEO strategy
Ecommerce SEO, sometimes referred to as retail SEO, is a strategy that is carried out to help improve your organic visibility in search results to drive targeted traffic to your online store. It involves enhancing your online presence, utilising a number of methods, and optimisation techniques.
Why is SEO important for Ecommerce?
Optimising your ecommerce site can help improve your visibility in search results for your core keywords – the keywords that your customers are using when shopping online. This improvement in visibility can help draw in customers, increasing your traffic numbers and ultimately aiding your conversions and revenue growth.
How do you develop an Ecommerce SEO strategy?
Essentially, providing what your customers are looking for combined with a positive user experience are the two main elements to focus on. Here, we talk through how to achieve that with our ecommerce SEO tips and best practices, alongside some other effective techniques that you may not have considered, to help optimise your online store.
SEO keyword strategy for Ecommerce
Keyword Intent
Intent is vital when it comes to your keyword targeting. For your commercial areas, ensure your core keywords focus on transactional intent. Any terms deemed as research or informational should be secondary or mapped to your blog or advice section.
For this, check the SERPs when choosing your keywords. If you see various informational articles in your results, chances are Google sees it as a 'research' term and not a transactional query, which may reduce the likelihood of your commercial page appearing in the top search results.
That being said, you don't want to discount informational terms entirely. Product FAQs and advice-led articles are great for ecommerce too, as they provide valuable information for your customers.
When carrying out your keyword research, as well as common metrics such as search volumes and ranking positions, highlight the search intent to ensure you're mapping the right queries with the most relevant pages on your site.
Long Tail Keywords
When it comes to ecommerce, there are various types of keywords you could target. Along with those core commercial terms (often ones with a high search volume), you should also be considering those long-tail low SV keywords. The reason being is that these specific keywords can often come with higher conversion rates as the customer using these terms knows exactly what they want and their likelihood of purchasing is generally quite high.
So don't be put off by the low search volume. Being more specific with some of your search terms could help draw in more customers who are on the verge of making their purchase.
Adding 'Buy' To Page Titles
When optimising page titles on an ecommerce site, you may be tempted to add 'buy' or 'for sale' alongside the keywords you are targeting. Some SEOs consider this best practice, while others don't agree.
Is this something you should be doing? Well….it depends.
If the main part of the query has various intent or is quite broad, then it may be worth adding this in so searchers know you are primarily commercial as opposed to informational. Check the SERPs to assess the other types of links being delivered and also your conversion rates. If you receive a lot of traffic without transactions, it might be worth adding 'buy' as a trial to help target the right type of searcher. 
Use Your Internal Search Data
When carrying out keyword research, you'll more than likely use various tools to decide which terms to target. But using your internal search may provide some valuable queries too.
Take a look at what your customers are typing into your on-site search box. This could provide keywords that you may not have previously considered, keywords which you know your customer is using, and more importantly, using with the intent to purchase.  
Assessing your on-site search is also great for locating niche, industry-specific queries. External keyword tools are great for finding high search volume terms, but as we know, it's those low SV keywords which can often bring in the conversions that you're aiming for.
Mine Your PPC Data
When you're searching for keywords to target, it's not just high search volumes that you should be focusing on. If you are running PPC Ads, assessing your paid search queries could be another avenue to venture when it comes to valuable keywords.
Assess the clicks and revenue that your paid search queries are driving, as this could provide you with some high conversion keywords that could also be utilised for your ecommerce SEO strategy. If you have keywords that are working well within PPC, chances are, they could have a positive impact on your organic performance too.
Optimise For Seasonal Trends
You'll find that certain products will be more popular at specific times of the year, so making sure your optimisations are in place prior to seasonal trends is key. Look at product performance from previous years to see which products were most sought after and when, and optimise these areas ready for the seasonal uplift. 
(Looking at 2021 performance may not provide the right type of data for this due to lockdowns and Covid-19, however, identifying any key increases could be helpful in recognising customers wants and needs against key events.)
As well as seasonality, make sure you check trend reports for the coming year. What's predicted to be popular over the next 12 months? Do you have related products you could push to align with this? You can use this to anticipate an increase in searches for items related to these trends and ensure these areas are optimised and ready for these searches.
The same can also be done for events or key dates coming up too. For example, if you're planning to sell fancy dress costumes, ensure you are well optimised before October to meet the increase in searches for this product type during this period.

Data source: Google Trends (https://www.google.com/trends)
Utilise Tags & Subcategories
The majority of ecommerce platforms will generally have a structure that contains three main levels that you can optimise: the homepage, category pages, and product pages. If your platform allows for indexable tags and subcategories, then this is definitely something to consider utilising when it comes to optimisation.
Not only are they great pages for targeting those long-tail keywords that we mentioned earlier, but they can also aid customer navigation. Large ecommerce sites can often contain hundreds if not thousands of products within each of their main categories. Being able to filter and scale down the number of products shown will help the customer find exactly what they want without the hassle of sifting through a mountain of items.
Ecommerce content strategy
Producing commercial content for Ecommerce
Similar to keyword targeting, the purpose of your content should match your customer's search intent. When it comes to producing content for ecommerce sites, you should ensure your copy focuses on how this item is going to fit into their lifestyle or meet the customer's needs. What do your customers want or need to know? Does your content provide the information they require about the product? Does it answer their common queries or pain points?
Aim to keep it concise and to the point, especially if you are adding content to category, product, or brand level pages. If you want to create lengthy content, save this for your blog or advice section.
Supporting content
Answering FAQs is a great way to aid your commercial targeting, but expanding on this and producing advice-led content can also have a positive impact on SEO for ecommerce stores. Having a blog or advice hub on your site that allows you to post supporting content regularly, such as how-to guides, advice, ideas, or news, can aid the efforts you're putting into the commercial side of your site.
Aim to create supporting content that helps your customer and think about how your products can be incorporated into these guides. For example, if you're selling cookware, post recipes or cooking tips that your customers can try at home. If you're selling running shoes, show your audience how your footwear could help them achieve their health and fitness goals. 
Consider building interactive tools
Alongside commercial keyword targeting and supporting content, another element that can aid SEO for retail stores is utilising interactive tools such as calculators and size guides. Not only do queries relating to these tools have significant search volumes, but providing these calculators and guides makes it easier for your customers to know exactly how much they need or the size they require.
For example, if you're selling lingerie, having a bra size calculator can help ensure customers purchase the correct size bra that fits their measurements.
Another example is laminate flooring. Providing a calculator which allows customers to input their room dimensions will make sure they purchase the correct quantity.
Building these tools and optimising for their related keywords could draw in customers carrying out research with the intent to buy. Not only can this help improve traffic, and potentially conversion rates, it could also help to lower returns and prevent shoppers from purchasing incorrect quantities or sizes.
Technical SEO for Ecommerce
No indexing filters
As well as utilising certain filters, you may also want to consider no-indexing some too. It's common for online retailers to have various filtering options such as price and size, but you wouldn't generally want to optimise for any terms relating to these URLs. Plus, these filters can generate thousands of unwanted pages. This can result in bloating of your site, URL conflicts, and crawl inefficiency. To reduce this, you should consider no-indexing URLs which relate to tags and filtering options that you don't want to use for optimisation.
This is especially relevant when it comes to SEO for fashion ecommerce, as these types of sites generally have a vast number of size, price, and tagging options. No indexing these pages can help to prevent them from showing up in search results, making it easier for search engines to find your main category, brand, and product pages.
Adding products to multiple categories
When merchandising your products, it's common to place them in various locations on your site to increase the chances of customers finding the item they are looking for. For example, adding a pair of trainers to a 'new arrivals' department, plus the relevant gender category as well as the main trainers department, and possibly within a brand section too. Although this can help promote your products, it can sometimes generate various URLs for the same product, which can cause conflict in search results.
To prevent this, make sure there is only one indexable version of the product URL. For example, if you are categorising a new pair of trainers, your site may generate the following URLs –
/footwear/womens/womens-white-leather-trainers-1234
/womens/footwear/womens-white-leather-trainers-1234
/new-arrivals/womens-white-leather-trainers-1234
/new-arrivals/womens/womens-white-leather-trainers-1234
/womens-white-leather-trainers-1234 (preferred URL)
If this occurs on your platform, make sure there is only one indexable page per product to prevent these duplicates showing in search results as this can result in the URLs competing with each other in the SERPs.
Internal linking for Ecommerce
As with any site, internal linking is essential when optimising your ecommerce store. As well as making sure your key categories are linked in the main menu, you should also consider linking within your content.
When choosing what to link to, you need to make sure you are linking to related areas. Think about your customer's behaviour flow and how they might navigate your site. When producing content for a particular product or category, consider complimenting items which they may need or want in addition and link to these areas within the copy.  
Supporting content such as how-to guides and FAQ articles that contain relatable information to your products can also be beneficial to link to. Providing your customers with information they may require to use the product effectively, or content that answers common 'problems' they may be experiencing, are good examples of internal links to include in your copy.
SEO for Ecommerce product pages
Product schema
Product schema is an essential piece of structured data which you should include in your ecommerce optimisations. This type of schema displays key information about your product within the search results, including price, ratings, availability and size, which are all key elements that customers consider when they are looking to make a purchase.
Having this information displayed in search results could help improve CTR for your ecommerce site, especially if you have competitive pricing and great reviews. 
Product reviews
Product reviews are essential for a number of reasons. For one, they go hand in hand with product schema (as mentioned above, if you've got 5-star ratings this will help display them in search results) and secondly, having positive reviews can help build customer confidence and encourage shoppers to make a purchase from you instead of your competitor. If your brand isn't very well known, this is essential in gaining trust and building a name for yourself amongst consumers.
Product image optimisation
As well as optimising your page titles and content, you should also think about optimising your images, especially for products which customers may buy due to their appearance, such as fashion or homeware.
We've recently seen that Google's SERPs are now showing more image carousels in search results for ecommerce sites, with page 1 becoming much more visual than it once was. Being sandwiched between two rows of images with just a basic link result could potentially lower your CTR, even if you are appearing highly for your keyword.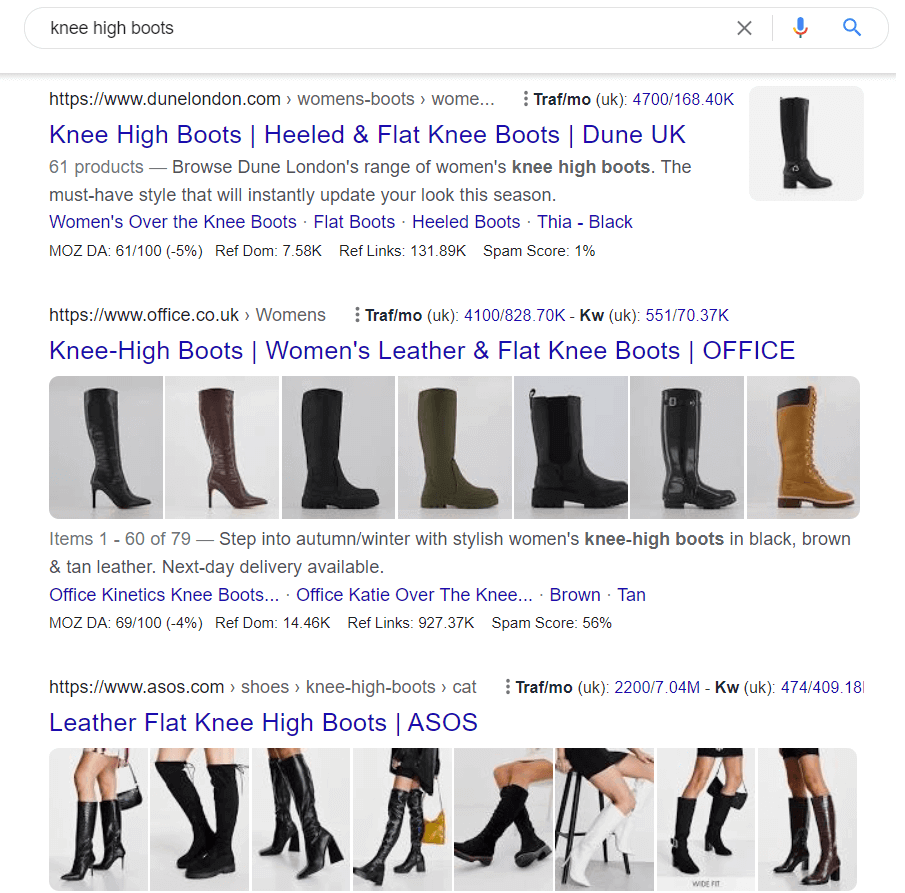 Make sure you add relevant descriptive alt tags to your product images and aim to keep them unique but concise. Even if you sell multiple products which appear the same, try using an adjective that is specific to that product to differentiate between them.
Product FAQs
Your customers will quite often have questions regarding your products. Providing content that answers these questions could help drive further traffic to your site if these queries see significant search volumes. It could also aid conversion rates, providing answers to questions from customers already on your site may prevent them from looking elsewhere for the answer. 
Think about common queries you receive from customers, or research terms beginning with 'what', 'why', and 'how' that relate to your products. As well as keyword tools and Google Search Console, check your competitors to see if they have product FAQ sections. You could also look at your social media channels for any comments from customers that contain questions or queries about your products.
Advanced Ecommerce SEO
Local optimisation
If you have physical stores alongside your online presence, you should also consider Local SEO. The recent Local update in Google has seen a lot more GMB listings appearing in SERPs, especially for commercial or transactional terms. With this in mind, it may be worth optimising your Google My Business listings as well as your store pages for localised keywords.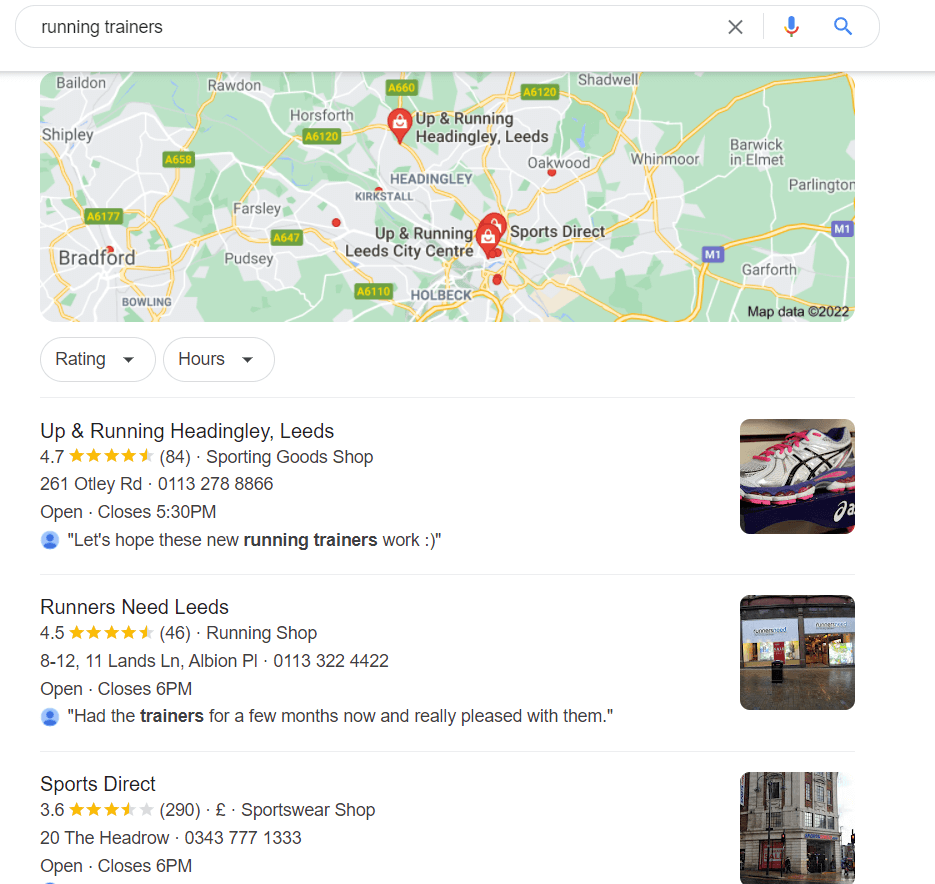 For this, make sure you assess your SERPs regularly for any change in local results.
You should also consider adding tracking URLs to your GMB listings to help monitor how customers are interacting with your local search results.
Alongside this, keep an eye on the information displayed and the reviews within your local listings. Aim to post key updates, including changes to opening times, and respond to any negative reviews too.
Also make sure you answer questions which are posted and monitor any imagery uploaded by customers.  
Out-of-stock strategy
From time to time, you may experience stock issues (something which many retailers have had to face over the past couple of years) or you may sell out of a product that has become high in demand. Although stock levels shouldn't have an impact on your rankings, it could be harmful for your conversions and increase bounce rates.
If you're experiencing stock issues, there are ways you can tackle this and make those out-of-stock products benefit your ecommerce SEO strategy.  
If the item has recently gone out of stock and you are receiving a lot of traffic to the page, consider adding a banner that notifies customers of the issue and link to related products which they can purchase instead. This may encourage shoppers to stay on your site and make an alternative purchase as opposed to bouncing off and looking elsewhere.
For products which you no longer sell but are still available from competitors, a blog post or article listing alternatives may be worth producing. Again, you can link this from the out-of-stock product to help direct customers towards this information. A similar strategy can also be conducted for old or expired content. 
URL identifiers for reporting
Once you've planned your ecommerce SEO strategy, you will want to ensure that your reporting is streamlined to ensure you can monitor your performance closely. With many ecommerce websites producing thousands of URLs, this can be a lot to sift through when it comes to reporting on sessions and conversions.
Having common identifiers within URLs can be extremely helpful for performance monitoring across the different levels of your store, for example, if you want to collectively evaluate the sessions and revenue for your product pages vs your categories. Having a common identifier within the URL will allow you to quickly find these URLs and assess the performance of this area.
This will also allow you to identify any URL conflicts between page levels, for example, if products are appearing for category terms, or a commercial page is ranking for one of your how-to/advice related queries. You can then assess whether you need to re-map or re-optimise these pages.