Evolving Content Strategy For Generative AI Search
Earlier this month at Google I/O, the search unveiled its next evolution in delivering organic results — Search Generative Experience.
We recently posted our initial thoughts on SGE on our blog. In this post (one of a series we've put together), we will assess this new search engine results page further.
SGE is essentially Google Bard interwoven into organic results, the traditional blue link search and Google features. 
With the SERP becoming more conversational (Google's prompts for the new interface being "converse") and how prominent Google are making this feature to attract and retain searchers, we're likely entering a second era of increased zero-click search.
Here are some things we know from reading Google's literature on SGE:
Not all searches will trigger a generative AI response if data voids exist or there is no consensus/reliable information. This may be most visible on breakout search terms or typically lower MSV/visibility search terms.

How Google integrates Ads will change with testing. There is no definitive route or visual on what the new Ad experience shall look like.
Featuring in generative AI results
According to Google, SGE is designed to align responses with high-quality sources, often high-ranking results. A limitation bias, perhaps? 
So, does this mean SGE extracts information from top-ranked websites for each query, and we just need to secure the top 3 ranking positions of the traditional blue links? Or be an ever-present, high-quality source type on page one with strong user signals, links, and citations to add credibility to our content and brand entity?
This feels like it's adding further emphasis on being genuine online. It's not about making links or producing content to fill keyword gaps, but being a trusted brand and valid online resource — which aligns with the quality rater guidelines and Google's general messaging around content quality.
AI era in SEO
Since GPT-3 made generative AI readily applicable for online use, the SEO sector has been concerned about potential Google penalties for AI-generated content. AI has been around for much longer than GPT-3, but this is when it became most prominent in the wider industry.
This issue is significant for the entire content marketing industry, given the expectation that organic search will drive most web traffic.
This expectation is compounded by how most C-level and enterprise brands interpret organic as a channel, which isn't always accurate.
At BrightonSEO last October (2022), I talked about content in Google's modern ecosystem having a "hierarchy" of what Google is looking for to determine its quality.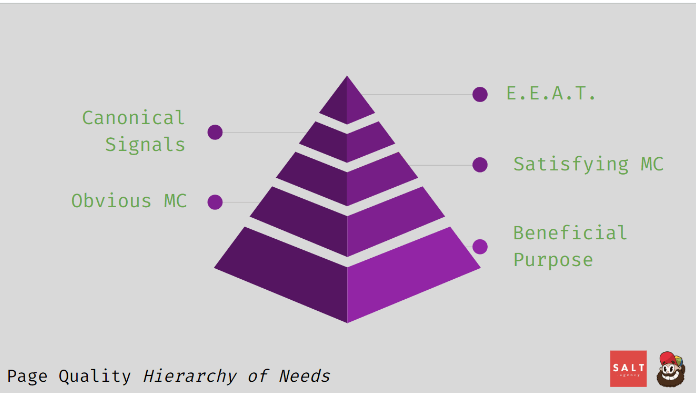 Quality thresholds assign a score for ranking a source for specific queries, while predictive ranking facilitates continuous testing to enhance and modify these thresholds.
As well as the page-level content, its uniqueness, and its overall value proposition, other factors come into play. These include canonical signals and external variables such as time (and content freshness).
Perspectives in content
The forthcoming Perspectives filter is an intriguing new feature. It aims to highlight multimedia content, such as videos and images posted on social media or Q&A forums, presenting a significant opportunity for content creators to increase their visibility. 
The emergence of this filter underscores the increasing trend towards visual-centric search. 
The rise of TikTok as a search/discovery engine competitor and Instagram's move towards personalised content exemplifies this trend, and it's no surprise Google is also embracing this shift to diversify its search results. The growing prominence of visual results is bolstered by advancements in image AI, making image creation easier than ever.
Google is also revamping its Helpful Content ranking system to better unearth the internet's "hidden gems". The refined system will prioritise high-quality, expert content in Search results and downrank content that doesn't add value.
Further, reviews are poised to play a more influential role as Google aims to present search results that reflect "first-hand experiences", quality, and originality. Content that demonstrates deep knowledge of a particular topic will be paramount.
In 2021 I spoke at Optimization Moscow and gave the example of [how to brew tea] as to how Google was diversifying both source types and the perspectives that the content covers.
The diversifications were around content format, method variations (more than one way to brew a cup of tea), and Google features for recipes and videos.
Just looking to target the main keywords here and producing generic content to fill a gap wouldn't work unless your site has major authority and the other signals necessary to mitigate the content value being as high as possible.
The search perspectives I proposed in my talk were:
content angles for users at the consideration and research stages

content portraying comparison and alternative viewpoints

guidance (expert-led) research

experience-led viewpoints and thought pieces

time-sensitive/time-leveraged viewpoints.
For a number of years, this has been part of a core content strategy, and Search Generative Experience is another evolution we need to be aware of and prepared for.
"Good bike for a 5-mile commute with hills"
A major piece of our content strategies now needs to focus on client education, as well as producing performing content pieces.
Over the years, I've worked with some enterprise clients who have not had mature SEO programs, led by metrics instead of the end objective.
In the Google I/O presentation, Cathy Edward's used the query:
good bike for a 5 mile commute with hills
Obviously, if we put this query into Ahrefs or any other tool, there is no search volume, meaning we wouldn't see this as a query as part of typical keyword research.
We would, however, see its components: 
[good bike]

– Good being subjective to the quality of not only the apparatus but, in this instance, also the use case.

[5 mile commute]

– Short trip, and with commute, one could assume urban cycling.

[with hills]

– Meaning a bike with low gears could be best here.
So to meet this query exactly, you would need an article potentially listing options of road bikes with low climbing gears or a very urban mountain bike. As it's a commute, it will also need to be reliable.
It is impossible to create content pieces for every single user case and query such as this, and they won't appear in third-party tools. However, they will be known to the business and its product owners, as well as those engaged directly with customers.
You can collect and collate this data to create content moats that directly meet target customers' needs.
In this instance, it would be a Commuter Bike Hub, featuring bikes with various use cases outlined as features, e.g. ideal for short commutes, reliable, and can handle hills with ease. Products would have comments from previous customers who have used the product, validating the vendor claims and helping create a confident purchasing experience.
The impact on TOFU, MOFU, and long tail search queries
When we look at TOFU and MOFU content, it's typically education and research-level content (common in industries such as SaaS and travel). 
This type of content is used to form content moats to increase brand visibility for related and tangential search queries relevant to users who are the target audience for the end product or service.
If Google starts to aggregate and produce a generative, conversational result based on the moats organisations have built out, despite attribution through cited sources, this will impact brand visibility. As we understand, it will also impact impressions (as with Featured Snippets we still got those) and undoubtedly clicks.
This doesn't mean that producing high-performing content moats isn't a viable content strategy, as users who navigate to your site will still benefit from the content, and you will still benefit from positive brand interactions.
YMYL & Google Raters signals still matter
Going through Google's comprehensive document, an overview of SGE, it is clear that YMYL signals will still be important to Google, as will be the historic quality rater guidelines, needs met scale, and all the elements I highlighted in the Page Quality Hierarchy of Needs diagram earlier in the article.