Evergreen content strategies for fashion brands
Evergreen content can withstand the test of time and remains relevant and valuable long into the future. This kind of content can bring great consistent benefits to your site, especially when used alongside good SEO practices.
Of course, the fashion industry is constantly changing, with new trends and aesthetics to keep up with every year. How do you ensure your content is evergreen when creating content for an industry that never stops evolving?
Let's look at evergreen content and how to implement evergreen content strategies for fashion brands.
What is evergreen content?
Evergreen content doesn't carry an expiry date and should always remain relevant, no matter when a user finds it. This type of content will remain relevant throughout the changing seasons and will still be valuable to readers even in a year's time.
For example, when it comes to fashion, publishing blogs around London Fashion Week 2023 can get a decent number of views around the time of the event, but just for that one specific year.
However, by writing an article showing London Fashion Week throughout the years, you may get views for the event every year. Despite being older content, it will remain relevant and act as a point of interest for users.
This will help your search rankings for months or even years after the piece of content was written. It is valuable content and requires less effort while still potentially achieving great results.
What makes content evergreen?
Content must discuss topics that will remain relevant for long periods for it to be evergreen, meeting the unique needs of users no matter when they discover it. It has to be something that searchers will continue to look for online for the coming months and even years.
Content that isn't evergreen includes news articles, statistics or numerical reports, and pieces about a specific holiday or season. This kind of content becomes obsolete after six months and is unlikely to be searched for again.
Examples of evergreen content
Fashion retailer PrettyLittleThing has a blog dedicated to fashion. The brand also includes pillar pages on beauty, lifestyle, music, and much more.
When looking at the fashion content for PrettyLittleThing, it uses a mix of content styles. This retailer has blog posts about 'what to wear to pilates' and 'your March horoscope for 2023'. If we look at the two, it's obvious which one will be evergreen.
When it comes to your fashion brand, you need to understand your audience and the type of content they will be interested in throughout every changing trend. For example, most fashion consumers may seek style inspiration and ways to dress up or down their stylish looks.
Evergreen search terms for your fashion brand would include things like 'how to dress for work' or  'what to wear on a night out.'
These two topics are evergreen, as they are the types of terms readers will always search for. Choosing broader topics such as these will consistently reach the target audience. Looking at search trends from the past five years, we can see these topics are evergreen and will always have users returning to your site.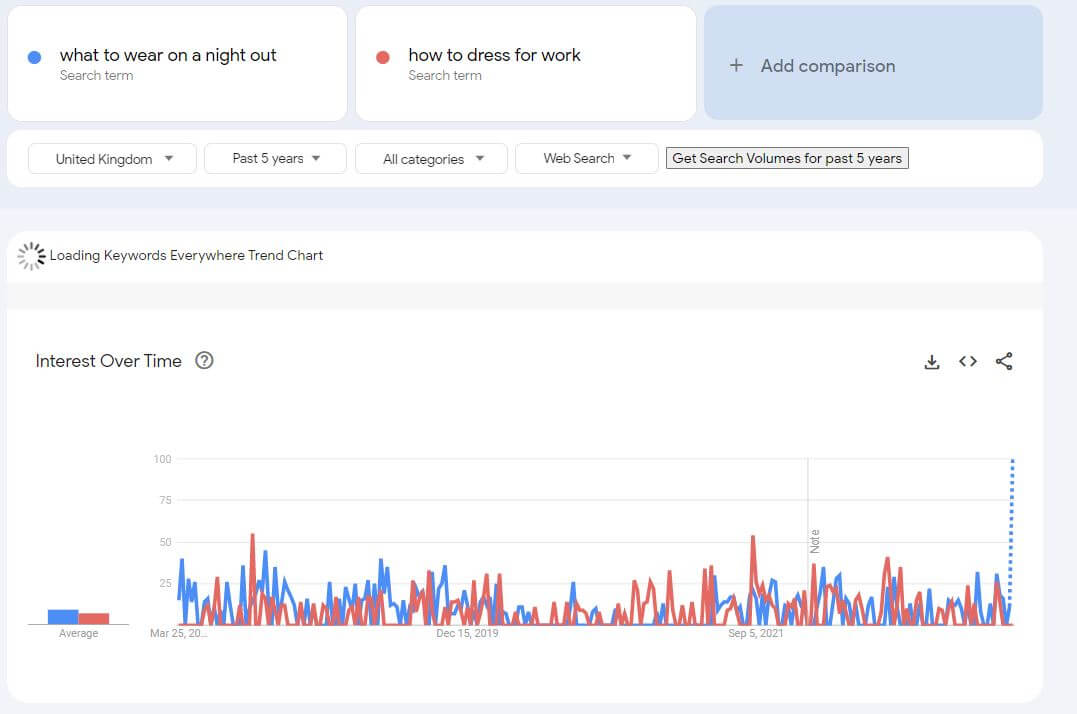 Source: Google trends
How to create evergreen content for your fashion brand
When creating evergreen content for your fashion brand, you must consider the different formats that will exist timelessly. Fashion is a timeless topic, as certain trends and styles existed in the Victorian era. The only difference between then and now is that we have Google easier for users to explore and keep up with the latest fashion trends.
How to guides
When it comes to fashion brands, the possibilities for 'how to' guides are endless. You can include a range of topics on your blog, such as 'how to style' and 'what to wear'. When choosing the topic, see which search terms have an evergreen search pattern and the how-to guide will continue to drive traffic long after the content publication date.
Pillar pages
Connect your evergreen piece with a pillar page. A pillar page covers all aspects of the topic on a single page with room for more in-depth information in cluster blog posts. These then hyperlink back to the pillar page.
For fashion website, a pillar page would be names something along the lines of 'fashion tips'. Your cluster content would be blogs on 'how to wear' and 'how to style', and as long as it provides the user with useful quality content, you will see the benefits of using a pillar page.
Optimize existing content
Optimize your existing content to ensure the information is accurate and up to date. There could be a new fashion trend that didn't exist when the blog was originally posted, which you could include in the content through optimization. Fashion is an ever-changing industry, and sometimes a few tweaks and added information to the existing content can be just what you need.
Try different content types
Experiment with different forms of content. As well as 'how to' guides, it's great to offer tutorials, step-by-step industry resources, and 'history of fashion' articles. These are a good place to start if you don't already have this content style on your site. Whether you need to optimise existing content or create something new, you will see better results if you choose for evergreen topics alongside your usual content.
Why is evergreen content good for SEO?
Evergreen content offers a fantastic range of benefits to your SEO content strategy as it continues to be relevant long past its publication date, increasing traffic to the site over time.
Evergreen content is an excellent part of a content marketing strategy and can become more powerful when combined with SEO techniques.
Implement SEO techniques such as keyword research and on-page optimization when writing your evergreen content. The more search-friendly the article is, the more easily it can be found, driving traffic for months or even years, depending on the topic.
Although evergreen content is excellent to use, don't make it the sole purpose of your blog. Current topical pieces also carry value, and you should have a mix of both. Regarding fashion, this is an ever-changing industry, and it can be tough to pinpoint exactly what would make your content evergreen. However, following SEO practices will undoubtedly assist you with choosing the suitable form of content and topic.