Can we really trust bloggers?
Blogging is huge. Most businesses know the value of a good quality blog, and many individuals are also jumping on the 'blog-wagon'; some to simply talk about their lives as a hobby and perhaps to meet others with similar interests, but many in an entrepreneurial way too. Essentially the majority of blog posts made online are an attempt to secure the trust of the readership.
What Do We Use Blogs For?
People read blogs for all manner of reasons; to learn, to research, to connect with others, and to be inspired are just a few of these reasons. An important example is to make a decision about buying something.
A 2013 survey by Technorati (the Digital Influence Report) showed that blogs were the third most influential online resource for those making a decision about a purchase. That is to say, people are using blogs a lot as a facility for decision-making on if a product should be bought or not. Bloggers are influential, and therefore powerful. Interestingly, blogs were revealed as more influential than Facebook; we are turning to strangers to support our decisions, rather than the people we know.
The problem with this lies in the fact that bloggers who review items are often sent things for free from companies, or even paid to do a review on a company or product. Can these reviews be trusted, or are bloggers influenced by the incentives? After all, in a standard job you are expected to be loyal to 'the hand that feeds'.

Although not a blog, I have personally done a few reviews for products on Amazon which the retailer sent to me for free. I was honest – mentioning the fact I had received the products for free and also mentioning negative aspects of said products – but I am sure that some people would be willing to give a shiny 5* review in order to receive more delightfully free stuff. I'm also sure that some bloggers would do the same.
Even Trip Advisor – which most of my friends and family use to make decisions on restaurant visits or hotel stays – decided to change its website slogan from "Reviews you can trust" to "Reviews from our community". This speaks volumes!
How Trust Is Gained
Good bloggers stick to certain basic 'rules' when posting, such as producing consistent output and high quality copy; these are factors which, over time, will lead to your readers' loyalty and trust. Roger Dooley – a neuro-marketing specialist – conducted a study on words that evoke trust in blog posts, which were found to include 'trust', 'caring', 'sorry'. 'always' and even the word 'never' when used in a positive way. It is believed that dropping these key words into your posts will create a growth of faith in your readership.
Of course, being open and honest is the best way.
However, below are three examples of bloggers who had us fooled:
1.      Belle Gibson – The Whole Pantry
Australian blogger, Belle Gibson, has recently been in the news for her fraudulent blogging activities. From a mass of lies involving her having cured her own terminal brain cancer through nothing but her diet and lifestyle choices, she went on to own a successful blog, iPhone app and even a book.
Gibson was being proclaimed as a 'wellness guru' before she was outed as a fraud. However, this was only after she had blogged about being diagnosed with a further four cancers. This empire which preyed on the vulnerable made a lot of money – some of which was meant to be donated to charity, but never was.
It is alleged that Belle Gibson's partner was also being told these lies, which shows just how convincing she was.

2.      Vani Hari – The Food Babe
Vani Hari runs a popular food blog called The Food Babe. Whilst her intentions are no doubt good, and whilst she does offer some sound advice, it is clear that not everything she gives out as fact is actually… well, fact. Several of her diet-based claims have been scientifically incorrect, and suggested reasons for this from her critics have included a lack of knowledge (her background is computer science), misinterpretation of science, or even being purposefully controversial to increase traffic to the site.
Hari has also been criticised for cleansing her blog of all comments she doesn't like; there's a Facebook group called 'Banned by Food Babe'
My personal favourite post (which has been removed) involved a claim that "microwave ovens cause water molecules to form crystals that resemble crystals exposed to negative thoughts or beliefs, such as when the words 'Hitler' and 'Satan' were exposed to the water" – a belief first held by Japanese author, Masuru Emoto.
3.      Amina Abdallah Aral al Omari – Gay Girl in Damascus
Gay Girl in Damascus was a blog that claimed to be written by a Syrian lesbian woman called Amina Abdallah Aral al Omari. In fact, it was written by an American heterosexual man living in Edinburgh – Tom MacMaster. The blog, which MacMaster says he started to bring attention to human rights in Syria, succeeded in gaining many followers but came to an end when the fictitious character's cousin blogged that Amina had been kidnapped.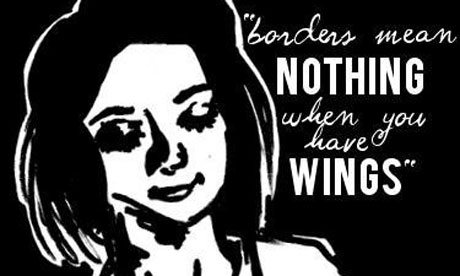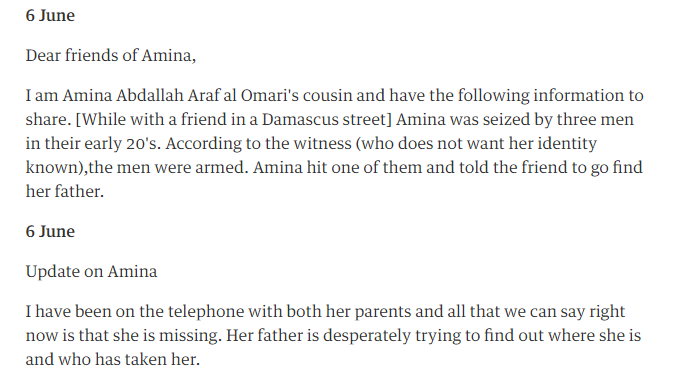 Unfortunately this attempt to end the blog led to action by several groups and individuals who wanted to help Amina, and who put themselves at risk for this person who does not exist. Also at risk was the woman whose images MacMaster used, which he found on Facebook.
Conclusion
You may feel that this post is saying 'don't trust bloggers'. It's not. I regularly read posts from a selection of brilliant bloggers who I would trust with my cat. That's a lot of trust right there. If I'm right or wrong to trust them, who knows. I am just trying to make you aware of how easy it is to fall for untruths and inaccuracies online; sometimes accidental, and sometimes purposeful deceit. Remember that online is just like offline in terms of people; there are good ones and there are bad ones, and sometimes the bad ones look like good ones. Stay alert.
Resources
Kissmetrics.com
Socialmediaexaminer.com
Time.com
Foodbabe.com
Gawker.com
Theguardian.com
Theguardian.com
Featured image credit: Pixabay