An SEO analysis of the UK meal kit subscription market
According to research carried out by KPMG, 76% of adults in the UK buy a takeaway meal at least once a week. With the pandemic restricting the operations of many restaurants, people sought to explore new ways of experiencing dining at home. 
The meal kit box craze has boomed to satisfy consumer needs. The average spend on takeaways per person rose by 42% from £452 in 2019 to £641 in 2021. This indicates that consumers are still keen to spend their hard-earned cash on convenient meal options that save money and time. There is a lot at stake for companies trying to increase their market share within the meal kit box subscription vertical.
What's a meal kit box?
A meal kit box contains everything one may need to rustle up a delicious meal without the headache of planning a weekly menu, looking for recipes, shopping for ingredients, and cooking it all.
Usually, a meal kit box contains:
a chosen recipe

spices that are portioned and will be fully used for the recipe, and 

all other ingredients required for the meal.
Meal kits are very convenient and have been gaining popularity among adults with busy careers, young families, and demanding personal lives to save time while also of their diet.
Google Trends shows a fluctuation in the popularity of 'subscription meal kit boxes' term variations in the past 5 years.
meal kit (yellow)

recipe box (red)

meal box (blue)

Following the initial spikes in interest pre-Covid, subscription meal kit boxes saw an increase in popularity at the end of March 2020, which aligns with the first lockdown in the UK. 
The current UK meal subscription boxes landscape
We looked at three main brands within the vertical by utilising 3rd part tools and data.
HelloFresh

Gousto

Mindful Chef
To assess each brand and what their organic performance looks like to establish which is experiencing the most success from its SEO efforts.
HelloFresh
Founded in 2011 by Dominik Richter, Thomas Griesel, and Jessica Nilsson as one of the very first companies in the meal-kit vertical. The first deliveries took place at the start of 2012. 
The same year saw the expansion into the Netherlands, UK, US and Australia. The number of subscribers has been growing significantly, with a major increase in 2015.
March 2015

– 250,000 subscribers

October 2015

– 530,000 subscribers

July 2016

– 750,000 subscribers

October – December 2017

– 1.3 million subscribers

October – December 2022 – 7.5 million subscribers
The brand has also acquired similar businesses in local markets, e.g. Blue Apron, Green Chef and Chefs Plate to dominate local target markets.
Currently, HelloFresh operates in 19 countries: 
Germany

United Kingdom

Australia

the Netherlands

Austria

United States

Belgium

Canada

Switzerland

Luxembourg

France

New Zealand

Sweden

Denmark

Norway

Italy

Japan

Ireland

Spain 
Let's investigate how organic performance contributes to the company's success.
Average organic traffic continues to grow, with jumps noted in January 2021 and January 2022, followed by a decrease during the summer months and a dip towards the end of the year.

Spikes in January are probably fuelled by resolutions made in the new year. Having a vast option of healthy meals that can be prepared in as little as 10 minutes, without trips to the supermarket where you may end up adding some chocolate 'as a treat, makes it easier to make healthier choices.
As of November 2022, HelloFresh ranks for 53,500 keywords, with 2,800 keywords in the top 3 positions. HelloFresh keywords generate 902,000 monthly visits.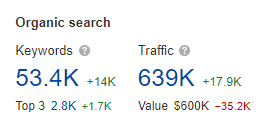 The number of keywords ranking at the top of Page 1 in Google (positions 1-3) soared in December 2021 by over 103%, and by almost 60% for keywords ranking in positions 4-10.
Despite an almost 80% increase in keywords visible on the 1st page of SERP, the traffic decreased by almost 10%. This implies new keywords did not generate clicks to the website. 
In December 2021, the domain began ranking for 18,156 new keywords but lost 5,817. Over 95% of new keywords were non-branded, allowing HelloFresh to target users who were not yet aware of the brand. It appears the 'Recipes' section was targeted to increase visibility for recipe-related queries, as almost 39% of newly ranking keywords had a corresponding landing page within the recipe category.

Here is a glimpse of the current keyword distribution for branded and non-branded keywords targeted by HelloFresh, with a deep dive into the 1st page of the SERP.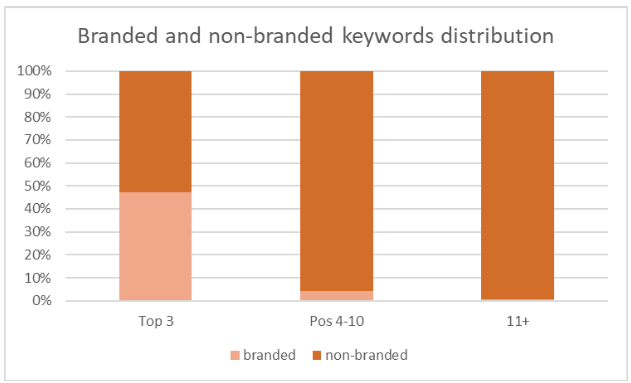 Almost 50% of all keywords ranking in the top 3 positions are brand-related.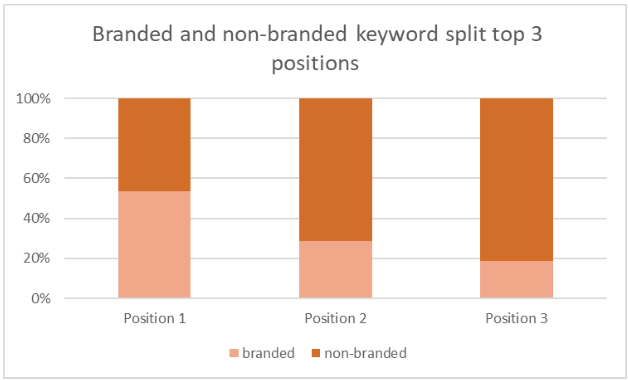 Less than 15% of keywords ranking in 1st position are generic queries, making it potentially difficult for HelloFresh to generate a substantial amount of non-branded traffic to the website.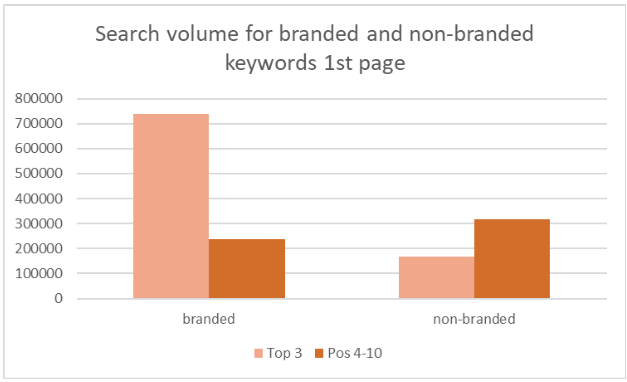 The search volume for branded and non-branded keywords ranking on the 1st page of the SERP shows that the branded keywords ranking in top positions have significant search volume, indicating that the brand relies heavily on brand awareness to generate traffic.
HelloFresh has an opportunity to increase its organic visibility by targeting non-branded keywords and tapping into an audience not yet aware of the brand. This will allow HelloFresh to stop relying heavily on branded queries to bring traffic to the site.
User-led categories:




By creating landing pages for an array of recipe types (by World cuisines, Vegetarian Meals, Ingredient-Lovers), HelloFresh utilises the recipe hub to satisfy search intent and gain visibility for keywords with high search volume.
Sub-category pages within the Recipe Hub rank for 1466 generic keywords with a total search volume of 731,530. The vast majority of those keywords rank outside the 1st page and don't translate into substantial website traffic. In order to maximise traffic, HelloFresh could improve its meta data to have more control over its results in the SERP.
There are a number of pages affected by missing, duplicated, too-long, or too-short title tags and meta descriptions.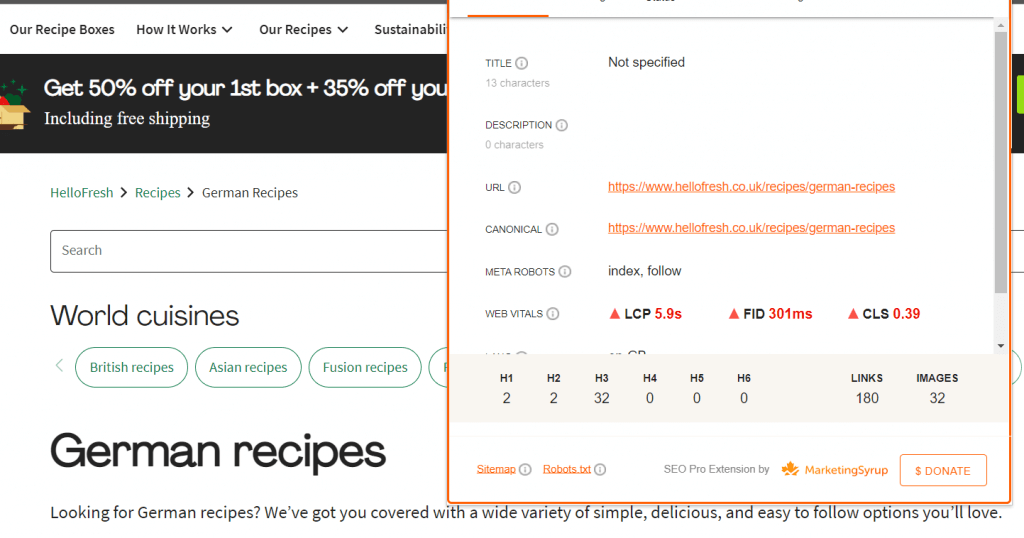 Gousto
The brand claims to be 'No.1 Recipe Box for Choice' as its recipe selection almost doubles and quadruples when compared to its competitors. Founded by Timo Boldt and James Carter in 2012, the founders failed to convince business owners from the Dragons' Den to inject funds into the business in 2013, as the investors believed the business model would fail to make money. Fast-forward and the company is growing its customer base, delivering thousands of boxes every week to hungry, time-starved Brits across the UK. In September 2021, the company was recognised as a B-Corp company. 
As far as the organic performance is concerned, the SEO visibility has been showing an upward trend with significant uplifts in April 2020, and every January of the last four years.

The April 2020 spike correlates with the first lockdown in the UK, when grocery shopping was permitted but was difficult due to fears around COVID-19. Some also experienced the struggle of families home-schooling their children and trying to keep them entertained, which probably contributed to many opting for an easy and fuss-free meal-planning solution. The January spike is probably linked to New Year's resolutions about healthy diets and fewer takeaways.
The number of organic keywords ranking in the top 3 positions has increased, with drops during the summer months.

A similar trend can be observed for keywords ranking in 4-10 positions.

It's also evident from the second page and onwards.

As of November 2022, Gusto ranks for 61,089 keywords.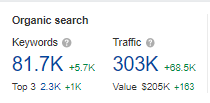 A more detailed keyword split can be seen below: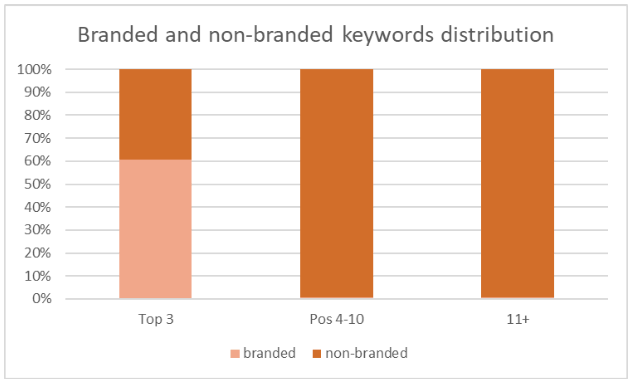 Here is a visual representation of the search volume for branded and non-branded keywords on the 1st Page of search results.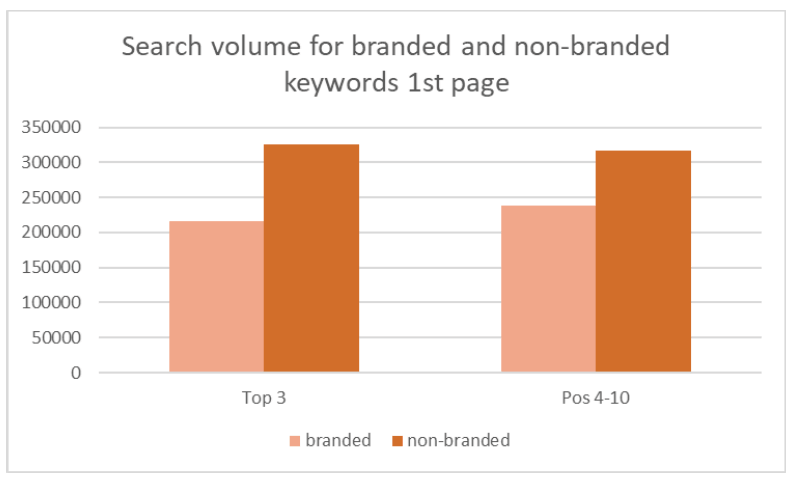 The search volume for keywords ranking in the top 3 positions is concentrated in non-branded queries.
Traffic generated by non-branded keywords on the 1st page is negatively impacted by the lack of clicks through to Gousto's URL. This is because the user's search intent is being satisfied by results displayed directly in SERP, such as featured snippets for informational queries like 'fillet steak cooking times', 'how long to cook fillet steak', 'fillet steak medium'.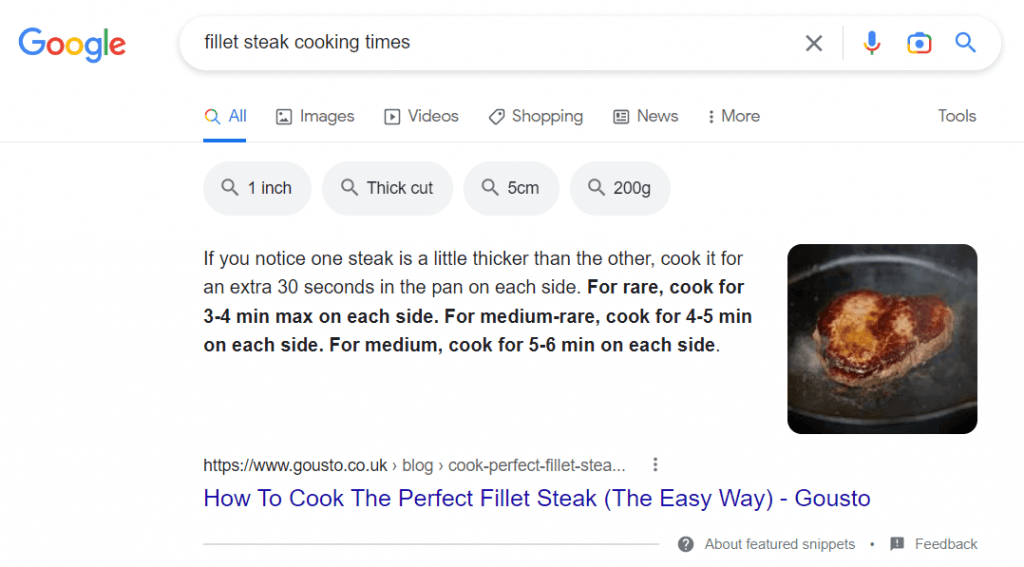 Gousto has a higher number of available recipes when compared to other brands and fully utilises the 'recipe' section of the website to generate traffic. Over 52% of ranking keywords (43,095 out of 81,700) fall within the 'Cookbook' category, and the vast majority (99.71%) of those keywords are generic.
Creating sub-categories targeting an array of cuisines, diets, occasions, and ingredient- and dish-specific allows Gousto to rank for over 5,000 generic keywords.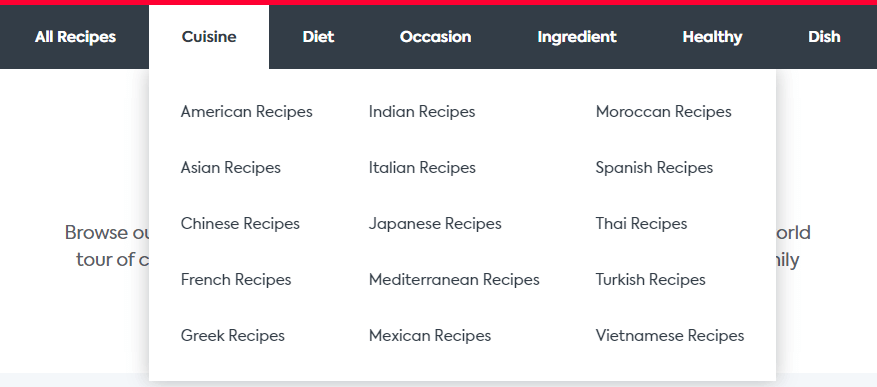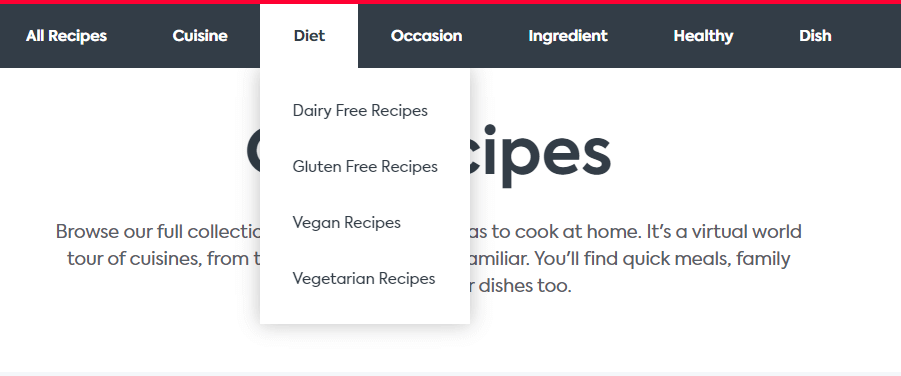 JavaScript enabled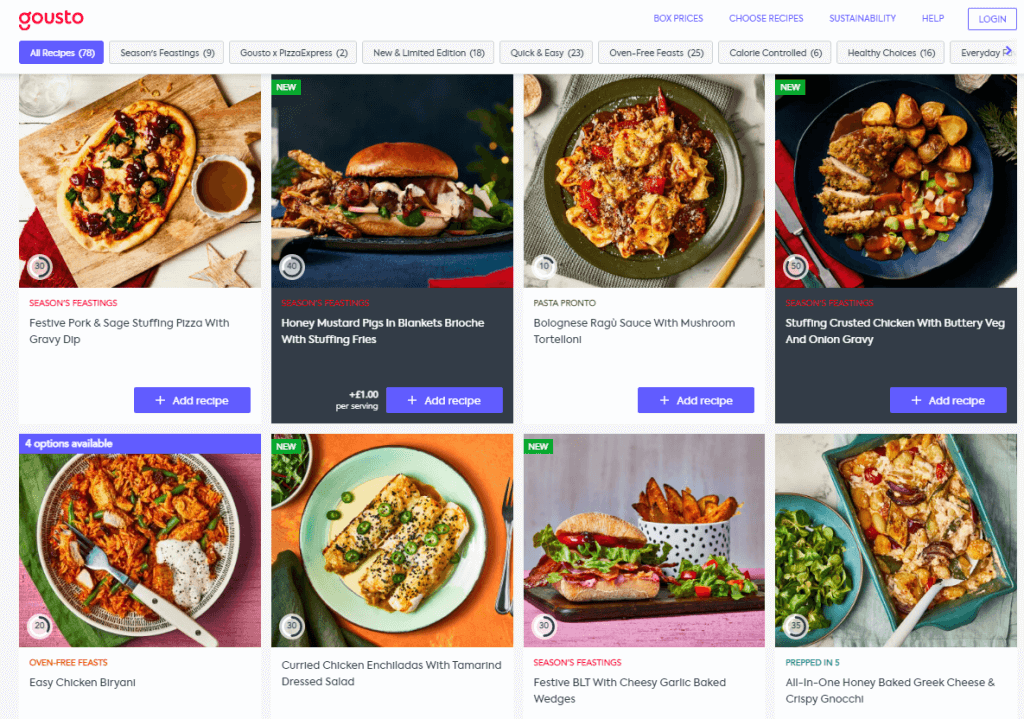 JavaScript disabled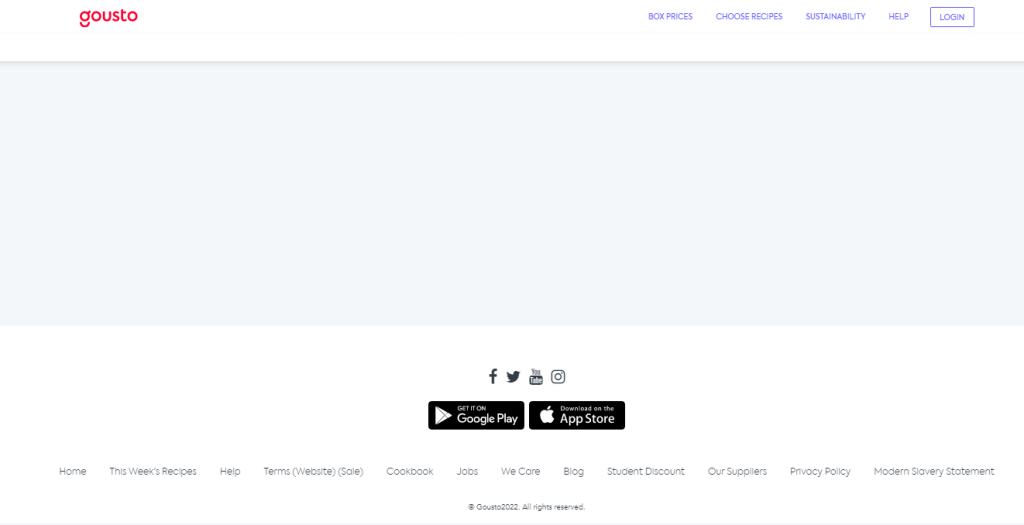 The Menu page fails to pass the PageSpeed Insights test mainly due to the impact of JavaScript resources. To improve user experience and potentially improve rankings, Gousto may need to focus on improving its Core Web Vital metrics to ensure these are within recommended Google guidelines and do not have a negative impact on users.

Mindful Chef
The company was founded in 2015 by school friends Rob Grieg-Gran, Myles Hopper, and Giles Humphries with the aim to give Britons access to local healthy produce. Recipes are nutritionally balanced, gluten and dairy free, and don't contain refined carbohydrates or sugars. The brand boasts of using British products — meat and poultry, sustainably sourced fish, and award-winning fruit and veg- to support British farmers and reduce their footprint across the supply chain. 
Mindful Chef is the official nutrition partner of the British Heart Foundation and an ex-partner of the English Institute of Sport. In 2018 Mindful Chef was certified as a B-Corp company and has been recognised as a company that meets high standards of social and environmental performance to transform the economic system. 
In July 2016, the company received investment from Sir Andy Murray and Victoria Pendleton as part of a £1m crowdfunding campaign. Three years late,r Piper invested £6m to support the company's rapid growth. Mindful Chef was bought out by Nestlé in 2020. It is the only meal kit subscription service to release a cookbook. 
Let's investigate how much organic performance contributed to the rapid growth of the business.
Currently, the website is visible for 29,400 keywords that generate 99,200 monthly visits on average.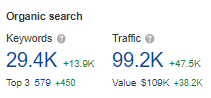 Similarly to the competitors, Mindful Chef's organic performance shows an upward trend with significant increases at the start of the year that correlate with consumers' desire to eat healthier.

The highest value of average organic traffic was registered in January 2021 (196,644), followed by January 2022 (195,778). Organic traffic was massively reduced between November 2019 and April 2020, then again between April and June 2021. 
The number of ranking organic keywords has been increasing, but not as linear as HelloFresh or Gousto. Over 42% of keywords Mindful Chef ranked for dropped off in December 2019, reaching a record low in October 2020 with only 2,234 visible keywords and just 33 keywords ranking in the top 3 positions. The website didn't really recover until June 2021, following a brand refresh at the start of the year.

Here is a visual representation of the fluctuation of keywords ranking in the top 3 positions. 

You can also see the movement of rankings in positions 4-10.

Here are the keyword changes beyond the 1st page in the SERP.

However, the highest number of ranking keywords on the 1st page of SERP does not translate into increased traffic as of November 2022.
Let's look into the ranking keywords to investigate the root causes of the weak organic traffic. Almost 90% of keywords ranking in top positions are non-branded, indicating that the brand does not rely heavily on branded keywords.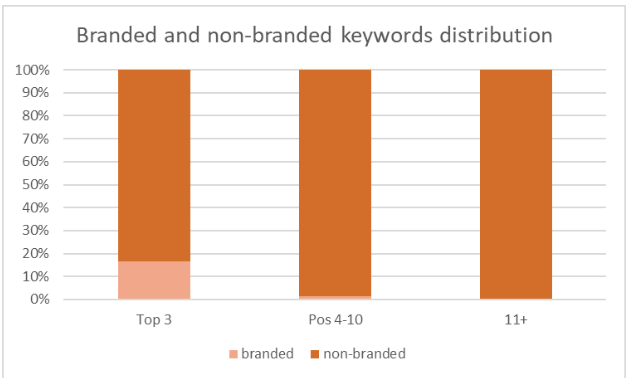 Despite branded keywords attributing only to just over 10% of keywords ranking in the most prominent positions, the Search Volume behind branded keywords accounts for almost 40% of total search volume, which brings almost 75% of traffic to the website.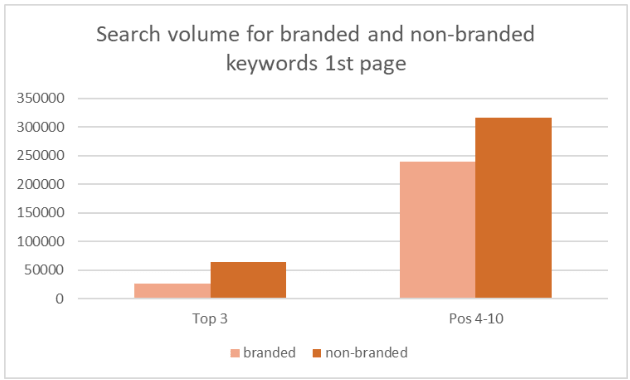 The brand can increase the traffic volume by targeting non-branded queries to lessen the reliance on brand awareness. Mindful Chef wants to differentiate itself from its competitors by being a healthy meal box provider, but the website lacks pages that could target gym bunnies, fitness enthusiasts and aspiring amateur athletes.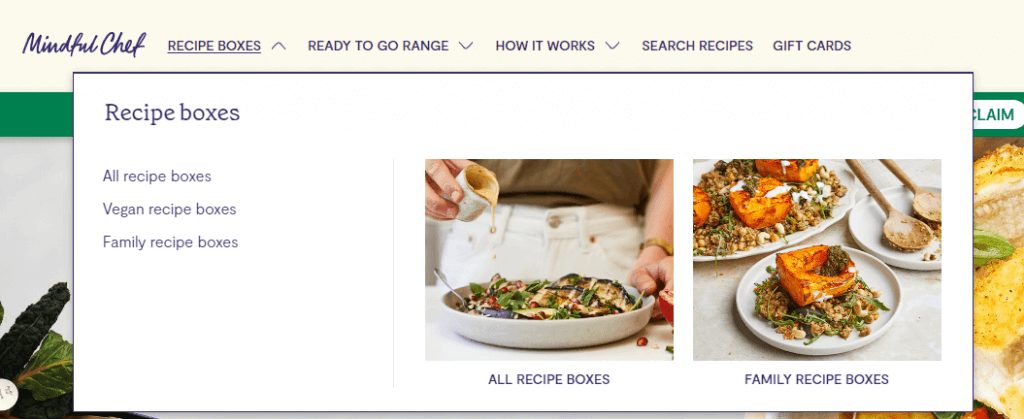 There's an opportunity to include more categories in the main menu and link to respective landing pages that could generate potential non-branded traffic, such as paleo, keto, or recipe boxes.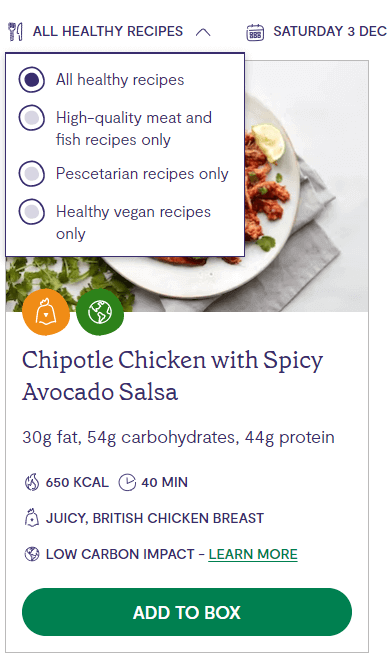 The already existing meal categorisation (currently implemented as a filter) should be linked from the navigation and have a respective user-friendly URL.
Final thoughts
Despite being visible for the highest number of organic keywords, Gousto's organic visibility does not translate into organic traffic.


As HelloFresh dominates the top 3 positions in the SERP (branded and non-branded keywords), the brand is able to generate more organic traffic.

If another brand were to enter the 'Meal Kit Subscription' scene, it may struggle to compete with HelloFresh or Gousto, especially if their SEO strategy is not a priority.