An SEO analysis of the US country wear industry
Boot Barns passed the billion-dollar revenue mark this year, primarily selling high-end western boots. This highlighted the industry's potential to accommodate larger companies and continue to grow.
The impact of the pandemic on retailers has also affected the country wear market. The drastic shift to e-commerce for all companies has emphasised the importance of sound search engine optimisation.
This analysis aims to evaluate how the industry has changed over recent years from an SEO perspective.

The growth in search volume from March 2020 onwards follows a sustained decline in volume. This shift likely occurred because most US states lifted the stay-at-home order from April to June 2020.
Country wear can mainly be categorised as outdoor wear, including cowboy boots and work pants. Therefore, the stay-at-home order will have played a significant role in the decline of search volume. We expected an increase in search volume following the easing of lockdowns, but this wasn't the case. Instead, there is a gradual increase in search volume.
To explore the market trend more comprehensively, I think it's necessary to look at the search topic "cowboy boot", as this is a product all analysed competitors offer.

Due to higher search volume of this topic, the trend is much less sporadic but does follow the trend. We can see clear seasonality, with yearly highs going into each December and lows in the summer. This suggests cowboy boots are likely a gifted present at Christmas, which is reflected in the price range. Boot Barn, one of the competitors we will analyse, sells cowboy boots ranging from$80 to $2,700.
The combination of expected seasonality and further relaxation of lockdown restrictions likely caused the five-year high in 2021.
Industry-wide SEO findings
For competitors to capitalise on this opportunity, their SEO strategy has to be a priority. Using a third-party tool (Ahrefs), we can see the keywords each website ranks for.
Comparing Boot Barn's branded vs non-branded keyword search volume, the keywords they rank for indicate that this industry likely has a large, long-tail set of available keywords. This supports the notion that well-implement SEO can be a significant traffic-generating opportunity.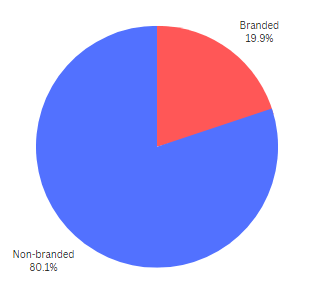 Taking a more granular look at the state of SEO in this industry, we can analyse which algorithm updates have affected performance the most. We used an internal tool to calculate the difference in organic traffic before and after an algorithm roll-out while considering changes to search volume.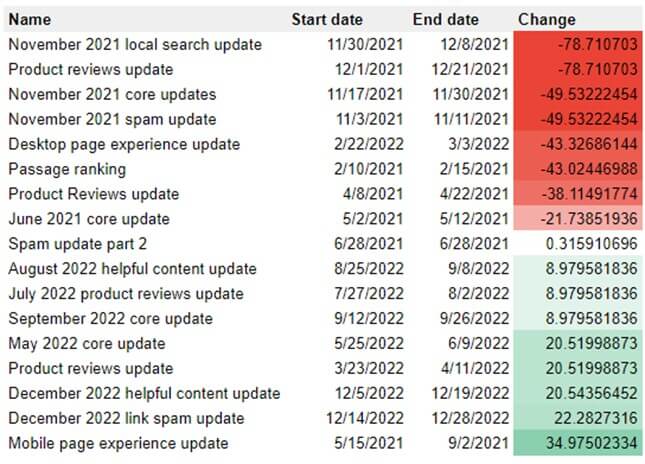 There are a few key findings from this, the first being that more recent product review updates have led to improvements in performance. Looking at the graph below, we can see the effect of each product review update has been positive in 2022. This is likely because competitors reacted to the negative effect on performance.

Secondly, the desktop and mobile page experience updates substantially vary in effect. This result is contrary to what was initially hypothesised, showing the mobile page experience update to have a positive effect. In contrast, the desktop page experience update has a negative effect.

Finally, the November 2021 local search update had the most significant adverse effect on organic traffic, indicating that search intent for the industry could be shifting locally. This theory aligns with what the typical customer journey would be.
Since most country wear products are clothing items, it makes sense that consumers will want to visit the store and try on items before making a purchase. Of course, the customer journey during the pandemic was different because customers didn't have the option to try on items. This required a shift in strategy to target new keywords or change site architecture.
We are now going to take a look at a collection of competitors in the industry, this includes:
Boot Barn
Sheplers
Country Outfitter
Cavender's
Buckle
Boot Barn
Boot Barn embodies the idea of the American West. Founded in 1978, it is now the largest country wear retailer in the US, operating 320 stores nationwide. The brand focus on supporting local communities and offer "a piece of the American spirit". This is done through its numerous product ranges targeting American cowboys, workers, outdoorsmen, adrenaline junkies, and fashion enthusiasts.
In the past year alone, Boot Barn has grown its top-line revenue by more than $595 million, reaching record highs of $1.488 billion. This could be due to a surge of backlogged consumer demand, pent up by the pandemic stay-at-home order. Lockdowns were followed by two years' worth of demand being released over the course of one year.
We can see the limited demand for country wear by looking at Google Trends for 2020 below. The growth nearly doubled in 2021, accounting for the previous year's decline.

Let's look at Boot Barns' organic traffic using Ahrefs. Organic traffic somewhat correlates to the number of organic pages. However, we can assume the trends and seasonality in search volume are a more significant contributing factor, as Boot Barns' organic traffic trends are relatively similar.
The organic traffic for the 2020 Christmas peak doesn't reach similar levels, and the following 2021 peak is much greater. We can put this down to uncertainty around pandemic lockdowns in the US.
Boot Barn has also dabbled in paid traffic, but its effect on organic traffic seems minimal.

Sheplers
Founded in 1899 as a saddle store, Sheplers, along with its 25 locations, was acquired by Boot Barn in 2015. Its product range has since changed, now offering cowboy boots for western wedding attire.
Like other competitors, Sheplers has been significantly impacted by the pandemic. Although, this aligns with their long-term negative trend, meaning it has only accelerated the inevitable. Starting in December 2017, this trend is responsible for eight-year organic traffic lows.
Paid traffic leading up to this negative trend played a significant role. The injection of paid traffic started in 2015 when Boot Barn acquired Sheplers. From this, we can assume Boot Barn also decided to make a cash injection into the company when the acquisition occurred. However, since this stopped in 2017, Sheplers organic traffic has continually declined.

Using the Wayback machine, we can compare Sheplers website from then to today. There are drastic differences in the overall website, suggesting there have also been changes to their SEO practices.

At the moment, organic traffic remains stagnant. It has remained close to 826,000 since March 2022 and has shown little change since we passed the December peak. However, this does not suggest an issue, because Google trends remains relatively stagnant compared to previous years.
In previous years, Sheplers dabbled in paid traffic, but this has gradually become less common and isn't significant enough to account for any recent organic traffic changes. Looking at organic keywords by top positions paints a relatively similar picture to organic traffic.
Country Outfitter
Country Outfitter, founded by an ex-physician and ex-lawyer who had never worn a cowboy boot, grew to $100m in annual revenue in 38 months. The brand categorises itself as a start-up. With robotic warehousing and Google ads, Country Outfitter has paved its way to being a key player in a competitive industry.
Country Outfitter found its initial success leveraging Facebook marketing, its internal e-commerce software, and internal warehouse management software. Doing so allowed the brand to grow from $100,000 million to $14,900,000m in six months. This was when paid media was still in its infancy, so there was less completion of ads. Consequently, bids were lower, and it was much more profitable than it is today.
Country Outfitter has since seen a decline in performance. We can see this by looking at Google Trends, as shown below. A lot of this is said to be because Country Outfitter didn't have a good connection to customers, unlike major competitors like Amazon and Walmart.

Looking at more recent metrics, we can see Country Outfitter no longer rely on paid traffic, likely because Google ads were much cheaper than they are today. Since June 2021, we have seen an increase in organic pages and referring domains, which could indicate the implementation of a new SEO strategy.

However, looking at the average organic traffic alone shows a relatively similar trend to the other competitors analysed — a gradual decline in traffic thanks to lockdowns, followed by an increase in traffic after restrictions were lifted.
Most traffic for the search term "country outfitter" comes from Wyoming. This is an important note because the following dramatic increase in organic traffic occurred after Governor Gordon announced a full state re-opening on March 16th.

Cavender's
Cavender's, a family ran business founded in 1965 and named the top retailer in the US multiple times, has an extensive history in cowboy culture. From reselling in 1970 to the Urban cowboy craze in 1980, when it comes to cowboy boots, they are a dominant force in the industry.
Average organic traffic shows a very similar trend to Sheplers. This could point to a greater cause for the 2018 peak than paid traffic. Cavender's organic traffic peaks in December each year, but only managed to make a new high in December 2021. Similar to other competitors, this will likely be because Cavender's products are purchased for Christmas presents.
However, traffic now remains somewhat stagnant. This could be due to the build-up and release of demand over the previous years. Having such high traffic during 2021 means that there is no longer any demand left in the market. This pattern of organic traffic aligns with Google Trends data, further confirming it is normal market behaviour and not an SEO issue.

Looking closely at Cavender's website performance, we can see referring domains significantly increased from November 2021 onward. This could signify an increased focus on SEO, with Cavender's implementing a link-building strategy. At first glance, it looks like that could result from the increase in website traffic. However, the growth of referring domains continues after traffic returns to normal levels.
Buckle
Buckle, like other competitors, also offers cowboy boots. However, cowboy boots only make up a small part of its product range. As its most expensive cowboy boot is $229.95, it's clear they target a different market. This is reflected in their header and menu options, shown below.
Placing a focus on price point and range, Buckle targets the mass market instead of a niche persona. This strategy has served them well. Growing from a single store in Nebraska in 1948, Buckle is now listed on the NASDAQ with 440 retail stores across the US.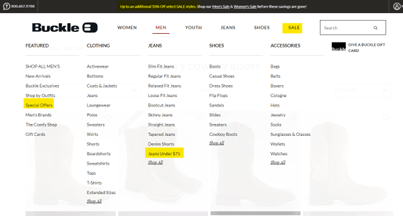 Buckle's average organic traffic is very similar to its competitors, with yearly highs in December, a decrease in traffic from December 2017 onward, followed by a new five-year high in December 2021. However, the organic traffic has continued to grow, even creating a new high in August 2022 and January 2023.
The increase points to the implementation of a good SEO strategy. We can partly rule out other marketing campaigns because the search volume for "buckle" has reduced drastically. If this surge in traffic were from another marketing campaign, it would likely cause an increase in organic traffic as well.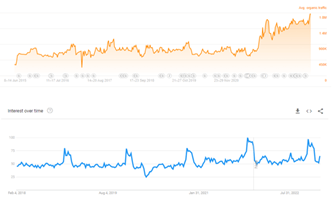 Some might argue it is down to an increase in paid media. However, this is minimal, and we can see organic traffic continues to grow once paid media declines. We can also look at organic keywords by position and see there has been a dramatic increase in 1-3 and 4-10 ranking keywords, providing further evidence it is the result of SEO.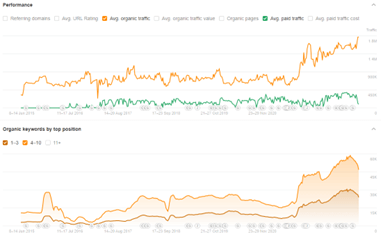 Final thoughts
To conclude this analysis, we need to consider the market's nature. As alluded to in the subsection regarding Country Outfitters, it is becoming harder for retailers to compete with Amazon and Walmart, and ultimately this may be a losing game. However, the aforementioned brands have the competitive advantage of being deeply rooted in American history and culture, meaning consumers are likely to still want to try the products from brands before they buy.
This nicely follows on to the final point. Looking at the impact the local search algorithm update had across this collection of competitors, it should be a core part of any SEO strategy in the industry. Customers still want to try on clothes before they buy, so the customer journey will involve searching for local stores. Thus, retailers can still have a competitive advantage over online giants using SEO.