6 Tips for creating a holiday content strategy
There are many unpredictable factors these days – in life, SEO, content, you name it. But what is a given is that the time will pass, and the next holiday is just around the corner. If you want to be tactical and strategic about your holiday content, you need to make the most of your festive content from a search perspective.
Whether you are looking to produce content for Valentine's Day, Easter, Halloween, or St Patrick's day, here are some top tips to apply to your holiday content strategy.
1. Predicting holiday search trends
As most holidays happen every year, you can use your existing holiday content performance data to your advantage. The analysis stage is the first step in gauging the overall search situation.
It may have been a while since the last holiday period, or you may have never done a holiday content strategy before. Now is the right time to do your research and refresh your memory. Look at your existing content's performance, diagnose any ranking drops, and audit competitor content to identify any gaps you can fill this year. 
Carry out a Google Analytics content audit, and use tools such as Google Search Console for your own holiday content's performance. Use Google Search Trends and Mangools search trend graphs for specific target keywords in your target market to see the overall search trends over the last few months or the past couple of years.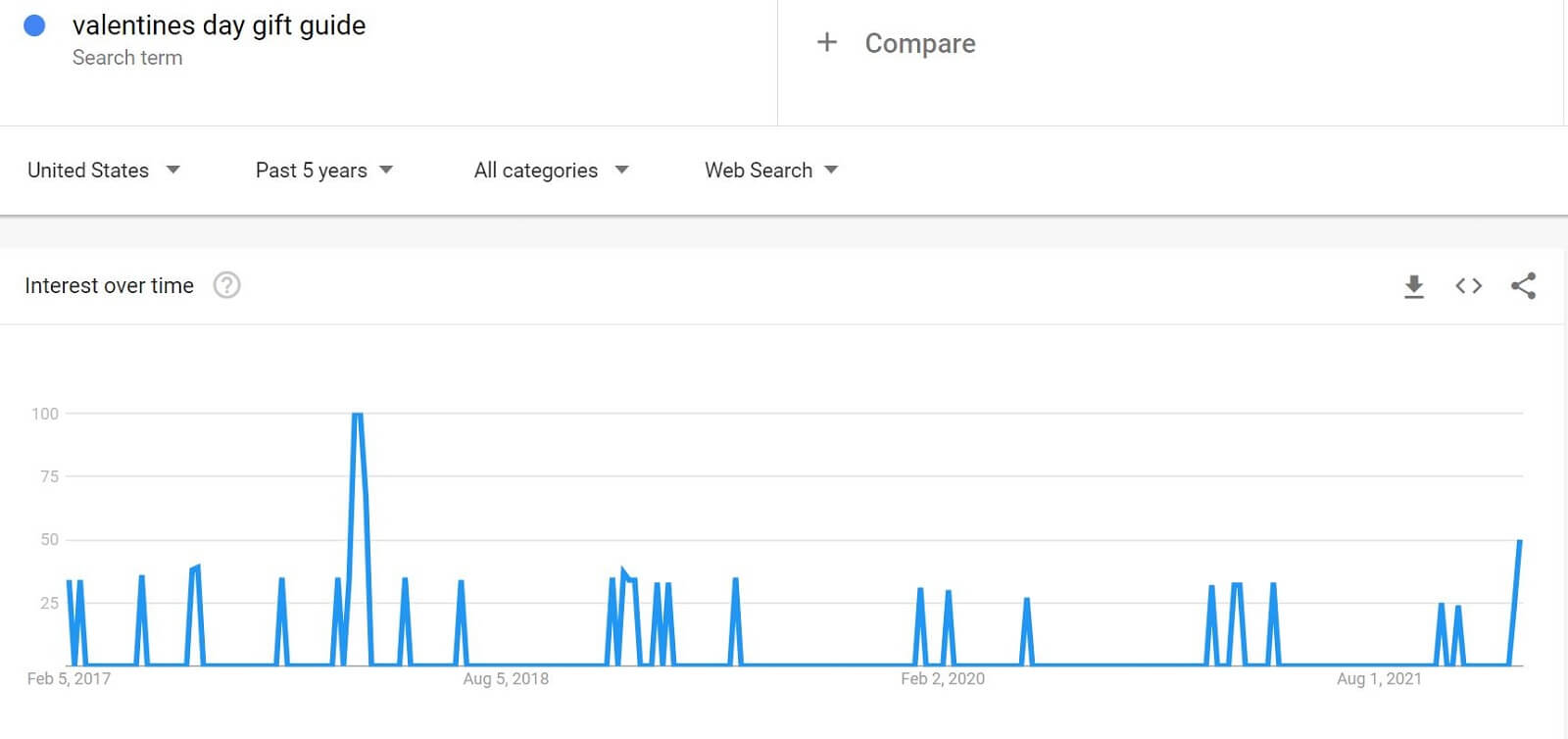 The trend data will also help you create your holiday content calendar and ensure your content publication is done smartly. This will allow you to have your content ready and ranking for users when the search volume starts to pick up ahead of the holidays, allowing users to find your content when they need it most.
As the above example suggests, users are searching for Valentine's Day gift ideas well before the shops have even put out chocolates and heart-shaped balloons. The same goes for Christmas gift ideas.

You can assess if the existing content reached expected levels of organic traffic. It's also worth reviewing the content performance in correlation with the search trends and determining if you could have published the content slightly sooner to profit from the holiday spike in search volume even more.
Alternatively, if something did not perform as well as you thought, be critical and constructively review it. What can be optimised for next time? Is there an aspect of the holiday not covered in your content? 

For example, if you run an online home décor store, the beginning of the year would be the perfect time to publish your Easter gift guide with strategically placed product and other internal supporting content links. The aim is to have the content published, indexed, and competitively ranked on search engines for when the monthly search volume increases.
Look at the various types of holiday content you previously produced and how these categories compare to organic performance. Were your holiday sales or promotion blog posts a hit? Or the informational long-form blogs not so much? Should you focus your efforts on one or multiple content types? 
Depending on what you have been producing over the years, you may have more than a year's worth of holiday content performance records to go through and analyse to predict trends and see your holiday content's strong and weak spots.
Look at each blog individually and carry out micro-optimisations where required. 
2. Keyword research for data-led holiday content strategy
Once you have gotten an idea of what content has done well and what hasn't in the previous holiday season, as well as analysed the keywords from other search result scrapes, it's time to conduct updated keyword research for your existing tracked keywords. You should also identify any new keywords that have emerged in the search and get an updated monthly search volume in your target market. 
Use tools such as Mangools and Ahrefs to find various keywords. For example, Mangools offers users to export question-form and semantically related keywords. 
On Ahrefs, you can conduct keyword research for specific funnel levels. ou can create a separate holiday content strategy for top-level topics by filtering keywords by monthly search volume or reducing it to identify long-tail keywords or keywords that are just starting to gain traction. 
3. Getting holiday blog post ideas
If you find yourself struggling to come up with holiday blog post ideas or have not seen the desired engagement with the previously produced content, look at the various SERP features on Google and what strategic content opportunities they can offer.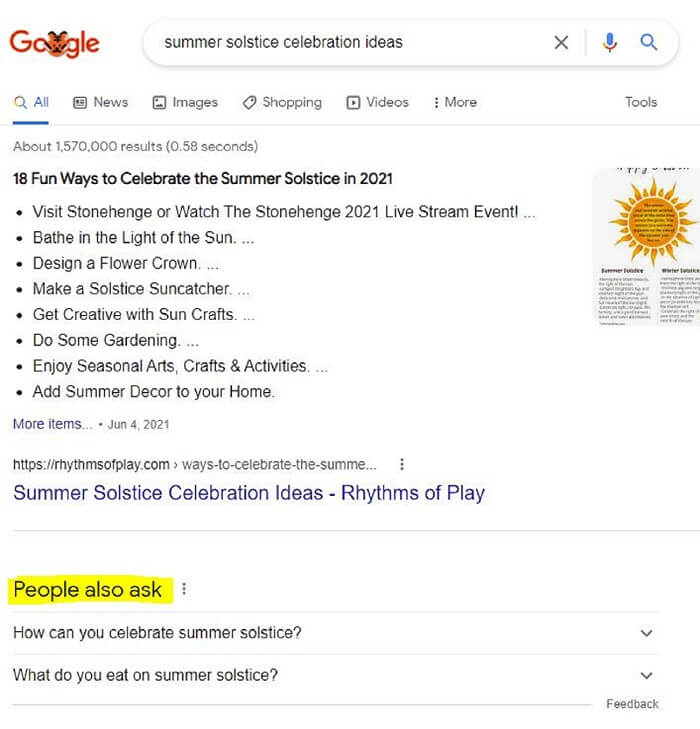 For example, look at search results such as People Also Ask (PAA). This section contains other relevant and related questions users have typed in the Google search bar. 
These questions can be scraped using third-party tools to pull information such as:
The question and the displayed answer

The URL of the page the answer was found on

Other keywords that this PAA question is also shown for.
Use this data to produce dedicated holiday FAQ content or consolidate these questions in long-form content such as blogs or guides. Informative, high-quality, and concise answers to commonly asked questions can be rewarded by Google with rankings in the People Also Ask drop-down box. 
Using third-party tools also enables users to export similar data for other SERP features, such as Featured Snippets, which can also be used to form a part of the content strategy.
4. Various types of holiday blog content
When assessing your own blog content and your competitors', look for various types of content and its performance. You can use search tools such as Ahrefs to see what keywords the content is ranking and their monthly search volume.
Depending on your industry and business model, you will likely come across several types of holiday content:
Holiday guides 

Holiday 'how to' articles

Top tips 

Thought leadership content related to holidays

Infographics

FAQs

All these content types offer opportunities to reach your organic search goals. 
5. Have a goal in mind for all content 
Once you have your potential holiday content ideas for various types of content, such as blogs, FAQs, and guides, make sure to log it all in a master spreadsheet. 
This will allow you to categorise your ideas and target keywords by various factors, such as:
Target audience

Target buyer persona

Funnel stages

Search intent
From this, you can quickly identify any content gaps, audiences, or personas your content doesn't target. 
Keep in mind these goals when strategically briefing and producing the content. 
Using top-level keywords with a higher search volume, for example, will create brand awareness, but more long-tail or niche keywords with a lower monthly search volume might be best for converting leads.
Having specific goals will make it easier to measure performance once your content has been live for a specific period, or when the holiday season has been and gone.
6. Make your content visually appealing
Adding images, graphs, or embedded video files to your holiday content will capture the readers' attention and provide an opportunity to rank the content in SERPs, allowing you to shoot two birds with one stone.
 For example, image files optimised for search engines will have a higher chance of showing up in image search results and image packs. The same goes for video results.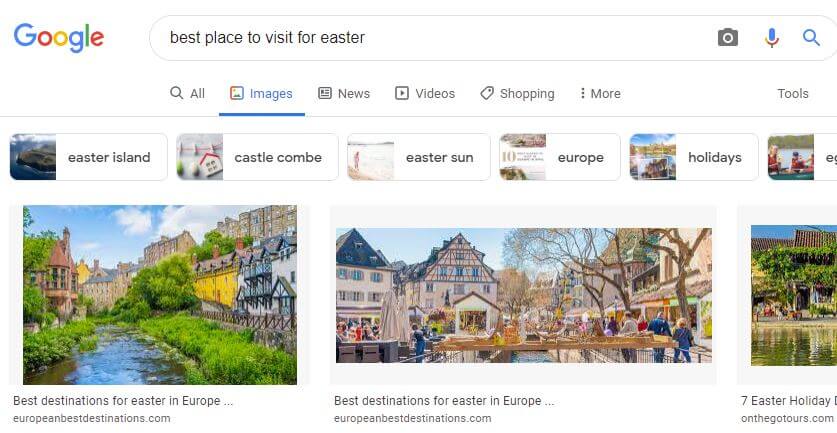 To optimise the images, include them in your holiday blog content and make sure they contain alternative text and image captions. Machines are intelligent, but unfortunately, Google cannot read what is written or shown in the image, so the captions are essential for your images to perform well in image search.
Set regular performance reviews once your holiday content is strategically mapped out in a content calendar with clear goals and organic traffic and conversion targets.
Make sure also to check the SERPs to see what results Google is displaying for all of your target results, as keyword interpretation may change, which may require you to adapt your holiday content accordingly. 
Best of luck with your holiday content. Remember that the same principles and strategy can be applied to other content strategies, such as targeting specific business verticals or buyer personas or covering a topic with a series of blog posts. 
If you are interested in planning for the Christmas holidays, we have plenty SEO tips for the Christmas holidays.  Alternatively, if you are struggling to write great content, you should read our guide to copywriting.