How to conduct a Google Analytics data-based content audit
You have probably heard of evergreen content; the type of content defined as being relevant, engaging, and that generates large amounts of traffic for extended periods.
However, just because an evergreen piece of content gets lots of views, it does not mean that it meets the demands of your audience.
With that in mind, we suggest using a data-led route to content crafting, basing your content strategy in Google Analytics insights.
For a cost-effective approach, measure the performance of your existing content before investing time and budget in new material.
Customer retention
A content audit will help determine if the content on your site is contributing to your business.
Of course, the purpose of content marketing is not only to attract new website visitors, but to make them loyal, provide value, and convert them.
The focus should be on retaining website visitors, as according to SignalMind, acquiring new customers costs at least six times more than keeping current ones.
Furthermore, having 5% growth in loyal customers increases profitability by 25% to 95%.
To have a consistent and increasing traffic flow to your website, however, you must conduct periodic content audits.
A manual review will help you understand the state of your content on a top-level basis.
However, using data-based performance reports, such as ones automatically generated by Google Analytics, or tailor-made ones in Google Data Studio, will give you precise figures and an understanding of how your content is working.
Performance can be tracked on an overarching website level, by author, category, topic, form, and by many other metrics.
Content performance reports
A comprehensive content audit will lead to an effective content strategy and will enable you to achieve a higher level of performance.
There are four highly informative reports that Google Analytics can produce for your selected time frame, showcasing the correlation between the nature of content and traffic, engagement, and conversions.
Strategic content marketing is especially essential for SMEs and freelancers limited by time and budget constraints.
Let's look at six months of reports using dantaylor.online as an example.
Landing Page report
This report shows which landing pages, content categories and topics are the best performing in terms of traffic, views, time on page, and other metrics.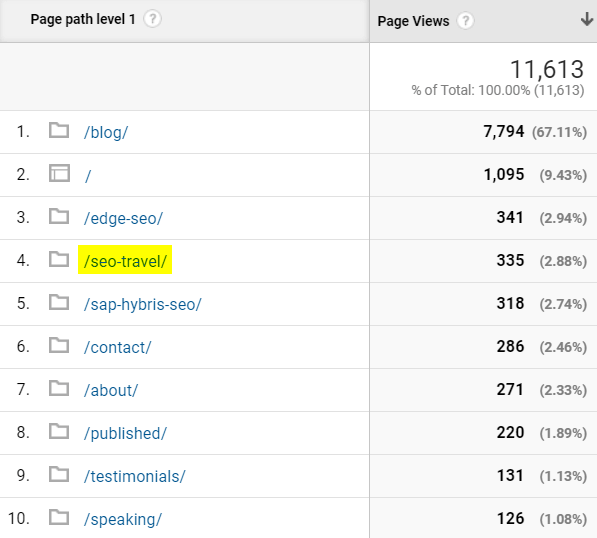 As we can see from the image below, more than a fifth of the most visited landing pages are related to SEO for the travel industry.
It would, therefore, be essential to include relevant topics in the content strategy moving forward.
If implemented correctly, this should further improve customer retention and increase traffic flow.

New vs. Returning report
The new vs. Returning report shows audience retention.
Currently, Dan's website has a very high rate of new visitors, and one in every ten visitors has already visited the site sometime in the past two years.
If this happened to be an e-commerce site, to increase the returning visitor proportion, webmasters could incentivise first time users through discount codes.
Similarly, online magazines and bloggers can offer newsletter subscription services.
Let your audience know why they should be coming back for more content.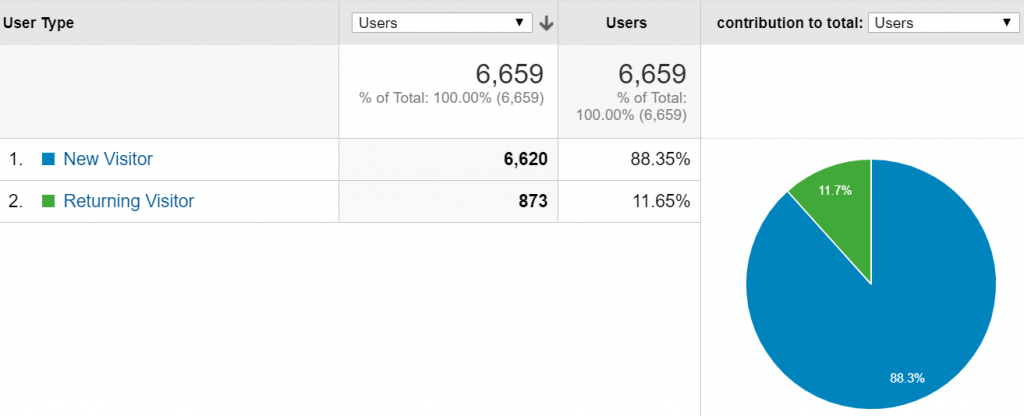 Site Search report
If your website has an integrated search function, the site search report will show what users have been looking for while on your site.
This can be used as a good guideline for what you should write more about or what are the gaps in your content.
Consider creating relevant content to answer your audience's demand and optimise existing content with the new keywords.
Behaviour Flow report
This report informs about pages with the highest number of sessions and pages that have led to conversions, subscriptions, and other landing page visits and interactions.
In this example, we can see which content has higher levels of traffic, and which page has led the user to seek out the author's contact details and client testimonials.
Using the behaviour flow insights, you can pinpoint which landing pages, and therefore which content, needs fixing to further determine the pain points.
Once optimised, the different landing pages should gain more interactions and, potentially, conversions.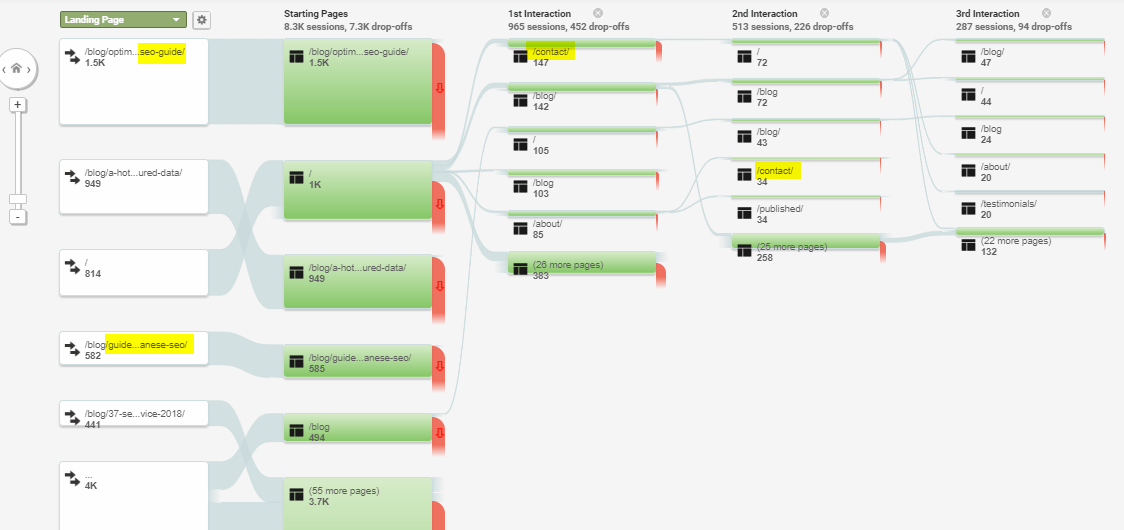 Additional demographic and acquisition metrics
Identifying your audience will allow you to write content directly to the reader, so knowing your audience's demographics, such as age, interests, and country, will enable you to write more targeted content.
Audience
As we have just seen, three of the highest performing content pieces are SEO guides for travel-related topics.
This means that a strategy around SEO oriented travel topics should be created for any new content strategy.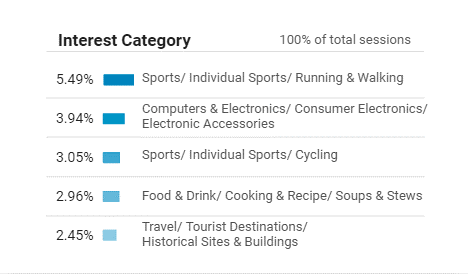 As the statistics above indicate, the audience is even more interested in sports, consumer electronics, and food.
There are high chances that content like "SEO Marketing Guide for Sports Industry" or "The ultimate SEO Consumer Electronics Marketing handbook" would perform well and could generate high volumes of traffic for the site.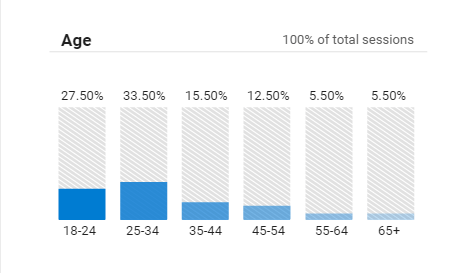 Regarding age, we can see that many people aged between 18 and 34. This can be useful information to have when planning and creating content.
The millennial age group can be captivated through language, cultural references, and compelling and relevant topic choices.
Devices
Looking at the desktop and mobile ratio in Google Analytics, you will most likely see that the mobile usage is up, meaning it is vital to make sure your content including images, videos, social sharing options, is mobile-friendly.
Channels
How are users finding your content? In our example case, much of the traffic comes from organic search, 15.6% of users access the website directly, and 7.75% of visitors have come from a social platform.
This shows that promoting content via social channels is proving an effective way to send traffic to the website.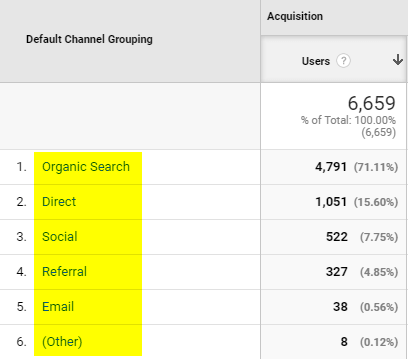 Demographic data will allow you to profile your target customers.
Using this information, you can determine:
User traits.
What appeals to these users.
What sort of UX they prefer that makes them stay longer on a page.
What makes them return to the site.
What makes them convert.
Content optimisation and strategy restructuring
Where do you go from here?
Firstly, delete content that no longer aligns with your site.
You should also review and delete content that is not up to standard; as quantity does not equal quality.
Think twice, however, before you do it, as it might also be possible to optimise old content.
Create a content strategy that splits the existing content into four categories – leave, create, merge, and optimise
Content that is receiving significant traffic can serve as an example for other content and this can be labelled as leave.
You can manually go through this content and pinpoint key elements that might have been driving traffic and engagement.
Are there any common themes among the best performing content?
Once you have located gaps in your content through the Site Search Report, and perhaps additional competitor research to generate new content ideas, you can compile new topic or category ideas in a create folder.
Include these in your content strategy.
If you find that there is a content overlap, before deleting anything, see if the content can be consolidated — label this under merge.
Pinpoint which content has the potential to be better, label it with optimise.
Your audience can provide free insights too — consider adding a search function to your website to see what users are looking to find on your website.
Prioritise the categories, create an action list, and start tackling it one by one
To optimise your content, you might want to investigate adding different keywords, merging content, or expanding on short-form blogs to turn them into informative long-form guides.
Equally, image and video optimisation can improve content quality and performance.
The above metrics and reports should be informative enough to give you an in-depth understanding of what needs to be done to improve your content, search performance, and user engagement.
As Google's own Webmaster Trends Analyst, John Mueller, said:
If you're aware of low‐quality pages on your website, then that's something I'd try to fix and find a solution to, be that either removing those pages if you really can't change them or, in the best case, finding a way to make them less low‐quality and actually making them useful.
Want to know more?
If you'd like to know more about content strategy, and how SALT.agency could help implement a comprehensive content strategy to aid your organic search campaign, check out our contact page.