Five Ways to Improve your iGaming SEO by Optimising Content
In my last blog post about iGaming SEO, I discussed a few ideas to optimise existing content for gambling brands.
But what if, as an iGaming brand, you don't already have much content to support your product and landing pages?
If you've previously relied heavily on PPC, affiliate marketing, or lead generation to acquire first-time depositors, but want to reduce the cost of user acquisition, you may want to consider targeting organic traffic.
There's no denying that SEO is a long-term strategy, but if you plan it out correctly, it is possible to start generating relevant iGaming traffic.
In no particular order, here are some SEO strategies to help you start generating organic iGaming traffic to your website.
Branded keywords
From a brand perspective, your most important keywords are the ones related to your brand. If people are already using your brand name on search engines, then they know you exist and are showing intent on finding out more information.
In fact, affiliate websites know the value of these branded keywords, and will often try and rank for branded keyphrases.
These key phrases usually include the brand name plus a modifier. Some examples being:
[Brand Name] + Offer
[Brand Name] + Sign Up Bonus
[Brand Name] + Scam
[Brand Name] + Review
Although this is by no means a comprehensive list, I have offered two scenarios here.
The first two modifiers – 'offer' and 'sign up bonus' – both show strong sign-up intent. If you can rank well for these keywords and produce a good landing page, you are likely to see good conversion rates.
The latter two keywords – 'scam' and 'review' – show similar intent, albeit less commercial. While you may not want to create targeted landing pages specifically for these keyphrases, producing high-quality content across your site will naturally help to alleviate any concerns shown with the keyword intent.
While there is overlap between SEO and good UX here, ensuring great overall website design, that is easy to use, allows users to find key information, and displays core security features, will help minimise any negative connotations with your brand.
To find your branded keywords, simply use a keyword tool to find a list of all relevant keywords, search volume and any trends that are present.
Manually check these keywords to see the results who are ranking in positions you wish to be present. You should also inspect what content they are producing to do so.
There is a high probability that you will rank well for any branded keywords if you produce relevant content.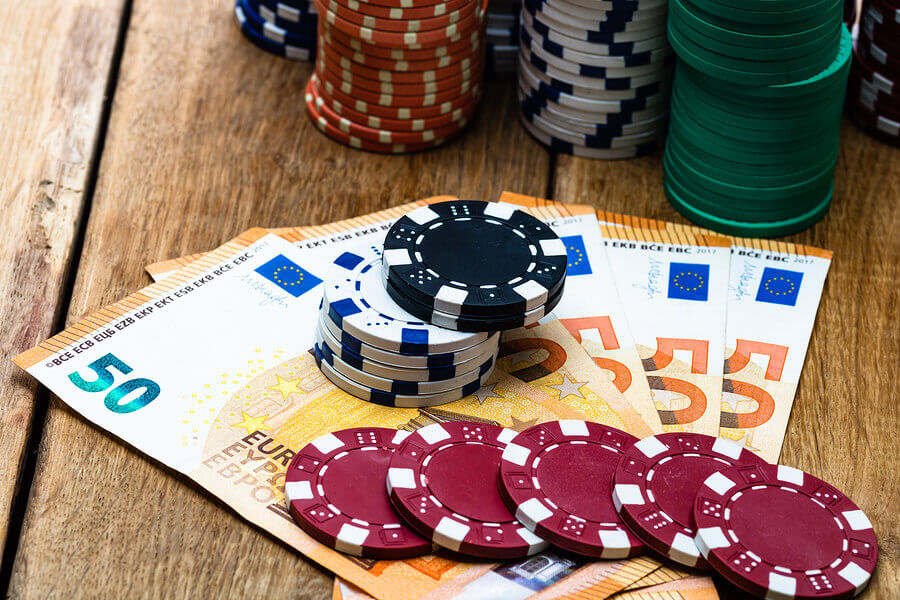 International content
These days it is uncommon for iGaming brands to be operating in more than one geography or language.
While your TLD may be a good indication of the countries you are targeting, this is not always obvious and doesn't ensure your content will reach your target audience.
For example, your English written content may be relevant for both UK and US audiences. However, if you are referencing pounds or dollars as the currency, for example, you would need different content that is accurate to each audience.
However, if you have two or more target audiences that speak different languages, you will need to ensure that content is translated. Although this an obvious observation, ensure that the translation is correct and relevant — it is far too easy to identify where poor translations have been executed.
Once you have translated versions of content, it is important that these pages are marked as translated versions of one another to ensure no issues with duplicate content and the right content targets the correct geographies.
To do this, you need to correctly implement hreflang. Luckily, my colleagues have recently written about this and have also made a free tool available to help you do this for yourself.
Long-tail keywords
When planning a keyword strategy, considering more than just the search volume is important.
Core iGaming keywords such as 'online gambling' or 'play slots online' receive massive search volume but are incredibly competitive.
By looking into long-tail keywords, you will find that the search volume decreases, but the words used are less competitive. This means it is more likely that you will manage to rank on the first page and generate organic traffic.
For example, if your brand focused on 'online poker', this keyword would be incredibly relevant. With a keyword volume of ~60,000, this would generate a lot of traffic. However, the competitiveness of this keyword is so high, that you would struggle to be found.
However, if you looked at some long-tail keywords such as 'who is the best online poker player' or 'how does online poker work' the total volume of these two key phrases totals less than 500.
And although the volume is low, and probably not entirely relevant to your brand, lots of long-tail keyphrases can gradually generate search volume and build relevancy to your overall topic.
Once you start ranking for more long-tail keywords as part of a properly integrated content strategy, you are likely to notice better results for more generic, high intent keywords.
Featured snippets
This section is related to both your content and your long-tail keywords.
For many long-tail keywords or keyphrases, Google and Bing are now showing more and more featured snippets.
Featured Snippets are designed to quickly provide the information to search queries, taking information from relevant websites and displaying it in an expanded search result.
A good example of an iGaming featured snippet is below: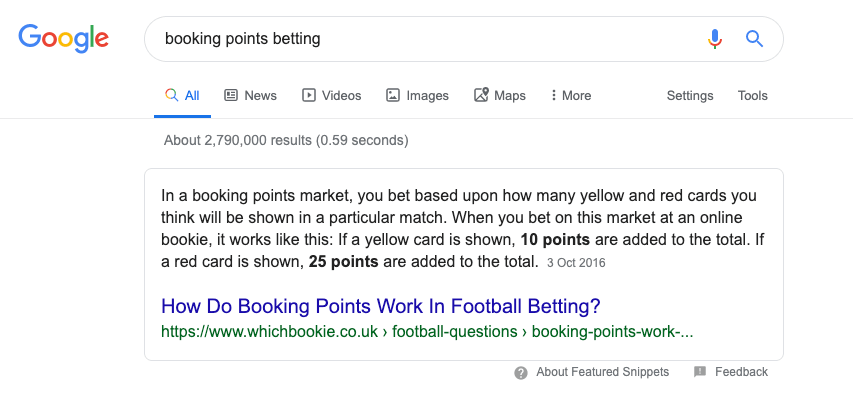 The search term 'booking points betting' is a non-branded keyphrase which is relevant to companies offering betting on the number of yellow/red cards per football match.
For the result in the above example, this site in question is an affiliate website which offers a comprehensive page of content relevant to the search query with affiliate links to relevant online bookmakers.
But there are also branded examples of this too. Here's an example of a featured snippet for Skybet Booking Points: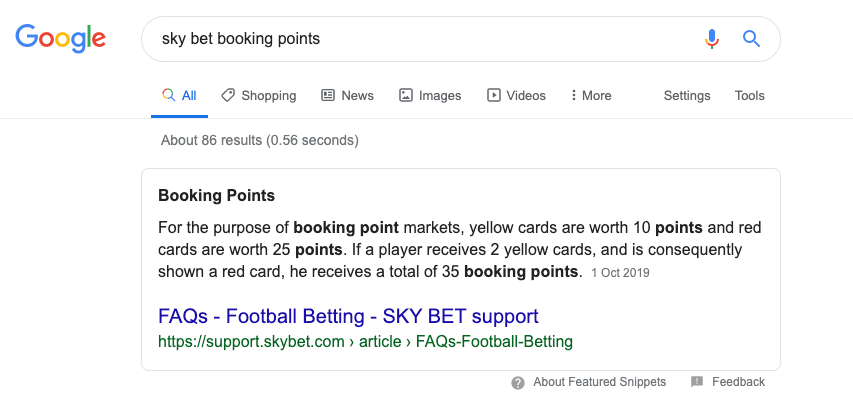 The point is that featured snippets are likely to receive a greater proportion of traffic due to their prominence on mobile and desktop devices.
And you can even get a featured snippet without being the top search result.
If you are writing content, make sure to check out opportunities for featured snippets. You can usually obtain these enhanced search results by spending some time optimising your content structure.
Luckily for anybody reading this, I have already written an article on best practices to obtain featured snippets.
Internal linking
As you produce a host of new content, naturally, topics will start to overlap with one another.
This is not usually an issue as long as two separate pages don't have too similar content, but it does make a great opportunity for internal linking.
Internal linking helps search engine robots crawl your site, which allows for search engines to better understand the architecture of your site. Choosing relevant anchor text for internal linking will also add context to the connection between pages.
Internal linking isn't just for robots, however. Internal linking helps your site visitors better navigate your site and discover more information.
This is particularly useful when you produce a host of non-commercial pages but can utilise them to link to high authority or commercial pages.

Above, is an example of internal linking from the William Hill news pages. In the above article, the brand includes an example of an internal link to a commercial page — a link to a football betting page.
Conclusion
SEO for iGaming brands is a viable strategy if you are looking for a long-term marketing alternative to cash-heavy methods such as lead-gen or PPC.
For the majority of iGaming brands, there is an opportunity to improve their SEO. Unfortunately, many brands lack long-term vision and the ability to plan and implement any sort of strategy.
While the tips mentioned in this article are by no means comprehensive of a thorough SEO plan, they do show how simple it can be — yet many brands struggle to get the basics right.