Preparing your iGaming SEO strategy: Leave gambling to the punters
Whether you are partial to the odd flutter or not, gambling is big business around the world.
Over the last 10 years, the online gambling industry for the UK has grown 173%, with an estimated 32% of the UK population now gambling every week.
In fact, for the period of April 2017 to March 2018, the remote sector (online betting, bingo and casino) market was responsible for contributing £5.6 billion; 38.8% of the total GGY (gross gaming yield) to the GB gambling industry.
With the growth of online gambling showing no signs of slowing, new players are lured by the ever-expanding range of games available to play. And with even more gambling operators getting involved, competition is high and player loyalty is low.
To counteract this, big brands are willing to commit large budgets to their marketing activity, with advertising budgets spent on lucrative sponsorships, on and offline media, and PPC and affiliate traffic.
An example of this is from Ladbrokes and Coral, which became the UK's largest gambling company after merging in 2016. In 2018, the brand spent an estimated £15 million on marketing, which helped drive almost £3 billion in revenue.
And are the branding efforts helping SEO efforts?
Definitely.
Ladbrokes is receiving an average of 1,500,000 monthly searches from the UK alone, with Coral receiving slightly less at 1,200,000 UK monthly searches.


So, for new brands that have yet to build consumer awareness from their brand name alone, using SEO remains one of the best methods to start generating traffic.
Implementing SEO on a gambling site is similar to any other website, but there are some slight differences.
Optimising search results
Starting with the basics, a properly optimised title tag and meta description can help you stand out in the congested SERPs that are full of similar offers and plenty of paid ads.
Here are two results for the popular keyword "football betting":

The above screenshot shows a search result from 10Bet and features a rather generic meta title and meta description, with no real issues from an SEO point of view.
However, the reason for highlighting this as a generic example is obvious when comparing to the below screenshot:

The Paddy Power search result is an example that includes sitewide links as well as additional links to daily betting events.
So how does this work?
This is an example of a rich snippet that utilises schema to provide more information than a 'standard' URL would.
By using schema markup specifically designed for "SportsEvent", Paddy Power is including basic data about the match taking place with a URL to the specific betting page. A screenshot shows how simple this is:

The site is not providing any new or unique event information to Google, but it is linking its URL results to these events, which is deemed useful to search intent.
And it's not even the operators getting involved with rich snippets; third-party operators and affiliates sites are too.

This above listing for "Casumo Review" features a host of rich snippets, average ratings, author markup, and sitewide links.
In fact, it has structured data markup for more than just that, with an extensive list: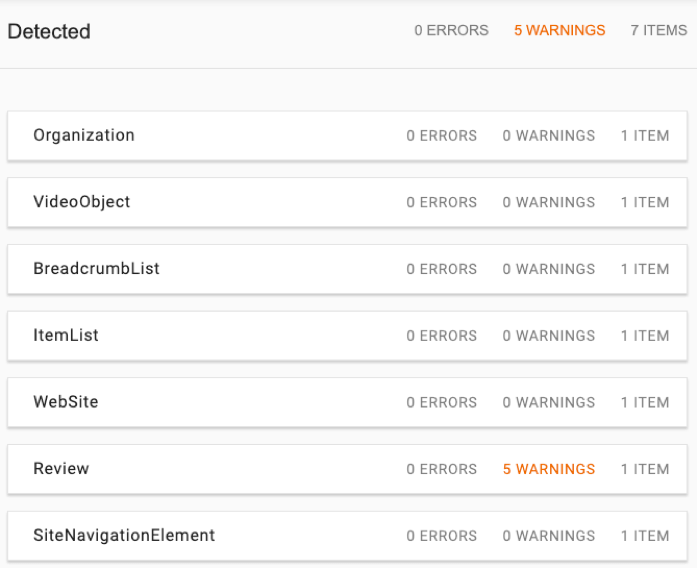 These two examples use Schema to generate their rich snippets, although implementation does not 100% guarantee rich snippet results.
By ensuring that you have schema implemented on as many relevant pages as you can sitewide, however, it is more likely that you will start getting featured.
Relevant landing pages and CTAs for your keywords
Typically, a landing page might be perceived as being the first page that a visitor enters your site.
However, from a marketing point of view, a landing page should be defined as a dedicated entry page that is specifically designed for conversion in mind.
An example of this might be giving away your best promotions and deals to new customers as an acquisition incentive:

This is an extremely common tactic implemented with ads, showing limited on-page actions such as 'play now' or 'login'.
Alternatively, you might want to offer a re-marketing promotion to existing customers who haven't played for a while: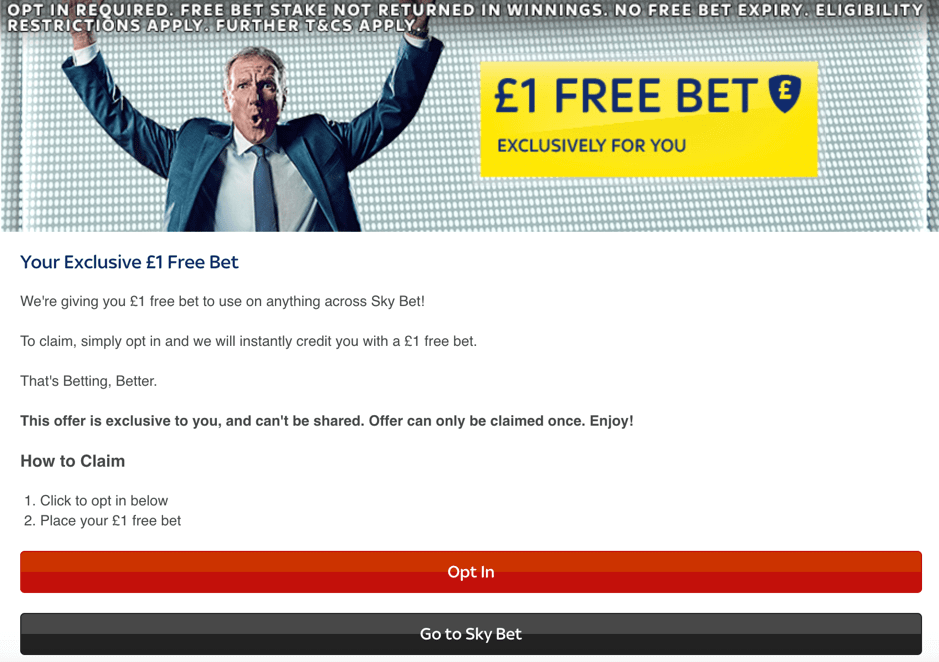 The benefit of landing pages is that you can funnel specific offers and promotions to specific audiences.
While landing pages are often associated with direct or paid traffic, pages generating traffic through organic search should also be optimised.
Using strong CTAs, you should be looking at giving visitors a reason to convert; whether that be a sale or permission to contact them directly in the future.
Examples of CTAs on blog pages include the following examples from two of the UK's biggest gambling firms:


Although they are present in a slightly different format, the banner and text links can help funnel traffic from blog posts and news stories to a commercial page.
As part of a digital marketing strategy, getting as many visitors to your commercial pages may be your priority, but creating content around informational keywords with non-commercial content can widen your reach to 'top-of-funnel' visitors.
Giving your visitors a non-financial commitment to visit your site will likely increase your traffic, with strong and relevant CTAs likely to convert a small percentage of this traffic.
Website speed of gambling websites
In a world where Google recommends optimising for mobile-first, making sure your site is fast enough to load — regardless of the device — is crucial.
Often casino and gambling sites fall foul of site speed benchmarks due to their high usage of images and Javascript/CSS, which is used for the strong interactivity and multimedia focus that gambling websites often feature.
However, iGaming webmasters can use the audit tab of Lighthouse Developer Tools, which gives a quick overview of the strengths and weaknesses of a site, with recommended actions included.
Randomly picking four of the top UK gambling sites, the average Lighthouse speed performance score is reported below:
Skybet.com – 100
Betfair.com – 73
Galabingo.com – 88
Betway.com – 96
However, not all sites are getting it right.
The below screenshot has been taken from the Lighthouse speed audit results for UK based site mrplay.com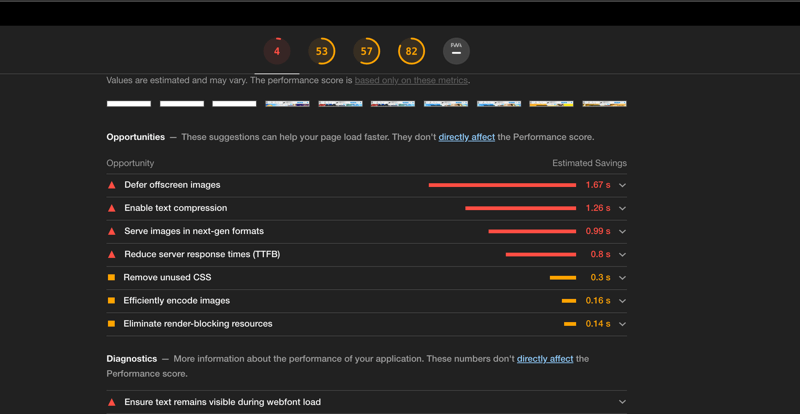 An analysis of the results shows that there are some issues with slow loading times that could be impacting the overall site SEO.
With image-heavy websites like this example, choosing to defer images that don't appear above the fold with lazy-loading is a possible resolution.
As a user scrolls further down the page, new images will only start to load as they become visible in the user's viewport.
With images, not only will lazy-loading help, but making sure that all images are available as next-gen image formats such as webp, will cut down on the total file sizes.
Alongside images, unnecessary or unoptimized Javascript can cause similar issues with site speed.
Working with a developer to improve Javascript performance is not only best practice but can work wonders for site speed and hence impact SEO efforts.
Getting authentic backlinks to your Site
Alongside the adult or pharmaceutical industry, getting backlinks to gambling sites is probably among the hardest. Webmasters are cautious of linking to gambling sites due to their perceived association with spam.
Yet, the big brands can rely on their brand name to naturally pick up backlinks. This is commonplace where news stories include links to well-known brands for odds news stories or popular national events such as the Grand National or even the winner of I'm a Celebrity.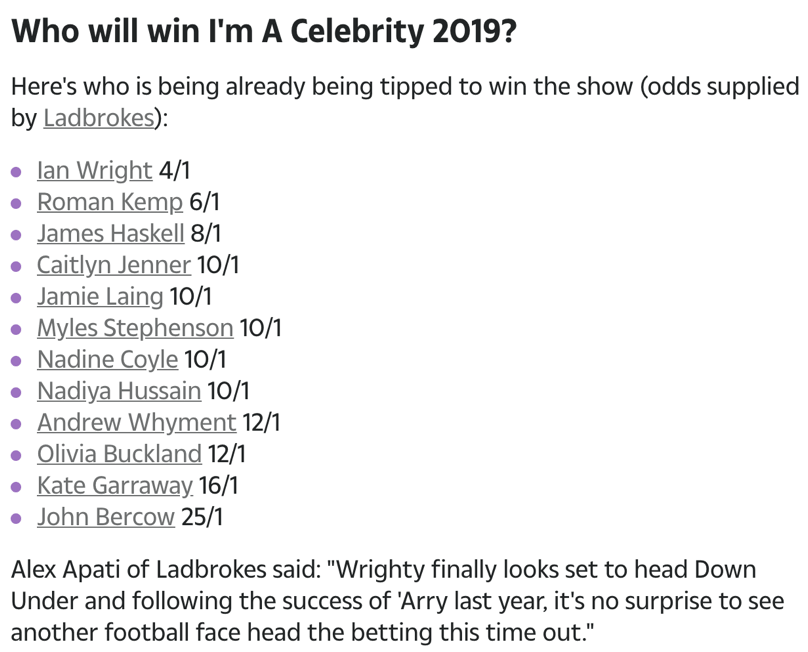 For this backlink, Ladbrokes have supplied the odds for this news story, but also added an 'expert' opinion in the form of a quote. This requires little effort on behalf of Ladbrokes, but they have used their brand name to provide additional reputation.
However, getting reputable websites to link to your gambling site is possible, but requires some concerted effort. A great example of this is from the content/PR team at 888.com.
By using and regularly updating its blog, two great examples of content are written to target keywords can be found for 'The Ultimate Blackjack Strategy Guide' and 'Secrets Behind Casino Design' posts.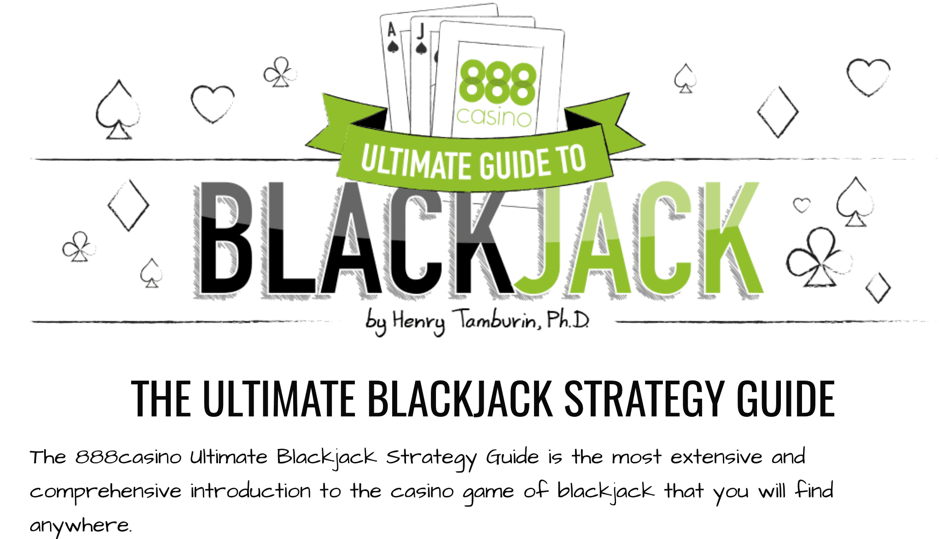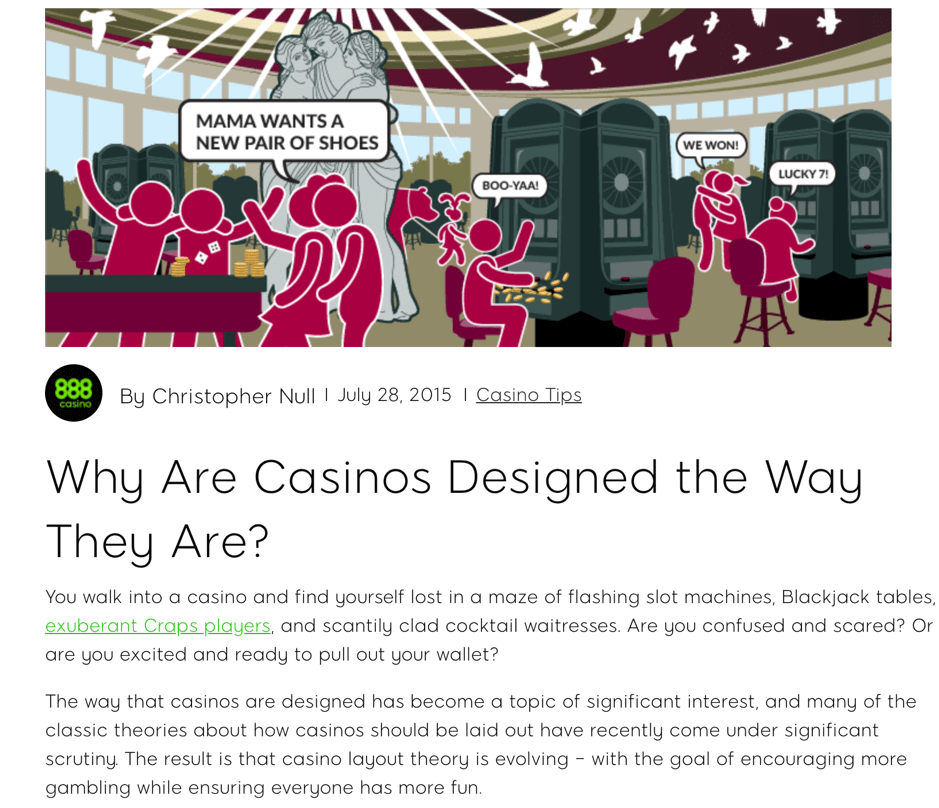 On the face of it, these blog posts are purely informational, and the use of internal linking provides additional information to the page visitors.
Yet, these blog posts are heavily linked to external resources from other high domain authority sites.
Not only are these posts driving thousands of visitors each month, but they are also generating great backlinks.
Writing about blackjack strategies and casino design maybe be relatively straight forward-thinking for a casino brand.
But the next two examples show that you don't even have to write about relevant content to achieve top quality backlinks.
The team at Casumo has demonstrated this with a data-driven link building approach.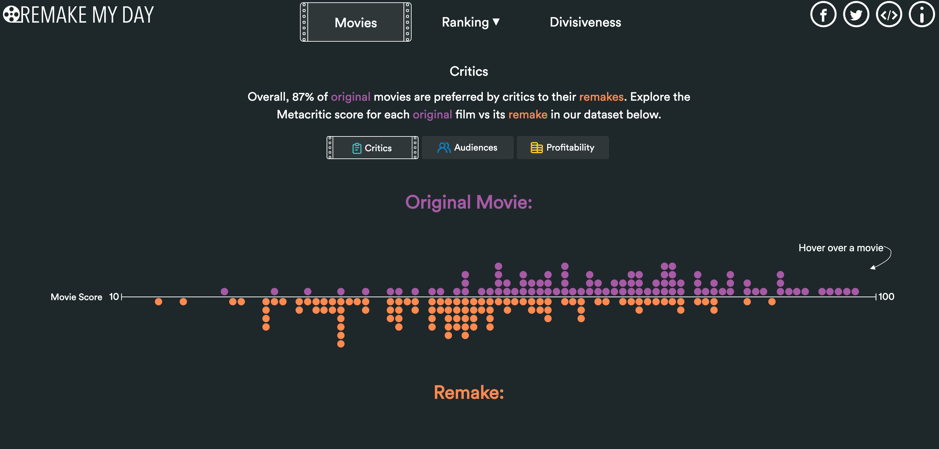 As we can see, Casumo has created a visual tool that has taken publicly available data in the form of critic, audience and profitability information from IMDb.
The films selected include films that have since been re-made and the tool then compares the original film with the remake.
The data itself may be pretty basic, but Casumo has done a great job collating all the free information into one place, making it visually appealing and easy to use.
The result? Over 300 backlinks from 47 domains, including Washington Post and Vice Magazine.
And to prove this was not a one-hit-wonder, they did something similar with Eurovision data: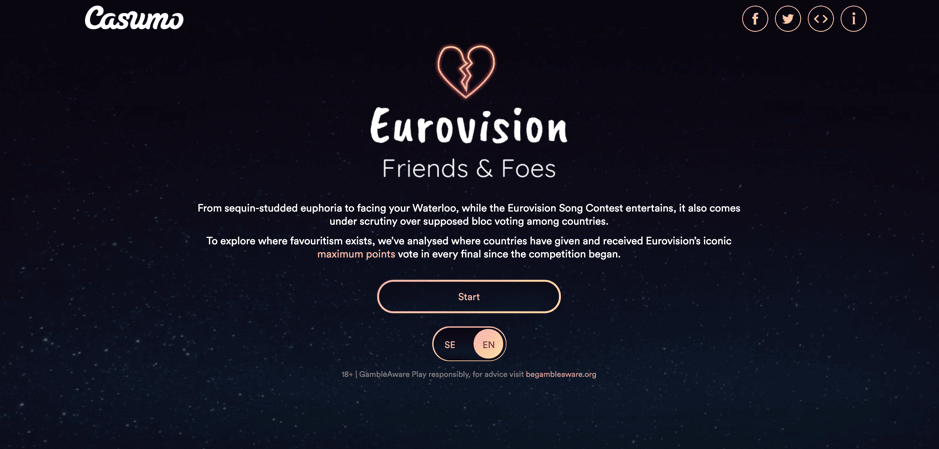 Although it didn't perform as well as the previous tool, it still received over 20 unique backlinks, attracting links from European countries which also featured in the data.
This proves that backlinks can be easily generated, but require some serious effort; whether that is by generating new content that is shareable and useful to people, or taking existing data and putting it into a visual and 'fun' format.
Conclusion
Devising and implementing a proper SEO strategy is crucial for building a successful iGaming brand.
In a market where branding has a massive impact on converting visitors to customers, it is not impossible to start generating organic traffic without massive marketing budgets.
Like most good SEO strategies, seeing a positive impact takes time and is continually evolving.
Keeping on top of best practices and tracking how the big brand's work can provide useful insight into your own digital strategy.
Focusing on SEO best practices from the very creation of your site makes life easier, but if you've not had the luxury, working alongside your developers, you can implement some of the above strategies to give your SEO efforts a boost.
Just make sure to avoid any 'quick wins' or schemes that can promise short term gains such as purchasing backlinks or copying competitors' content — it will only end up with a manual penalty and a significant search engine visibility drop.