Yandex Zen Optimisation Part 3: Promotional case studies
The last part of our Yandex Zen blog series goes more in-depth about the art of effective promotional case study creation on the Yandex Zen platform.
What are Yandex Zen case studies?
Case studies are stories based on the experience of previous clients.
Promotional articles on Zen that are using a case study format could be titled, for example, "I am so frustrated with the dark circles under my eyes! I found a cool way to get rid of them."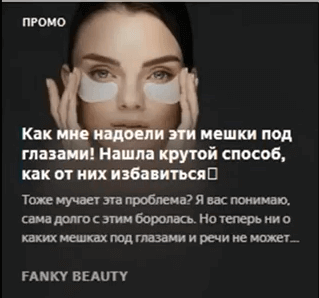 Case studies like the above are a great way to advertise an eye cream indirectly, or another product or service and make it more relatable and convincing for a new potential customer, as the feedback is based on someone else's personal experience.
Zen is a place where users come to read precisely this type of articles.
How and to whom to write a promotional case study?
Most commonly, case study promotional articles and other advertisement forms are used for advertising household, beauty, or healthcare products, banking services, as well as technical appliances.
Some companies may even choose to roll out an entire advertising campaign on Zen, consisting of multiple promotional case studies, as visible in the smart scale example below.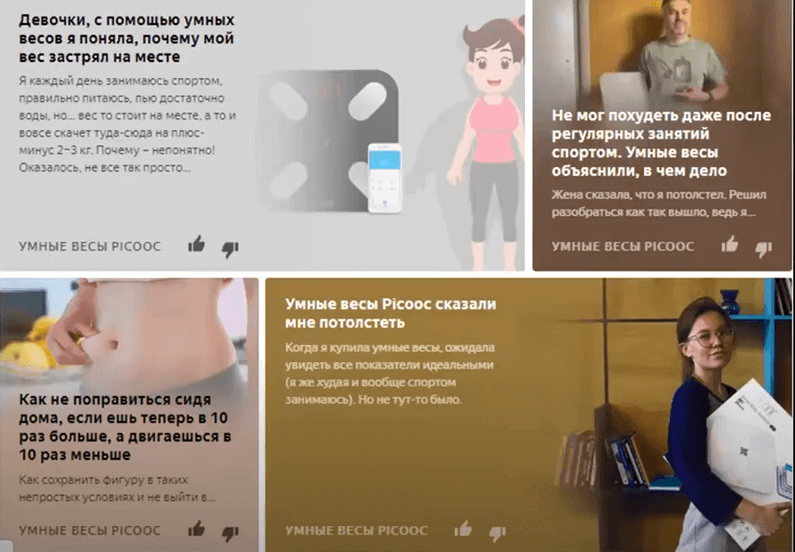 Using multiple case studies to advertise the same product can serve as an excellent way to compare Zen user engagement with each advertisement. Through A/B testing, it is possible to see which card achieved the highest click-through rate. The testing results can then be used to optimise future case study card illustrations, headers, and copy to maximise click-through rate.
You may ask, how do you write multiple case studies or articles about the same product?
Please do not panic, in case the client has ordered a larger number of articles about the same product; you will most likely be given enough time to produce it.
Start by studying the brief and client's brand; this includes the website, social media, other blogger's or third-party website user reviews of the brand and its products, such as Amazon or YouTube. If possible, try the product yourself. Also, look at what competitors say about their products and what reviews they have received on third party websites, bloggers, and consumers.
Next, look at the topic from different perspectives to generate article ideas. Start with the top-level information about the product or service, then go more in detail; below are some ideas.
Include common questions.
Discuss ways to use the product.
Point out the advantages of the product.
Emphasise the user experience and success stories.
Talk about the product use for specific audience groups.
Focus on particular aspects of the product, such as sustainability or innovative nature.
Note common misconceptions about the product.
Include a test for users to find what type of product is suited for them.
The list can go on, so you have multiple focus areas for your promotional articles and promotional case studies on Zen. Remember that quantity does not mean that you have to sacrifice or neglect quality.
When are case studies not suitable for promotional articles?
When there are no reviews, do not try to make up a story, as the case study advertising approach relies on actual experiences and customer feedback. Information falsification is not a good practice and can be misleading to potential customers, and therefore damage the brand identity and reputation.
When the user did not see a significant positive result, if there is no storyline, this will not work as a convincing promotional article.
When the product benefit is not apparent – the goal of a case study advertisement is to show how the product can change the customer's life, or at least solve a problem or respond to a need.
When the review is within unique circumstances. If 99.9% of a product's target market will not be likely to run an extreme marathon or climb Mount Everest, it is best to choose a different review to appeal to a broader audience that can relate to the situation in the case study.
How to create a resultative case study on Yandex Zen?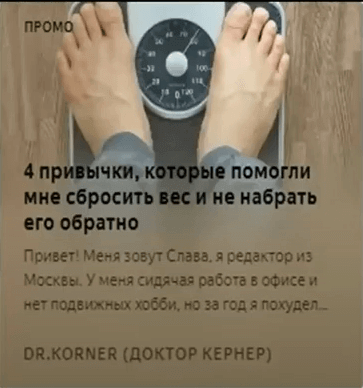 A good case study promotional articles follow the below rules:
Every story has a storyline to understand better the struggle, the journey, and the success of the hero of the story, whether it would be a business or an individual.
Clearly outlines the journey of the hero – from struggle, need to a solution or results.
The hero must be relatable – provide details about a person so that this person would fall within your target audience demographic.
The hero must speak like a real person – in the first person, such as in the above example.
Case study promotional article titles are usually very straight forward, either including statistics on achievement using the product or service advertised or tips from someone who has already achieved the result the reader is looking for.
The above promotional article card example on Zen is titled "Four habits that allowed me to lose weight and not gain it back". The short snippet at the start of the article that a reader can see goes as follows:
"Hi! My name is Slava, and I am a redactor from Moscow. I have a sedentary work in an office, and I don't have active hobbies, however, in a year I lost…"
As you can see, several aspects will ensure that a reader will not scroll past this ad and will be curious to click through and read the full article:
The title states that there is a simple four-step solution to the reader's problem.
The illustration chosen by the advertiser is a sight that a vast pool of Zen users will be familiar with – the scale, therefore it targets a significant number of users.
The short preview to the case study will make most readers relate to the person, as so many of the readers will similarly be spending most of their days sitting on an office chair, but hoping to get healthier and reduce their waistline.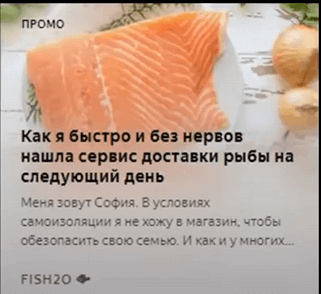 Case studies and personalised reviews work very well as a marketing tool. On other platforms, some social media influencers have even made a career out of reviewing various brand products and services and providing "case studies" in return to their large following of potential customers.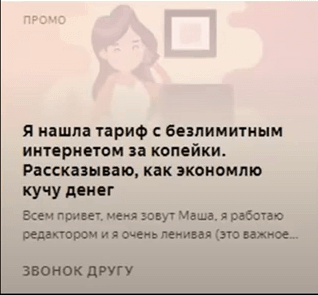 Health and self-care are not the only sectors for which case studies can be useful. These types of promotional articles on Zen can work for any industry, from finance and technologies, travel, the food sector and fashion.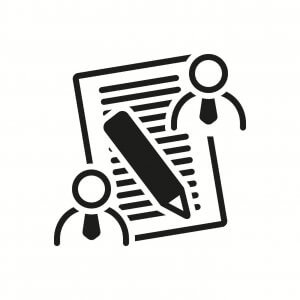 Four tips for effective case study communication with the client
There are no revisions or editing on the produced article, and there are only comments that need to be discussed with the client.
Each writer has their style, which you do not want to alter, therefore when sharing a promotional case study with a client, enable them to comment on the file, but not edit it.
The writer is producing the promotional case study or any other form of a promotional article on Zen. However, the client knows their brand best, and can, therefore, provide comments on any details missed or the tone the brand likes to use in their marketing and advertising material.
For example, if the writer sends across an article, including the following paragraph:
"This CCTV camera gives a full spectrum view: no area will be hidden from the camera, so any intruder will definitely be caught on video".
Although all seems fine in the above statement, the client might come back with a comment, that the camera has a 355-degree view, so 360-degree or full-spectrum view should not be mentioned.
This comment is new information in addition to the existing brief, which will help the author produce an accurate description of the product and its qualities.
The writer and the client are both equal experts; therefore, this separation of editing and commenting must be maintained.
There are no bad comments.
Either the writer did not understand the remark, or the client did not explain his comment comprehensively.
Between the article and the client's comment likely lies years and years of brand background, and details that have not been included in the brief.
It is essential to discuss with the client why a particular formulation of words or detail is critical to add or change, to come to a clear understanding, and potentially propose an even better alternative way to word things.
It is the writer's job to help the client provide helpful comments.
Working on an article with the client is not an argument, but more of an interview. Therefore, avoid asking the client closed questions, that will not provide any details, but only a yes or no answer.
Some comments are best to be challenged after a test.
The A/B test works better than any argument your client may have. In some cases, rather than going into a discussion, where the client will have more and more arguments and remarks to make, show them a real-life example of how something works or does not. For instance, if it comes to the promotional case study card on Zen.
You can show clients previous examples and results of A/B testing a similar feature of the promotional case study, or mutually agree to A/B test their case study.