Successfully combining SEO and the sales funnel for SaaS, FaaS &PaaS
TL;DR (Too long; didn't read)
A sales funnel is a common marketing strategy for determining key stages in a customer's journey before converting to a purchase. It helps to break down your varied target audiences with different search intents.
The top of the funnel is an awareness phase for broadening the visibility of your site to reach customers who won't be aware of what solution they are looking for or who are looking to be educated.
Research is the core objective of the middle stage in the funnel as your audience is looking to expand their knowledge of your product or solution.
The final (or bottom) stage in the funnel involves optimising your site to push a potential customer to convert.
This article breaks down the audience of each stage as well as explores potential activities, with examples, for utilisation of the sales funnel and successful optimisation.
What is a sales funnel?
An SEO conversion funnel is a marketing strategy used to visualise and break down the key stages of a customer's journey before they make the decision to purchase.
Visualising and understanding the stages of your sales funnel is a useful way of generating effective actions tailored to specific audiences you are looking to attract.
There are variations of the funnel, but it is fundamentally broken down into:
Top of the funnel (TOFU) = Awareness
Middle of the funnel (MOFU) = Research
Bottom of the funnel (BOFU) = Decision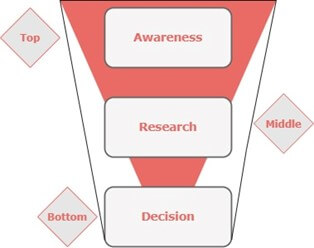 Each step of the funnel has its own considerations, which should be explored to understand different customer types and their thought process within each stage.
The value of the SEO funnel for SaaS, PaaS & FaaS
While it can be useful for a wide range of industries, understanding your sales funnel is significantly important for Software as a service (SaaS), Platform as a service (PaaS), and Function as a service (FaaS) businesses. These industries typically offer a limited range of products to a very precise audience and require tailored SaaS SEO growth strategies.
To effectively use the SEO funnel for SaaS-related businesses, you need to clearly define your audience and track their search intent patterns to discover your product.
Compared with other industries, SaaS, PaaS and FaaS businesses typically have a stronger desire of targeting business-to-business sales (B2B) over business-to-consumer (B2C). This should be taken into consideration as part of the strategy and will affect how optimisation tasks are approached.
Prior to focusing on the stages of the funnel for a SaaS business, it is beneficial to analyse buyer personas to understand the customer base you are trying to reach.
Top of the funnel for SEO: Awareness phase
The first stage in the funnel is centred around awareness, primarily through pushing your brand and exposing your products to new customers.
Specifically, you're focusing on reaching out to potential customers who might be unaware your business or product exists but search the web out of interest for a subject or solution to their problem.
Objective
This stage aims to broaden your website's visibility by targeting different user intents and search phrases within the content you produce. You should be looking to educate early adopters about the subject of your product or solution to gain trust and authority among users and draw them into the next stage of the funnel.
Target audience
The first step in widening your website's organic search visibility is understanding who you should produce your content for.
For SaaS websites, your audience at the top of the funnel will have either decided that they need a solution to a problem and are conducting some initial research, or they could be looking to educate themselves on a subject that is relevant to the solution you offer.
Therefore, you need to be exploring possible content types that show your business as a knowledgeable source of information from which they can be guaranteed reliable answers. Gaining this trust is the first step to developing interest in your solution and brand.
It can be tricky to define these types of users in the SaaS industry. However, it's important to provide content for general customers looking for personal use as well as individuals who may be looking for information or a solution suitable for their own business.
Defining customer personas is an effective method of determining who your target audience groups are. You should attribute questions to each of these groups to understand the type of information you will aim to provide them.
What keywords should you target?
For each target audience you identify, you could carry out research for what keywords and queries would be best suited to target them with, based on the intent of their searches.
Typically at this stage, users will have very little brand affiliation. You should be focusing on what non-branded terms these users could be searching for and where it would be appropriate for you to produce content they would seek out.
SaaS businesses typically have a mixed user base of commercial and informational users, which are those looking to buy and those seeking to be educated.
For example, should you offer software such as a VPN, you can split the intent between those looking to purchase a VPN and those interested in what a VPN is — what does it do? These different intents need to be targeted separately, and the optimised content should reflect this through the target key terms you select.
TOFU optimisation activities
Once you have identified the audience, you can begin to plan out your top-of-the-funnel activities within your SEO growth strategy.
The following is a list of areas to focus on for optimising toward top-of-the-funnel audiences on a SaaS/PaaS/FaaS website.
Blogs
Knowledge (guide) hubs
FAQs
Each area allows content to be tailored to educate users on the subject of their query and how your product offering could be of value to them.
Blogs
Blogs are an effective way of providing customers with a range of informative content. You may include brand information and recent updates for brand exposure. However, you can also target non-branded queries and discuss topics related to your business's industry, obtaining new users who will start their journey in the funnel.
Guides
With knowledge hubs, we are explicitly referring to structured guides that provide information about the subject of your product. Here you should be targeting high-volume informative queries related to your industry that will attract users looking to be educated on the subject.
For example, the JetBrains TeamCity product offers a guide to the subject of CI-CD, a stage within the development pipeline. This guide contains long-form optimised content targeted at users who are not educated on the topic of CI-CD and navigates users through all the information they should be aware of.
The purpose of these, from an SEO perspective, is to create an authoritative knowledge repository that increases topical authority on the keywords you are targeting.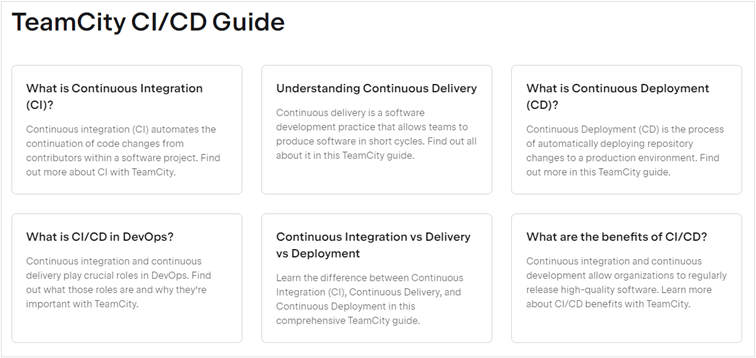 FAQs
FAQs can be utilised in two formats. The first is answering questions directly relevant to the product, such as how to download, login, etc. Alternatively, the more compelling content type for attracting users to the top stage of the funnel is through answering common questions that users generally search for the subject.
In addition to using keyword tools to identify search queries, take advantage of Google's people also ask feature to identify further questions people ask in more detail.
A key consideration for FAQs is that you won't be producing long-form content, so the questions you select should not be targeted to areas where you could produce long-form articles or guides.
For example, when searching for 'What is a VPN' which could be covered in a long-form article, the PAA section will give insight into some further questions to target, such as 'when should a VPN not be used', which could be effectively targeted through an FAQ.

Connecting TOFU and MOFU
For each activity within the TOFU strategy, a clear focus should be on funnelling users through to the next stage.
With each content type, there are opportunities to direct users to commercial landing pages to find more information and develop further interest in the product offering.
Internal linking should be used heavily throughout this stage to connect informative pages such as blogs and guides to commercial pages where the user is more inclined to convert. Internal linking should be implemented organically to allow users to flow through the site and avoid appearing too forceful with selling your product.
An alternative consideration to internal linking is the use of calls to action (CTAs) on TOFU pages. You need to position CTA's so they are easily accessible and either direct users to a conversion page or a commercial feature page where they can explore the product further.
Middle of the funnel for SEO: The research phase
What is the middle of the funnel?
Customers in the middle stage of the SEO funnel are in the research phase of the journey. They have an understanding they may need to purchase something, but they are yet to make the decision of what or who they will convert with until they have more information.
Objective
The overall aim of this stage is to provide the customer with as much information as possible relating to the product or service for them to make the most informed decision to purchase with your company.
You should consider what customers may be looking for and asking during this research stage, providing them with answers to their queries in a favourable manner that you are the best option for them.
Target audience
Within this research phase, both users looking for a solution or a product for their business will also be looking at alternatives. These will be your direct or indirect competitors.
Carrying out an actionable SEO competitor analysis at this stage will help you understand how your solution differs from the rest of the market.
A key element of this, particularly for SaaS businesses with a small product line, is highlighting your key features and your unique selling point (USP) to show what distinguishes you for your competitors.
After breaking down your target audience and understanding what their thought process could be during this stage, you should ask yourself the following.
Is our product/service for personal use or for business?
What specific features would people search for that our product/service offers?
What do competitors offer that we don't?
What do we offer that competitors don't?
What is the quantity and quality of our customer support once they have purchased?
Will people be looking for our product/service for a specific use case?
Answering these questions will paint a picture of the type of customers you are trying to convince to move to that decision phase and make the purchase.
Query targeting
You can now begin to pick up specific queries you should target and look to perform successfully for.
With the primary aim to drive users to the conversion stage, the intent for target queries at the MOFU stage should be commercially focused as the customer intent is stronger towards making a purchase.
The table below shows how keyword search volume, intent and conversion rate changes between the three stages.

You're aiming to target a variety of compounds related to your product and specific queries customers could be searching for. Returning to the VPN example, some queries at this stage could include:
VPNs with disk encryption
high-speed VPNs
best security VPNs
MOFU optimisation activities
While developing an SEO strategy focused around the MOFU stage for your SaaS business, it's important to recognise there is a creative opportunity to do what nobody else is doing.
Many customers at this stage review multiple sites to discover what solution fits them best. As long as you're educating your customers and providing a strong value proposition, you're likely to stand out from the rest.
There is a collection of best practice commercial pages to successfully cover a range of questions your customers may be looking for.
Feature pages
Competitor comparison pages
Professional/Enterprise pages
Use case pages
Each of these focus areas should be considered as part of your SEO strategy for this stage as they have their own unique purpose and value towards different target audiences.
Feature pages
Feature pages are essential to SaaS-related business to expose users to the positive aspects your product or service has to offer.
A frequent mistake made by businesses with product features is they are often condensed into a singular page as an overview of what the product can do. While this may seem a logical structure to adapt, it does limit your organic keyword targeting.
Allowing customers to explore your product's features through unique commercial landing pages provides a great experience as more information can be provided. It also allows for optimised non-brand keyword targeting to gain greater ranking positions and draw in users looking for a product with a feature you offer.
In many SaaS cases, containing a specific feature could make the difference between a customer converting with your business over a competitor. It's important these pages are optimised from a conversational perspective with clear CTAs to the bottom of the funnel pages.
Competitor comparison pages
Competitor (or solution) comparison pages are an effective method of visualising how your product or service differs from competitors and communicating where your product's strengths are.
A common practice is to provide a clear table presenting all the key features required for a successful product and then display which competitors (or internal products) contain each feature.

It's important to find a balance between showing how great your product is while also showing transparency and honesty in areas your product doesn't succeed. Displaying a table only showing the features your product performs best at will not gain the trust of potential customers and not fulfil the value proposition of the page.
Comparison queries also tend to have a high search volume, so it's imperative to show your data clearly to users and search engines.
An alternative to comparison pages which returns a similar result is utilising comparison articles that perform successfully in the SERPs, as users depend on these for fast information.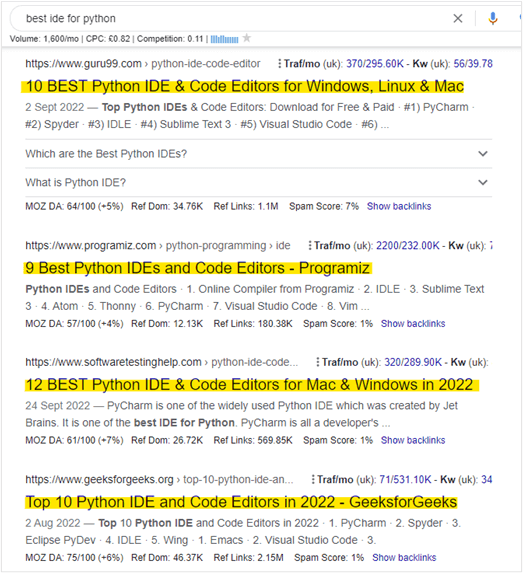 Professional and enterprise pages
Depending on the product or service your SaaS business offers, your solution may be available for professional use, business use, or both.
It's important to recognize the difference in search intent between these two audiences and identify that they may well be looking for different things your product offers.
It's valuable to produce unique landing pages for these different customers and highlight how your solution will benefit their needs.
It's also worth considering how some features may differ between a professional and enterprise version of your product, and making sure these differences are clarified within your commercial landing pages.
Use cases
Use case pages allow you to target very specific types of customers who may be looking for a product that matches their exact needs.
You can target specific queries that exactly match the intent of some users, increasing their chances of purchasing but also providing trust and reassurance.
For example, if you offer web scraping or data extraction as a service, it would be beneficial to target various industries that would benefit from your software. This would include users searching for particular queries, such as 'finance web scraping' or 'SEO data scraping'.
Engagement
These activities discussed should be considered when optimising the MOFU stage, as it's important to consider how you will get customers to engage.
Try to incorporate visual features into your commercial landing pages to distinguish your site from your competitors and win them over.
Some engagement features to consider include:
visual product demonstrations
feature videos
podcasts
product imagery.
Connecting MOFU to BOFU
Similar to funnelling customers from the top stage to the middle stage, the focus is identifying the key conversion pages and appropriately guiding users to them.
Once users have made the decision to convert, the attention turns to selecting the appropriate page for them to convert on. These typically include sign-up, download or pricing pages.
Bottom of the funnel for SEO: Decision
Objective
The aim of the final stage in the funnel is to push users to make the decision to convert and purchase the product or service and make the final step in the journey as efficient and effective as possible.
Target audience
Your audience has conducted their research on possible solutions and is in a position to make the conversion. They are knowledgeable about the product and are looking for reassurance they are about to make the right decision to purchase your product.
Your attention should be less keyword focused than the other stages and more focused towards:
additional features to make the decision
conversion journey UX & tracking.
Additional features
Additional features to make the decision should be focused on further obtaining trust from the customer. This can be achieved through implementing examples like the following:
Reviews and testimonials
Successful case studies
Clear pricing structure
Reviews and testimonials
Showing reviews and testimonials of your products or services is a great way to gain trust and authority for potential customers as they can hear feedback on other users' experiences.
In addition, the use of reviews and testimonials accommodates search engine algorithms as it provides trustworthiness signals, which are beneficial to Google's E-A-T algorithm.
Case studies
Case studies provide proven examples of how a product or service has provided value to an existing customer. This provides reassurance that the product achieves its purpose and that potential customers are able to compare how it works for different audiences with their own requirements.
Clear pricing structure
It might sound self-explanatory, but a clear pricing structure can make a big difference between a user purchasing your product and bouncing to a competitor instead. If customers are unable to interpret how much they will be paying for the solution, the chances of conversion will drastically decrease.
This is extremely important to SaaS-related businesses, as pricing models can quickly become complex, particularly between professional and enterprise models.
Optimised pricing pages should clearly show what the customer is receiving and for what price. The aim is to have a minimal number of steps to convert while ensuring all the information your business needs is obtained.
Including interactive elements that allow for easy selection of a product or an amount of a product, makes the conversion easy for users and prevents chances of bouncing. The image below shows a simple variable selector that allows customers to choose an amount, rather than view a range of options.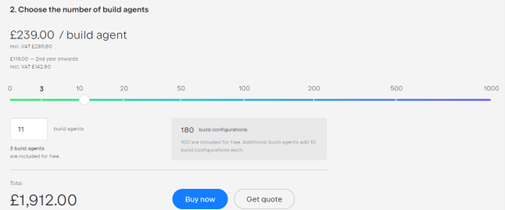 Conversion journey user experience and tracking
The bottom of the funnel stage heavily relies on assessing the user journey from key commercial landing pages to conversion pages, ensuring the journey is smooth, logical and effective.
After going through and testing the user journey yourself, you should consider if you are sufficiently driving users from the right pages and are the conversion pages match the requirements of the customers who will be purchasing.
To fully understand the performance of your conversions, set up conversion tracking within your analytics platform, ideally tracking each stage in the conversion journey to identify at which point people may leave the funnel.