Why FMCG brands need to take SEO Seriously
FMCGs are complex businesses. They produce a high volume of products for a range of different brands.
As such, the launch of a new product passes through many internal functions; R&D, marketing supply chain, logistics, etc.
On the face of it, it appears that these businesses are experts are rapidly developing and releasing new products in line with shifting consumer expectations. Yet, the reality is, FMCG businesses are developing new products at an incredible rate, with years of work from all the above functions going into any new product launch.
One of the traditional ways that new product launches get so much traction; is because of the massive marketing budgets that they are allocated.
If you consider the marketing budgets of P&G, for example, their advertising budget for 2019 was just short of $7bn.
The reality is, big spending on traditional marketing channels – such as TV adverts – is slowly declining. With the next generation of consumers being millennials and Gen Z, they are spending more time online, be that on the internet or social media.
Yet, as more brands look to utilise a D2C (direct to consumer) model, the need for marketing to reach consumers where they are spending their money – online – continues to increase.
Here's why FMCG businesses should start to take a serious interest in SEO for this new business model to be a success.
Online consumer spending
It's no secret that consumers are spending more and more money online. Through habit and ease, consumers can now buy their everyday products as part of an online shop.
And as the global pandemic hit, many people had no choice but to order their products online, with reduced stock or no accessibility to local stores.
It is therefore crucial, that as an FMCG business, when a consumer searches for your brand or product, that you are clearly visible and should be the first point of call when they want to purchase.
This isn't always easy, especially with amazon selling everything they possibly can, but it reiterates the importance of branded search.
Dominate your branded search terms
One of the biggest assets that FMCG businesses have is their brand.
Without a brand name, most of the products that FMCGs create would not sell nearly as well as they do.
Therefore, if you are a brand manager or working in digital marketing for an FMCG, you should do everything in your power to dominate branded search terms. The reason for this – 3rd party sellers will be competing with you.
Going back to the D2C model I referenced at the start of this article, if you can dominate branded keywords with buyer intent, you are in the best position possible to succeed.
And why is D2C so important – it increases your product margins as you cut out the middleman.
It didn't take me long to find a few examples where 3rd party sellers were outranking brands: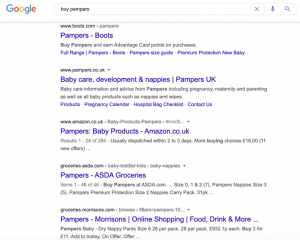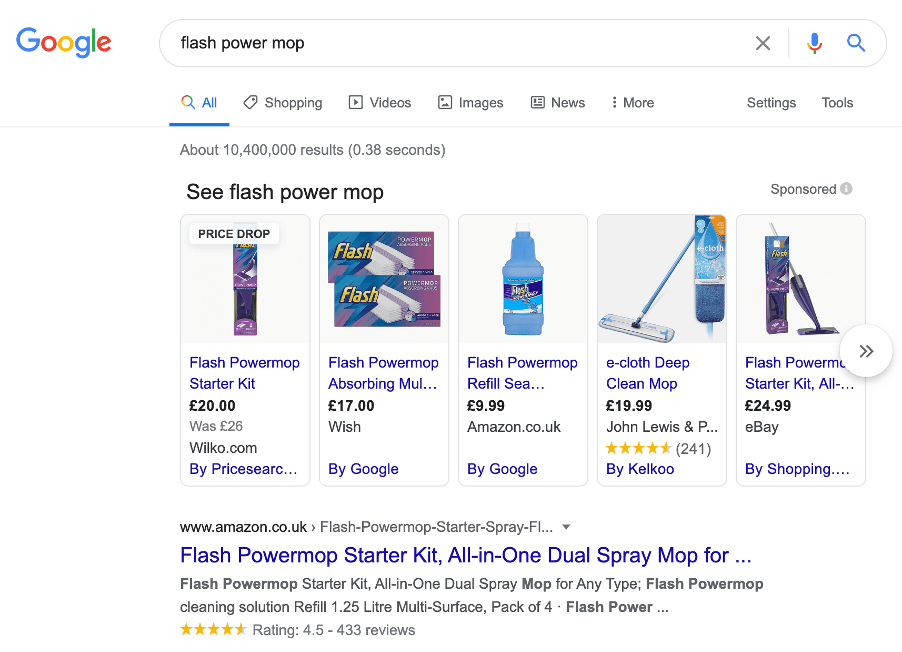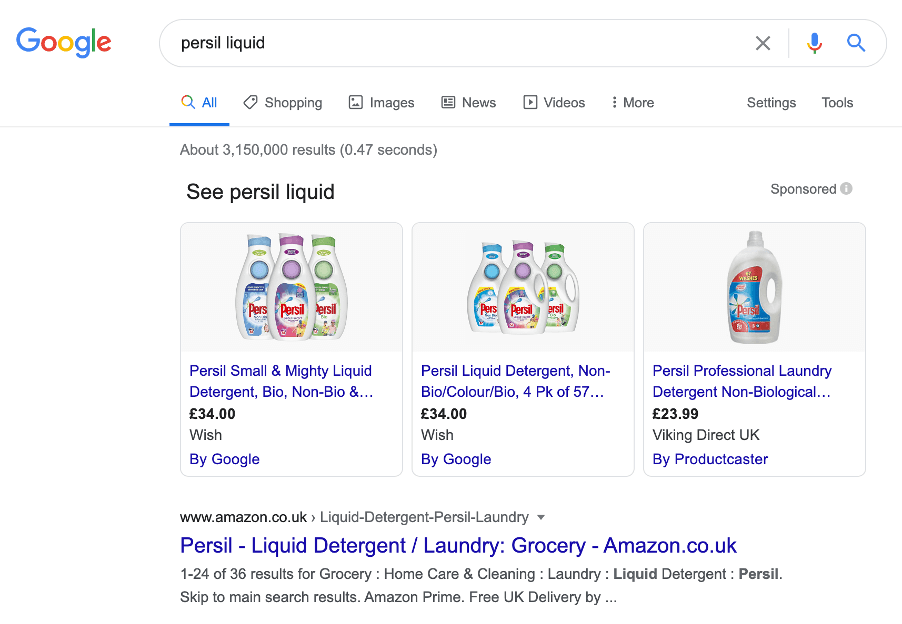 Informing savvy buyers
Long gone are the days where a brand could release a new product, put a large marketing budget behind it, and wait for easily influenced consumers to come and buy their products.
Buyers now have more options available from more brands than ever before. Consumers – especially millennials and Gen Z – are savvy and ensure they get exactly what they want, even if that means paying a premium.
They will ensure that their exact needs are catered for and perform relevant google searches to do so.
Gone are the days where consumers will search for just 'buy + [product type]'; they will search for a product that fulfils their exact need.
For example, consumers no longer shop for search queries like:
buy deodorant online
They now search for, phrases such as:
best deodorant for lightening underarms

best deodorant for sensitive skin

best deodorant for ingrown hairs
Two of the world's largest deodorant brands – Dove and Nivea – have written articles that address these topics in articles. Yet, they are being outranked by news and magazine sites for these exact terms.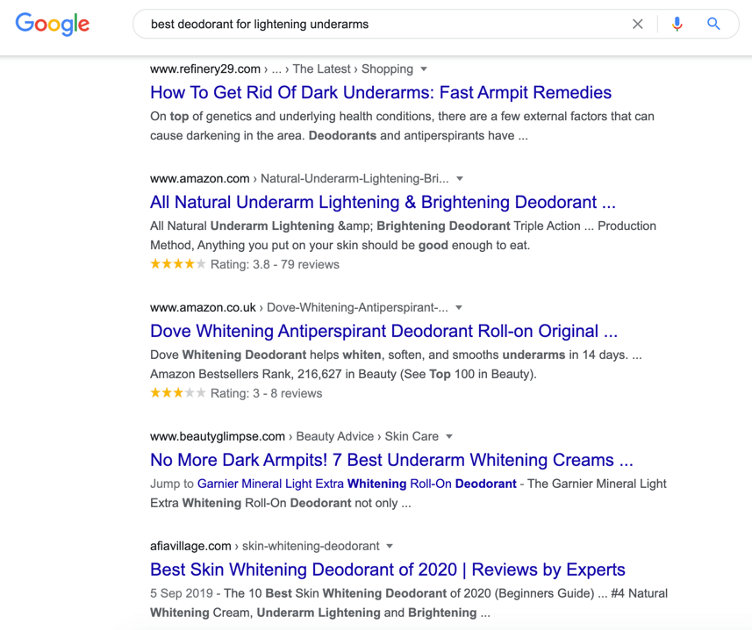 If your FMCG brand is developing products to address these known consumer products, you should be doing everything in your power to dominate the SERPs and be on hand to inform your prospective consumers.
Compete better with startups
It's not just well-known websites that are targeting your long-tail keywords that you need to compete with, but also startups.
Startups have the luxury of innovating quickly and can quickly dominate a share of the market. They also have the advantage that they generally start as online businesses, unlike FMCG brands which are traditionally offline businesses that have moved online.
Because of this, they have no way of brand building other than online exposure. Startups do well in that they communicate their products and brand ethos online.
Consider the razor market online. Traditional brands such as Gillette and Wilkinson Sword are being outranked on purchase-intent keywords, with online startups such as Harrys, Dollar Shave Club, and Cornerstone all visible within the SERPs.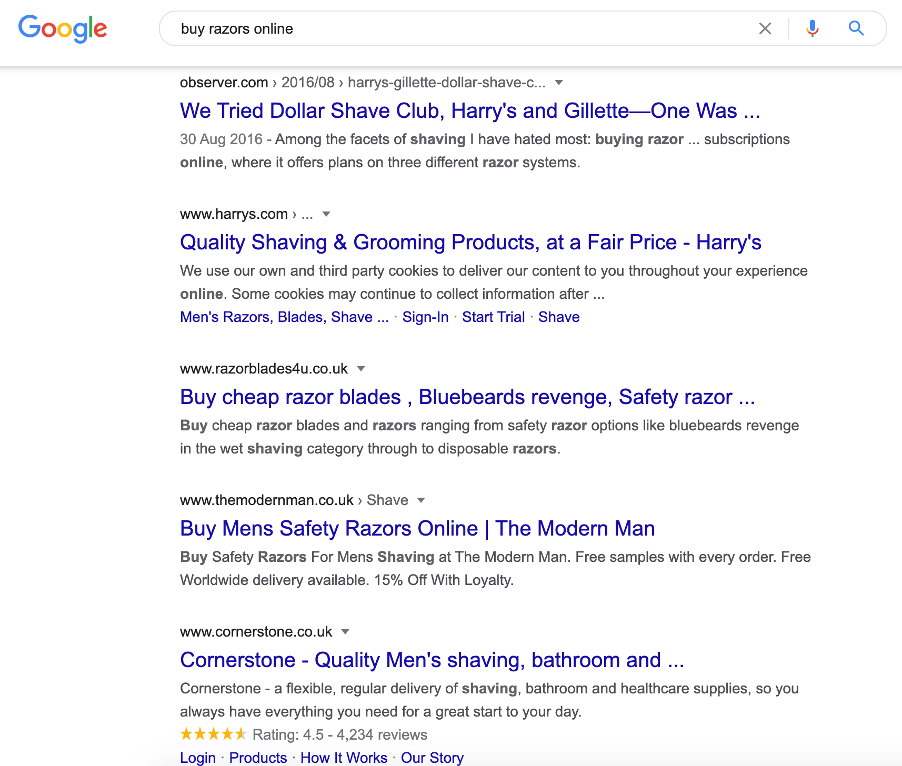 To counteract this, FMCG brands need to be visible and dominant in their marketplace online. This is possible through producing content that is relevant to their brand and product range.
Valuable data for internal teams
Ideas for new products come from one place – consumers.
And to do this, a popular method for FMCG brands is to run consumer panels so that they can get an in-depth understanding of consumer wants and needs.
These types of consumer panels are incredibly useful for a brand direction, but there are a few issues.
Firstly, they are expensive. It costs money to set up the panels, recruit consumers, and then pay them for their involvement. That's if you do it in-house, let alone use an external agency to manage it for you.
But remember, a consumer panel is not representative of all consumers; this is just a sample of a much larger population.
But the real issue with all the above – the time.
So, where does SEO come into this?
Well, if you are properly tracking the performance of your website, you should be able to spot trends in search data.
Many keyword tools can help you with this task, but there is no better data source than your own GSC. This should allow you to spot emerging or break out topics and will enable you to address them sooner. 
The sooner you can identify a new trend, the sooner you can get your internal teams to start developing new products – after all, speed is of the essence.
To conclude
FMCG businesses face the big challenge of moving their business model from a predominantly offline selling model to online.
As more – especially young – consumers become the target demographic for FMCGs, marketing to them moves online rather than the traditional offline channels.
These consumers buy differently.
They want to know more about what they are buying and will do their research to find out the information they want.
SEO lets you dominate your branded keywords, and also lets you target generic keywords where consumers are looking for a product to fulfil individual needs.
But SEO isn't about being found online. It should be used to make business decisions. Using data from your own website can help identify and develop new products.