SALT.agency aims to raise 1k for Alzheimer's charities this festive season
This festive season, SALT.agency has chosen to raise money for two important national charities – the Alzheimer's Society and Alzheimer's Research UK. Our goal is to raise a minimum of £1,000 by mid-January, which we will then split equally between the two charities. We are asking for donations for the opportunity to watch our resident Santa have his large beard removed on December 15 2017. This will be streamed live online for all to see. Please donate now and help us reach that £1,000 goal.
Shaving SALT.agency's Santa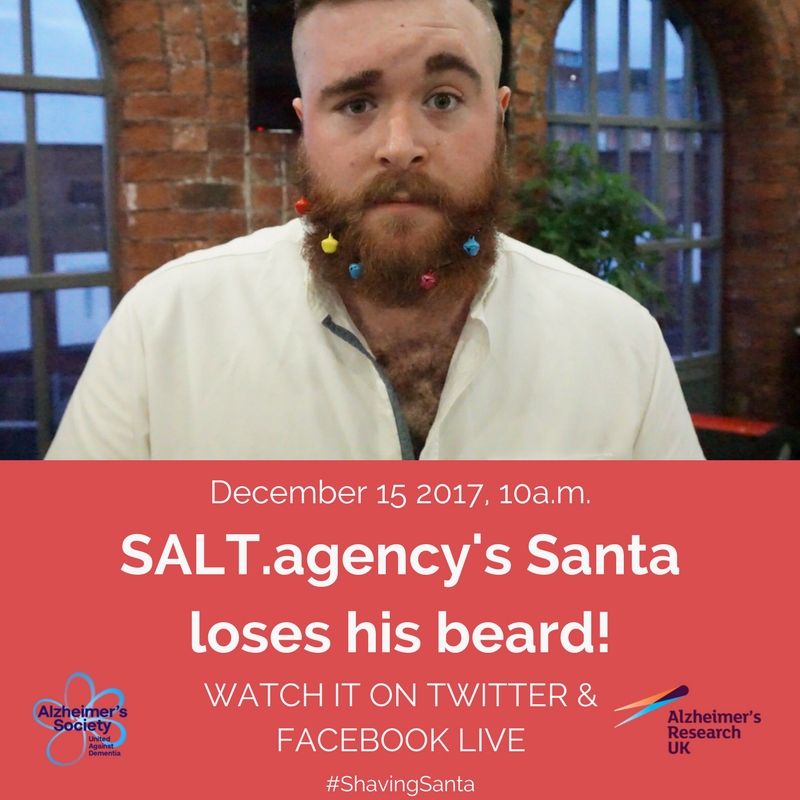 This Christmas we will be removing Santa's beard just before Christmas (sorry kids!) You are invited to watch on Twitter and Facebook Live as Dan Taylor, SALT.agency's resident Santa, has his long-standing beard shaven off at 10am on December 15. 
Dan has kindly shared his personal experience of Alzheimer's disease with us:  
I can't remember exactly how old I was when my nan developed Alzheimer's. It wasn't a slow progression, and very quickly she couldn't recognise me, my dad or my grandad. Married for more than 50 years, my grandad cared for Nan unconditionally until she passed away when I was 17. Even through the disease, the majority of the time when she became confused she smiled, and laughed through it.
Dan also shared his thoughts on becoming a clean shaven man:
It's been 5/6 years since I was last clean shaven, and I think I originally grew a beard as a bit of a guard. I've trimmed it short before, and it was weird. I felt "naked". Having a shave isn't a big deal, of course, but I hope by the fun that surrounds this event, some money can be raised for some great charities, and much needed care and research.
How do I donate?
We are collecting donations via our Virgin Money Giving account, meaning every single penny donated is given to the charities, with no hidden fees involved.  
Our chosen charities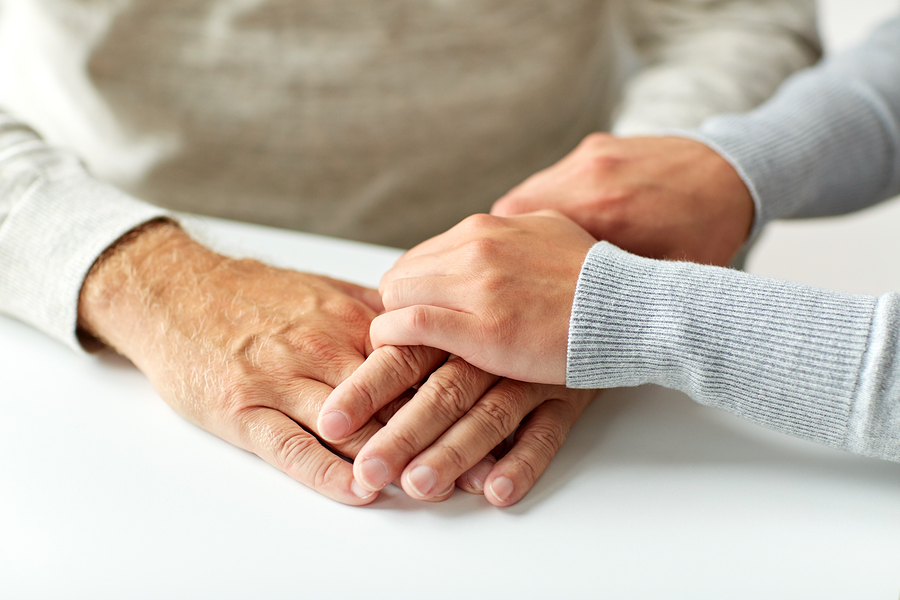 The charities we have selected to support this Christmas are very important to us; most of our team know someone who has been affected by dementia and/or Alzheimer's disease, and some have witnessed dementia's devastating affects first-hand.  
Here's a little more about our two chosen charities, and the important work they do: 
Alzheimer's Society
The Alzheimer's Society provides support for anyone affected by any form of dementia in the UK. It also funds research into dementia care, cause, cure and prevention. Alzheimer's Society is committed to spending £150 million on cutting-edge research over the next decade, and every project it funds directly addresses the needs and concerns of people affected by dementia. It also runs the National Dementia Helpline.
Julie Dunn, Community Fundraiser for Alzheimer's Society in West Yorkshire, said:
Thank you to SALT.agency for uniting in the fight against dementia with their fantastic Christmas fundraiser, and Dan for allowing his long-standing beard to be shaved off for charity. It's thanks to the support from people like yourselves that we are able to continue raising vital funds to support people affected by dementia.
Alzheimer's Research UK
As its name suggests, Alzheimer's Research UK focuses on funding research into all aspects of dementia, determined to find answers and save lives. Alzheimer's Research UK firmly believes in the power of research to create a world free from the fear, harm and heartbreak of dementia.  
Claire Priestwood, Regional Fundraising Officer for Alzheimer's Research UK in Yorkshire, said:
We can't thank everyone at SALT.agency enough for choosing to support Alzheimer's Research UK with their fantastic Christmas fundraising, it sounds like it's going to be a fun activity!  There are more than 850,000 people in the UK living with dementia.  Alzheimer's Research UK is on a mission to end the fear, harm and heartbreak of dementia, and we couldn't do it without our supporters.
King Koby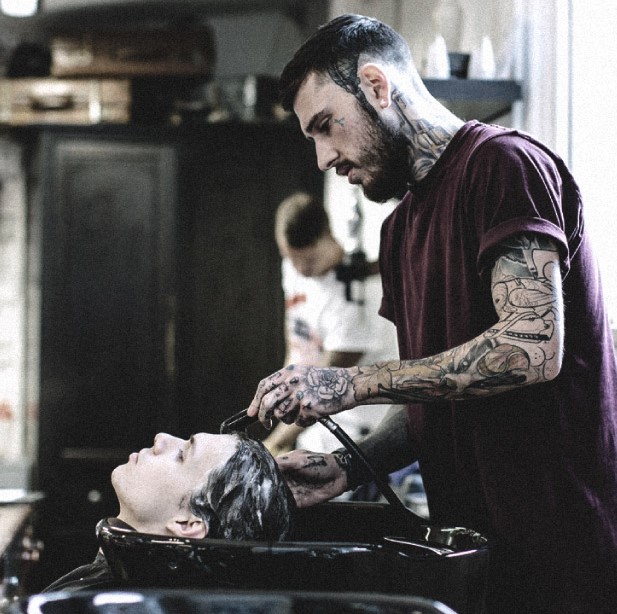 King Koby Chop Chop in the Corn Exchange offered to chop of Santa's beard for free for us, for which we are very grateful. Thanks, guys!
Follow SALT.agency on Twitter and Facebook now, so you don't miss out on the festive fundraising action! #ShavingSanta
Featured image credit: sewcream