Should I stay or should I go? New domains vs penalty removal
Sometimes unfortunately it is not just economically viable to clean up a domain, and therefore flipping/switching domains (starting again) may be the best option. This may be either due to budgets, time scales, or the type and scale of links which need removing.
This could be due to issues other than manipulative links, for example;
EMD (exact match domain) issues
Panda (onsite content quality) issues
Perhaps the one of the main benefits of moving to a new domain is that a fresh clean domain is often quicker to show progress in an SEO campaign, as you don't have the negative history associated (if you're careful that is).
The down side is that you are starting again with a virgin domain, and it will require considerable work to rebuild the authority by generating new real brand signals that could have been earned over time, somewhere buried under all those problems.
At the end of the day it's a judgement call, based on experience.
How to stop Google passing a Penguin algorithmic issue, or generating a new manual link action by moving to a new domain.
Before you go down this route I just want to emphasise the intention of this blog post. This isn't trying to manipulate Google in any way, it is solely meant to help those who know that they have done wrong, hold their hands up, and would like to start again without automatically being penalized by algorithms.
Phase 1 – Research
This decision should not be taken lightly and only be made after:
Researching the scale of the link spam (how big is the project)
Looking at the analytics (is this penalty loosing you money, can it possibly get worse?)
Giving a client realistic expectations about long it will take to start again
Establish how much damage the penalty is actually doing to the site. An ecommerce site for example might only have a partial match manual action against it, so while it may not rank very well for a couple of 'glory terms' it may rank well for long tail traffic which converts bringing in revenue.
If the organic search budget relies solely on the profits from the channel to fund it, then a new domain with likely lead to issues for the short and medium term. It's therefore important to notify the stakeholders and give them realistic time scales.
Phase 2 – Planning
The devil is in the detail when it comes to a successful domain migration to escape a Google penalty, and planning is key to this.
I would recommend using a project management system to assign these as actions for specific people involved in the project to complete. This also allows you to see when they have been completed, as well as importantly no who was responsible if they don't do it correctly!
Warning
Do not link at all to the new domain from the old domain, this includes;
Do not add a server redirect
Do not add a JavaScript redirect
Do not use the new website to host the image of the 'Sorry we're gone' image for use on the old website
Do not add any physical ahref link on the old website pointing to the new website
Do not keep the old Google Webmaster Tools Account and New Google Webmaster Tools in the same Google Account
Phase 3 – Switching the domain
The following method is designed to break all signals which would allow Google to see a connection between the old and new domain.
Old Domain
Remove all pages from the old domain
302 redirect all pages to the homepage (or create a 404 page for all the pages with the same message as the homepage)
Add a single image to the site homepage containing the URL of the new website
Add robots.txt to block all pages on the domain
User-agent: *
Disallow: /
Add a robots meta tag to the homepage (and 404 page is using this method)
<META NAME="ROBOTS" CONTENT="NOINDEX, NOFOLLOW">
Request removal of the homepage URL in Google Webmaster Tools, this will speed up the disassociation with the old domain.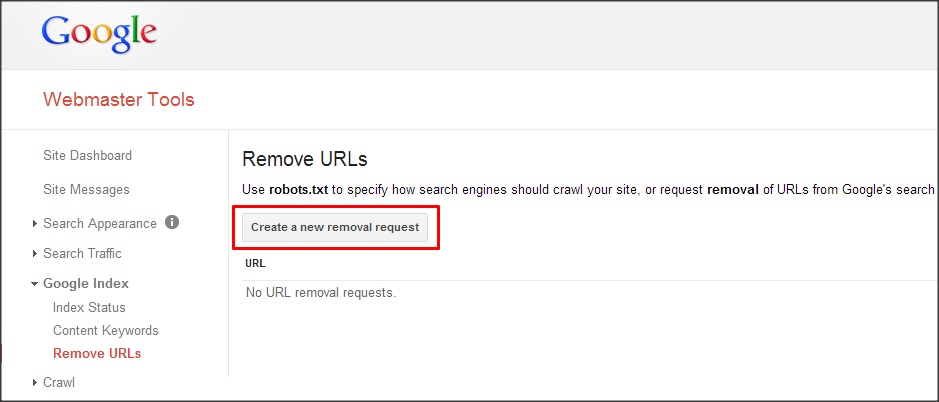 New Domain
Use a different Registrar (ideally)
Use a different Whois contact details (ideally)
Set up a new Google Account for the Google Analytics, Google Webmaster Tools & Adwords
Rewrite as much content as is possible. A minimum of the homepage and key landing pages.
Ensure that the new domain is on a new IP
As a minimum standard ensure that the new domain doesn't share the same class C subnet mask as the old domain
OLD IP – 123.123.123.123
NEW IP – 123.123.124.x
Upload a disavow file to the new domain Google Webmaster Tools account to block all link juice form the old domain
Ensure that the new domain doesn't have any old Google tracking codes (eg Google Analytics UA code)
Phase 4 – Checking
After the check sheet for the old domain has been actioned you must check this with both a crawler such as ScreamingFrog, and your own eyes. Unfortunately most developers can make mistakes, our job is to double check these for them.
Phase 5 – Repointing Good Links
Rather than remove/ disavow 100,000's of bad links, it is often a lot easier to ask for the good ones to be repointed to the new domain. Unfortunately this practice can vary widely in it's effectiveness.
On a final note do not ping these links to get them re-crawled, use social profiles to encourage the Google Bot to re-crawl in page.