Key considerations for product bundling in ecommerce
What is product bundling?
Product bundling is a retail strategy that involves selecting various items and offering them as one bundled product package. The most common examples of product bundling are generally gift sets and hampers, or any sets that contain related products. This can be used to either cross-sell or up-sell associated items to the customer.
Many retailers can utilise this type of strategy, no matter the size or scale of your business. However it's important to ensure you do your research to guarantee product bundling is the right approach for your business and to get the most out of the strategy.
Types of product bundling
There are two main types of product bundling that retailers tend to offer to their customers.
Pre-set bundles:
Usually includes a number of items offered as one SKU, in which revenue would be tracked and attributed as a single item.
Can also relate to multiple items available on one product URL, but each item in the bundle still has its own SKU.
Customisable bundles:
Customisable bundling generally allows customers to build their own sets from a select number of items or variants available.
Examples of product bundling
Car cleaning kits are a prime example of product bundling and a common strategy that many motor accessory retailers and brands use. As car cleaning requires various items to complete, it's a relevant offering to target the user's needs. The query 'car cleaning kits' has an average monthly search volume of around 14k in the UK, showcasing there are many in the market for a full kit of cleaning essentials.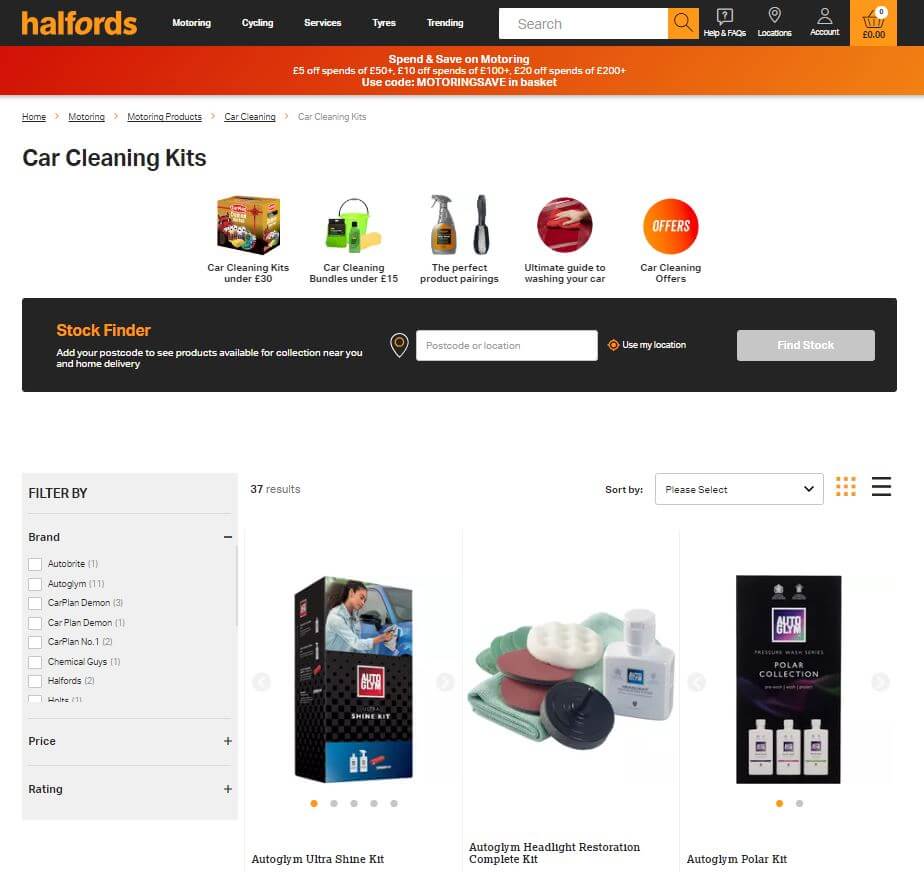 Product bundling is also commonplace in the beauty industry, especially when it comes to gift sets. This is evident in search behaviour, with many brands now associated with the compound 'gift set'. Rituals and Elemis are prime examples of this. The query 'rituals gift set' receives around 8k searches per month on average in the UK (one of the highest for their branded terms), which is even more than some keywords associated with their individual products.
'Elemis gift set' receives on average 11k per month — again, one of the highest of their branded queries. Looking at these keywords we can see the brands offering of sets has created demand and influenced search behaviour, with many now associating these brands with product bundles.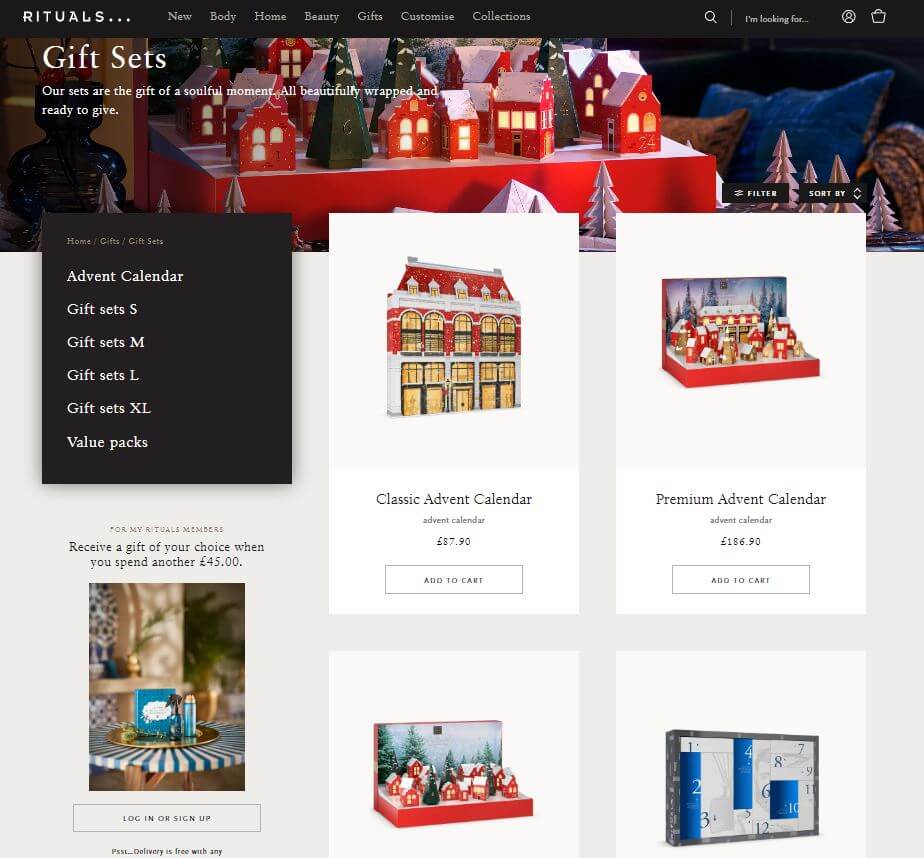 Product bundling is also common at supermarkets. Marks & Spencer and their long running dine-in offer is a great example of a 'buy together and save' strategy. The deal enables customers to create a two or three course meal from selected items alongside a money saving incentive. Dine-in offers like this push the narrative that you don't necessarily have to go out and splash the cash at a high-end restaurant to enjoy a great meal. As a result, this strategy directly targets the increasing number of people choosing to stay in and save money.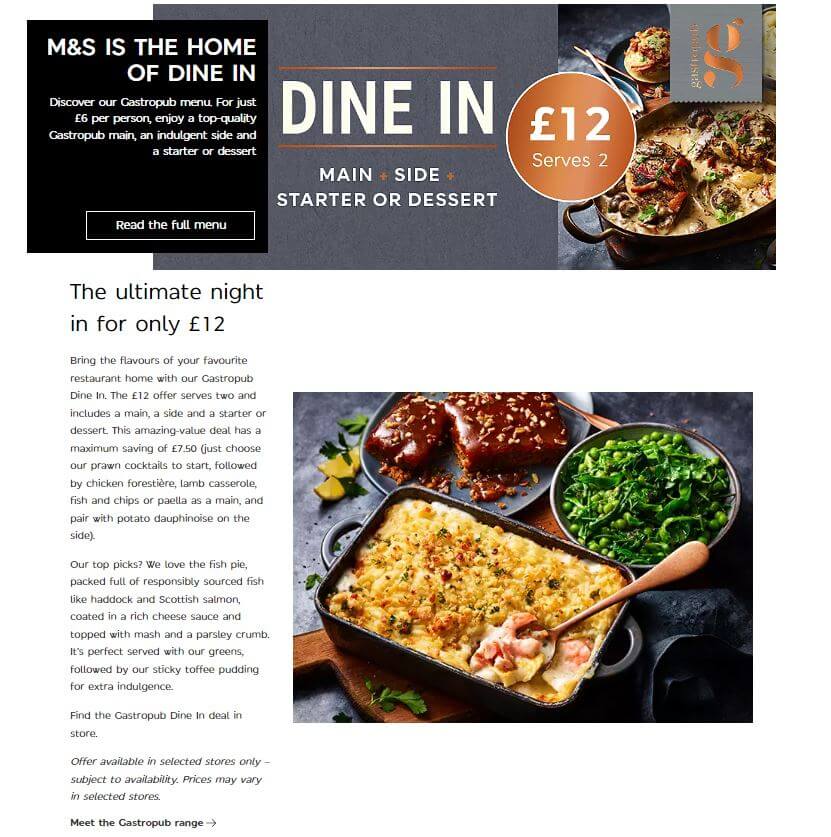 Product bundling advantages for ecommerce
There are many benefits to product bundling for ecommerce, including marketing promotions, targeting your user's needs, and tying your strategy to your customer's shopping behaviours.
Promotions
Using bundles to promote particular items (especially new items) to build product awareness.
Utilising sets or kits to clear out older products that are not selling and bundling these with more popular or new items.
Offering a money saving incentive to customers and highlighting that purchasing the bundle would be cheaper than buying each item separately. This would be a 'buy together and save' promotion, commonly seen in supermarkets and on Amazon.
For those in the market for just one item, bundles could be used to upsell further related items that the customer may be interested in.
Target shopping behaviours & customer needs  
If you find your customers usually buy certain separate products together, there may be opportunity to bundle these together and offer them as one with a cost saving incentive. If someone is in the market for supplies for a particular task, such as car cleaning, they're generally going to need multiple items to complete the job.
Convenience
Bundling products can also provide your customers more convenience. Offering a number of items could be an effective way to provide a more streamlined and timely shopping experience for your audience, which may help increase the number of returning customers.
Product bundling and ecommerce platforms
Various ecommerce platforms support product bundling and provide options for this type of retail strategy.
BigCommerce
With BigCommerce, you can utilise the pick list functionality to create a bundle builder. There are also apps that provide 'frequently bought together' upsell features and others that can provide bundling options.
Shopify
Shopify allows a number of product bundle types, including fixed, multipack, and mix and match. However, you will need to meet certain requirements to be eligible, such as using the online store channel, unpublishing Shopify scripts, and removing checkout.liquid customisations. There are other settings that may prevent your store from being compatible with bundles, such as using Shopify POS to sell in person or using draft orders.
Salesforce
A customisable product bundle on Salesforce can be configured by selecting a 'parent' product and then adding options which would essentially be the 'children' of the parent item. You can then add a group of options or constraints to ensure users select the correct number of items. For example, if the user needs to select at least 4 out of the 5 options available, or if there are certain items that can't be bundled together this option will prevent users from selecting both items.
WordPress/WooCommerce
If you're using WordPress and WooCommerce as your ecommerce platform, bundled products can be implemented via a plugin that also provides discounts.
Why is it beneficial for SEO?
There are several reasons why product bundling could be beneficial to your SEO, including targeting bundle related queries, providing relevancy to your customers and helping to convert supporting content.
Keyword compound research
To understand how product bundling could be beneficial for your SEO, it's important to research keyword compounds relevant to your products that could help understand where there is opportunity. Some examples of common compounds are:
gift
gift set
gift box
hamper
set
kit
starter kit
'product A' and 'product B'
'build your own xxxxx'
Combining your product queries with the above compounds will allow you to see where the opportunities are and how beneficial it may be to offer these types of products. This initial research will also allow you to start putting together optimisation strategies that could support your SEO efforts if you were to decide on product bundling as an ecommerce strategy.
Relevancy to your customers
With ecommerce SEO, it's important to offer products highly relevant to your user's needs. If you're targeting first time buyers or users of a particular product range, then bundles could be a good way to offer more relevancy to your customers.
For example, those who are camping for the first time may need to purchase a bundle of items at once, such as a tent, stove, and sleeping bag. Plus, they may not be fully understanding of all the equipment they need, a bundle provides an easy option for this type of shopper. Another example would be those expecting a baby for the first time, who again may not be fully understanding of what they need initially and may likely want to purchase several items at once.
Supporting content conversions
If you have supporting content on your site that performs well and targets those who are in the 'research phase' of their user journey, then it's worth considering offering bundled products that relates to your high performing content pieces. For example, readers looking for content about what they need for camping, are likely first time campers who need equipment. Offering a bundle that contains everything the user needs and linking it from the article could be a great way of using content to convert your users.
Sampling
Another aspect of bundling is sampling. If you're targeting first time buyers, they may want to sample items first to trial particular products before they splash out on a full priced purchase. This is quite common in makeup and skin care, where a user may want to trial mini versions of cosmetics before committing to purchasing a full-size item. While this strategy may be common place in beauty, other industries could also take advantage and utilise this to turn undecided users into regular customers.
Internal linking to individual items
You can also use your product bundles to internally link to the individual items included in the set. This allows you to utilise the bundle to optimise the user journey for those who may be unsure of purchasing a bundle that may stray more towards purchasing a single product instead.
Other considerations for product bundling
Seasonality
If you find considerable opportunity for product bundling, especially in relation to gifts, it may be worth assessing search volumes per month. The compound 'gift sets' peaks during the festive period, with those searching for Christmas present ideas, so it may be more worthwhile to offer this type of bundle during the Christmas shopping period over other times of the year.

You may also find seasonality in other bundle types through researching the task related to the kit and when this tends to peak. For example, camping and 'camping kits' usually peaks during the summer months in the UK.

External factors
You may want to consider external factors when it comes to product bundling. With the increased cost-of-living pushing many to look for money saving alternatives, bundling items that offer money saving incentives could be key to retaining your customers, especially if you are selling a non-essential product that targets the mid-level price range. The M&S dine-in offer is a prime example of targeting those wanting to save money and stay in rather than spending money on a meal out. Those looking to survive the current economic climate may need to consider bundling as a strategy to retain their customer base.
Final thoughts
Product bundling can be an effective approach for many online retailers, but it's important the strategy aligns with your customer base, using research to ensure it's right for your ecommerce store.