How Ooni is using content & social to drive visibility
Effective marketing strategies heavily rely on content, which is crucial to all aspects of the marketing landscape. Yet, in a world inundated with content, the challenge lies in strategizing and crafting it effectively. Certain businesses have overcome this hurdle and built content strategies to elevate their brand presence and support sales.
In this article, we will explore how Ooni leverages content and social media to enhance its visibility and impact in the market.
Who is Ooni?
Ooni is a company specializing in crafting high-quality pizza ovens and has grown into a global sensation since its creation. 
With its HQ in Scotland, Ooni has expanded its reach to both the US and mainland Europe, and the brand's imposing reputation resulted in it being named "The Best Pizza Oven" by WIRED in June 2023.
Exploring Ooni's SEO metrics
As of September 2023, Ooni's website attracts around 589,416 monthly visitors. Comparing this figure to the site's September 2020 performance, where the brand welcomed 117,900 monthly visitors, we can see an impressive growth rate of nearly 400%. 

Ooni also boasts a substantial 5.2 million backlinks and has 88.6K keywords in the top 100 organic search results.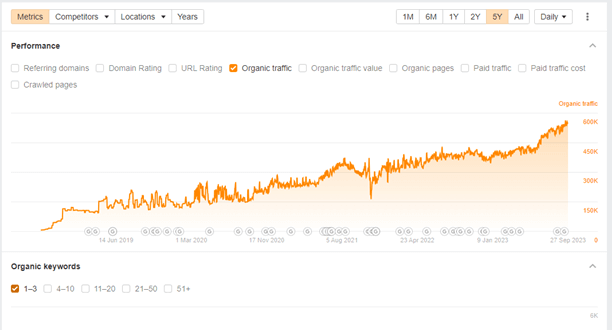 How Ooni achieved 400% growth in three years
It's evident that Ooni has experienced remarkable growth since 2020 alone, but let's delve deeper into the strategies that have propelled this growth.
We'll look closer at how Ooni utilizes the power of content, its brand identity, and social media to sustain and enhance its momentum.
Creative content
Ooni smartly recognizes that website visitors may only sometimes know what they want. For instance, when you're browsing their pizza oven category, they offer an oven finder quiz.
This quiz consists of seven questions about your pizza-making skills, cooking for how many people, fuel preferences, cooking location, budget, and more. It's a creative way to engage users, customize Ooni products to their needs, and direct them to a product page with further details once the quiz is done.

Optimized product pages
On Ooni's website, you can see a wide range of products, from pizza ovens to accessories. Each product has an in-depth description, high-quality images, FAQs, professional videos, and customer reviews, enhancing trust. 
Well-optimized product pages significantly contribute to SEO efforts; by incorporating relevant keywords and providing valuable content, a website's visibility is increased and has the opportunity to drive organic traffic.
For example, take the Ooni Koda 16 Gas Powered Pizza Oven, a top-performing product page with approximately 14,580 organic sessions, accounting for 2.5% of total monthly traffic. This page targets brand-specific keywords such as "Ooni Koda 16 gas pizza oven," "Ooni Koda 16 dimensions," and "Ooni 16 inch pizza oven." 
The graph below shows that Ooni is miles ahead of its competitors:

This underscores Ooni's strong brand marketing efforts, as users actively search these terms, highlighting their product awareness. We'll explore their brand marketing and how it's succeeding with this in more detail later.
These are just some of the ways Ooni product pages are optimized:
Persuasive and optimized copy about what makes the product unique
Information "what's in the box"
Technical features
The ability to download instruction manuals and guides
Reviews
Related products
High-quality images and videos
Promotions
Optimized product pages play a huge role in the success of eCommerce businesses like Ooni. The site is a virtual storefront and often the first point of contact with potential customers. Clear and persuasive product descriptions, accompanied by FAQs and technical information, help shoppers understand the benefits of a product.
Seamless user experience and journey
Ooni's website is designed to make things easy for users. No matter where you start, you can find what you're looking for without hassle. This helps the website's SEO and ensures you can quickly access the information or products you need.
Ooni's goal is to ensure you have a great experience on their site, and its organized approach helps with that. So, no matter what you're doing on-site, you can do it smoothly and efficiently.
Top-quality support
Ooni goes the extra mile to ensure a stress-free user experience by dedicating an entire subdomain to support. Within this user-friendly support ecosystem, you'll find a comprehensive knowledge base that addresses various topics, from valuable cooking tips to responsive order support and detailed warranty information.
This commitment to providing extensive support showcases Ooni's dedication to customer satisfaction and establishes the business as an authority in its field. It fosters trust among potential buyers, reinforcing their confidence in Ooni as a reliable brand. 
Blogs & recipes
Ooni has perfected its content strategy, mainly through its blog posts and recipes. One standout example is the classic pizza dough recipe, which draws an impressive 16,589 monthly visitors and accounts for 2.8% of the website's total traffic. Further analysis reveals that this article is optimized for a remarkable 1,126 keywords, as detailed below: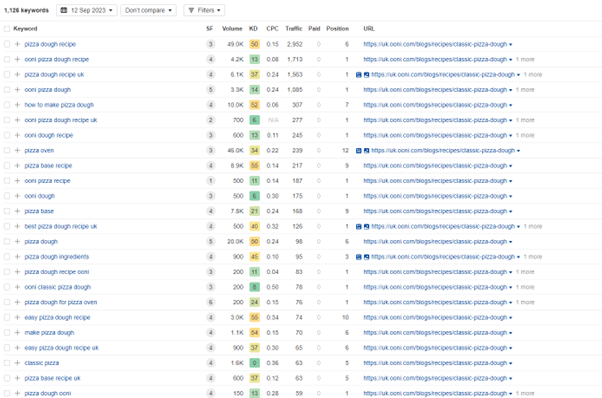 Ooni has recognized the demand for pizza dough recipes and responded with a well-crafted, keyword-rich, and user-friendly recipe. These strategically placed keywords align with Ooni's product offerings and are a powerful tool for converting users into paying customers.
However, Ooni's success is wider than recipes alone. The brand also produces engaging content, including news, insights, and campaigns. This content includes articles about the brand mission, tips, guides, and advice.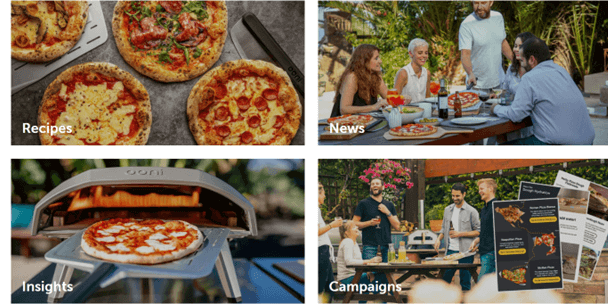 Ooni's blogs have room for improvement, especially in the insights section. Take, for instance, the article titled "Endless love: wedding gifts that'll stand the test of time." Currently, it lacks backlinks, referring domains, and traffic, and there are valid reasons for this. To enhance traffic, consider these improvements for this article:
Refocus the article to target "foodie couples" or "food enthusiasts," aligning it with Ooni's products and boosting its search engine presence. Consider renaming it to "8 Wedding Gift Ideas for Food Lovers." This title incorporates the keyword "wedding gift ideas," which boasts a search volume of 24K while also making the article more appealing to potential Ooni product buyers.

The piece should be optimized for SEO and include H2s and H3s. For example:
[H2] What to consider when choosing a wedding gift
[H2] The benefits of cooking & food wedding gifts
[H2] 8 wedding gift ideas for food lovers
[H3] 1. Ooni Fyra
[H3] 2. Ooni Koda
[H3] 3. Ooni Karu 16
[H3] 4. Ooni Volt 12
[H3] 5. Pizza topping station
[H3] 6. Modular tables
[H3] 7. Pizza dough
[H3] 8. Pizza peel & serving board
[H2] Final thoughts
This defined structure benefits SEO, refines the article to suit the audience and promotes Ooni's products simultaneously.
The article should feature stronger call-to-action elements, particularly towards the end. If readers reach the article's conclusion feeling inspired by the wedding gift advice, it should prompt them to take the next step in their journey.
Courses
Ooni impressively identified the audience's desire for a deeper understanding of the intricacies of pizza-making. The business launched a two-day online pizza course catering to user preferences while generating valuable content and revenue.
Social media
Ooni's remarkable presence on social media significantly contributes to its brand marketing and boosts visibility. Currently, Ooni boasts impressive follower counts on various platforms:
Instagram: 669K followers

TikTok: 50.2K followers

X (Twitter): 38.1K followers

Facebook: 276K followers

YouTube: 82K subscribers

Pinterest: 7.4K followers

Reddit: 26K members
But how has Ooni achieved this success? Here are the key strategies:
Ambassadors: Ooni collaborates with various ambassadors and influencers, extending reach and fostering a sense of trust and community.

Multi-platform presence:

Ooni maintains a consistent presence across all social media platforms, including less popular ones. For example, the channels engage with user-generated content on Reddit and create viral TikTok videos, ensuring the brand is everywhere possible.

Diverse content:

 Ooni produces a wide array of content tailored to different audiences. This includes informative posts, product unboxings, cooking tutorials, recipes, POVs, office tours, and series like "Will it pizza?" They also encourage user-generated content and share maintenance tips, expanding their audience reach.

Viral content:

 Ooni creates and shares viral content, such as captivating TikTok videos. These viral moments can significantly boost visibility as they are shared and discussed by a broader audience.

Engagement and interaction:

Ooni actively engages with followers by responding to comments, messages, and feedback. This interaction fosters community and encourages more people to follow and engage with their content.

Call-to-action (CTA) posts:

Ooni includes clear and compelling CTAs in their social media posts, encouraging followers to visit the website or explore specific products. These CTAs can range from "Shop Now" to "Learn More" and are strategically placed to guide users toward desired actions.

Product spotlights:

Ooni regularly showcases its products on social media, highlighting features, benefits, and innovative designs. These posts often include direct links to the product pages on their website, making it easy for interested customers to make a purchase.

Exclusive offers:

Ooni uses social media to promote exclusive discounts, promotions, and limited-time offers. These incentives drive traffic to their website, where customers can take advantage of these deals.
Key takeaways from Ooni's content strategy
Ooni's robust content and social strategy have gained them a substantial following on social media and an incredible organic result, with 589,416 monthly visitors and nearly 400% organic growth. 
This success can be attributed to several key factors:
Innovative content creation

Optimization of product and category pages

Seamless user experience

Comprehensive customer support

High-quality, well-researched supplementary content

A comprehensive social media strategy
These components collectively form a strong foundation for Ooni's growth strategy and will sustain its continued success.
How Ooni can reach the next level
While Ooni has a successful content strategy, there's room for growth. Improving rankings for "outdoor pizza oven" keywords by 10% could bring 3,233 extra sessions, and an 80% increase could result in an impressive 19,361 additional monthly organic sessions. Given Ooni's current performance and high-quality content, these sessions could convert into paying customers.
These statistics highlight the potential for Ooni to boost its content and dominate the outdoor pizza oven market. If you're looking for support with content strategy, contact us today.