Introducing the Magento SEO checklist
Magento is an eCommerce platform that enables users to customise its features to create tailor-made online stores to match their needs and to create unique user experiences.
According to BuiltWith, Magento is used by 16% of the world's top 100,000 online retail platforms, used by household names such as Coca Cola, Rebecca Minkoff, and Ford.
Magento is an open-source technology-based platform that supports:
Customisable shopping cart systems.
Analytics, reporting, and order tracking.
Customisable pricing and coupon rules.
Product catalogue browsing and management.
Multi-lingual and multi-currency implementations.
If you already have a Magento store, however, with the below seven steps, you can put yourself on the right path to creating high performing and optimised eCommerce store:
SEO rules for URL structure
If the URL structure includes a lot of random characters or is too long, search engines and users will have difficulty understanding what content lives on the address. Create a logic URL structure based on your product categories, subcategories, brands, etc.
An URL should be:
Simple
Informative
Readable
Concise
Consistent
Descriptive
You should use your primary keywords and remove stop words such as the, and, or, but, an, of, etc. Each category and subcategory serve as a folder, for example, if you are an online skincare shopkeeper, then your URL structure could look something like this:
This translates as:
examplecompany.com/category/subcategory/brand/product-name/
This structure will enable you to expand your shop in the future, for example, by introducing categories such as:
examplecompany.com/face/lips/
Or:
examplecompany.com/body/hands/Eucerin/hydrating-hand-cream/
An optimised URL should be 60 characters or less; use hyphens in-between words. Remember to keep them short and sweet and avoid the practice of keyword stuffing.
It also plays a role in SERP rankings, as logical URLs are easier to understand for Googlebot when crawling a website.
Another great benefit of structuring URLs in a logical and hierarchical way is that it makes doing analysis easier as everything is categorised. For example, diagnosing a poor performing area in analytics.

To optimise URL structure, locate Stores ► Configuration ► Catalog ► Products ► URL.
If you are planning on modifying URLs frequently, we suggest enabling Magento option to set permanent redirects in case of a URL change.
Importance of SEO optimised meta titles and meta descriptions
A meta description is a tweet-length summary describing a web page's content. Although it does not influence search engine rankings, it can influence click-through rate.
The description should be 155 to 160 characters long, contain strategic keywords, and encourage users browsing search engine results to click on the link to open the web page.
To illustrate, here are two meta descriptions for the SALT.agency home page and careers web page. The meta descriptions portray what information can be found on the web page, as well as display a tone and language that represents brand identity to differentiate it from other SEO agencies.

By default, Magento generates title tags based on product names. However, variables can be used to include other elements, such as size, colour, and gender.
However, customising and optimising them manually is the recommended practice, as it will enable you to make sure that:
All your main keywords are included.
Your meta titles and descriptions stand out among the competition.
Your brand image is represented.
All descriptions are informative, unique, strategically and logically written.
Here is an example of SEO optimised eCommerce web page meta descriptions, that include focus keywords, product characteristics, and encouraging calls to action.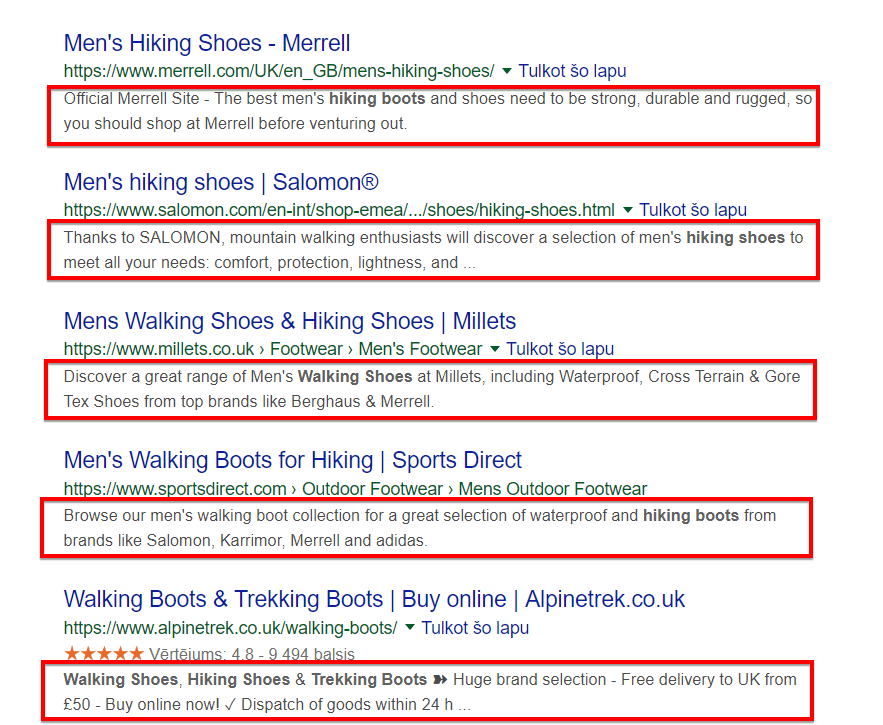 To customise a meta description, in the Content section head to Products and open the Meta Data drop-down menu.

Make images readable by search engines
As search engines cannot interpret image files, you must make the images readable by adding descriptive alt tags. You will find the Images drop-down menu in the Products section.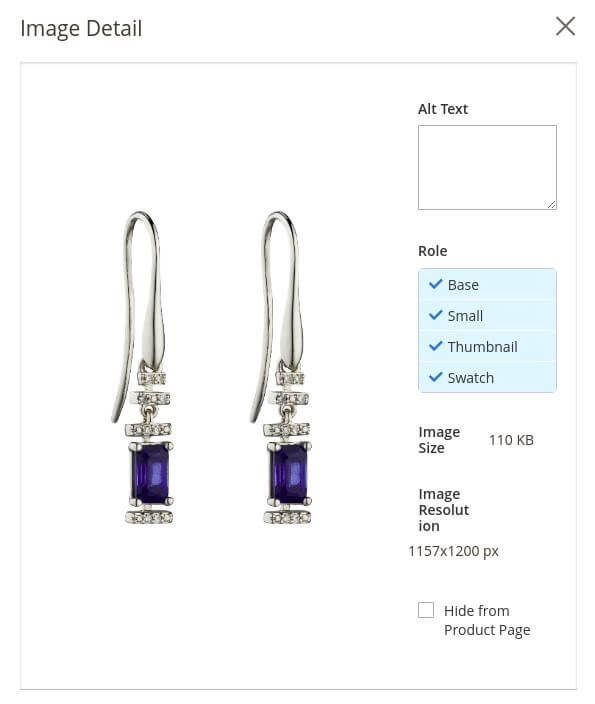 Also, instead of using generic titles such as photo1.jpg or productimage2.jpg, be specific and use your product keywords, such as black-trekking-boots.jpg.
Similarly, to meta titles and meta descriptions, the image titles should be straight to the point, include product keywords that are separated by a hyphen.
Optimise your H1, H2, and H3 tags


Headings as in any content, show the text structure, guiding the user through a body of text as signposts. Headings should be both informative and enticing.
Draw traffic to your website with a blog
A regularly updated blog with quality content on relevant topics will attract the audience and bring traffic to your website. Third-party websites may link back to your content and improve the organic performance of your website.
Avoid duplicate content
One of the most common Magento e-commerce website issues is duplicate content, as it dilutes link ranking signals and wastes crawl budget. However, with the right configurations, the problem can be avoided.
Duplicate content issues tend to happen when a website has multiple pages with very similar content, which is a typical case for many online merchants. This issue, therefore, triggers the Google Panda algorithm, making the site fall victim of the penalty. The Panda penalty can affect the rankings of a website's non-duplicate pages; negatively impacting the whole site.
To avoid the issue in the first place, create a product page structure. If you are a fashion retailer and selling coloured T-shirts, a separate product page for each coloured t-shirt will result in duplicate content in the product description and title tags.
The solution lies in creating configurable product pages or using custom options for product size, colour, and any other characteristics. The options will enable your customers to modify the purchase by selecting the preferred variable.
A configurable product appears in the form of a single product that has drop-down menus with sets of attributes. Each option has a unique SKU (stock keeping unit), enabling to track stock of the item. Set the product type to "configurable product" and select its attributes.
Improve your site speed for optimal user experience
Slow site speeds may, unfortunately, lead to higher bounce and site abandonment rate; therefore, it is important to provide a satisfying user experience.
There is a list of actions you can take to ensure your eCommerce site is loading as fast as possible. For your Magento hosted website to perform at an optimal level:
Make sure you are using the latest Magento version.
Enable caching.
Don't add too many third-party extensions, as it slows down the processing.
Compress your video and image files.
Having an up-to-date version of Magento will generally mean that it has the latest bug and performance issue fixes.
Page caching makes the website fast, which leads to increased UX and search performance. With caching enabled, pages already visited are served from the cache instead of from the webserver.
For an eCommerce site, images may account for up to 60% of the website's total weight. Therefore, image optimisation is a must. Images can be compressed using third-party tools like PhotoShop or image compressing websites like tinypng.com.
For optimising images already on your site, Magento supports extensions such as Compressor Extension and TinyPNG Extension, which will automatically compress your image files.
If you are an online retailer and seeking assistance with your Magento store or would like more information on how SALT.agency can help you, contact us today at [email protected] or call us on 0113 460 5671.