How to Approach SEO for Healthcare Websites
Healthcare is the encompassing term that generally focuses on maintaining or improving your health.
Because of this, it means that the term is quite broad, as it can include prevention, diagnostics, cure, or recovery of both physical and mental injury.
This means that the number of business opportunities within the sector is massive. From an SEO point of view, there is no point focusing your efforts on 'all healthcare' but specifically within your niche products/ services offering.
Even then, the type of SEO that you need to focus on can vary also.
If you are an online retailer selling healthcare products, i.e., Boots, your market is probably quite large; a country or even a continent.
Compare this to a local service such as an optician. You can't have an eye exam online; you need to visit a local practitioner. Your business focus will be local as you target an audience in a specific town or area.
But what if you have an in-person service in multiple locations across a country? Consider Specsavers for example; they have lots of local services in multiple towns and cities; the same service, but not the same audience.
If you think that sounds complex. What if you sell a local service across multiple towns and cities AND have an e-commerce site?
This might not be the focus or worry of many small businesses, but as growth and expansion become more critical, planning and structuring your website to account for this should be at the forefront of your online marketing strategy.
In this article, I will discuss the importance of best practices for healthcare SEO and why you need to put so much focus on correct high-quality content and website structure.
Medic Update
Before I start with any specific information on best SEO practices, I want to talk about the Medic Update.
The Medic Update was the unofficial name given to the 1st August 2018 Google Core Algorithm Update. Although it was a general core update, the sites that were most significantly impacted were websites focusing on the health and medical niche.
The particular aspects of the sites in these niches can be attributed to YMYL (your money or your life) and EAT (expertise, authority and trustworthiness). You can read more about YMYL and EAT concepts and how they can impact your SEO strategy.
It basically meant that Google started prioritising SERPs for healthcare or medical queries that are accurate, factual and come from experts within their respective fields.
For example, a doctor – with online citations – writing about how to treat a bad back is a much better source than a small-time blogger writing an article such as '10 ways to treat your bad back'.
In short, if you are in the healthcare or medical niche, you need to demonstrate some sort of medical or healthcare knowledge and expertise. This means, high quality, factual content written in a transparent manner, with a face to the author's name.
With that in mind, let me investigate specific strategies for specific business types.
Selling Healthcare Products Online
Going back to my example in the introduction, I will use Boots for my first example.
In the UK, most people are aware of Boots as a high street and online business for selling healthcare products, including things such as OTC medicines, licensed medicines and miscellaneous medical products such as plasters or health supplements.
For the latter products, Boots is little more than any e-commerce store.
And regardless that they also sell other products not directly related to health, they have implemented a strong site structure using correct categorisation and hierarchy for their products.
This is obvious from the screenshot of their navigation menu shown below: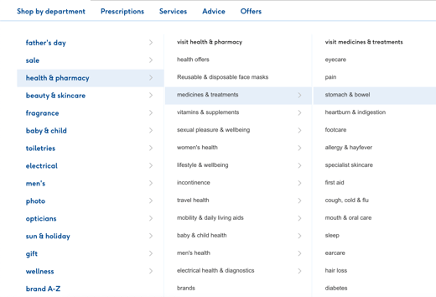 Looking it at it another way, here's a visible representation of their site structure taken using Screaming Frog: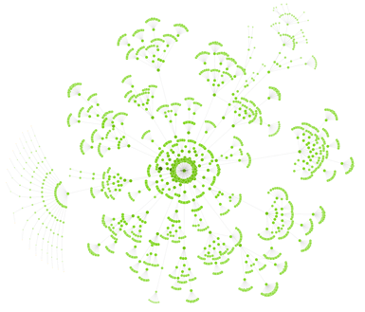 Although some of the products in this category are classed as 'licensed products' or 'medical devices', it is perfectly legal to sell them online in this way with little regulation required.
Therefore, for this, best e-commerce practices apply.
Product pages should be well written, using detailed product information and/ or specifications, using unique copy and any factors that influence purchasing decisions.
Below is an example of where Boots have built a strong product page, using reviews (including structured data), breadcrumbs, clear imagery, product details, and delivery options.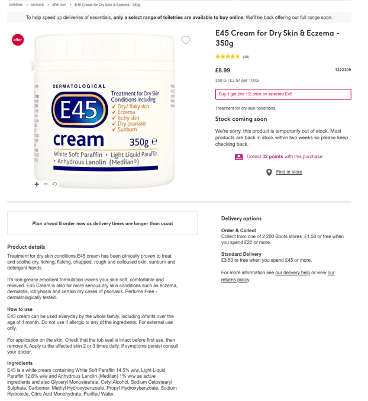 Selling healthcare services online
Moving on from the e-commerce side of things, I want to discuss in-person healthcare services.
Although there are sites where you can speak to a medical professional online, going to see a health professional in real life will never cease to exist.
Consider pharmacists, for example – lloydspharmacy.com is one of the leaders for fulfilling NHS prescription services within the UK. They have multiple branches throughout the UK as well as an online service.
For people already aware of Lloyds Pharmacy, and looking to use their services will usually go directly to their site and find the service they are after.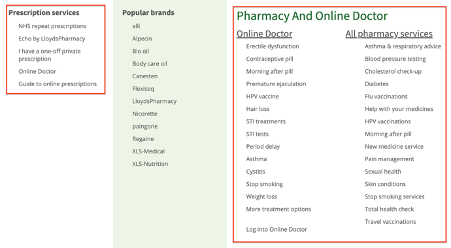 However, for people searching for a specific issue or treatment – not by a branded search – Lloyds Pharmacy has optimised their site to generate organic traffic for the top and middle of the funnel queries. 
Examples in action
Staying with Lloyds Pharmacy, one of the focuses for business is travel vaccinations.
Of course, travel vaccinations are a medical procedure that needs to happen in person, but that doesn't mean you can't start lead generation online.
To target online users, Lloyds Pharmacy has generated a lot of landing pages to target high intent and long-tail keywords.
Using the Google site search operator with "travel vaccinations" as the search query, you can see an example of all the specific page targeting travel vaccinations for particular countries: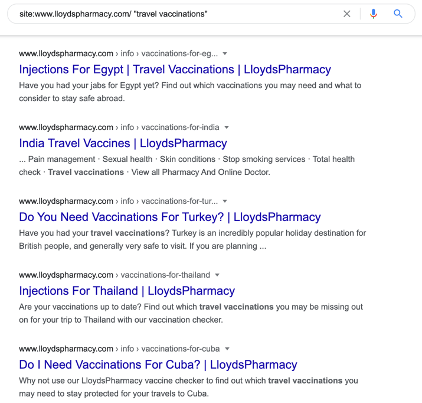 Each landing page then documents the type of vaccinations required for that specific country, the potential risks.
From these pages, you can go through to a vaccination checker page where you can find a location to get the vaccinations and book an appointment online.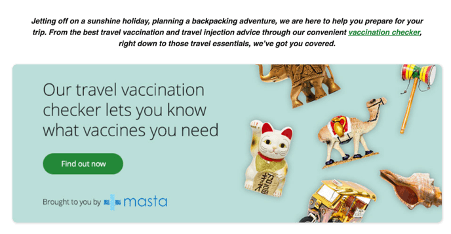 Targeting local users
However, not all users will start their search for information with general keywords like that of travel vaccinations mentioned above, instead opting for a local search, to find a service local to them.
Consider this search result for "pharmacy north Leeds".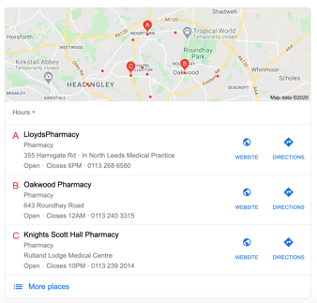 To get in these local search panels, it is crucial to optimise your store locations using Google My Business. This means ensuring that all of your physical locations are submitted to GMB to make the most of local search traffic.
Another way to make the most of search queries with local intent is to create dedicated landing pages for each of your physical locations.
Consider the search query "eye test Leeds".
The top organic search result is for Specsavers, with a dedicated landing page to the Leeds store, with address, opening hours, and in-store services.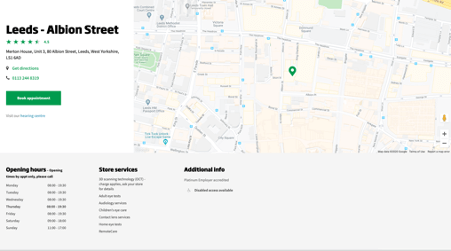 And although it might not be possible to track how many people visit this page and come into the store as footfall traffic, it does serve as an entry point to the Specsavers site. This makes it possible to track visitor interaction with the site, and whether they engage with any CTA across the site.
Creating multiple pages like this for each physical store and optimising each URL for local search can increase organic search traffic; you just need to convert visitors into leads!
Expertise, Authority & Trust
Remember earlier when I mentioned the importance of the Medic Update?
Well, I want to show an example of a site that has properly optimised their EAT in line with their business. The example I will use for this is the online pharmacy – chemistdirect.co.uk.
Selling medicines is a serious business, and you would only trust experts who can sell you the right things.
By demonstrating that you have relevant experts in your team, you ensure that you are giving out correct and relevant advice, and any products and services you sell are suitable.
Here is a screenshot from their expert's page: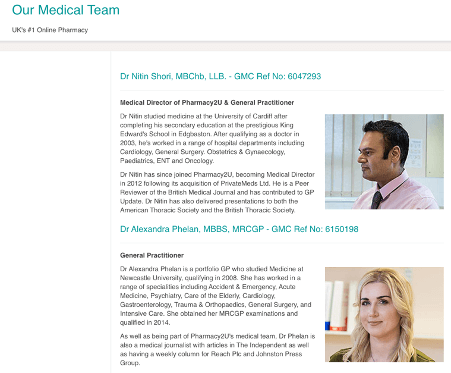 Notice relevant information that proves expertise; qualification, GMC reference number, work and education history.
But you can't just leave it at that. You need to demonstrate some sort of authority – how other people view your business.
If you have links or citations from other websites, referring to you as healthcare experts, this will help build authority. However, these links must come from authoritative sources and relevant medical websites.
Finally, there are a few ways you can build trust for a medical website.
You should ensure you have the basics that every website should have; basic contact details, such as contact methods, business address, senior team member information, etc.
But in addition to that, one of the ways healthcare or medical websites can ensure trust is by using industry recognised 'badges' or logos.
On the same site, Chemist Direct uses clickable links to industry bodies, such as pharmacyregulation.org and MHRA, which independently verify Chemist Direct as an approved seller of medicines.

Alongside the two industry bodies, are an independent website verification tool, and a link to the TripAdvisor page – a third party review tool.
Using a third-party review website allows independent feedback for your site, which anybody can view and base their opinion on your business and website.
Conclusion
The healthcare industry is massive, and there is plenty of room for multiple businesses to be competitive within the market.
Whether you are just a healthcare e-commerce store, a local in-store service or a hybrid of the two, there is an opportunity to optimise your website SEO to generate more sales and find more leads.
You should consider how users search for a product or service that you sell or offer. If you are selling branded goods online, setting up a strong site architecture with a focus on strong product pages is crucial.
If you are selling a service, consider the user journey; are they looking to find an instore location within their town or city, or are they making a general search first? If you understand the user journey, you can build a funnel that finds users and sends them to the correct pages that will convert.
But when it comes to SEO, you need to focus on high level, competitive keywords as well as more niche, long-tail keywords. This means focusing on target keywords, content, and site architecture.
Utilising local SEO will help with local search and instore visitors. You need to ensure that you create and optimise separate landing pages to the generic keywords you are targeting.
Regardless, if you are in the healthcare industry, you must focus on demonstrating expertise and authority for your brand. With strong SEO and focus on being medical experts in your field, you are likely to see ever-increasing benefits online.