How fast is fast enough for good SEO performance?
It doesn't take an SEO expert to understand that a slow loading site isn't good for your business. Your website is, in essence, delivering a service to the reader.
If a competitor does a faster job of providing that service, then you are likely to lose customers.
While most people understand this at a core level, many don't appreciate the extent of the impact.
The impact of a slow site
To understand just how devastating a slow loading page can be to your business, all we have to do is consider the bounce rate. This is how many people stay on your site after a single page.
A couple of the most shocking statistics surrounding slow-loading pages and bounce rate were conducted by the BBC and DoubleClick.
The BBC found that it lost 10% of users for every extra second a page took to load. When it comes to site speed, literally every second counts.
The situation is even more drastic on mobile, as DoubleClick by Google found that 53%, that is over half of your potential customers, abandoned a site if it took longer than three seconds to lose.
A slow-loading page could quite literally mean the difference between a business succeeding or failing, and that difference can be measured in seconds.
And bounce rate isn't the only SEO related concern, Google's aim is always in getting the right information to its users as fast as it possibly can.
This means that Google puts an enormous amount of weight on a site's performance when it comes to Google search rankings. The impact is once again even greater on mobile.
Site speed for eCommerce sites
For eCommerce sites, there is also the direct impact of lower conversion rates as a result of slower site speeds.
Naturally, if people spend more time on a site and generally have a more positive experience, they are more likely to complete the desired transaction.
In other words, the slower the site, the lower the sales.
For instance, Walmart found that a page loading time decrease of a single second increased conversions by 2%.
There's even an impact at the most minute level. Mobify found that an improvement of its homepage's loading time by 100 milliseconds gave them a 1% increase on its conversion rate.
As we said, most people know there's an impact, but the scale of it is something that many companies fail to grasp.
Now that we know that problem, how exactly do we go about solving it?
How to measure and improve your speed
Luckily, measuring your speed has just gotten a lot easier. Google Search Console has begun rolling out its Speed report to all Search Console users.
The Speed report can be found beneath the enhancements section of Google Search Console. These report will tell you whether your pages are operating at a fast, moderate or slow speed: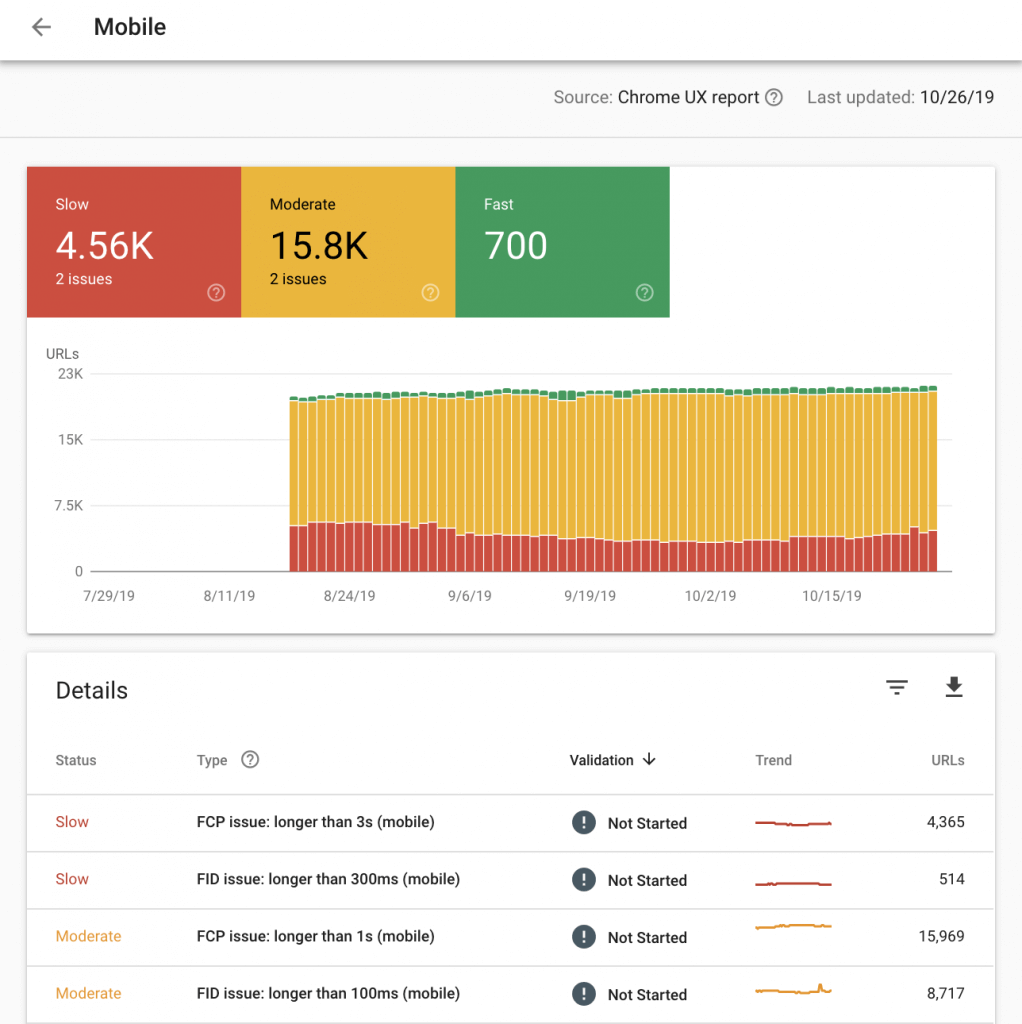 It will also identify specific problems to help you improve your site in the areas where it needs it the most. Find out more about the report in this Search Console Help guide.
In terms of speeding up your site, it does, of course, depend on what issues need addressing. However, there are various ways of dealing with different problems.
For example, if your page has additional weight in the form of large files and images, this can affect load time.
You can keep your pages light by compressing files and images, you can utilise photoshop for the latter to keep up the quality of the image during this process.
We recently wrote an image optimisation guide if you want to know more about this subject.
That's just one example, you can also improve your loading times by optimising your code through the removal of unnecessary characters, reduce redirects, leverage browser caching and much more.
Always keep in mind that for the vast majority of speed issues, there is a solution.
And that's a good thing, because as we have seen, every second counts.
How fast is fast enough? As fast as you can get it.