Five ways to optimise your SEO for January Sales
2020 has provided various curveballs for businesses and has made it extremely important for companies to have an online presence with an eCommerce website.
With the new year looming, the likelihood of being able to take advantage of the high street sales are potentially in limbo, which is why eCommerce SEO is paramount.
Here are five ways to optimise your SEO for January sales.
Focus on keyword research
The purpose of conducting keyword research is to discover potential keywords that can be used throughout your website to satisfy both search engines and potential customers.
The keywords identified should match the intent of your landing/product pages and therefore reviewing keyword search volumes can help understand the relevancy and demand.
This can be achieved through various third-party keyword search tools as well as manually reviewing SERPs to discover what keywords match the intent of the product.
The data that is discovered in this initial research phase can dictate your January sale SEO strategy.
You may choose to create a dedicated landing page to solely optimise for the discounted goods or for January sale or January deals as after boxing day to the 5th January is when most users are searching for these queries typically intent on making a purchase.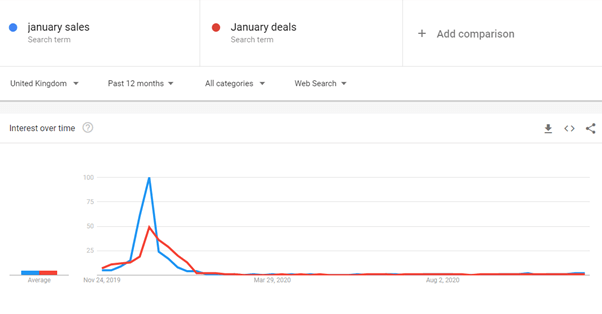 Interest over time data for 'January sales' and 'January deals' search terms.
In addition to this, when it comes to creating metadata or a content strategy, it's important to refer back to this keyword data to ensure you are targeting queries that will align with the intent of your customers.
Optimise your title tags
Title tags are a ranking factor, and therefore a relevant title is key for assisting with organic performance.
Additionally, they help encourage a potential customer to click through to your website's online sale, which is why it's important to optimise your title tags to make users aware.
For example, a title tag could be "50% off Men's Running Shoes In Our Online Sale | Brand Name".
Ideally, a title tag should be a maximum of 60 characters to prevent truncation and target one or two keywords along with the brand name if there are spare characters.
For large eCommerce sites, updating title tags can become a time-consuming task due to the vast number of categories and product pages the website has.
As a result, they become a missed opportunity. However, if you implement dynamic title tags, it removes the manual element.
Most content management systems have the ability to generate title tags by using product variants and attributes automatically. Still, within your CMS, there's usually a way to customise the way they generate.
Have a supporting content strategy
Creating and implementing a content strategy is a must in the run-up to January sales. This could consist of highlighting specific products that will be discounted, then creating blog posts or buyers guide for the particular goods.
By creating product-focused content, it provides an opportunity for internal links to be used throughout the copy, which can generate customer interest and drive traffic to these product pages in the hope of consumers making a purchase in the January sale.
Be wary of product variants causing duplicate content
Typically, eCommerce stores have a large number of products that may differ slightly by their colour or size.
Often, this can result in a large number of additional pages being created due to them being classified as unique products to cater to the different available configurations, which results in duplicated content.
To prevent duplicate content hindering your organic performance, we recommend applying canonical tags to each product with the different configurable pointing back to the root page.
Alongside this, we recommend altering the duplicate content so that 60% of the copy is unique to that page.
By implementing these canonical tags, it will help telling search engines which page to display on the search results page.
Typically, the product pages with the variants that have a canonical tag point to the root page won't appear on the search results page unless there is significant search volume for the specific product variant.
This is just one solution; there are multiple ways to reduce duplicated content. However,  Google has a good understanding of internal duplication as long as it can recognise the reasons why it occurs.
As a result, you may decide to focus your attention on the best selling products to then improve the product pages so that two-thirds of the page is unique.
Direct attention to E-A-T Signals
Search Engines are constantly trying to improve so they can provide the best possible results to users by supplying relevant and reliable results.
This is done by search engine algorithms trying to understand each websites domain quality, which is why Google uses E-A-T, Expertise, Authority & Trust.
For eCommerce websites, this is of greater importance due to them falling under the "Your Money, Your Life" category and therefore, search engines are more critical of these domains.
There are several ways eCommerce website can send E-A-T signals, such as by displaying product-specific customer reviews on the relevant product pages.
If your eCommerce website does not have this feature, be sure to add it in time for the January sales.
Another way to optimise for E-A-T is by using structured data to mark up the information, such as product pages, FAQs and blog posts, which make it much easier for search engines to understand what your eCommerce store is and does.
There are numerous ways content can be used to comply with E-A-T such as including accurate and up to date information on the "About Us", "Meet The Team" and "Contact Us" pages.
Additionally, it's beneficial to include contact information in the website footer, making it easy for customers to get in touch. The footer could also contain relevant industry awards that you have won as this helps to show authority to search engines.
When creating relevant and accurate supporting content that has been written by an expert, there is the opportunity to link to their bio or authors' page.
By doing this, it tells search engines that an expert has written the content, and what the experts specialist area is, which helps the website credibility.
Make sure that product pages are well built out. This could include a product video, comparison tables, 360-degree imaging and unique product specific information.
All those examples give you the chance to showcase your expert knowledge for the products along with displaying different content to your competition.
Websites can send signals of E-A-T based on their technical performance, which is why it's important not to overlook the basic fundamentals. For example, ensuring the website is secure and using HTTPS, so the site is mobile friendly and contains no broken links.
Finally, building a backlink profile with relevant and quality links from authoritative industry websites. However, all backlink profiles need to appear natural to search engines which is why earning relevant links from a variety of domain authorities is key.
Final thoughts
For your business to have a successful January sale, it's critical to use the little time left to focus on getting your eCommerce website ready for the sales in the new year.
The likelihood of achieving January sale success is increased if all of the above has been implemented, along with the fundamentals of SEO.